Best Backyard Office Sheds for Remote Workers
Backyard offices are extremely convenient and reasonably cheap if you choose the right model. Prefab sheds are the cheapest, with the price significantly increasing for custom-built and DIY sheds. One of the best prefab office sheds is Studio Shed's Portland Home Office, followed by Autonomous's Home Office WorkPod.
The COVID-19 pandemic showed the world that working from home is not only possible but cheaper and more efficient. The work-from-home era has set in full force—over 4.7 million people in the country are working from home, and the number is only expected to increase in the next 5 years.
However, working from home can quickly get stressful and distracting if you don't have a designated, disturbance-free workspace. Kids and pets running around the house, the doorbell and the phone constantly ringing, and other household-related distractions can keep you from giving your work 100% concentration.
This is where backyard office sheds come in handy! These isolated spaces can be set up in your backyard, letting you stay close enough to home to be available for emergencies and far away enough to create your own bubble and fully dive into work.
If you're considering investing in a backyard office, here's a list of our top backyard office picks and a buying guide to help you out!
10 Best Prefab Office Sheds & Backyard Office Pods
These prefab sheds are customizable and easy to install, providing a convenient and stylish way to work from home.
1 | Portland Home Office – Studio Shed
The Portland Home Office comes from Studio Shed, a Louisville-based ADU, studio, and full-service prefab home company that is known for its quality products.
The Portland Home Office is available in 12 different sizes and features weatherproof wall panels and 2×6 framing. The roof features engineered rafter beams, half-inch weatherproof roof panels, vented soffits, and 26-gauge Galvalume corrugated roofing with exposed fasteners.
The windows are double-paned, high-efficiency windows with awning windows and screens. The doors are French doors, constructed using either 36 or 72-inch Therma-Tru fiberglass, while the siding is made of cement and is available in different colors and materials (such as cedar wood and Galvalume).
Customers receive a year-long workmanship and manufacturer warranty on all models. The materials used are a mix of recycled metal and regular materials. The wood used is FSC certified; all materials and shed designs meet building codes all over the United States.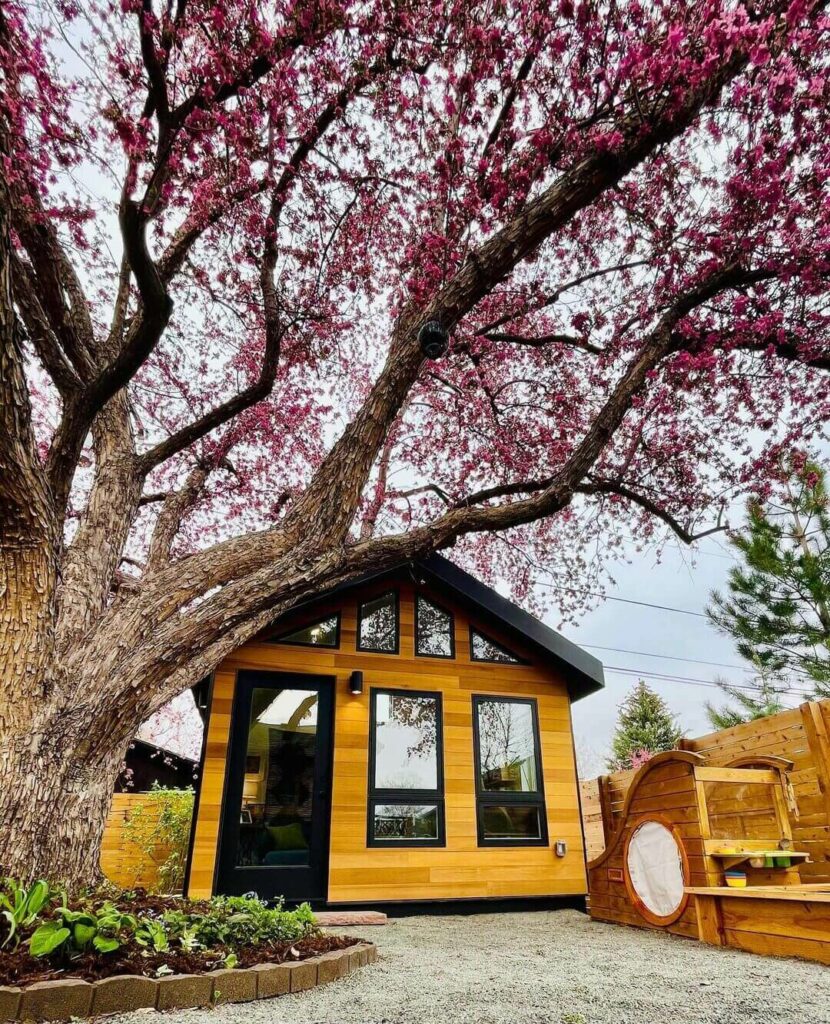 Pros
Cons
2 | Home Office WorkPod – Autonomous
The Autonomous Home Office WorkPod is all kinds of efficient and extremely good-looking, to boot.
With floor-to-ceiling glass doors and excellent sound insulation, the pod lets you disconnect from the chaos of life outside while not feeling boxed in or claustrophobic.
The construction process is extremely simple and fuss-free and takes only a day or two to complete, negating the need for remodeling and permits. The pod is designed to sit well even on uneven ground and is at home on a wide variety of surfaces, including brick, concrete, grass, and gravel, where it can sit for years.
What we also love about this pod is that it comes fully equipped with all the necessary comforts, from pre-wiring to electrical outlets to lighting, and only requires you to plug it into a power source to be operational.
The pod's efficiency is further enhanced by its excellent humidity and weather resistance. The pod is designed to combat heat, mold, water, and insects, and is just as comfortable in a 45-degree environment as it is in a 100-degree environment.
Pros
Cons
3 | Sela Home Office Shed – Cerca Sheds
The Sela Home Office Shed has many features going for it—it has bamboo flooring, exterior wood siding, a bamboo overhang, an LGS framing system, sliding/swing doors, six fixed windows, fiberglass insulation, metal seams, and a roof stand.
The wall panels are pre-built. If you want to maximize the internal space, you can also request that the overhang be pushed out. At 120 square feet, this shed is among the medium-sized offerings in the market.
The Sela Home Office Shed keeps the consumer in mind and is the perfect blend of versatility, aesthetics, and productivity, allowing both relaxation and concentrated work.
Pros
Cons
4 | K4 Series Home Office – KitHAUS
The K4 Series from KitHUAS is spacious and luxurious, with the option of a kitchenette and a full bath—you may not want to leave this home office for days!
The K4 series features anodized aluminum framing, available in both bronze and silver, and fully insulated ceilings, roofs, and floors. KitHAUS' exterior includes smooth cement boards or corrugated Galvalume, while the roofing is corrugated.
The shed also features hardwood siding and can be upgraded to Corten corrugated siding and roofing for an additional cost.
The sheds also feature proprietary locking systems. The floor features tongue-and-groove flooring and is laid with maple hardwood.
When it comes to the kitchenette, customers get the benefit of a microwave, two-burner cooktop, an under-counter fridge, and a four-inch countertop, whereas the bathroom features a shower stall, a frosted sliding glass door, and waterproof, high-density cement board on all the interior surfaces.
Pros
Cons
5 | Arlo Office Studio – Drop Structures
The Arlo Office Studio from Drop Structures is a functional, well-equipped office studio that has a rustic yet modern look.
This studio is around 157 square feet, featuring four interior receptacles, a smoke alarm, an electric heater, an integrated steel base, drywall interiors, black trim on all the interior surfaces, a luxurious vinyl floor, and a cedar-wrapped deck.
The studio office also features a standing seam metal exterior, a passive vent, and R-24 walls, floor, and ceiling.
The brand allows the option of customization—you can add four feet to either end of your studio, a glass wall and a rear door at the back, a skylight, additional windows, and a recessed television receptacle.
Pros
Cons
6 | Livoutside Backyard Studio – LivPods
The Livoutside Backyard Studio is relatively small, at only 106 square feet, but it packs quite a bit into its small frame.
The studio features fiberglass insulation on the floor, walls, and roof, an exterior overhand step, vinyl flooring, pine wall panel interior ceiling finish, an operable window, a sliding glass door, a full range of electrical features, and a washroom and sink, among other specifications.
The brand will add additional lighting, venting, and outlets, and it can also be set up as a plug-and-play unit. The back window's height may also be moved up and down.
Pros
Cons
7 | Home Office Studio – Modern-Shed
The Home Office Studio is one of the most customizable options on our list—the studio is designed and built according to your needs and budget by the brand's specialists.
You can choose from the small, medium, and large options, which let you use the space as a home studio, yoga space, playroom, and even a vacation unit.
The studio features a unique rainscreen system reinforced with ZipWall sheathing, cement board panels, and VaproShield to provide extreme moisture and weather resistance while the smooth James Hardie cement face interiors provide a modern finish to the entire unit.
All in all, a well-designed, cost-effective backyard office option!
Pros
Cons
8 | Urban 360 Modern Office – Sheds Unlimited
Touted to be the perfect urban studio by the brand, the Urban 360 Modern Office doubles up as a leisure space, an art studio, a yoga studio, and a playroom, among other things.
The studio features two standard square picture windows, a single-slope roof, transom windows above the front doors, and modern double doors. The interiors feature built-in shelving and can be customized with the Sherwin-Williams color of your choice.
The sheds also come with modern clapboard siding or rain-screen siding made from fiber cement, both with a superb 30-year warranty.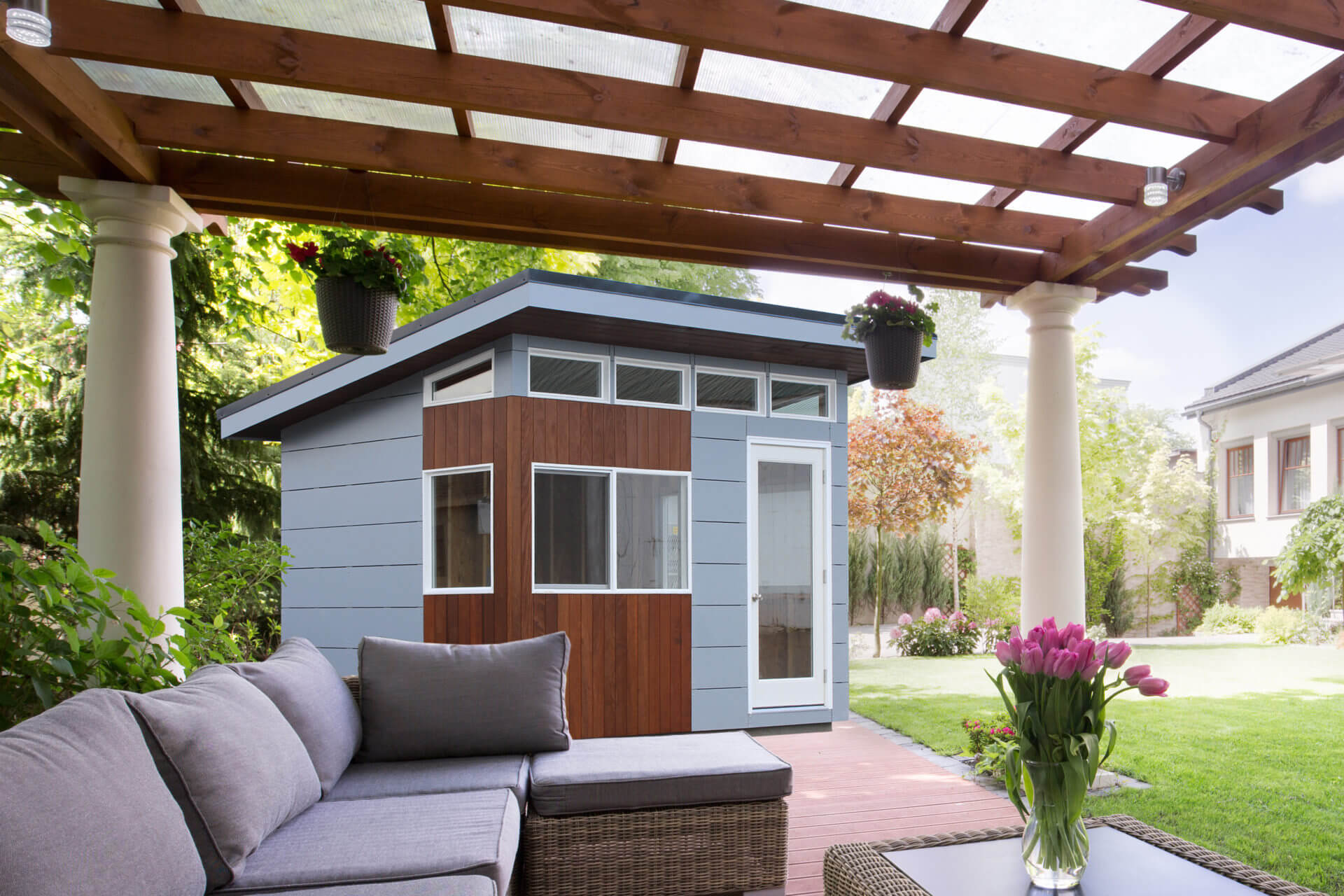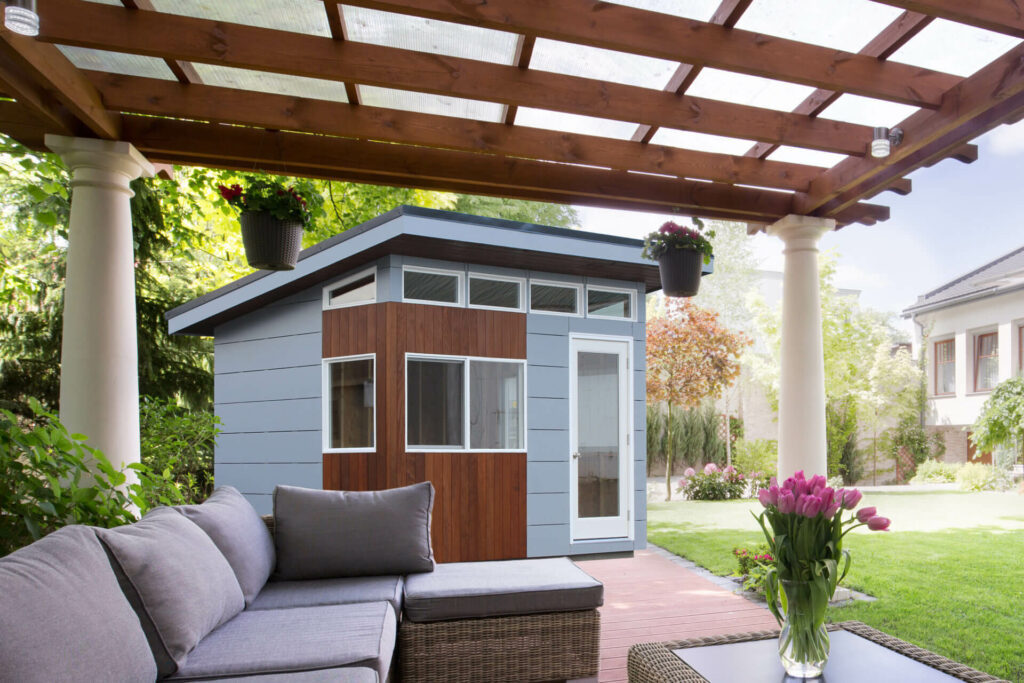 Pros
Cons
9 | Modern ADU Studio – Plús Hús
The Plus Hus Modern ADU Studio is a stylish workspace for remote workers. The spacious and well-lit interior, comfortable furniture, and state-of-the-art technology provide the perfect environment for productivity and collaboration.
At 320 square feet, this additional dwelling unit (ADU) is among the most spacious in the market. Three different variations of the ADU are available, including the Full model, which comes with a kitchenette and bathroom.
All finishes in the ADU are included in the price tag; some other included features are stainless steel appliances, stone countertops, a tankless water heater, and cabinetry.
This Plus Hus studio is a net-zero building with a wood-free exterior and interior paneled walls that provide excellent insulation.
Pros
Cons
10 | Modular Garden Office Kit – Hypedome
With its futuristic design and excellent aesthetics, the Modular Garden Office Kit looks like something out of a Steven Spielberg flick!
The completely transparent dome comes with panels that offer the ultimate sound insulation and excellent views of the outside, letting you have your own tiny bubble in the midst of all that's happening around you.
This studio is available in two size variants (Hypedome S and Hypedome M) that can be built anywhere and used in any weather.
The brand also offers several custom-made add-ons that enhance the studio's functionality based on your needs, such as the wall storage pockets, four design options for the exterior, etc. The pod's warranty is up to three years.
Pros
Cons
11 | Buhaus Luxury Living Unit – Buhaus
Sitting at the intersection of futuristic utility and luxury is the Buhaus Luxury Living Unit, a backyard office, guest house, and studio.
The Buhaus Luxury Living Unit is a luxurious, fully-equipped living space designed for remote workers. It features high-speed internet, a spacious work area, and all the amenities needed for a comfortable and productive stay.
What stands out about this unit is that it's a repurposed shipping container, adding a very unique flair to the house. You can choose from three exterior and interior finishes and opt for a desk or couch extension.
Whether you're working remotely for a short period or long-term, the Buhaus is the perfect place to call home.
Pros
Cons
12 | Zen Office Backyard Studio – YardADU
The Zen Office 01 from YardADU is last but not least. This modular, modern backyard office combines luxurious finishes with an excellent design, giving you 103 square feet of functionality and aesthetics.
The exterior frame is made of titanium, aluminum, and magnesium alloy, while the walls are made with thermal insulation aluminum film composite board. The glass used provides excellent insulation.
Inside, you'll find a ventilation system, an LED ceiling, and a floor insulated with the same aluminum film used for the walls.
The studio is also fireproof and features outlets for power supply.
Pros
Cons
Best Backyard Office Sheds Buyer's Guide
This buyer's guide comprehensively reviews the top shed options for creating a backyard studio workspace. With considerations for size, style, and budget, our guide helps you find the perfect shed to fit your needs.
Backyard Office Pod vs Prefab Shed
While they may seem the same, a backyard office pod and a prefab shed have several differences setting them apart.
For one, backyard office pods are typically luxurious, equipped with features such as air conditioning, heating, electricity, plumbing, and even washrooms and kitchenettes. This makes them the more expensive option.
Prefab sheds, on the other hand, are more minimal. Many of them may not even feature decorated or finished interiors or features such as heating, air conditioning, and other frills.
They're much cheaper compared to pods. However, some affordable pod options do exist, such as the Loop Cube. This can be set up indoors, in the garage, or in a corner.
Prefab Shed vs DIY Office Shed
If you're creative, a DIY shed may be extremely appealing as you can infuse your personality into the design.
However, while building your own shed will ensure that all creative control remains in your hands, it could turn out to be more of an investment, monetarily and otherwise, than a prefab shed.
Here's a look at the different factors to consider before making your decision.
Resources Needed For a Home Office Shed
Building your own shed is, no doubt, going to be more resource-intensive than buying a prefabricated shed.
Here are the different resources and architectural planning considerations you'll need to contemplate for your home office shed.
Design Considerations
Before you start building your shed, you're going to need to design it. This involves putting together a detailed blueprint with accurate dimensions, materials, and layout. This can take time and lots of careful thinking and planning.
If designing isn't your strong suit and you don't mind relinquishing creative control, you can always opt for a shed kit or a prefab shed.
Tools Needed
If you plan to build your own shed, you'll need to be familiar with power tools and, ideally, have some experience in using them. You'll need drills, nail punches, circular saws, framing nailers, air compressors, speed or framing squares, and sawhorses, in addition to protective gear like safety glasses and gloves.
If you don't already own these, they can be quite a hefty additional expense to bear unless you can borrow or rent them.
Of course, when you're buying a shed, power tools will not be in the picture. Your shed company will do all the work for you—you need to pick out the design and where it goes!
Time Needed
In addition to the time spent planning and designing your shed, building the shed will take you quite some time unless this is your sole project!
Is the amount you're saving on professional labor costs worth the amount of personal time you spend building your shed? Do you have the amount of time required in the first place?
With a prefab shed, you don't have to worry about any investment of your personal time (save the occasional decision-making and feedback) as everything is done for you.
Labor Involved
Building your own shed means literally getting your hands into the project, from sawing wood to nailing things to preparing your yard for the shed. If this is a lot of work, the professional labor that comes with pre-built sheds may be the way to go.
You'll be paying delivery costs, installation fees, labor fees, and possibly a ton of other fees. Still, if the idea of physical labor is unappealing to you, you may find these expenses to be worth it.
Your Skill Level
Building a shed is no easy job and something that is ideally not recommended for beginners. Unlike small boxes or frames, a shed is a huge project to take on, both in terms of size and difficulty.
You'll need to have enough experience with woodwork and in the usage of power tools to be able to build a shed successfully.
A Professional Result
Unless you have tons of experience building sheds, it's highly likely that the end result is going to be decent, at best.
However, when you buy a prefab shed, you get a professional, high-quality result and a purchase warranty, letting you seek redressal if something goes wrong within a stipulated period.
Costs Involved
When considering the expense of building vs buying a shed for your home office, a prefab shed is typically less expensive than a DIY shed.
In the former case, you'll be paying less per square foot because you'll be saving on labor and material costs while also getting a warranty on your purchase.
Creative Control
Your own shed will afford you complete creative control over the design and result. With a prefab shed, your options are limited to the designs available unless you have the budget to shell out for a customized shed.
To summarize, opt for a prefab shed if you want to save money, time, and resources and get professional results; opt for a DIY shed if you have the time, money, and resources to invest and want complete creative control from start to end. Based on these factors, you can decide whether to go for a prefab or a DIY shed.
Essential Services for Backyard Offices
There are four essential services that every backyard office should feature—air conditioning/heating, plumbing, electricity, and internet connectivity.
Plumbing
Plumbing is a must if your studio pod or backyard office features a sink, washroom, or kitchenette. Plus, showering after returning from a run in your home office would be very underrated.
Some brands mentioned offer plumbing setups by professional contractors, while others require you to handle this aspect.
Electricity
Whether you're using your unit as a home office, a yoga studio, or an extra space, you'll need electricity to make it functional and use all the electrical outlets, lights, and other features.
You can either get your electrician to hardwire the whole unit or treat it as a plug-and-play unit. Not many brands offer the latter, and even if they do, you'll have to specify your requirements to the brand in the beginning.
Internet Connectivity
If you're using the pod as a workspace, you won't get far without internet connectivity. While you can use your hotspot, this is not a very sustainable option, nor is it 100% reliable.
You can either set up a separate Wi-Fi connection or extend the one from your home (if the two are close enough in distance). You can also opt for a dial-up connection.
Air Conditioning and Heating
Depending on the external temperatures where you live, you'll need to opt for either one or both of these features. In any case, temperature control is an important part of any home studio.
Many pods have in-built heating and cooling systems, whereas more basic models may not feature them at all or offer the option of adding HVAC.
Best Backyard Office Sheds FAQ.
Some of the typical questions are related to customization options, delivery and installation process, and pricing information for these prefabricated outdoor office spaces.
Can I Build an Office in My Backyard?
Your backyard is a great spot to build your headquarters! You could build a patio office, repurpose a sunroom or a trailer/RV, or use an accessory dwelling unit, among other options.
However, know that this will influence appraisers and potential buyers and, therefore, the real estate value of your house (though the influence isn't always negative).
There are also legal implications to ponder before living in a backyard shed.

The design, cost, and functionality (Wi-Fi connectivity, temperature control, etc.) will also require much research and consideration.
How Much Do Backyard Office Shed Kits Cost?
A studio shed kit can cost anywhere between $30,000 and $100,000 for a fully equipped studio shed with essential services. That said, this depends on the material (plastic, metal, or wood, with wood being the most expensive), the number of doors and windows, and the shed size.
It's important to carefully consider your budget and needs when purchasing a backyard office shed kit and any additional costs for installation and customization.
Overall, the cost of a backyard office shed kit can be a worthwhile investment for those looking to add a dedicated workspace to their home.
What's the Most Affordable Backyard Studio Shed?
Prefab sheds from Northland Sheds, Kanga Room Systems, and Sheds Unlimited are affordable, high-quality sheds ranging in price from $6,000 to $29,000 for a turnkey solution.
These sheds are typically made of lightweight materials such as metal or plastic and may not have insulation or electrical wiring. They are designed for simple storage or as a workspace and may not be suitable for extended use or living purposes.
However, they can be an excellent budget-friendly option for those in need of a simple backyard structure. It's important to carefully consider your needs and budget before purchasing a shed to ensure you get the best value for your money.
The Bottom Line
A backyard shed for her or him, lets you have your own workspace and is a space for yourself in general, where you can take a breather from stress and routine.
There are several options available in the market, suitable for a range of different budgets and needs.
Invest in a backyard office, and you'll find that your productivity, peace of mind, focus, and energy will also increase.