Best Outdoor Wood Sealers
Wood sealers are an additional shield against external natural elements. Depending on factors such as the project size, type of sealer, efficiency against ultraviolets rays and water exposure, and drying time, woodworkers can consider some excellent oil and water-based wood sealer brands such as Ready Seal, Minwax, and Star Brite.
Many folks deem wood sealers unnecessary, but a wood sealer is an excellent way to keep your outdoor furniture as good as new for years to come. These sealants provide many benefits, such as water resistance, protection against ultraviolet rays, and retaining the woodwork's shine for significantly longer than when unsealed.
If you're in search of the best outdoor wood sealer for your next project, you're in the right place!
Best Sealer for Outdoor Wood
Here's our roundup of the ten best outdoor wood sealers in the market right now.
1 | Ready Seal 512 Exterior Sealer – Natural Cedar
The Ready Seal 512 Exterior Sealer is a quick, efficient answer to any wood-sealing job that needs to be done. This is a semi-transparent, oil-based stain-cum-sealer and is superb on outdoor woodwork, providing even coverage that still lets you see the beautiful natural grain.

In addition to enhancing the wood's natural grain, texture, and overall aesthetic, this all-weather, biodegradable sealer is also engineered to protect it from damage caused by ultraviolet rays, mold, and mildew.
It contains a carefully formulated blend of algaecide, pigment, resin, and oil, all of which work their way deep into the wood and work to preserve its beauty while protecting it, from the deepest level to the surface, from external elements.
The Ready Seal 512 Exterior Sealer can be applied to the surface using a brush, roller, or sprayer. It doesn't require any wet-line application; the first coat must dry completely (which it does within a mere 45 minutes) before the second coat can be applied.

It doesn't require a primer or any thinning or dilution before use, nor any back brushing during application—Ready Seal can give you an even coat even without back brushing.
Note that the sealer is at its darkest on the first application. The true color emerges around 14 days after the sealing is completed. Additionally, Ready Seal shouldn't be used over newly painted or stained surfaces, as the sealing of these surfaces will inhibit Ready Seal's penetration.
Ready Seal meets all volatile organic compounds (VOC) requirements put forth by the United States Environmental Protection Guidelines.
Pros
Cons
2 | L R Liquid Waterproof Sealant – Water-Based
The LR Liquid Waterproof Sealant is an offering from Liquid Rubber, a brand that's been around for over two decades now and is known for its eco-friendly, quality products. Therefore, with this L R waterproof sealant, you know you're assured of the quality and experience that comes with brand backing.
What you're also assured of is a superb outdoor wood sealer that works its waterproof magic on a range of surfaces, whether it's concrete, wood, or metal, and whether it's a metal roof, shed, basement, flat roof, sloped roof, or simply a planter box. It can even be used to seal cracks, flashings, and joints.
A gallon can cover 30 square feet of a vertical surface (you'll need 3-4 coats if you're looking for a 30-mil-thick layer), while 15 square feet of a flat or ponding surface can be covered by a gallon (for a 60 to 80-mil-thick layer, you'll need around 4 or 5 coats).
With over 1,000% elongation in the final membrane, users are guaranteed against adhesion failure—what this simply means is that the final coat, due to its flexibility, won't be destroyed by minor movement. The product's "UV Stable" feature prevents any degradation in the product from ultraviolet rays.
Despite all these scientifically advanced features, the L R Liquid Waterproof Sealant is eco-friendly since it contains no solvents, odors, or VOCs, and is water-based. This also makes it safe for pets, plants, and humans; it's so safe that it can be applied anywhere, including indoors, without the need for any special breathing gear!
Depending on the weather/climate, this sealant takes anywhere between 24 and 48 hours to cure fully (this is the curing time at 50% relative humidity and 25℃). This duration increases for colder temperatures and high humidity conditions.
Pros
Cons
3 | Shabby Chic Multi-Surface Sealer – Chalk Paint
Shabby Chic is something of a veteran, having been a major player in the paint and sealant industry since 1994. This UK-based family business's first product was the Liquid Chalk Marker, and today, the brand is known for its impressive range of chalk and water-based products.
The Shabby Chic Multi-Surface Sealer carries this legacy forward—this acrylic, low-sheen, water-based sealant gives chalk-painted furniture a beautiful, satiny finish while also protecting it from moisture, rain, ultraviolet rays, harsh sunlight, and even light abrasion.
The sealant can be used for both indoor and outdoor painted surfaces and can be applied to doors, decking, tiles, plastic, metal, pottery, bricks and mortar, and wooden furniture.
Apart from this, the sealant is flexible and capable of reacting to heat, cold, and other conditions just like the surface it's applied on—this ability to contract and expand with the surface prevents cracks and peeling off and brings an impressive level of durability to the table.
This Shabby Chic sealant has almost no odor, a very low level of VOCs, and no solvents, phthalates, heavy metals, or formaldehyde. On the whole, the formula is non-toxic.
Pros
Cons
4 | Minwax Helmsman Spar Urethane – Clear Sealer
This clear, glossy, water-based sealer from the reputed Minwax's stable is great for exterior and interior furniture, protecting the surface from various external elements.
The sealant protects against temperature changes by contracting and expanding with the surface. The special oils in the formula facilitate this while also giving the project a beautiful sheen, along with the water-based spar urethane formula that provides a crystal-clear finish and preserves the wood's natural beauty.
When it comes to moisture exposure, the sealant forms a protective shield around the furniture, preventing water molecules from penetrating and causing damage.
The effects of ultraviolet rays are taken care of by the ultraviolet blockers in the varnish that protect the surface from fading and graying.
The Minwax Helmsman Spar Urethane sealer is best on light-colored stains and projects such as windows, doors, bar tops, trims, outdoor furniture, bathroom cabinets, and kitchen countertops. However, versatile as it is, this sealant isn't recommended for flooring of any kind.
Pros
Cons
5 | Star Brite Premium Golden Teak Oil – Oil Based
When it comes to durability, few teak-oil sealers do better than Star Brite Premium Golden Teak Oil.
This oil-based sealer gives your projects, mainly hardwood and teak furniture, long-lasting protection while keeping them looking as good as new for years, with a beautiful golden-hue finish.
Made using ultra-refined "premium natural oils" that are blended with premium additives, this teak oil is capable of holding up against rain, wind, ultraviolet rays, salt water, and sunlight for significantly longer than most teak oils do, keeping any fading and weathering at bay for an impressive period before re-application is required.
Star Brite Teak Oil can be used on all wood and fine wood projects, including pools and boats.
Pros
Cons
6 | Seal-Once Marine Wood Sealer – Low VOC
The Seal-One Marine Wood Sealer accomplishes three different tasks—seal, stain, and finish—while fighting off damage.
This marine sealant uses a liquid, water-based, waterproof formula to protect your furniture from damage caused by weather elements, water, and salt water, making it a great option for outdoor projects like boat docks, thermally modified wood, and outdoor furniture in general.
The protective elements in the formula penetrate all the way to the deepest level of the surface, where they coat individual wood fibers to provide long-lasting protection, to the color and the surface's strength, from the inside out. This also makes the wood 'flexible' and breathable.
This wood sealer can also be used on flooring, swing sets, piers, pool decks, walkways, porches, and siding. It's also extremely safe to use around plants, pets, children, and people—the extremely low levels of VOCs and odor also make it environmentally friendly.
Pros
Cons
7 | Seal It Green Garden Box Sealer – Plant-Based
If you're looking for an excellent plant-based sealer for your gardening projects, look no further than the Seal It Green Garden Box Sealer.
This sealer is made using corn/soy-derived carriers, plant-based preservatives, tree nut oils, and coconut-derived surfactants.
No linseed oil, toxic solvents, cedar oils, pine oils, heavy metals, ferrous sulfates, and waxes are used to manufacture the product, making it as eco-friendly, organic, and as non-toxic as sealers come—to plants (the bonds don't leach into the soil from the wood), children, and pets!
The Seal It Green Garden Box Sealer effectively waterproofs your project, regardless of the type of wood (pressure-treated wood included), and promises protection for 10 years and more, thanks to the deep-penetrating protective elements in the sealer.
When it comes to coverage, a little goes a long way—a gallon can cover up to 600 square feet of new wood or 400 square feet of aged wood. The sealant can also be used in projects like chicken coops, bird feeders, birdhouses, and dog houses.
In fact, the company claims that this is the sealer of choice for professional growers who need to abide by soil toxicity regulations.
Pros
Cons
8 | Storm System Stain Protector – Semi-Transparent
With quite a fierce (apt name), the Storm System Stain Protector is a semi-transparent sealer and stain that can be used on fences, decks, and siding made from exterior wood of any kind, from natural mahogany, douglas fir, cypress, spruce, redwood, pine, and cedar to pressure-treated lumber.
Like most sealers, this one, too, is waterproof and UV resistant, which helps keep the color and integrity of the furniture intact for as long as possible, despite the effects of weather and natural elements.
The semi-transparency of the trans oxide pigments means that the natural grain and texture of the wood aren't completely hidden but thrown into relief by the sealer.
The spread rate for a smooth surface is around 125 to 175 square feet per gallon, while for a porous surface, it's around 100 to 150 square feet per gallon.
Pros
Cons
9 | Acri-Soy Water Repellant Sealer – Matte Finish
This acrylic, non-toxic sealer relies on a bio-based, water-based hybrid emulsion to provide excellent coverage, protection, and a nice finish to woodwork.
Its secret ingredient is a patented bio-renewable resin blend, which penetrates and bonds deep to provide long-lasting shielding against efflorescence, staining, graying, fading, peeling, flaking, mold, moisture, sunlight, ultraviolet rays, and other damaging elements.
The Acri-Soy sealer gives you a matte finish while retaining the properties of the surface. You can also use this sealer as a base coat for topcoat paint applications or sealers.
This multi-surface sealer can be used on any old or new porous surface, including driveways, concrete floors, masonry blocks, stucco, bricks, tiles, block walls, plaster finishes, wood decks, pavers, and tile grout.
A gallon can cover around 500 to 800 square feet and can be used both indoors and outdoors. The sealer is toxin-free, has no Red List chemicals, has no odors, boasts zero-VOC emissions, and is Green Building compliant.
Pros
Cons
10 | New Semco Teak Wood Sealant – Teak Sealer
Rounding off the list is the New Semco Teak Wood Sealant, a water-repellent star when it comes to sealing boats and weathered teak projects.
This eco-friendly, water-based sealant gives a rich golden finish to the surface, which remains intact for a whole year thanks to the UV inhibitors and pigments in the formula.
A gallon of this sealer can cover around 200 square feet in the first coat and 400 square feet in the second coat. Renewed application of the sealer doesn't require deep cleaning or stripping.
Pros
Cons
Sealer for Outdoor Wood Buyer's Guide
If you'd like to shop around on your own, here's what you should keep in mind when picking out an outdoor wood sealer.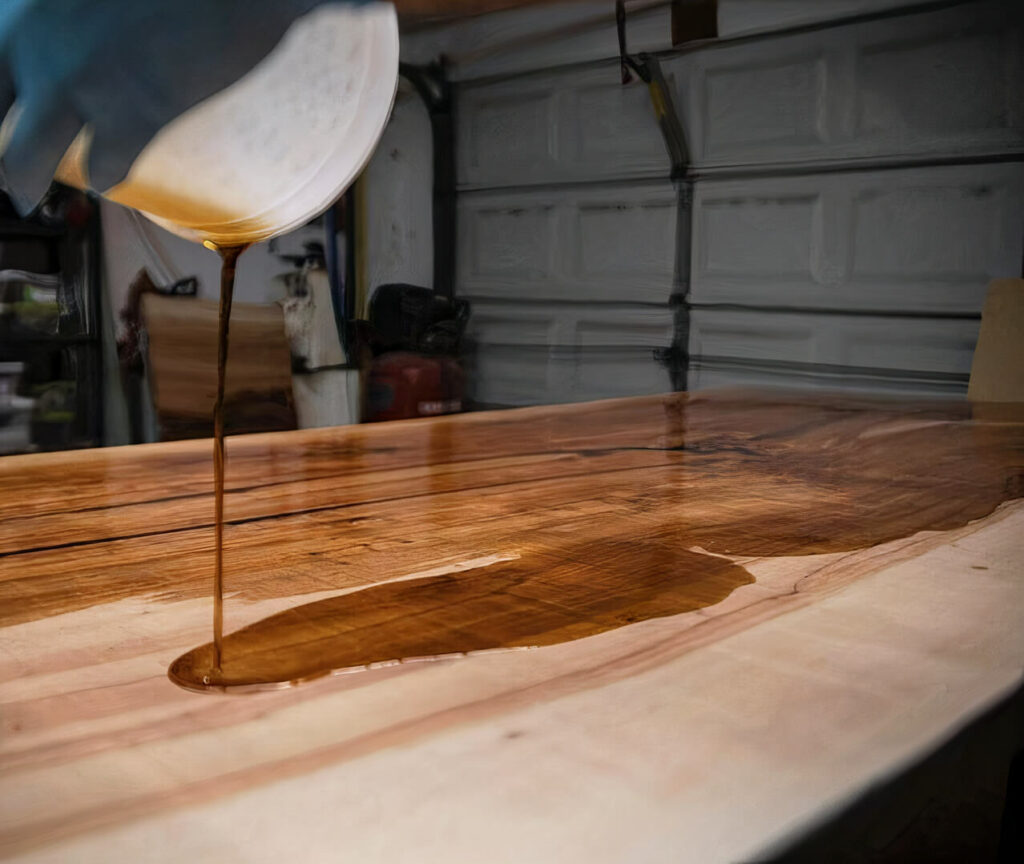 Sealer Type
If you've noticed so far, sealers can be oil- or water-based. The latter is more popular due to several reasons, such as less toxicity and odors, quick drying time, and ease of cleaning up. However, there is the risk of a cloud finish with this type of sealer and the possibility of the wood changing color.
On the other hand, oil-based sealers are more for aesthetic appeal than protective value. These sealers enhance the natural look and grain of the wood by darkening the surface and imparting a lot of sheen to it—so much so that the surface becomes reflective!
Project Size
How big or small your project is will also define the type of sealer you buy. For larger projects, you want something that is quick-drying, easy to apply and clean, cost-effective, and, most importantly, gives you excellent coverage.
These factors aren't as important for the occasional, smaller project, and you may splurge on a fancy sealer.
Drying Time
Some sealers dry faster than others. Water-based sealers, for example, dry faster than oil-based sealers. This is essential when you need to apply multiple coats to your project, such as when you want a dark finish or multiple coats are recommended by the manufacturer.
Additionally, with some sealers, the first coat behaves like a primer, getting absorbed into the surface, and it is only from the second coat onwards that the true color shows up.
Additionally, a longer drying time means that there are more chances of dust, dirt, and other contaminants collecting and sticking on the surface, which is often the case with slow-drying oil-based sealers.
Waterproofing
For an outdoor project, waterproofing is non-negotiable. A sealer must be able to protect your furniture against rain, snow, humidity, and other moisture exposure without fading, dulling, graying, or staining wood.
Most oil-based sealers are extremely effective against water exposure, though many water-based sealers also do a great job.
There is no point in buying a sealer that requires reapplication every time you face a little shower, or a year of humidity if you live in a highly humid region.
UV Protection
Ultraviolet rays can be quite harmful to outdoor furniture. With prolonged exposure, woodwork and furniture can dull, fade, and gray from these rays. They can even split or crack.
Therefore, UV protection, like waterproofing, is non-negotiable in outdoor wood sealers, especially if you live in a sunny region (though you should invest in a wood sealer whether or not you live in a sunny region!).
Wood sealers should be able to block the harmful effects of these rays and keep the color and integrity of your furniture protected and unchanged for as long as possible.
Best Outdoor Wood Sealers FAQ
Do You Need to Seal Wood Furniture?
Sealing wood furniture will keep it protected and strong in the long run. Sealing wood prevents moisture from penetrating it, preventing rot from rain, fog, humidity, and other forms of moisture and water. Such exposure can be harmful due to a number of reasons.
For one, it could encourage the growth of fungi all over the furniture, causing it to decay much faster. Secondly, any water that gets into the wood and freezes inside can cause it to crack or splinter from the inside.
A sealer's extra layer of protection will help your furniture better withstand the ravages of external and environmental elements and retain its shape and integrity.
When to Use Wood Sealer for Outdoor Furniture?
It is generally recommended to use a wood sealer on outdoor furniture to protect the wood from the elements, including moisture, UV light, and extreme temperatures.
Wood sealer can be used at any time and anywhere for outdoor furniture. The extra layer of protection will only do your furniture good, to help to prevent expensive wood from drying out, cracking, or warping, and can also help to extend the life of the furniture.
Just ensure that when you're applying the sealer, the weather outside is sunny or conducive to the sealer drying.
Can You Paint Over Wood Sealer?
Yes, you can paint over a sealed surface. However, not all types of paint will stick to such surfaces. Water-based acrylic paints work best.
Also, applying a coat of sealer before painting is often recommended, as it can help to protect the wood and improve the durability and longevity of the paint finish.
The Bottom Line
With this guide, you should be all set for your next outdoor project, at least when it comes to sealing.
Take a pick from our list or find a sealant on your own, but don't skip this step, especially if you're creating a DIY woodworking furniture project your plan on building and selling.
It could make all the difference between a 10-year-old bench looking brand new and a brand-new bench looking 10 years old!