Budget Man Cave Ideas for homeowners
Don't have your own man cave yet? Let's change that by brainstorming some of the best budget man cave ideas of 2022.
It doesn't matter where it is – it could be a garage, a spare bedroom, a basement, or a garden shed. You could furnish it with classic additions like a pool table or minibar. You could go all-out with a full VR set-up or wine cellar.
You've established your space. Good. Now it's time to sort out that man cave decor. It's time to get personal because this is where you get to express your personality.
Here are some awesome man cave ideas for themes, decorations, and uses.
Cheap Man Cave Ideas: Under 15k
Let's start with man cave ideas that everyone can afford.
From a man cave bar to a rustic workshed, there are so many great budget-friendly man cave ideas to consider. Plus, you can always soup it up later if you choose to expand the space or add more cool man cave furniture decor.
1 | Garage Man Cave
The garage has long been man's retreat from the endless noise of the world. In the garage, there are tools and beer fridges. This is a hiding space for things that were supposed to be thrown out but have been saved. For gents of a certain age, the garage man cave is home to a treasure trove of VHS cassettes with tapings of high-quality war documentaries.
There might be a car in the middle of the garage. The car will probably have to find a new home if you want to spend much time here. In the meantime, it's a warm(ish) place to sit and listen to the radio.
The garage is the ultimate in cheap man cave ideas. It's full of things you love, and with a bit of rearranging, you'll have room to tinker with those things. The garage man cave can also be the foundation of so many ideas listed below – its possibilities are endless.
2 | Basement Man Cave
The basement is another natural hideaway. Going underground feels safe and like hibernation. Hibernation is an honorable pastime of bears (not strictly true, but eh). The basement man cave is safe, like a bear cave.
For some man cave ideas (mostly those involving cigars), the basement may need a wall that either has a window or can have a window installed in it. If your basement hasn't been used in a long time, you may also have to do a thorough clean-out before you start adapting it.
This could involve installing better lighting and heating, although heating can be on the costly side. However, these changes make basement man caves a more wholesome space to invite guests – but only the guests you want to invite – and also make the basement a less appealing home for large arachnids. Not all bears are fond of big spiders in their hibernation homes, and that's fine.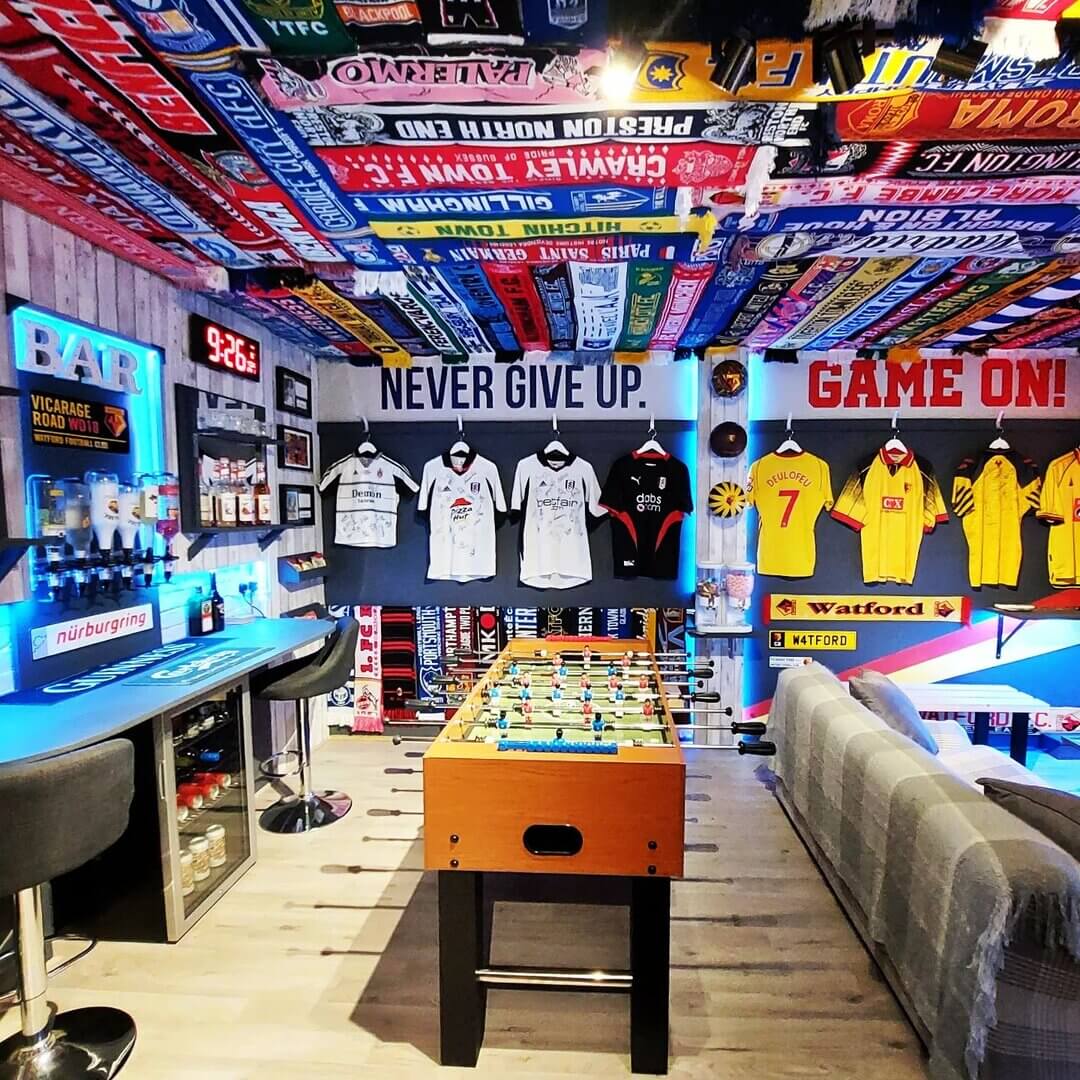 3 | Poker Utopia
Let's get onto customization. Equally appropriate for basement or garage man cave ideas, the poker table is a popular classic. Hosting game night is an honor, and the small selection of guests you host will appreciate it if you pick out a table big enough for everyone to play.
Comfortable seating is another plus, but remember that we're still considering cheap man cave ideas – you don't need to splash out on furniture to have a good time. After all, Dan Conner never did.
A folding poker table is also a great starting choice for a garage man cave because it's easy to pack away if you need the garage for other things. There's no reason to limit yourself to a set design if you're still working with basic man cave ideas. Spartan furnishings can allow more options.
4 | Sports Bar Cave
A sports bar man cave is a great choice for a basement as your wife won't have to put up with you yelling at the refs come Sunday. Although to do this right, you'll need a few essentials:
An advantage of this kind of cave is that there's so much room to improve it over time. Upgrade the large-screen TV to a giant screen. Add another sofa or a pool table. Put some bar stools in. It's your call.
5 | Shed Man Cave
Shed man cave ideas depend on what you're working with. Some sheds can barely fit a lawnmower, others can sleep a family of 5. Or a few tired men, if there are enough comfy sofas and there's been enough beer.
Sheds can be expanded or built from scratch. The best man cave ideas always involve an extensive DIY project.
If you've got room to bulk out the shed, get yourself down to the hardware store and pick up a few things to stow away in your garage man cave while you're at it. What? You can have two, that's allowed.
6 | Rustic Cigar Bar
This is a perfect man cave idea for a shed or barn setting and by using a lot of woods it will add a homely feel to a rustic cigar man cave.
A garage man cave can also work well, but try to make sure there's a well-ventilated space between the cigar-smoking area and places where your kids or any non-smokers might be.
Maybe you like country, maybe you prefer the moody blues. You can watch your cigar smoke trail listlessly upwards to any music you like. Add some wall art to start building a manly aesthetic mood, and installing fancy ambient lighting like pictured will most certainly help.
7 | Cocktail Cave
Like getting creative with your drinks? Build yourself an awesome man cave with a high ceiling and work on your flair bartending skills.
Give up after mopping the floor for about the 10th time and forget about needing a higher ceiling (you're in the basement. What do you mean, "higher ceiling"). Just mix delicious drinks for your friends like a normal person.
Having a cocktail bar area at home isn't just great fun, it also lets you enjoy some delicious drinks without paying through the nose in a bar. These are great as basement bars or garage man cave ideas.
8 | Bedroom Man Zone
Working from home is more common these days. Working from your bed is a comfortable alternative to a desk, especially after lunch.
You need to take a break from work sometimes. If your space is limited or you live in shared accommodation, your bedroom is the center of your man cave ideas. Turn it into a man zone by adding some creature comforts as well as functional furniture.
Darts are a great way to unwind even when you're alone, while a foosball table or mini pool table means you can entertain guests or housemates.
9 | Workshop to Funshop
If you're a woodworking kind of guy, you may already have a space set up as a workshop to take advantage of. It's among the best garage man cave ideas as it's about as DIY as it gets.
You can keep the DIY project going while upgrading the space by installing (or crafting) a man cave bar, a TV, or being able to swap the workbench out for a card or table tennis table.
Having the means to unwind after working on mastering your craft in the workshop is paramount, plus a few extracurricular activities in-house will be an easy sell when you need an extra helping hand.
10 | Office Man Cave
The home office is another place of blessed, quiet retreat. It's a sanctum where you can get on with your work for the day.
It's also a place where nobody knows what you're doing, which means you can upgrade it with fun activities to distract yourself from work.
Cheap man cave ideas for your office might include a games console, a mini-fridge, or a larger desktop monitor to better view your important work. You might even need a TV-sized screen; it's so hard to read the information on spreadsheets.
11 | Attic Man Cave
Depending on the design of your property, the attic can be an incredible space for creative man cave ideas. Some houses have extremely long attic spaces, making them perfect for multi-purpose man cave ideas.
For example, you could include a bar and table at one end of the room for having the guests over, and a TV and armchair at the other end for when you want a bit of undisturbed viewing time.
The possibilities are endless, although you should stick to options that don't require too much movement – attics are noisy places.
12 | Fight Club Cave
This is one idea you shouldn't host in your attic. However, one of our most affordable garage man cave ideas is… fight club! You know you've always wanted to try it.
You don't have to take it quite as seriously as the guys in the film. For legal reasons, we recommend that you don't take it anywhere near that seriously.
However, you can easily make a basic sparring ring for you and your buddies. It's loads of fun and costs nothing.
13 | Biker's Den
Perfect for shed or garage man cave ideas, this budget concept works best if you have some friends who own bikes.
Preferably there's space to park said bikes directly outside the budget biker's den. However, this isn't mandatory.
If it's just you, your bike, and a beer in your bar shed, what's the issue? Nobody's arguing, nobody's bothering you. If it feels right, do it. There are so many amazing shed or garage man cave decor ideas when you choose a biker theme.
14 | Surf Club Cave
Likewise – it's your own space and it can look like what you want. You don't need a beach shack to create man cave ideas that make you feel at home and in your element.
If you love surfing, remind yourself of the waves by setting up your shed or garage to reflect this.
The most important thing with budget ideas is to build a nice room without spending much money. Feel happy in your surf club? Then you've made a great choice.
15| Fitness Freak Cave
Creating a home gym for those with man cave ideas that revolve around protein shakes instead of shots of hard hard liquor to the sounds of heavy metal, plus it's also a budget-friendly way to keep yourself fit.
It's a place to escape and blow off steam, but it's also a place to hone your mind and body when you're feeling focused.
A man should always emerge from his man cave stronger than when he entered. Spiritually, mentally, and physically. Setting up a budget gym means you've at least got the 3rd one covered.
Awesome Man Cave Ideas: Over 15k
Ready to splash out a bit more or take your man cave theme to the next level? Check out these luxury ideas.
16 | Home Theater Cave
The first step to a home theater experience isn't just a gigantic screen to marvel at with a scotch in hand. It's not a projector. It's surround sound. You must have a high-quality surround sound audio system like a Dolby Atmos Soundbar if you're going to call it a home theater.
Of course, getting a huge UHD screen and or a projector is the natural next step, and the bigger the better when it comes to 4k or even 8k screens.
But don't be that guy who invites everyone over for movie night and then cracks out a "surprisingly good" portable speaker with a "meh" mini projector. It's unbecoming for the man, and a damn insult to any established man cave.
17 | Gaming Man Cave
This kind of man cave can be as simple as a PS5 or new high-powered Xbox gaming system with a 200Hz gaming-friendly TV screen, or you can go balls to the wall and max out a full PC gaming setup.
While the main hardware or console of choice is one major characteristic to consider for any gaming setup, aesthetics in regards to lighting is paramount if you want to truly level up.
Whether you go casual with a lounge or competitive gaming chair will likely depend on how serious of a gamer you are and if you plan on having fellow gamers over. I'd recommend going with a modular lounge or a gaming chair and some beanbags for drop-ins.
18 | Shooter's Paradise
Got an extensive yard (or preferably a field) and a good-sized shed? There are a few calls you'll have to make before setting up a home shooting range, and we won't get into that here.
However, a shed with the rustic look of a hunter's cabin and display cases containing some rustic wooden shelves holding a few top-quality firearms makes for a handsome man cave.
Picture the stag's head on the wall and the rifles in a barrel in the corner. You and the guys smoking cigars and sipping fine whiskey at the table. Bring the classic saloon look to your house with man cave ideas like this.
19 | Man Spa Cave
Saunas, sunbeds, jacuzzis… if you've got the finances for your man spa, there are no limits to what you can install to create the ultimate cave-like environment.
That said, this might be the kind of room the more health-conscious individual would fabricate, so the bar area might be serving wheatgrass and kale shakes as opposed to Budweiser and Tequila.
While an actual cave in your home is very unrealistic, adding some of these elements to your garage area that currently houses your gym equipment would be more than ideal.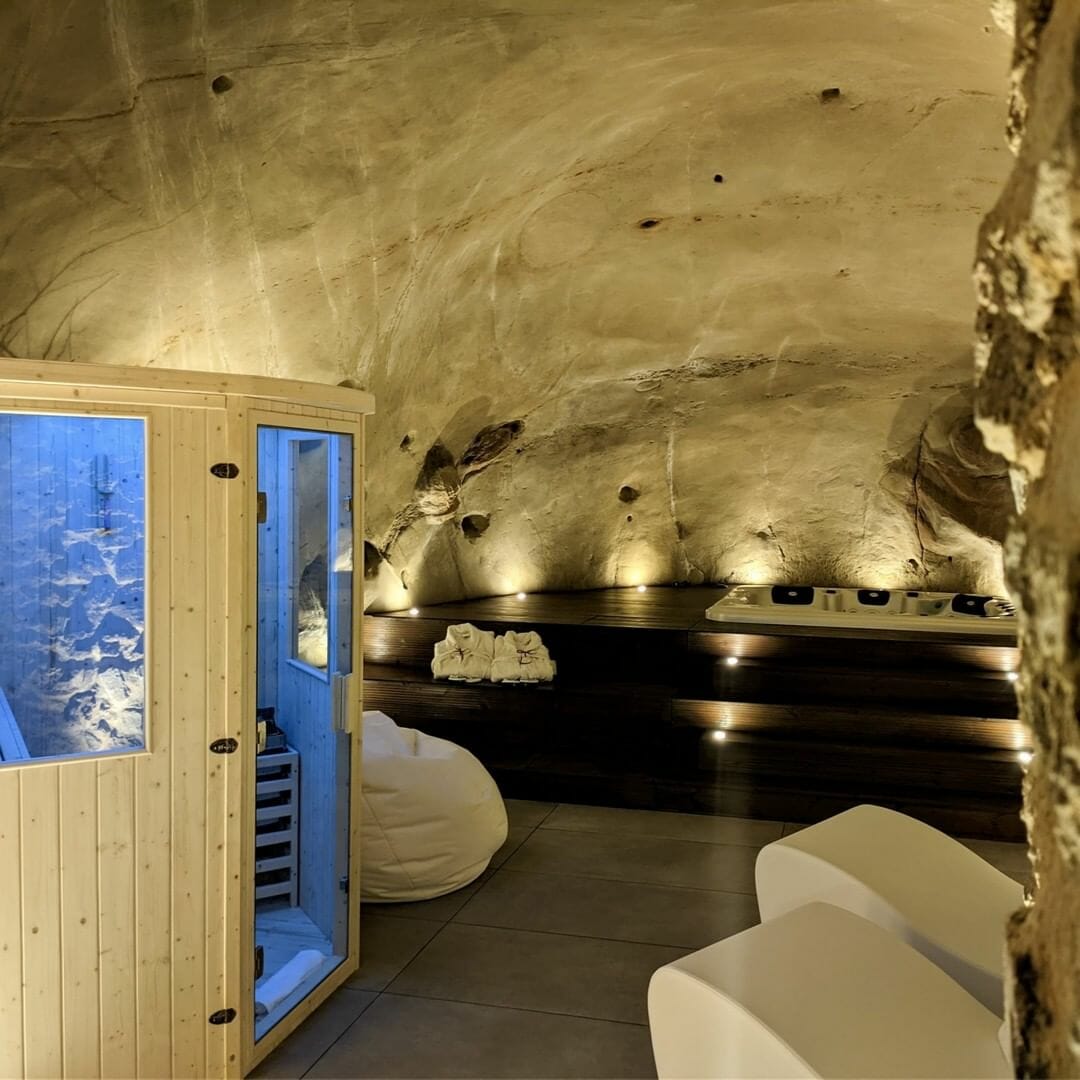 20 | Ping Pong Cave
A ping pong table doesn't cost too much money, so why isn't it in the budget man cave ideas section? Because finding the space for a ping pong table might require you to extend your shed, especially if you're going to play it right.
People say it's a game, not a sport. People don't watch the Olympics enough. You need plenty of space to set up a ping pong arena – this also allows you to have inclusive "round the table" games and involve more people.
Plus you can fold the table up later and switch it out for a beer pong table. There are almost no man cave ideas you can't combine with a bar.
21 | Wine Cellar Cave
Another natural companion of the man cave bar, is booze in the form of wine! So with that, why not add a wine cellar to your new underground adobe?
This is especially appropriate for finished basements, as you'll want to keep your treasured bottles away from ambient light and in cooler conditions.
That said, a garage with an appropriate storage area and not too much natural light would also be a good choice. Plus, you could also add a few wine drums or a rustic wine wall rack for a homely feel.
22 | Vintage Cave
If you're a guy or gal who's fond of reminiscing about simpler times while blasting old-school tunes while sipping on an Old Fashioned, creating a vintage-themed man cave could be just what's missing in your life.
Whether you want to deck out your space with vintage furniture and decor, or simply want to create a space that has a retro feel, there are plenty of ways to achieve your goal.
One of the best ways to create a vintage man cave is to start with the vintage-themed furniture from thrift stores. Look for pieces that are representative of different eras, such as mid-century modern or Art Deco.
23 | Football Cave
Turning your basement or shed into a football sanctuary where Sundays remain a religious day for the pigskin will likely impress everyone but your wife.
The bigger the bar and TV the better, and if you can afford it, multiple screens would be the way to go, as there is more than one game on Sundays.
When it comes to decorating your football retreat, you can showcase your team as the greatest franchise in sports history, while ignoring every other team. Your house, your rules.
24 | Rock'n Roll Cave
Whether it's a musician's man cave in your shed or a garage shrine to your favorite recording artists, this is among the most classic man cave ideas.
Rock'n roll turned our teenage bedrooms (our original man caves, you might say) into places our parents feared to tread.
Let it do the same now for everyone we're trying to escape from – turn the volume up, picture The Boss giving you a quick thumbs-up, and rack up the pool table. It's time to feel brooding and distant and alive.
25 | Arcade Man Cave
If you're unaware, those funky-looking old-school arcade machines at the dive bars are available for home purchase… at the right price.
They're even more fun when you don't sink $20 into them and then watch some guy wander over and empty the machine into their pockets.
Or maybe that's part of the joy of them. Arcade machines are part of many great garage man cave ideas and partner perfectly with a home bar. Many of these machines don't even require coins.
26 | Mary Jane's Den
Transforming your garage or shed into a safe haven for stoners will without a doubt make this kind of man cave the most chill on the list.
There are no limits here in regards to accessories and gunja gadgets you can add to decorate the new weed spot. With the world of weed being legalized (mostly), you can set up a little grow section and get super creative with it.
With some Bob Marley pictures and a Jamaican flag draped over the back of your bar area, you'll be able to chillax in a haze of weed smoke without a care in the world and with a beer in hand.
27 | Virtual Meta Cave
If you're looking forward to being thrust into the metaverse permanently leaving your meat sack behind, this futuristic option offering an alternate reality might be for you.
The one thing you will need with such a room design is space. Outside of some decent square meterage, you'll need to grab some VR gadgets, like a Valve Index headset or maybe even the Virtuix Omni One treadmill, although this one will break the bank.
The good thing about this meta cave option is that you won't need a whole lot of decorating unless you want to add a bit of a gaming element. If so, going with something like this from "insert @name" would be damn near perfect, if your budget allows it.
28 | Retro Man Cave
Themed man caves revolving around your wonder years are all the rage these days, and there's no cooler theme than a retro man cave!
When it comes to furnishing your retro man cave, there are a few key pieces that you'll want to make sure to include. A vintage bar is an absolute must-have, and if you can get your hands on a jukebox and a turntable, you'll be turning heads for sure.
With a retro man cave, you can make it as kitschy or classy as you like. If you want to go all-out with throwback decor, have at it! But if you'd rather keep things more subtle, you can add a little bizarre-looking artwork on the walls and you retro-to-go.
29 | Craftsman Cave
Whether you want to call it a garage, a shed, or a man cave, this is your chance to design the perfect space for you to master the craft of woodworking from home.
This will be your DIY space to get away from it all and just relax while blasting sawdust into the nearest exhaust. That said, there's no reason why you can't stuff a refrigerator in the corner to pound Bud's once the jobs done.
Embarking on a complete redesign of your existing garage or shed from top to bottom won't be mandatory. Crafting a few beams, a woodworking table, and maybe some barstools for yourself to relax a little.
30 | Man Cave by Fire
Who said that man cave ideas need to be restricted to merely indoor events revolving around Beer Pong and Tequila shots? You can just as easily turn your backyard into an almighty caveman experience with an outdoor fire pit.
Gather round the campfire and trade stories in the evening, or take some time out and search for life's answers in the flames. You can even roast marshmallows!
This fun backyard idea is perfect for any guy who loves the outdoors, and it's sure to be a hit with any guests you have over. Not only that, for those who enjoy a cigar or something green to smoke, you can again take advantage of being outdoors.
Low Budget Man Cave Idea Tips
Here are our top tips for transforming a garage, shed, spare room, or any other space on a budget.
Man Cave Décor
Pick a color scheme. Consider the purpose of the room. Rock'n roll? Chaotic and vibrant. Whiskey bar? Understated, woody tones. A mix of both? Woody tones, but stylishly vandalized.
Does it spark joy? Marie Kondo-ing your garage man cave is a very good idea. It's supposed to be a place that feels like you. Choose items that reflect this.
Choose what fits. Don't try to cram too much in. If a bar doesn't fit, downsize to a mini-fridge. There's always time to upgrade.
Planning for guests? If you want to entertain others, search for the balance between personalized and welcoming. Don't make it too intense!
Keep it budget-friendly. It can be tempting to splash out on your man cave immediately. There'll come the right time. Balance your spending with the rest of your budget.
Best Man Cave Jukebox
Crosley CR1215A-WA Jukebox With Bluetooth (Walnut)
Awesome-looking jukebox built from high-quality walnut with bluetooth receiver allowing you allowing you to stream your most treasured playlists and music.
Equipped with four (4) built-in stereo speakers that provide superb crystal clear sound with two (2) additional wired speakers.
Auxiliary input lets you connect your smartphone, tablet or other media device so you can listen to your favorite tunes.
Built-in CD player allows you to play your preferred CDs, with both AM/FM radio receiver lets you listen to any radio station.
Man Cave Ambience and Lighting
Expecting guests? Keep it light. Entering someone else's space and not being able to see anything is an odd feeling. Unless it's a gaming or cinema room.
Not too light. A relaxed, twilit vibe is perfect for bars and cigar lounges. A side table lamp or wall lamps are great options.
Mood music. Surround sound is always welcome in a man cave. If that's out of budget, as long as your garage isn't set up as a theater, just make sure the tunes fit the purpose.
The smell is important. Think of the "good" manly smells. Wood polish. Bourbon. Pine resin. Not stale sweat and farts. Keep your garage aired, and keep some good beeswax polish to hand.
Candles are great – but be careful. Candles are great ideas for a rustic man cave. However, they can be dangerous in predominantly wooden rooms. Candle with care.
Best Rustic Farmhouse Chandelier
Bribyit Rustic Farmhouse Chandelier
Unique pendant light design providing an ideal rustic themed look for your basement or man cave to set the tone and a manly atmosphere.
Fitted with a hollowed lampshade at the bottom , this chandelier is perfect for use with a standard 60-watt incandescent bulb.
The arms of the chandelier are made of robust hardened metal and are designed to showcase an industrial look for your cave.
Adjustable suspension height system between 9.5" and 52.8" with an easy-to-use Toggle Clasp, making it perfect for use in any room.
Man Cave Furniture
Sofas. One of the best man cave ideas, sofas are great whether you're alone or you have guests. Ideally facing the TV.
TVs. One TV is important for almost all these ideas. Multiple TVs are good for sports and football bar man cave ideas. So are multiple sofas, come to that.
Barstools. If you've got a man cave bar… you'll need stools. Handcraft these yourself for extra points. They're also very affordable if you're on a budget.
Side tables. Essential for chips, dips, beers, ashtrays… you name it. There should be multiple side tables around larger man cave areas.
The card table. If you're going to host a poker night in your man cave, you'll need a good-sized table to play at. You'll need enough chairs for all your guests, too.
Man Cave Banners and Signs
Football/sports banners. If you're going for sports-themed ideas for your man cave, make it clear to any guests that while they're here, they're supporting your team.
Rock'n roll posters and banners. You didn't throw them out when you left your teen bedroom, right? Stick 'em back up in your man cave.
Pin-ups. Okay. This one depends on your circumstances. Your wife might not be too happy to see them in the garage. But… we're just saying.
Bar signs. Ever wanted a nice, handcrafted wooden sign with "[Your Name]'s Bar" painted on it? Make one for your man cave! It's pretty easy and looks great.
"Do not disturb." If it's your office man cave, it's essential to specify hours. Otherwise, you could easily get caught watching Top Gun in headphones.
Best Budget Custom LED Bar Sign
Personalized Custom Bar Led Sign
16 RGB LED remote controlled illuminating bar sign, custom made with your text. Perfect for home bars, man caves, she sheds, game rooms and more!
This eye-catching 16" x 12" LED sign comes with sawtooth hangers on the back and can be placed on any wall in your home with little fuss.
It has an included remote control to change the colors of the sign with the click of a button. The possibilities are endless with this sign!
Crafted from durable birch plywood (25cm * 15cm) for a rustic yet

illuminating allure allowing you to add a personalized touch that will look great on your IG page.
Man Cave Games
Pool table. A basic essential for a man cave. Everyone can play pool. Between 1 and 2 people in your friend group are good at it. Don't invite them.
Dartboard. Dartboards are great ideas because you can play darts alone. This also gives you the practice to whup your friends.
Ping pong table. These are fun ideas for larger man cave designs. Measure your garage before buying one; it's not a fun game when you're cramped in.
Arcade games. These are enjoyable whether you're good at them or not. Save money by not buying the one from your local bar that eats dollars and doesn't return them.
Video games. Ideal whether you're alone or with your buddies. These are top ideas all-round but partner especially well with a fun Mary Jane garage man cave.
Best Budget Ping Pong Table Set
JOOLA Foldable Table Tennis Table Set (With Net)
Competition grade ping pong table made from high-quality MDF material with silkscreen printed surface for added durability.
Features a unique two-halves design for a 10 minute out-of-the-box setup so you're up-and-running before you've finished your first beer.
Comes with a clamp-style, heavy-duty net including a set of paddles and balls so you can start playing right away!
The perfect ping pong table for anyone looking for a high-quality, affordable set that has a cool-looking black powder-coated finish.
Budget Man Cave Ideas FAQ.
Let's answer a few common questions about how to go about designing your man cave on a budget.
What Every Man Cave Must Have?
There are no essentials – the most important thing is that your man cave reflects your personality. Whether that's sporty or smoky, whether you prefer ball games or video games, just make sure you've put yourself front-and-center in your design choices.
If you're planning to have other people around to visit the man cave, ask them for ideas and what kind of things they'd like to do before you take a trip to the hardware store.
If you're stuck on ideas, beer and a TV tend to be a good start. Picture what you'd do in a space where nobody was telling you what not to do, and go from there.
How Much Does It Cost to Build a Small Man Cave?
You can build a man cave on almost any budget. The more you spend, the more fun you can have with design choices, but you can achieve a lot on a shoestring budget!
Putting a table and chairs in will give you a room for entertaining others. Add a speaker to play music and you've already got a perfectly good man cave. Customization and design options can be added over time.
If you're into woodcraft and have a bit of spare time, this is a great way to put your hobby to practical use. Nothing says "man cave" quite like home-built and finished furniture. Don't forget to have an ax buried in a tree stump in the corner, even if it had nothing to do with the woodcraft process.
How Do I Turn My Garage Into a Man Cave on a Budget?
Start by assessing how much space you've got to work with. That means removing the car if there's anywhere else it can be parked.
Next, start looking at what contributes to the aesthetics and feel of your man cave. Tools that you keep in the garage might add a sense of personality, or they might just… take up space. You don't need a storage box full of tiny steel nuts and bolts on permanent display, for example.
Make a monthly budget and add things to your man cave gradually. There's no rush.
How Do You Make a Small Man Cave?
If your living space is limited, remember that you can always turn your bedroom into a man cave. Add fun games and get adventurous with your decorations. Make it a happier place to spend time.
How do I Build a Man Cave on a Budget?
Select your room and plot how much you can spend on a man cave each month. Garages, basements, sheds, and spare bedrooms are all great choices. Then check out the tips we've provided above to get inspired!
The Bottom Line
Everyone deserves a happy place. Not the kind you go to in your head when your boss is talking – a physical, tangible happy place, full of things that you love and reflect your personality.
That's what a man cave is about, having fun while smashing your liver in the process.
Choose a design theme that suits you. Decide how you're going to decorate. Get to work and the results will be so rewarding. Whatever your budget, start building your man cave today.