Mens Bedroom Ideas To Elevate Your Space
Whether you're decorating for yourself or someone else, it's not hard to find men's bedroom ideas. Broadly speaking, most men seem to like dark colors, clean lines or abstract patterns which make a clear style statement. Add interesting light fixtures with little decor and you've got yourself a ballgame.
There are any number of ways in which you can decorate anyone's room. But more often than not, we don't think of men as individuals who are into interior design, but we couldn't be more wrong.
55 Best Bedroom Ideas for Men
There is a lot one can do with a man's room and if you didn't think so, here are a few dozen ideas that will prove you wrong.
Men's Rustic Lakehouse Bedroom
As the name suggests, this is obviously a bedroom look for those who have a lakehouse view. But even if you don't, the look might just suit the kind of room you have. The rustic decor with neutral tones might just be what your bedroom needs. And if you need inspiration, check out the Butterfly House by Yana Prydalna.
Lighting is also an important factor in achieving the rustic lakehouse look. Consider incorporating a mix of ambient lighting, such as table lamps and wall sconces, with task lighting, like reading lights, to create a warm and cozy atmosphere.
Bronze Modern Bedroom Vibes
This one is for those who like a modern style of interior decor. It's about sticking to a monochromatic palette of colors with clean lines in the pattern and just a touch above the minimalist style. This vibe is easily achieved by making use of the natural light beaming into the room and decorating it with natural materials as well.
Incorporating elements of metal, such as a bronze-colored ceiling fan or metal nightstand, can add a modern touch to the space. A simple platform bed with a low profile, dressed in crisp white linens, serves as the focal point of the room. Floor-to-ceiling curtains in a neutral tone can be used to add a touch of softness and bring in natural light.
Modern Mountain Bedroom Retreat
As you can see, this look goes best when you have a mountain view to wake up to. And when you do, it's a great thing to be able to see it first thing in the morning, isn't it? The large-sized windows will make that happen with ease and style.
The colors used in this style also follow the modern pattern which, as you know, is all about keeping it mellow and closer to black and white as much as possible. It accentuates the look of the whole bedroom without making it dull.
Super Sleek Men's Bedroom
Next up is the super sleek look which means you don't have to do a lot of shopping. You just need to pick the right kind of decor. It's all about arranging the essentials and ornamental items in complementary colors.
Start by choosing a neutral color scheme, such as black, white, and gray, to create a clean and crisp look. A low-profile platform bed with a sleek headboard is the perfect focal point for the room. Accent pieces, such as a leather lounge chair or a metallic side table, can add interest and texture to the space.
Chic & Classy Bedroom Design
Chic interiors are typically described as trendy and elegant at the same time. It's not hard to achieve. Don't overcrowd the room with ornate items. Pick a couple of them and make sure they add a little zing to the room such that they reflect your personal style.
When it comes to lighting, consider incorporating a mix of ambient and task lighting. A chic chandelier or a stylish pendant light can serve as the statement lighting piece, while table lamps and wall sconces provide soft, ambient light.
Small Bedroom with Manly Warm Tones
Warm tones are an indication of colors that are different shades of yellow, orange, and red. These colors are often chosen by individuals who want a cave-like look that makes it feel cozy. It's helpful in small spaces because that look is easier to achieve when you don't have to fill up Batman's mansion.
Choose a warm neutral color for the walls, such as beige or taupe, and add pops of color with accent pieces, such as a burnt orange throw pillow or a rust-colored area rug. A wooden headboard, a nightstand made of reclaimed wood, and a leather lounge chair can add warmth and texture to the space.
Bachelor Pad Bedroom with Dark Accents
The concept of a bachelor pad has been around for a long time. But now people are getting creative with the look. It's not just the room version of the "out of bed" look. In fact, bachelor pads with dark accents, like this one, lend elegance in a way that doesn't seem too grown up.
A statement lighting piece, such as a sleek chandelier or a modern pendant light, can add a touch of glamour to the space. Also, consider incorporating practical storage solutions, such as a compact dresser or a sleek armoire, to keep the space organized and clutter-free.
Wood Paneling with Rustic Vibe
Those of you who are looking to decorate with wood panels will really enjoy this. When you pick the rustic style of decor, you will find it easier to achieve it with wood because this style is all about a casual style that looks rugged and aged.
Wood paneling is the perfect choice for men who love the natural beauty of wood and appreciate a relaxed, casual style. This look is achieved by incorporating wood paneling into a neutral color palette and adding rustic accents.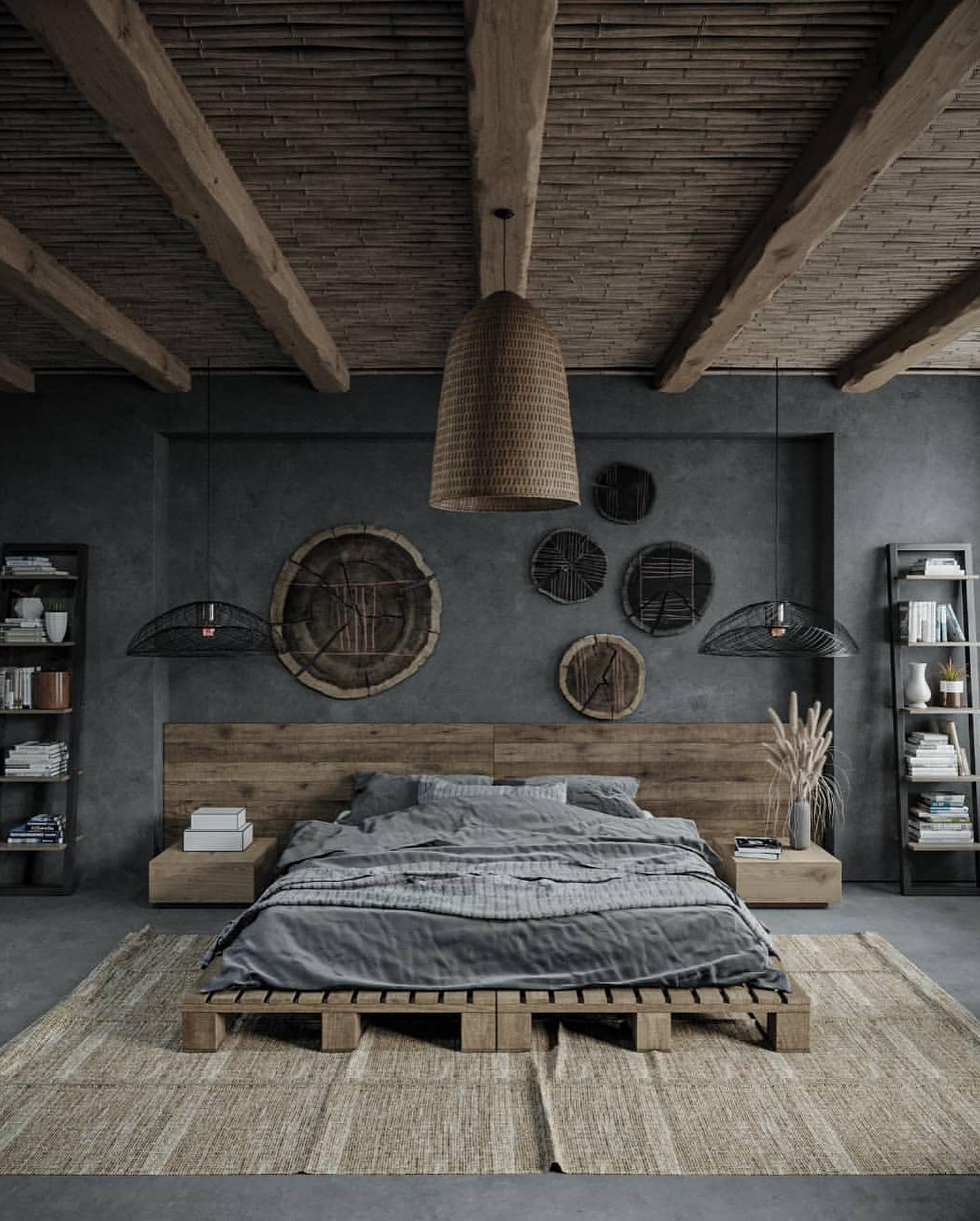 Futuristic Men's Bedroom Design
The futuristic style is somewhat similar to the minimalistic style in the sense that it requires creativity without cluttering the place. You want to find pieces of decor that have a distinct shape because that's a big part of the style statement.
In terms of furniture, choose pieces with clean lines and a minimalist aesthetic. A low-profile platform bed with a sleek headboard is a great choice. Consider adding a leather lounge chair or a metallic side table to create a cozy seating area.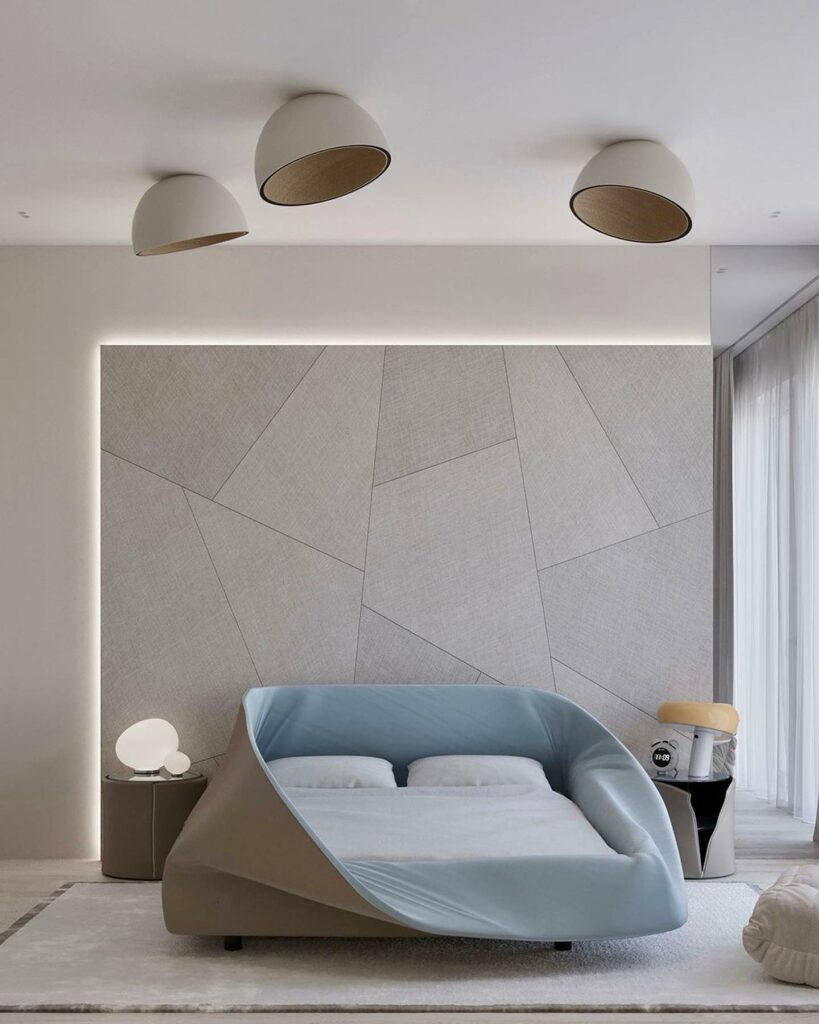 Masculine New York Mood Bedroom
If you're not sure what this is, you should think of the bedroom as having limited space. You want to make sure that the room has all the essential items but they're arranged such that you still have enough space in the room. Finding smart storage furniture like box beds is just one example.
Approaching the overall look of the decor with a rustic or industrial perspective is a great idea as well. This way you keep it visually interesting without giving up on functionality.
Luxury Leather Bedroom Decor Style
As the name gives away, this bedroom incorporates a substantial amount of leather furniture. But since leather is available in more than one color, you want to start by picking the color. You don't need a lot of decorative items. A big piece of artwork on the wall might just do the trick.
For a luxury leather bedroom, I would suggest choosing a neutral color palette, such as black, white, and gray, to create a sophisticated look. You can add pops of color with decorative accents, such as a bold area rug or a colorful piece of art.
Men's Vintage Bedroom Design
If you are looking to kick it old-school, here's an idea. When you do it right, vintage truly never goes out of fashion. Those of you who are familiar with style tips from the 70s and 80s will know that to be true.
With furniture, choose pieces that have a vintage or retro feel, such as a mid-century modern wood bed frame or a wooden nightstand. An upholstered lounge chair or a vintage-inspired table lamp can add warmth and texture to the space.
Designer Rustic Wood Attic Bedroom
This one is for bedrooms that are designed or are attic spaces. You most likely have an angled roof that provides a certain style. Whenever you have a window in the attic, you can make use of the incoming natural light too. Pick natural materials for the rest of the room and you're on the right track.
Lighting is also important in achieving the designer rustic wood attic bedroom look. Consider incorporating a mix of ambient and task lighting, such as table lamps and wall sconces, to create a warm and inviting atmosphere.
Sleeping on Chrome With Dark Hues
Darker colors make a space seem smaller. So, this style is for those who want the space to feel cozy. If you're working with a small room, this might not be the best pick.
When you've picked chrome for the room or the decor in it, you should know that it goes best with modern furnishings. That's clean lines that can go well with black and white or popping colors. But you have to pick one.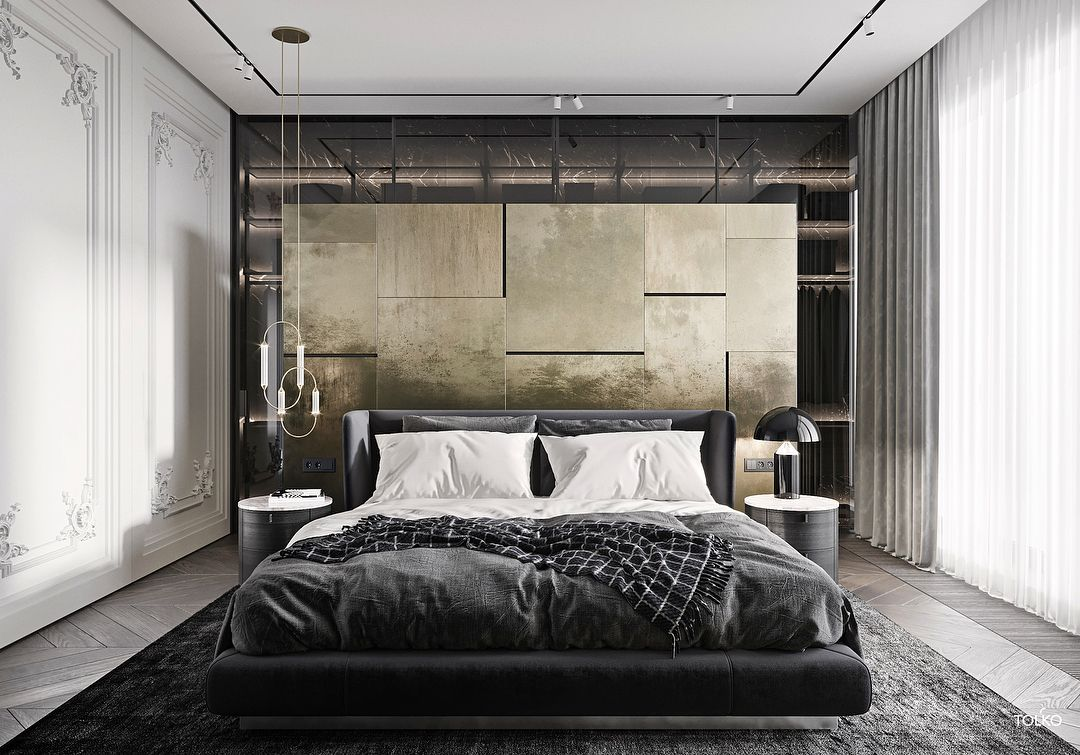 Blue Collar Bedroom Design
You have to steer into the skid of stereotypes a bit for this one. The walls could have an industrial look but the entire room doesn't have to be the same. Take the "blue collar" literally and pick shades of blue for the furnishings. With one wall giving you the exposed brick wall vibe, the rest can be urban and chic.
Lighting is also important in achieving the blue-collar vibe. Consider incorporating a mix of ambient and task lighting, such as table lamps and wall sconces, to create a warm and inviting atmosphere. A statement lighting piece, such as a sleek chandelier or a modern pendant light, can add a touch of urban glamour to the space.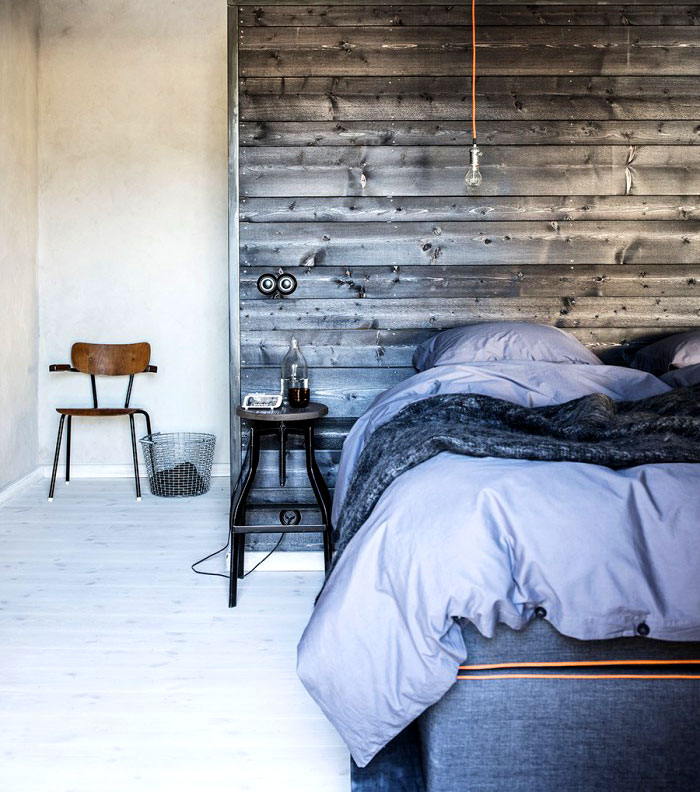 Surfers Bedroom Vibe Retreat
For a surfers bedroom retreat, I would suggest incorporating a beachy color palette, with shades of turquoise, blue, and sandy beige. You can start by painting the walls in a light turquoise shade and adding pops of color with a bold area rug or a colorful piece of art.
For this one, as you might suspect, the oceanside color palette is a good fit. Shades of turquoise in casual brush strokes will give you a relaxed appearance. It's what we think of when we imagine the life of a surfer. It also allows you to be a bit messy but with perky colors.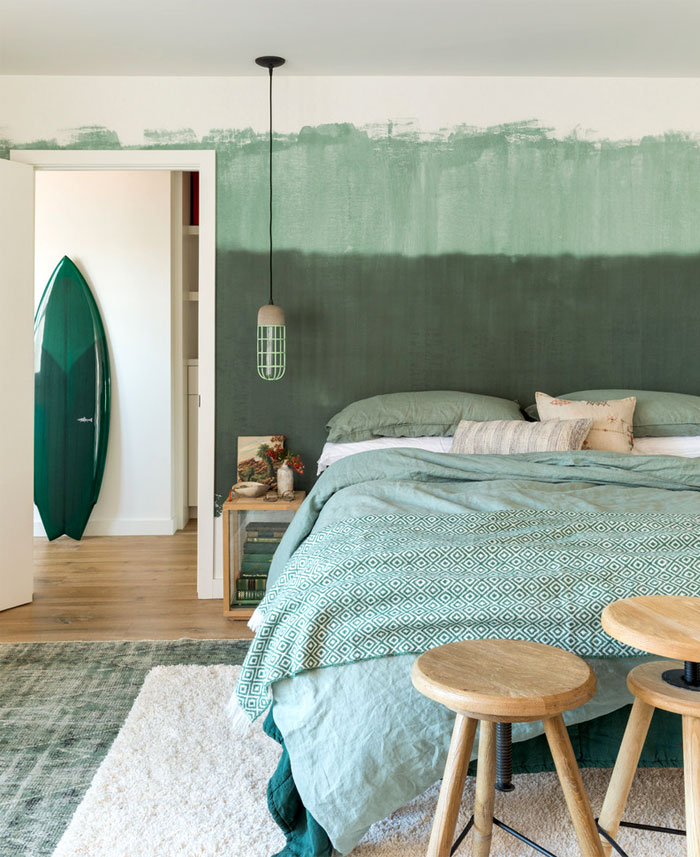 Single Guys Crafted Platform Nest
For a single guy, I would suggest incorporating a minimalist and functional design, with a focus on functionality and storage. You can start by incorporating a platform bed with built-in storage, such as drawers or a lift-up frame, to maximize space and minimize clutter.
This is exactly what you think a single guy's room would be like. It doesn't have a whole lot of furniture and the bed is creatively used for storage purposes as well. It is an excellent bedroom design look for clutter-free people who don't have a lot of "stuff". It's easy to maintain, it's functional and the dripping paint is a great choice for a nest.
Men's Budget Bedroom
Speaking of not having a lot of stuff, here's another bedroom idea for those who don't want to buy a bunch of things for design or budget reasons. The idea of this bedroom is that it is minimalist but adequate. It allows you to be messy with a creative genius vibe.
The neutral colors give it an understated look with a pop of color for cheer. You don't need a lot of stuff to make this look good. You just pick one or two colors and let the walls do their thing.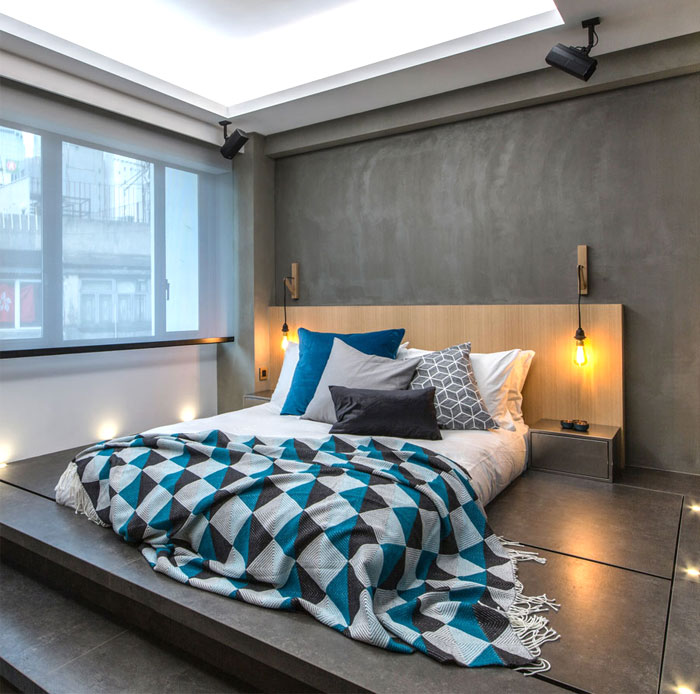 Cozy Smaller-Sized Bedroom
If you don't have a lot of space, you should work on making the available area work for you. So, for the walls and ceiling, you want to pick colors that make a mellow statement. And the color of the bed and its accessories should complement the walls and ceiling. It's simple but not without style.
Lighting is also important in a smaller-sized bedroom, as it can help create the illusion of space. Consider incorporating a mix of ambient and task lighting, such as table lamps and wall sconces, to create a warm and inviting atmosphere.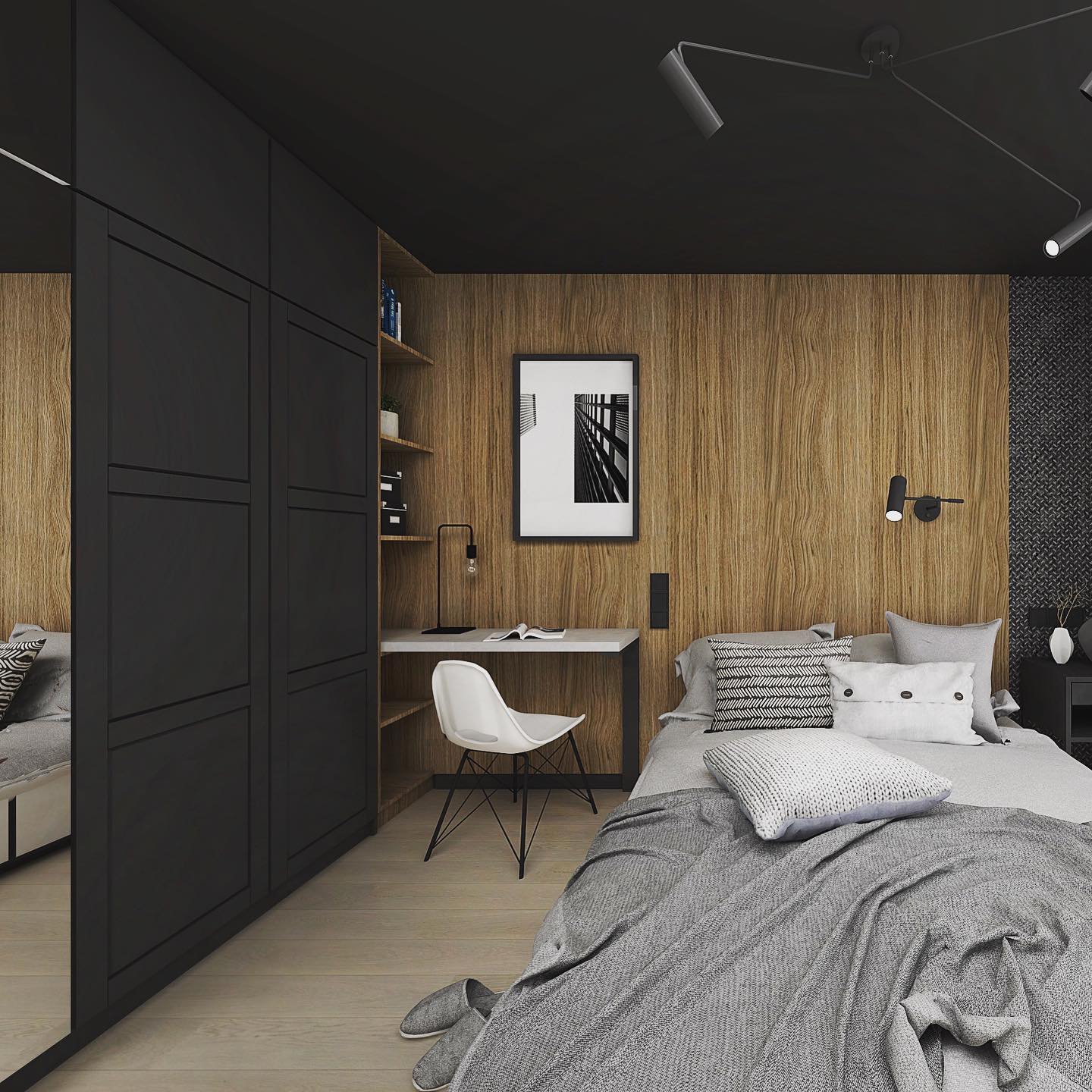 Soft Fur Furnishings
For a Soft Fur Furnishings Bedroom, I would suggest incorporating a warm and inviting color palette, such as neutral shades, to create a cozy and comfortable look.
You can start by painting the walls and ceiling in a warm, neutral shade, such as beige or light gray, and adding pops of color with a bold area rug or a colorful piece of art. In fact, the goal here is to move as far away as possible from a rigid vibe that makes you conscious about living in that space.
Businessman's boutique Bedroom
A boutique bedroom for businessmen is the epitome of effortless sophistication. With its neutral color palette and organized aesthetic, this bedroom design provides the perfect refuge for a busy businessman.
The toned colors give the space a polished look, ready to welcome guests at a moment's notice. But despite its poised appearance, the bedroom remains a relaxing and casual space, offering a much-needed escape from the demands of work. Whether you're seeking a space to unwind or to entertain, this bedroom design is sure to impress.
Just the Essential Elements
The "Just the Essential Elements" bedroom design is perfect for men who value simplicity and functionality. This minimalist approach focuses on highlighting the existing elements in the room, rather than adding heavy decorations. Simple pieces of art adorn the walls, adding a touch of personal style without overwhelming the space.
Instead of traditional light fixtures, consider incorporating sleek hanging lights that add a touch of elegance without taking up valuable floor space. With its clean lines and emphasis on essential elements, this bedroom design creates a peaceful and calming environment that is both functional and stylish.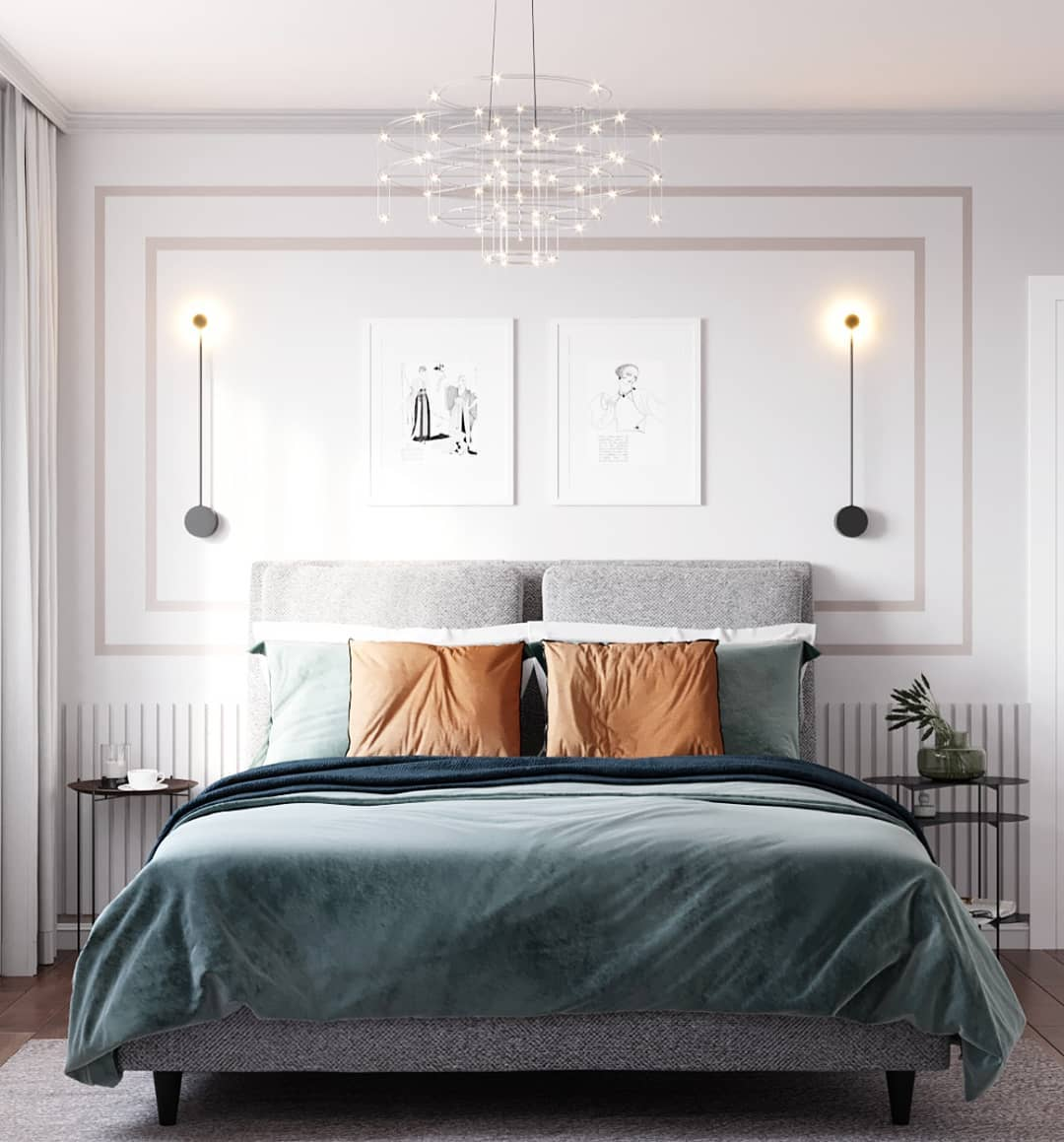 Playboy's Seductive Environment
The playboy's bedroom design is for men who want to make a bold statement. This daring design features eye-catching lighting and bold patterns that draw attention and create a seductive atmosphere.
The walls and furnishings don't have to be show-stopping, but incorporating a kitschy piece of art can add a touch of playful personality. Whether you're entertaining guests or simply seeking a space to unwind, this bedroom design is sure to leave a lasting impression. So, if you're looking to make a statement and create a one-of-a-kind space, this is the design for you.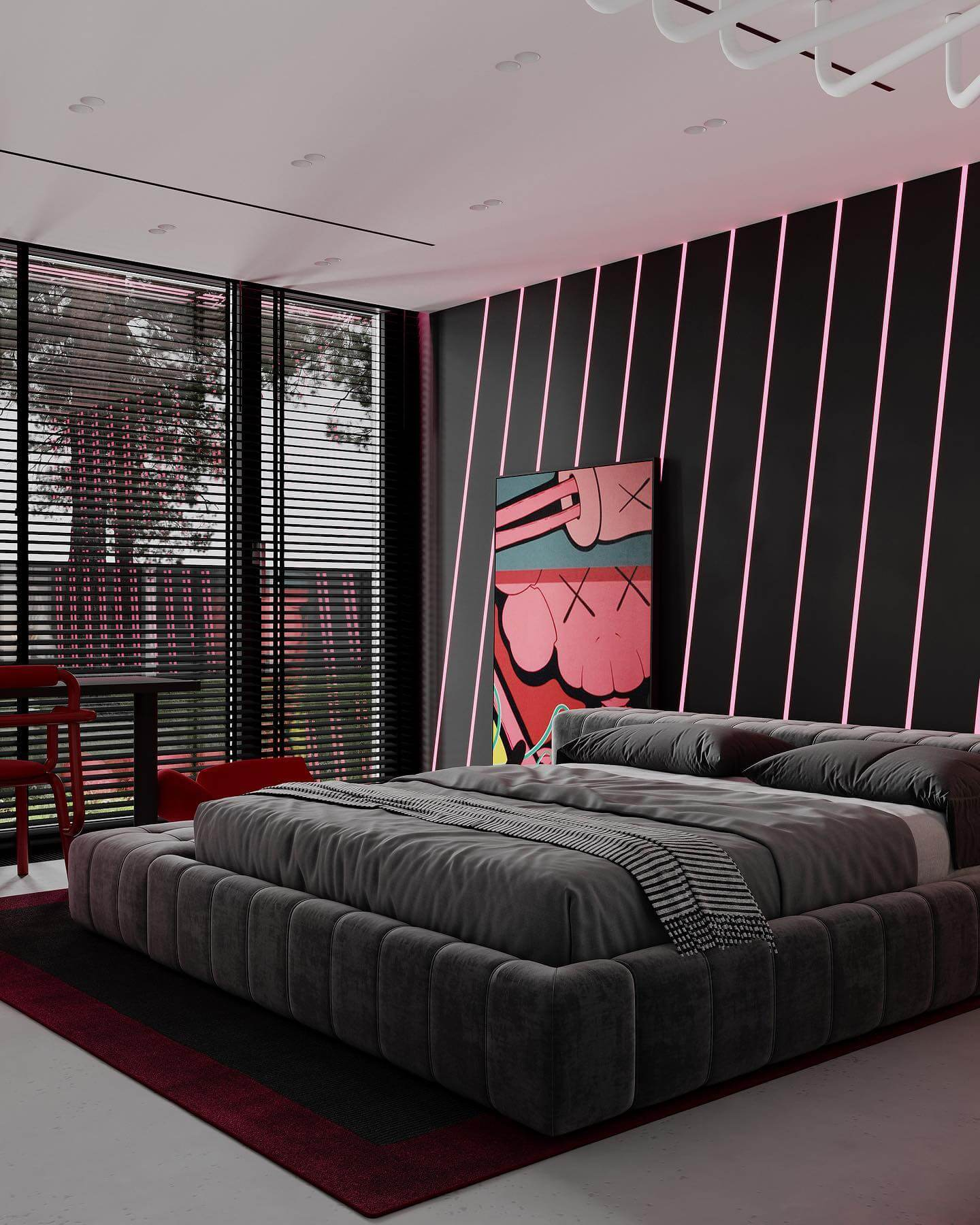 Small Office Space Bedroom
A Small Office Space Bedroom is the ideal solution for men who want to maximize their living space. This functional design features a compact bed, leaving ample room for a work area. Inspired by the on-call doctor's crash pad, this bedroom design is all about efficiency and simplicity.
To create this look, keep the decor to a minimum, with a focus on functionality. Choose a neutral color palette, using no more than 2-3 colors that complement each other, to create a cohesive and calming environment.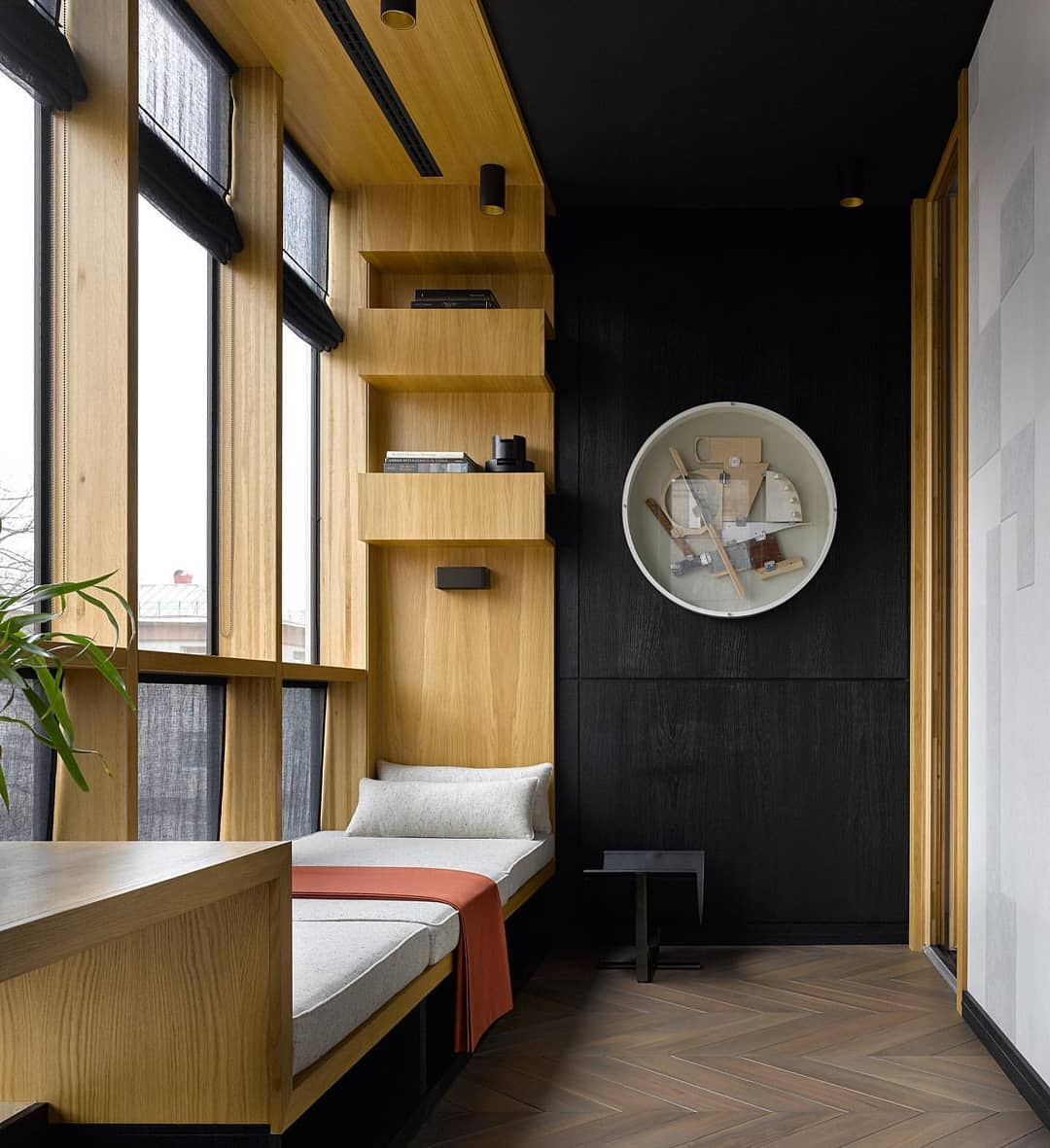 Highrise Vibes With Masculine Feel
This design is perfect for men who want to make a bold statement in their space. With its high ceilings, this design emphasizes the room's height, creating a sense of grandeur. Rather than filling the space with artwork or busy wallpapers, this design relies on dark, rich colors and natural wooden flooring to create a masculine feel.
Strategic lighting highlights specific parts of the room, while glass installations add a touch of elegance. If you're looking to create a high-end, masculine retreat in the heart of the city, a highrise vibe for single guys is the perfect bedroom design for you.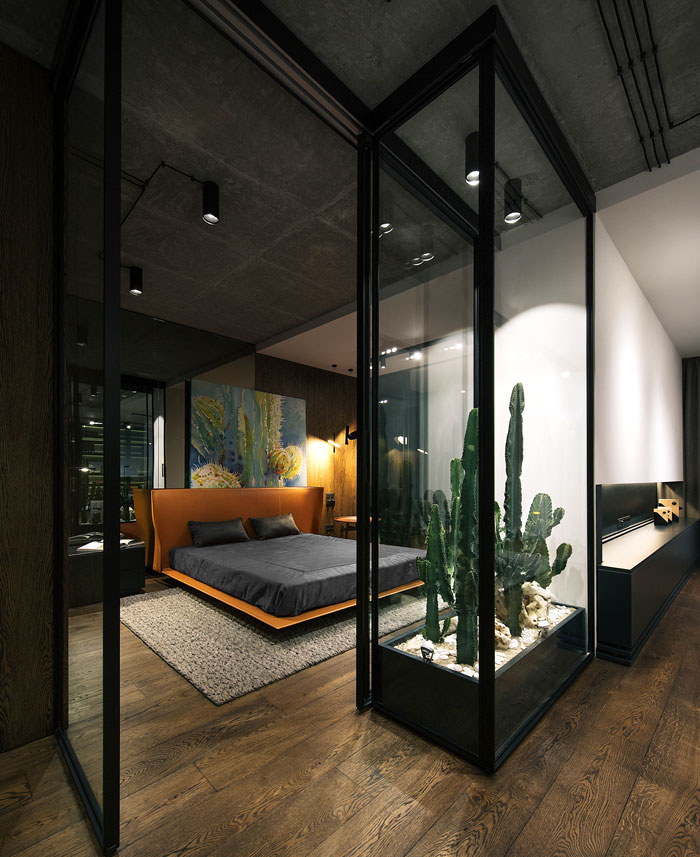 Ultra Modern Mancave Vibes
A modern bedroom with mancave vibes is the ultimate retreat for men who want to combine modern style with a touch of a masculine edge. This design features a bold, decorative wall, often behind the headboard, which is balanced by a large screen on the opposite side.
The room is uniformly lit with eye-catching fixtures, creating a warm and inviting atmosphere. This design is not overly furnished, making it the perfect space for relaxation and unwinding after a long day. Whether you prefer a light or dark color scheme, this theme is perfect for men who want to create a stylish, modern retreat.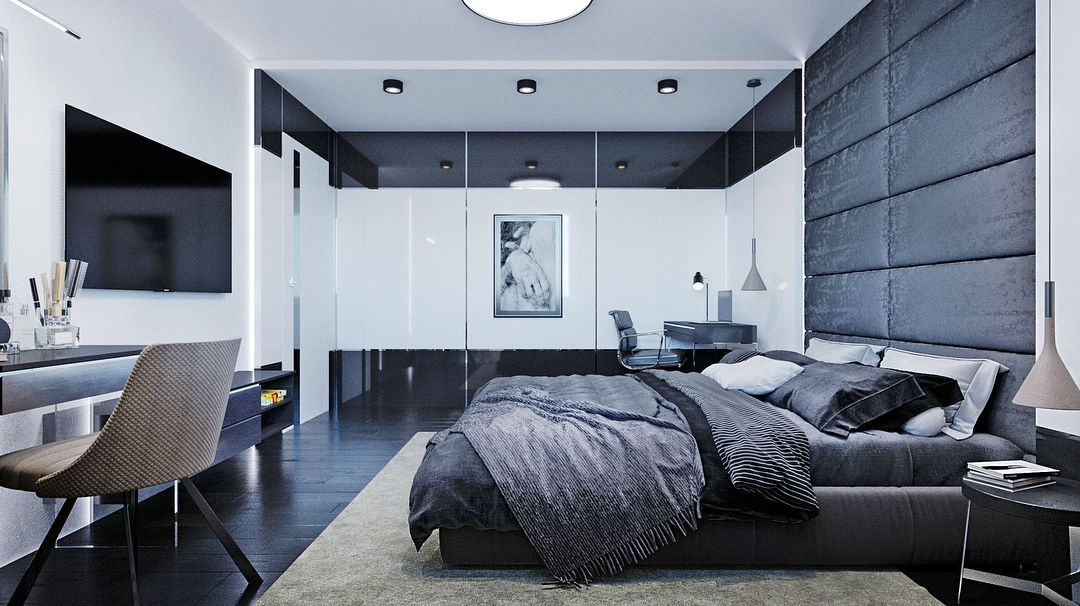 Natural Earthly Tones Bedroom
By incorporating earthy tones into your decor, you can create a warm and inviting atmosphere. Whether you use these colors as borders for your furniture or as the main palette for your artwork, they will provide a cozy contrast to the otherwise clinical white of the room.
This design is perfect for men who want to bring a touch of the outdoors into their personal retreat, creating a space that feels both relaxing and hospitable. So if you're looking to create a bedroom that embodies the peace and tranquility of the natural world, consider incorporating natural earthly tones into your design.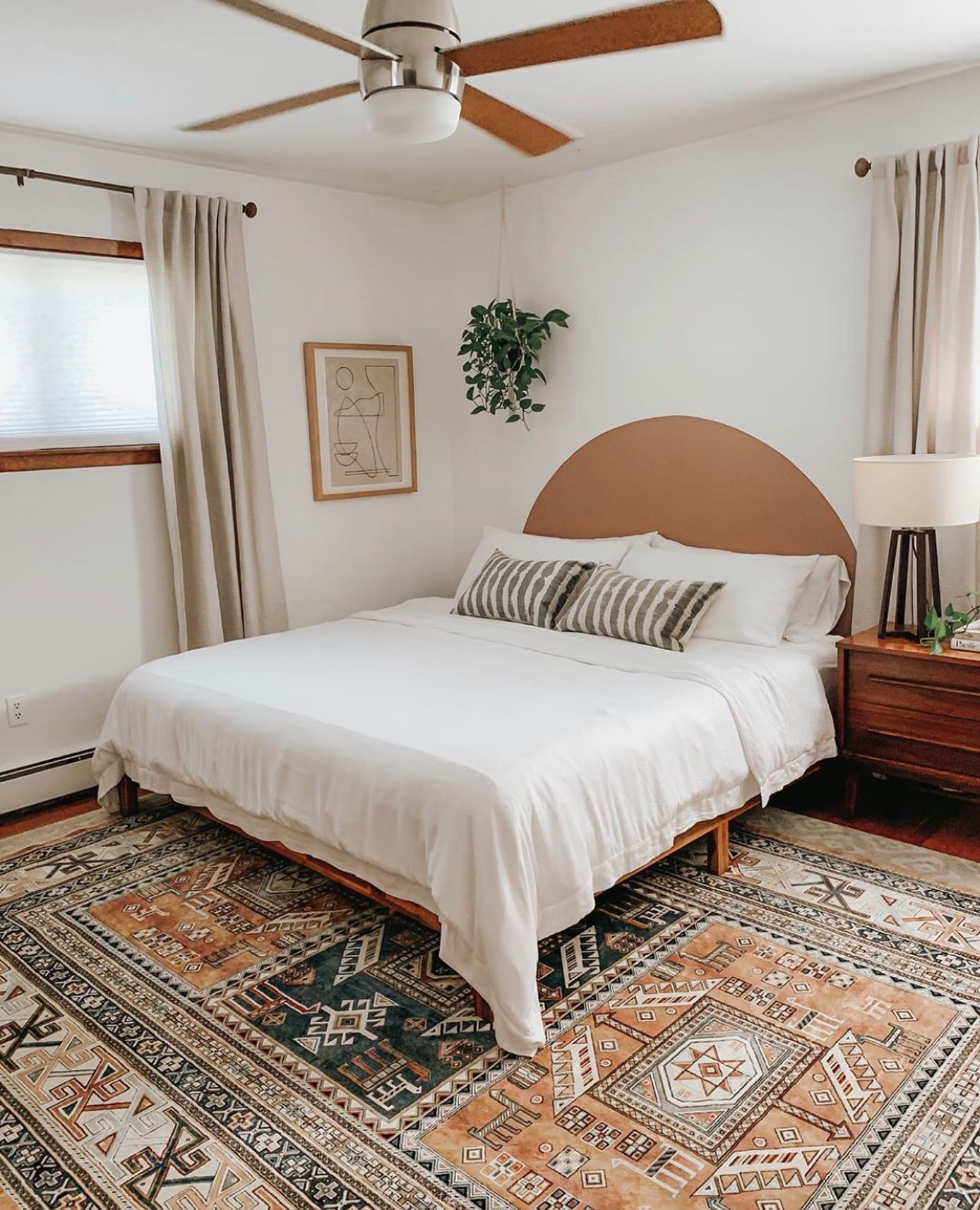 Inner City Bachelor Pad
The inner city bachelor pad is the perfect blend of modern style and practicality for single men. This design combines the use of light colors to create a bright and open space with a pop of bold, eye-catching hues.
Whether it's with a statement wall or through the use of accent pillows, the goal is to elevate the essentials and make the most of your limited space. By creating a visually appealing and functional environment, this design allows you to make the most of your bachelor pad in the heart of the city. Head to Decor Aid for some masterful ideas.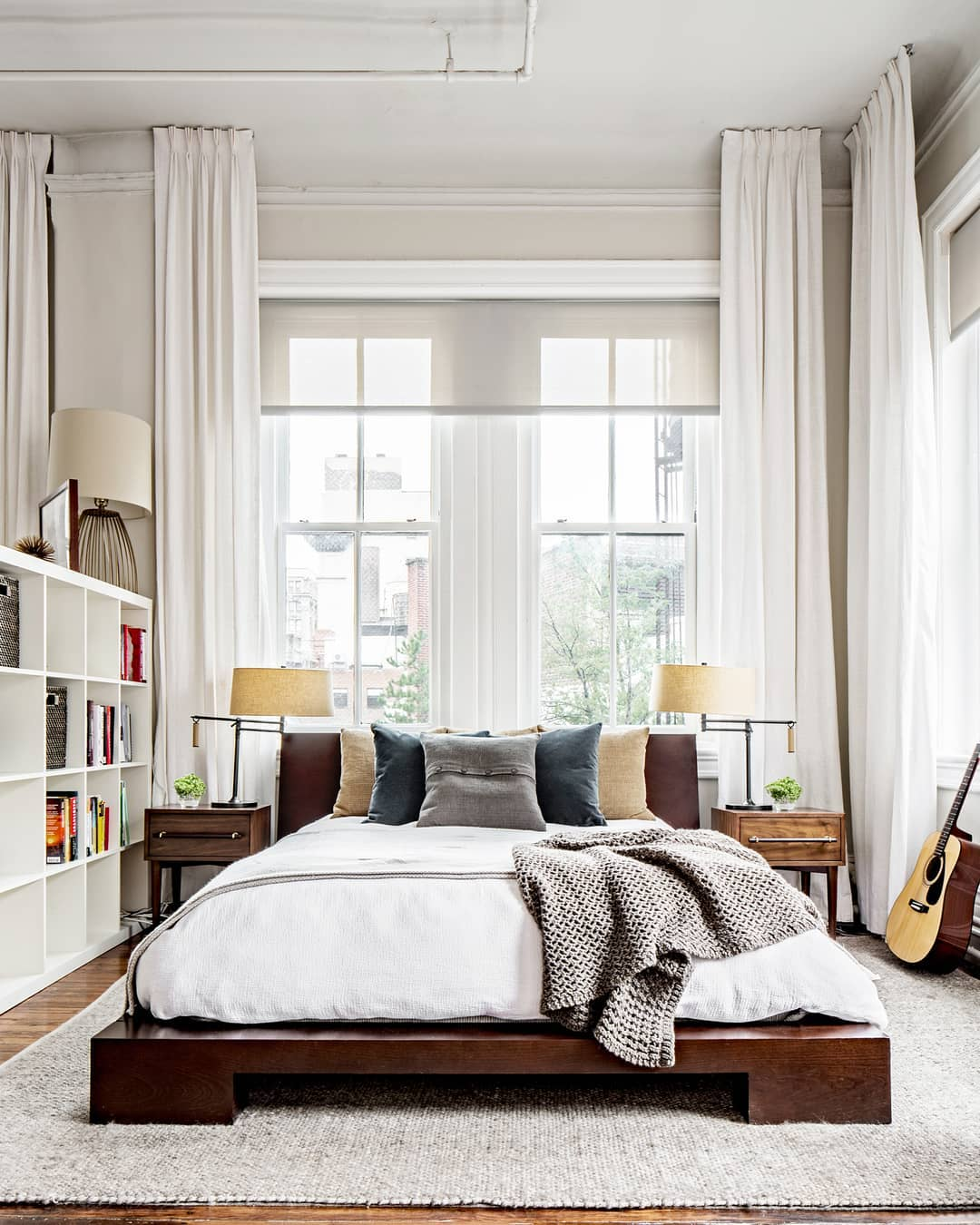 Baller Bedroom With High Ceilings
For the man who wants to make a statement in his bedroom, high ceilings provide a unique opportunity to showcase design elements that soar. Embrace vertical lines and incorporate glass structures, such as a clear ceiling or a headboard with a glass accent, to enhance the room's height and create a sense of grandeur.
Make your high ceilings a focal point and elevate the style of your space. Take inspiration from Deseesion for more ideas on how to make the most of your baller bedroom with high ceilings.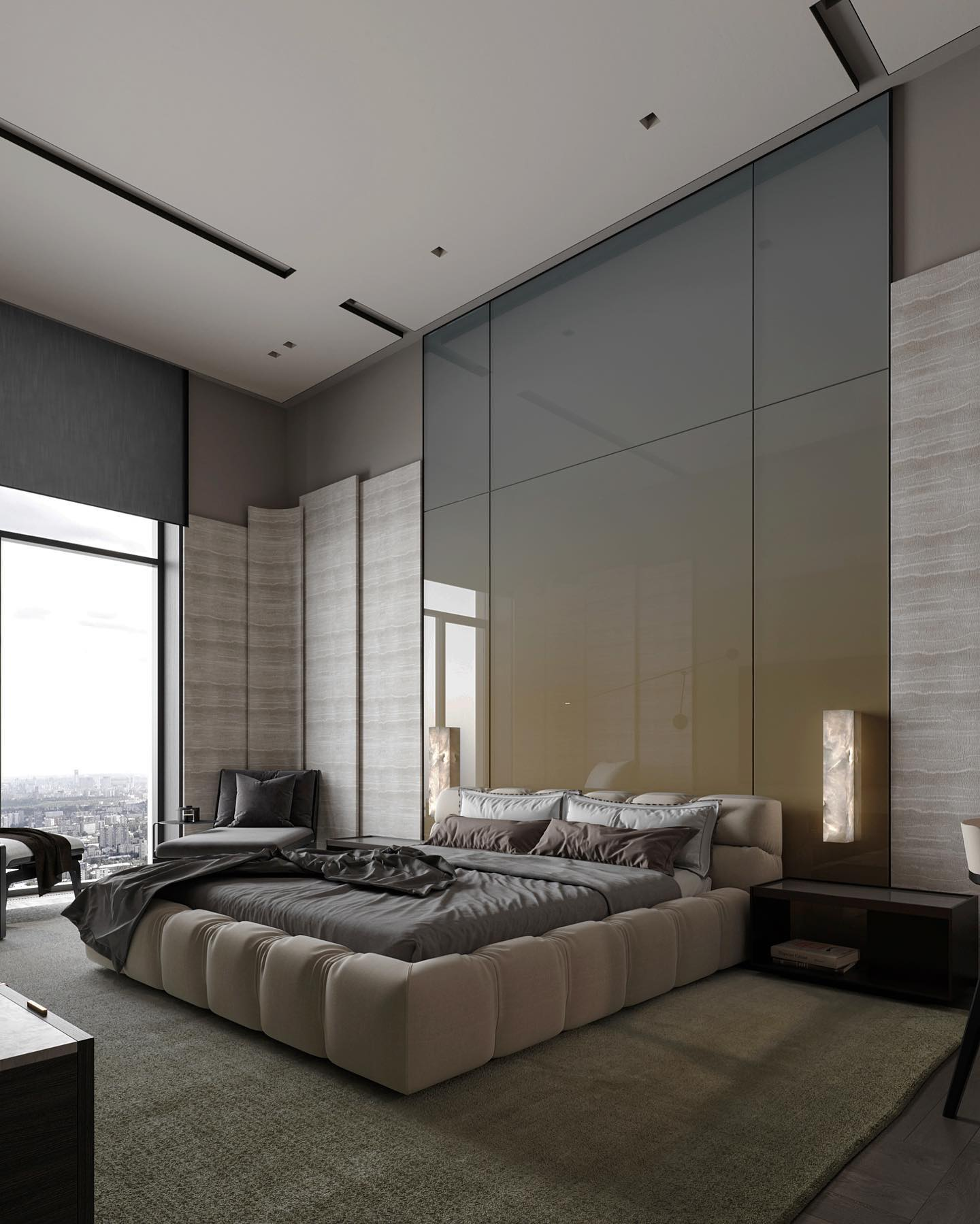 Men's Bedroom With Accent Wall
A men's bedroom with an accent wall is a design that makes a bold statement with minimal effort. With just one wall featuring a unique color or texture, it immediately becomes the focal point of the room.
By surrounding it with neutral walls, the accent wall is able to shine, making the room look trendy and stylish without the need for excess decorations. This approach is both effortless and effective, transforming the space with a single accent wall.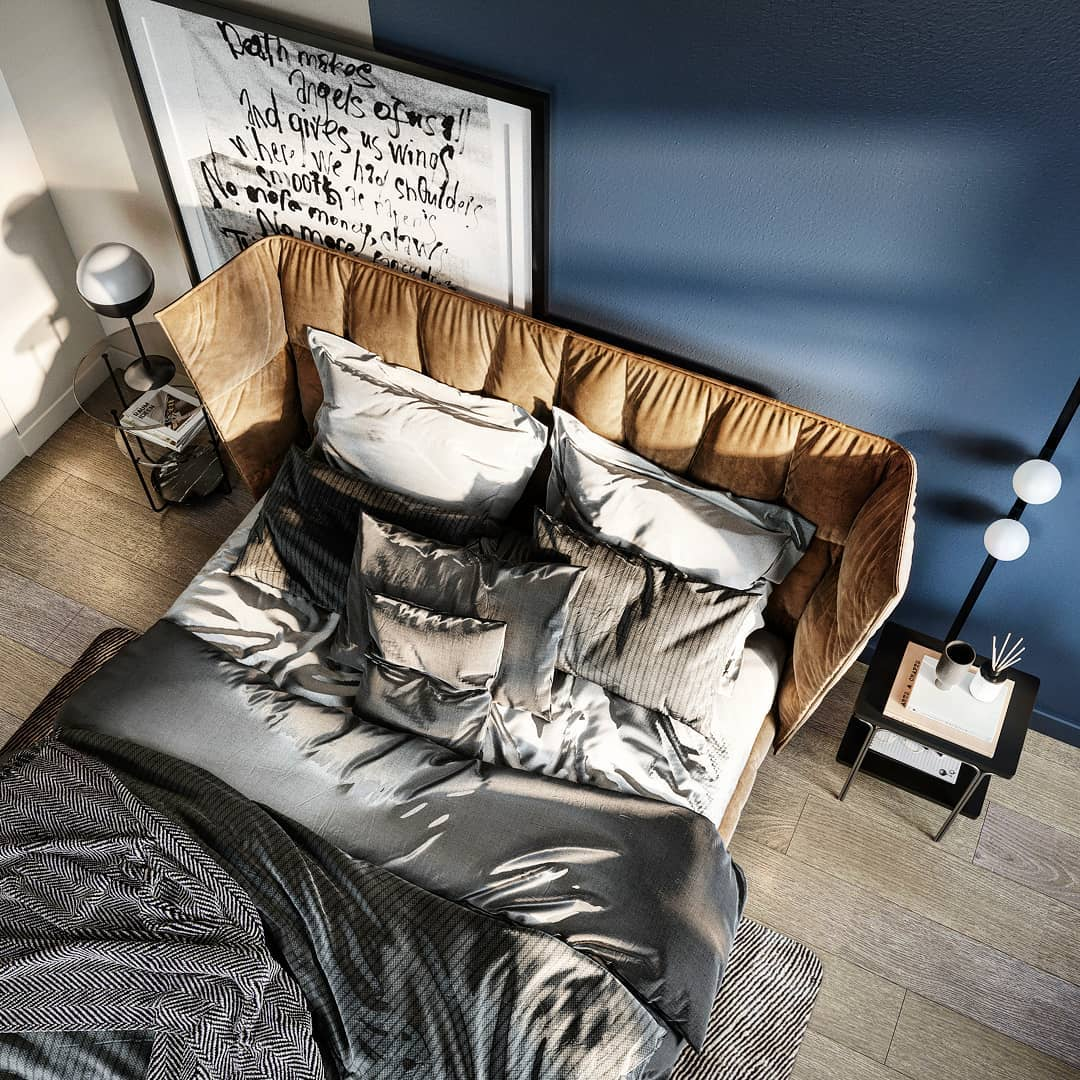 Smooth Operators Bedroom
The smooth operator's bedroom is a sleek and sophisticated design that exudes simplicity and balance. To achieve this look, focus on incorporating a bold, vertical pattern, such as lines, on one wall that aligns with the width of the bed for a touch of symmetry.
Complement the design with a statement vase on the bedside table for an added touch of elegance. This minimalist design approach is perfect for those seeking a calm and cohesive atmosphere in their bedroom.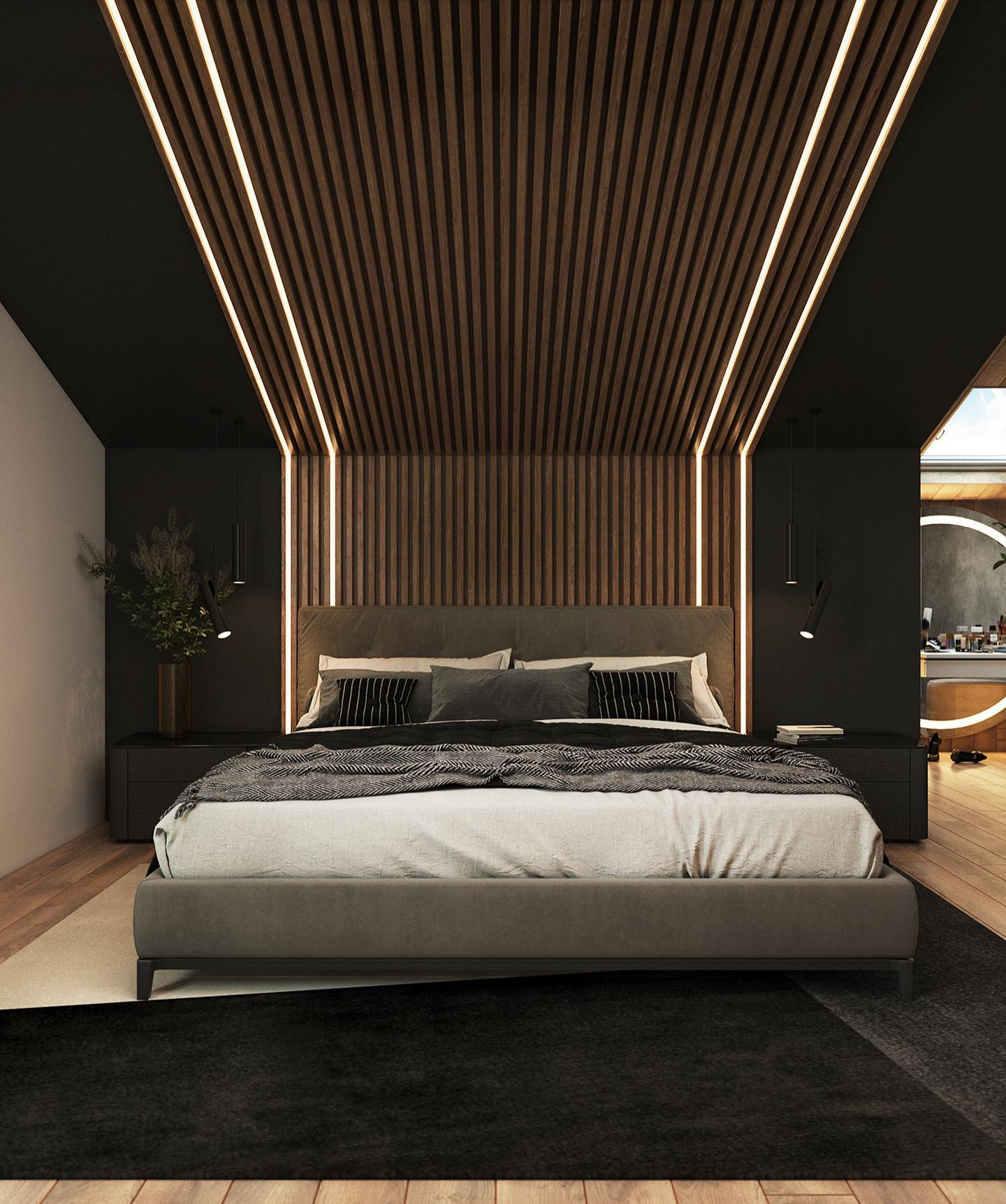 Man's Tiny House Bedroom
When you have a tiny house, it's important to organize the space smartly so that you can have all that you want in the room without cluttering it. Just because it's a small space doesn't mean you can't fill it up. You just need to be creative.
This example has white paired with wood and some plants. Those are your dominant colors. Fill the space with natural light and soft fur to make it pleasant and airy, too. For more, check out Little Byron to witness how the pros design a beautiful bedroom.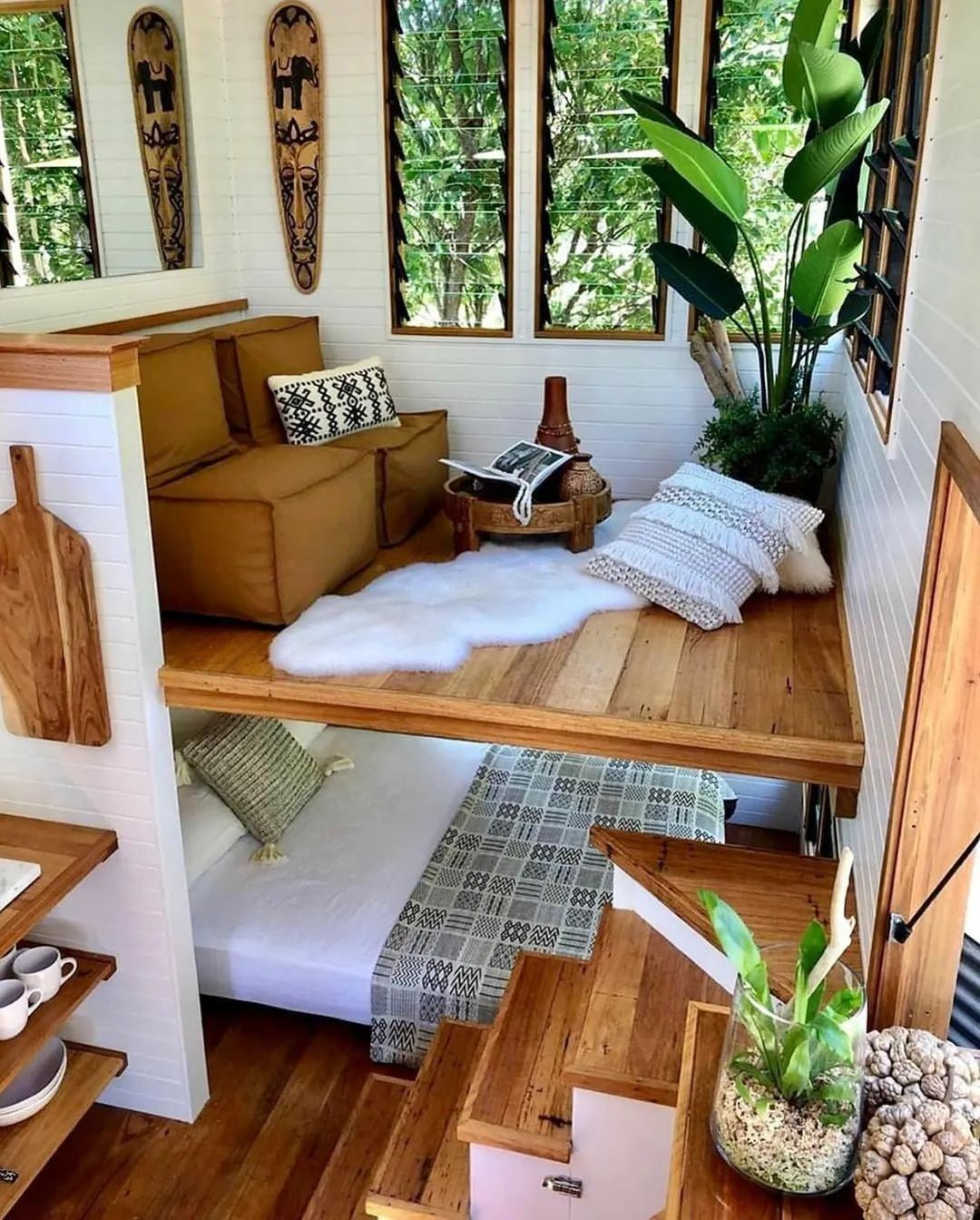 Musicians Vintage Bedroom
By now we all know what vintage means. If you want the room to have heavy musical influences, adding an instrument like the guitar is only the first step. Vintage as a style involves adding pre-contemporary decor items to the room. You can do that in terms of design or materials.
Beads are often a good look in this case. The containers for your plants can reflect the style as well. And an area rug with the right choice of color and pattern will finish the look.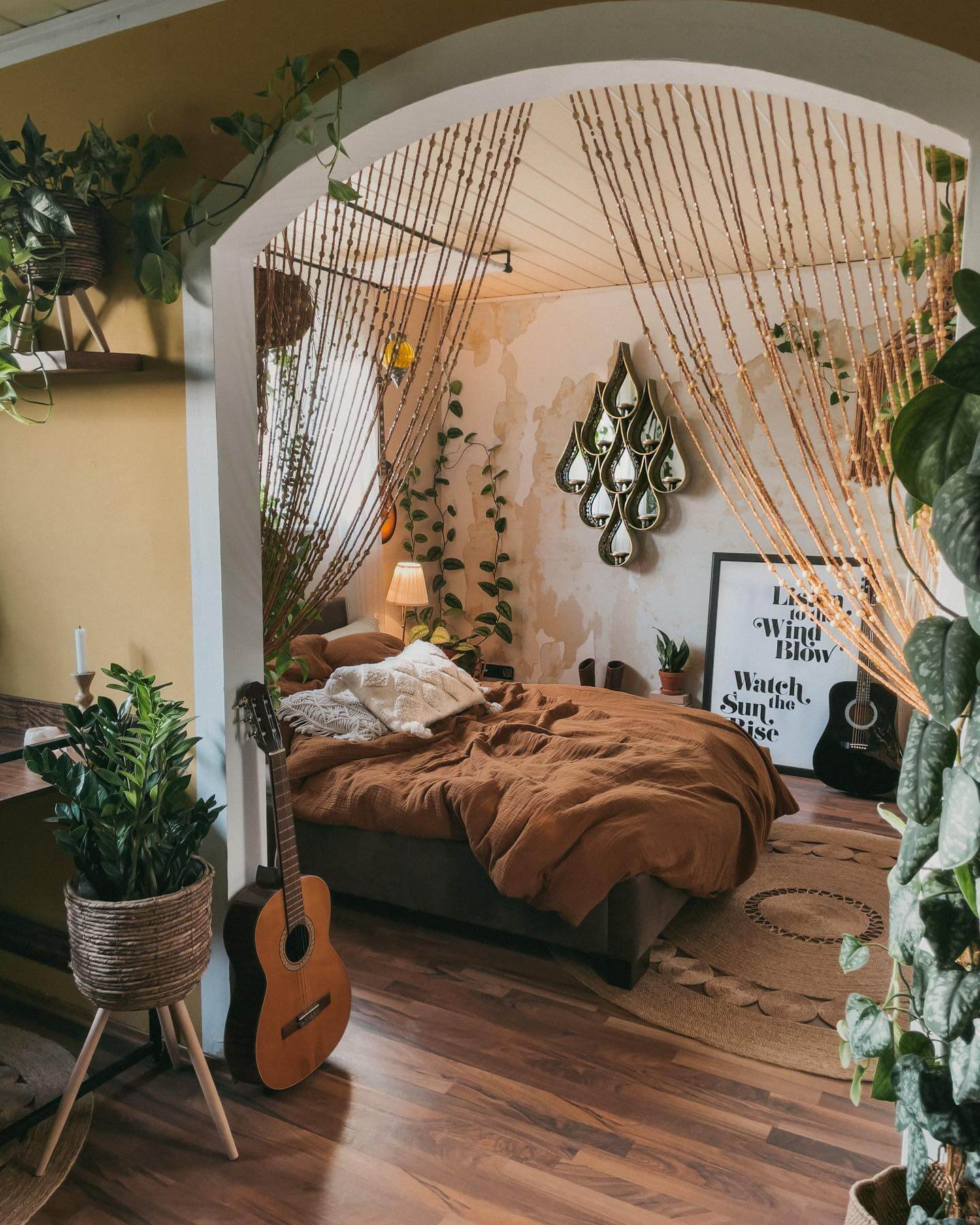 Little Man's Bedroom With Singles
This one can be for little boys or young adults as well if you style it right. This bedroom has two single beds next to each other. The wall color is bright as is the decor in the room.
Add a few photo frames with a colorful border that's in stark contrast with the wall color. And you want the bedspreads to be colorful and also at odds with the wall color whenever possible.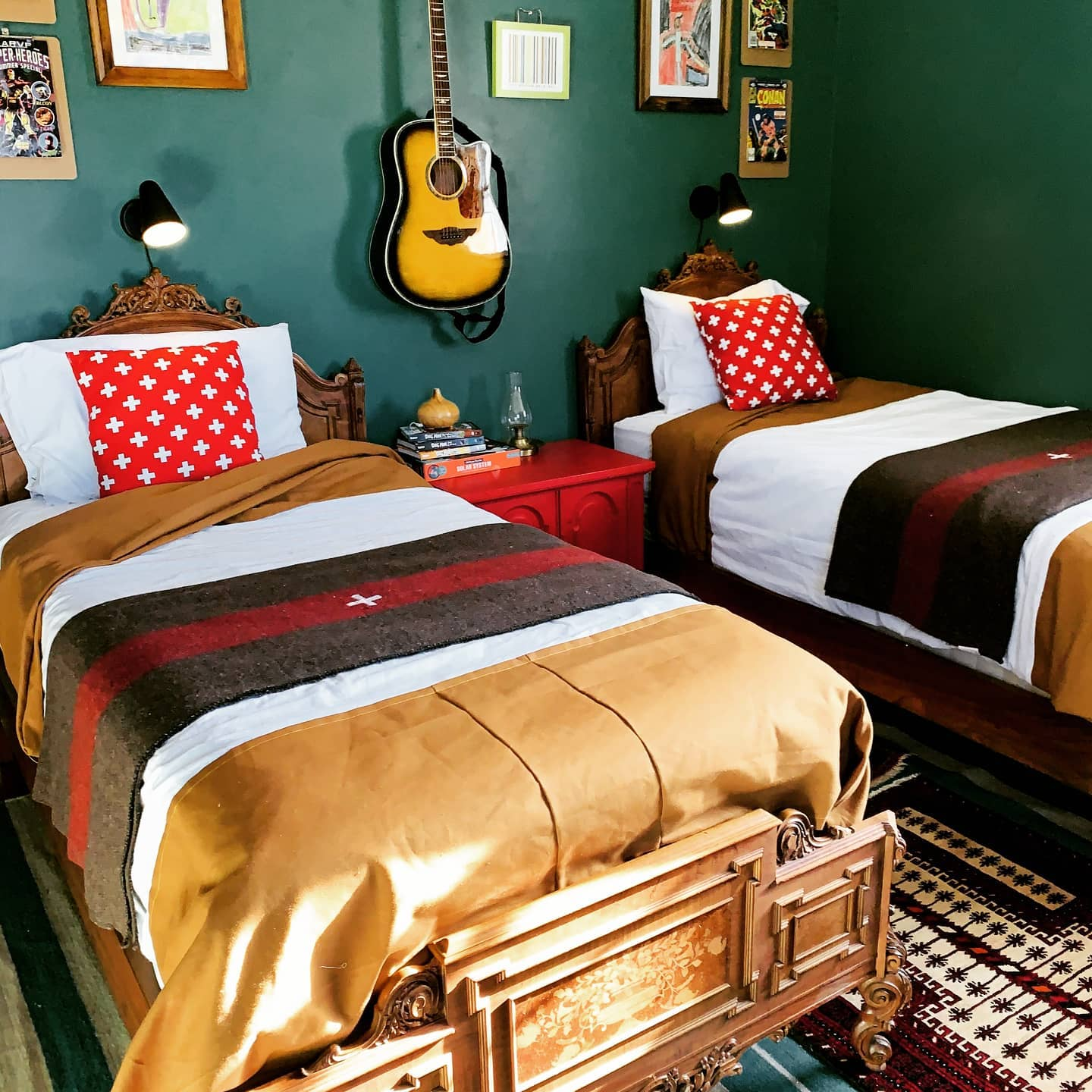 Guy's Bedroom With Neutral Tones
You might think that neutral tones are dull and lack imagination but when you do it right, they provide an elegant look. This particular one is not in combination with white (which isn't a bad idea for those who love light).
The base tones of larger spaces like the wall color and the drapes are lighter shades. And some of the furnishings like the comforter and the pillows are dark in color in contrast. Depending on what kind of vibe you want for the room, you can pick lighter or darker shades to be the dominant presence.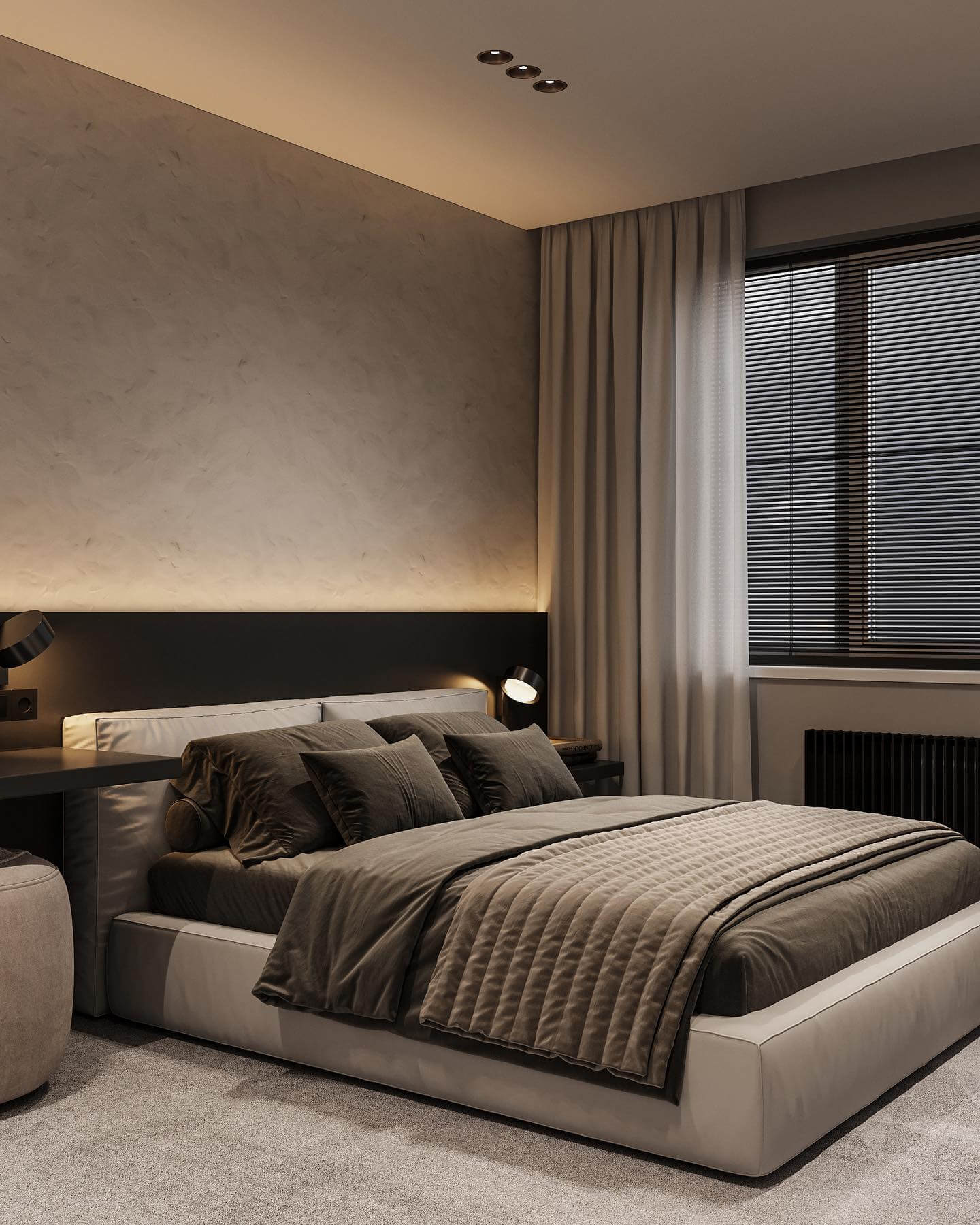 Sporty Bedroom Vibes
This is predominantly a terrific combination of gray and yellow (Vox colors) and they go together very well. You can go for a darker or lighter shade of gray which makes this flexible as well. You will notice that many of the furnishings also take that combination. The bike and the artwork are a sporty touch.
Additionally, you can incorporate sporty accents throughout the room with framed jerseys, team flags, and other memorabilia. To bring it all together, choose furniture with clean lines and a modern aesthetic that complements the sporty vibe. You can also add pops of yellow with bedding, curtains, or even an accent wall.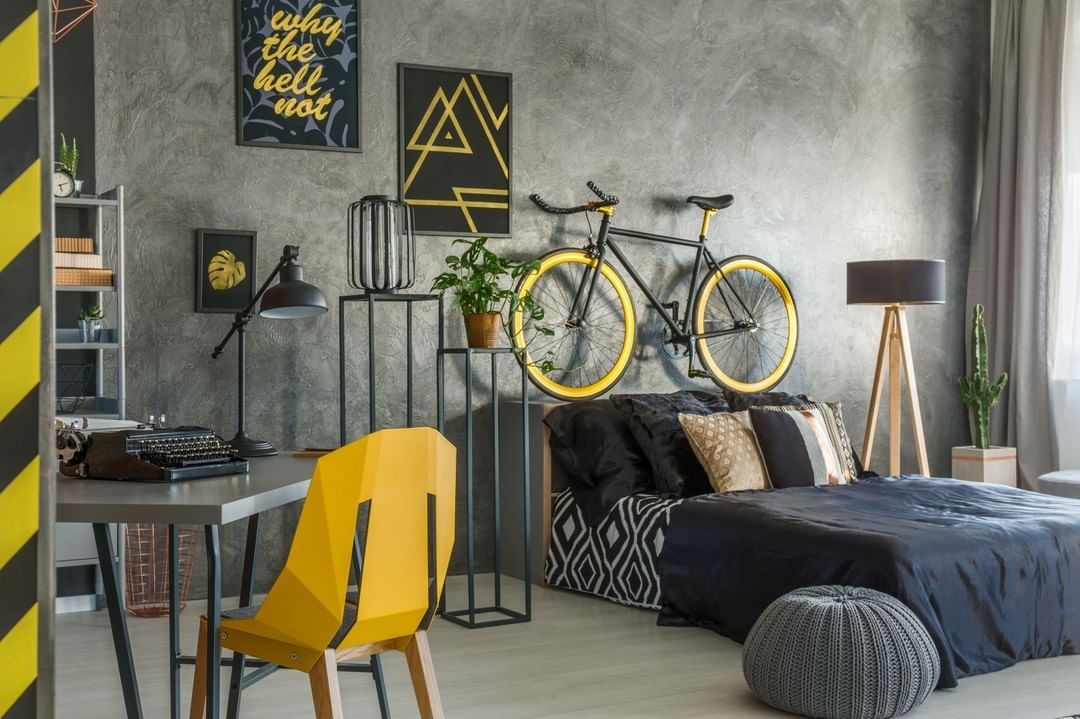 His With Her Stuff
This bedroom design is perfect for those who share their space with a partner. It showcases a seamless blend of unique and complementary elements, like a stunning light fixture, an eye-catching piece of artwork, and a coordinated color scheme between the rug, walls, and other decors.
In short, if you're looking for a shared bedroom that embodies both your and your partner's style, consider a "His with Her Stuff" design approach. With a color palette that ties together various elements in the room, this design creates a harmonious and cohesive space that will make both partners feel at home.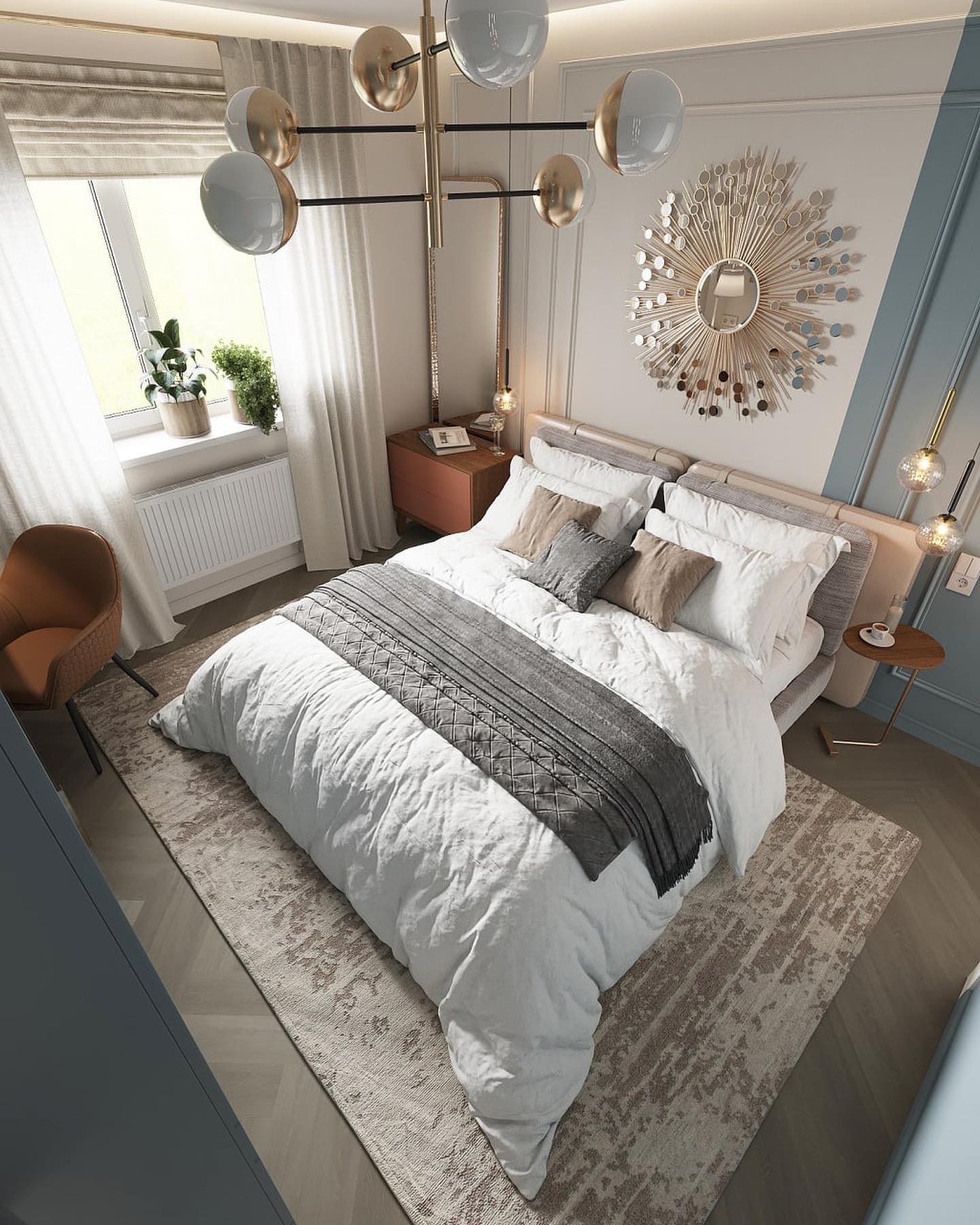 Men's Minimalist Bedroom
This design showcases simplicity at its finest with its sleek, solid-colored walls and lack of additional decor. The walls are the main feature, featuring a subtle pattern that adds interest without overwhelming the space.
This minimalist approach is perfect for those who want a clean and uncluttered space, free from the excess decor. So, if you're looking for a chic, modern bedroom that's easy to maintain, the men's minimalist bedroom is the way to go.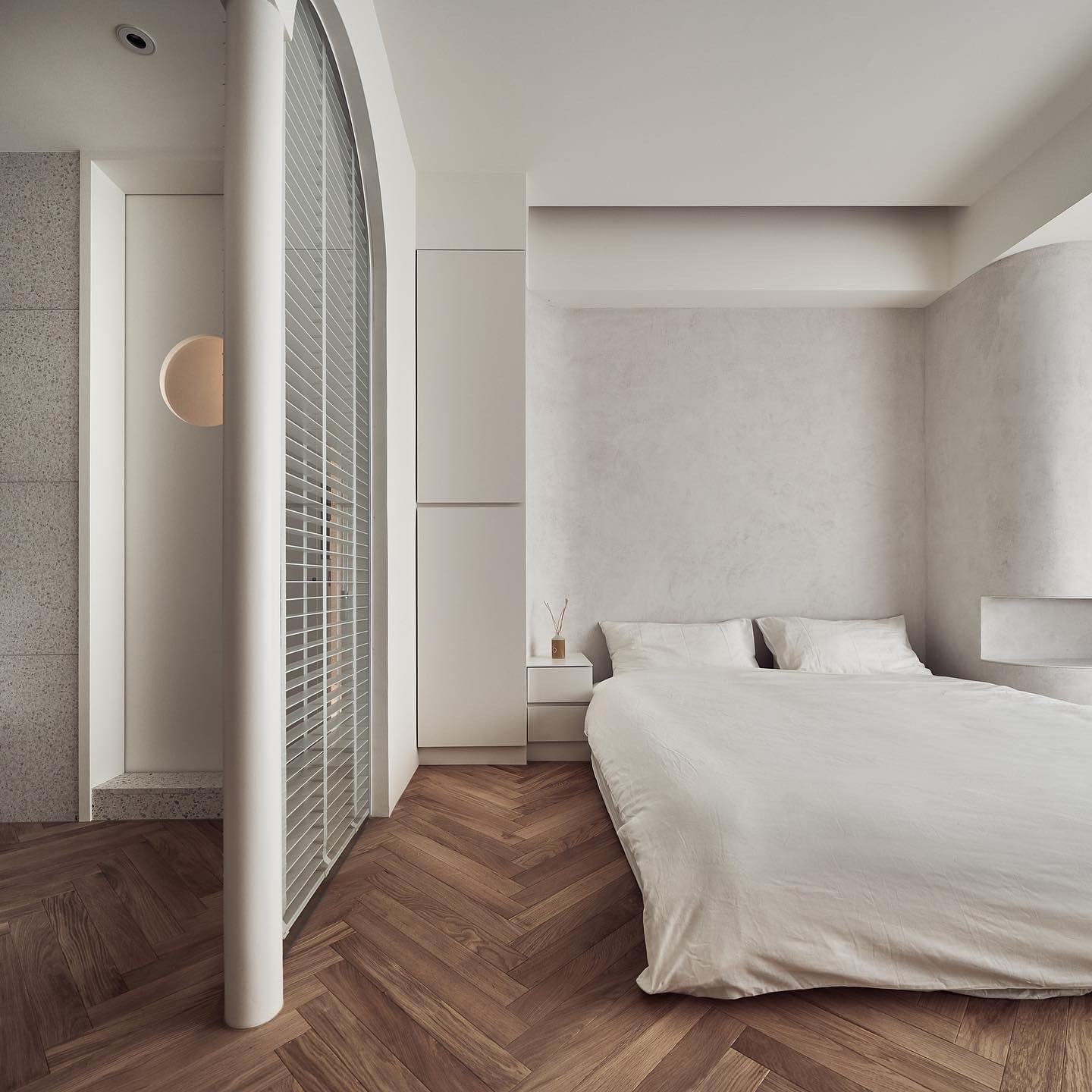 Mega Mansion Men's Bedroom
If you have a lot of space in the bedroom, you might want to leave it free and open. This is an example. The bed has your essentials on it but they're not screaming about their presence.
The carpeted floor and the wooden slat-based ceiling add texture to the room. Apart from the lavish bedside lamp and the wardrobe, you don't see much else. Head to Art Partner for more ideas.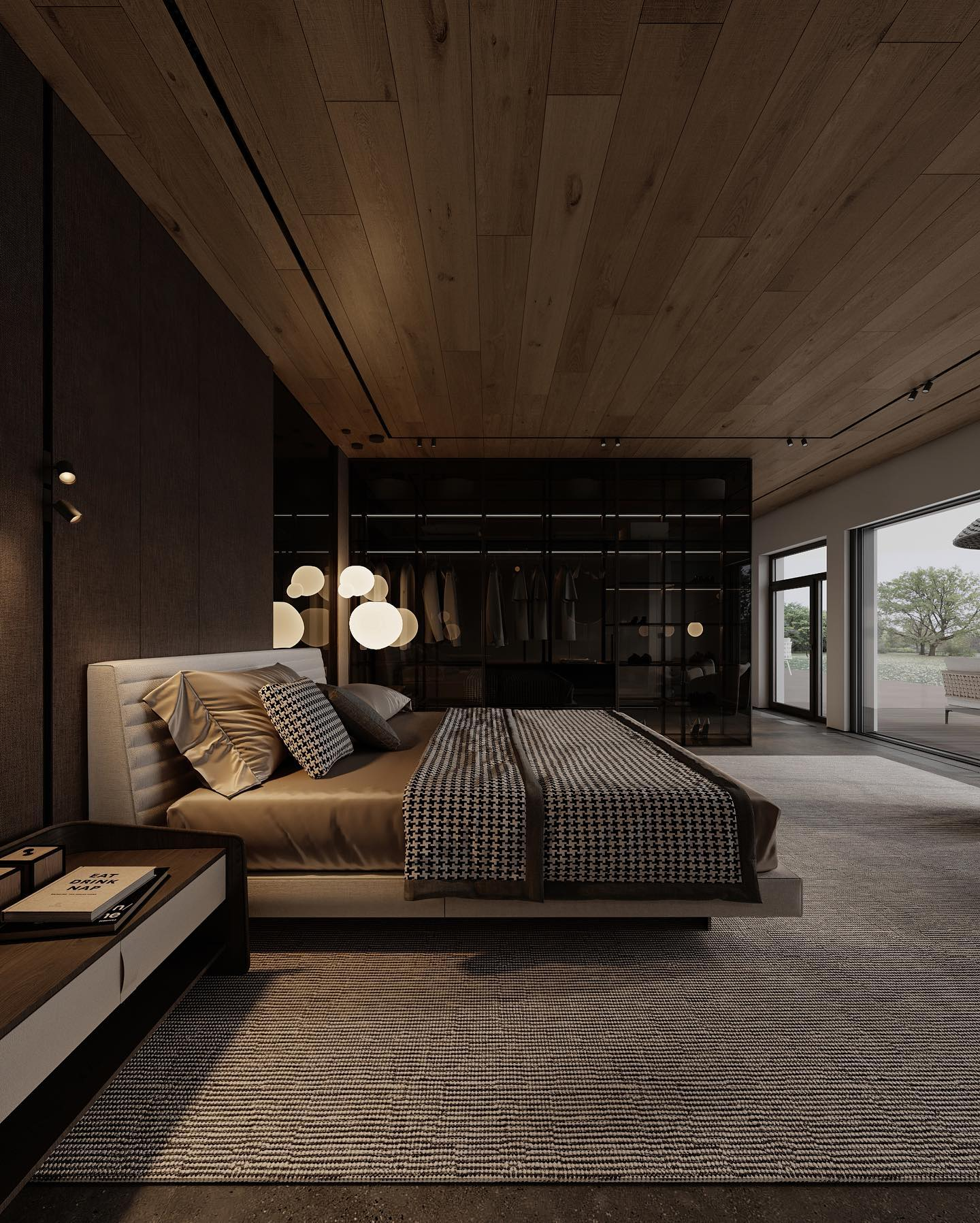 Entrepreneurs-Themed Bedroom
We call this the entrepreneur-themed bedroom and it doesn't have a lot more than a bed and a work table. But you'll see that the bed has an understated style as do the ceiling lights. They are modern and the whole room is beautifully color-coordinated.
For the go-getter who wants a functional and stylish space, the entrepreneur-themed bedroom is a perfect choice. Keeping it simple with just a bed and a work table, you can elevate the look with a sleek bed design and modern ceiling lights.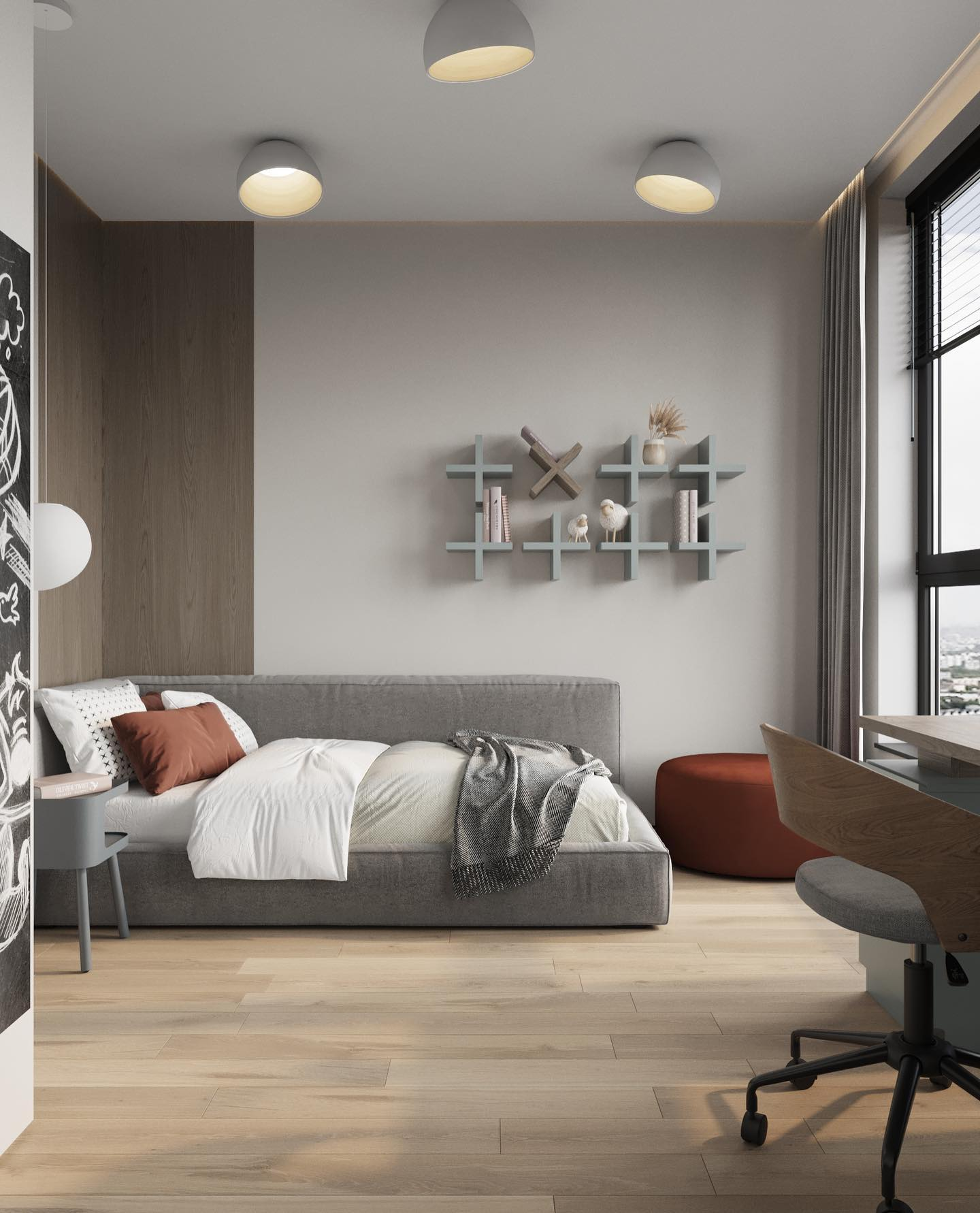 Attic-Themed Bedroom
In an attic-inspired bedroom, you can embrace the unique angles of the ceiling and use them to your advantage. Highlight this architectural feature with an eye-catching light fixture and choose a cohesive color scheme to enhance the space without overwhelming it. Keep the decor minimal and let the ceiling take center stage.
When your ceiling is angled because your bedroom is in the attic, you can have a lot of fun with those shapes. In this instance, the big light fixture draws your attention to the ceiling instead of trying to hide it. And that's a good place to start. Next, you should pick a color theme and don't overcrowd the room.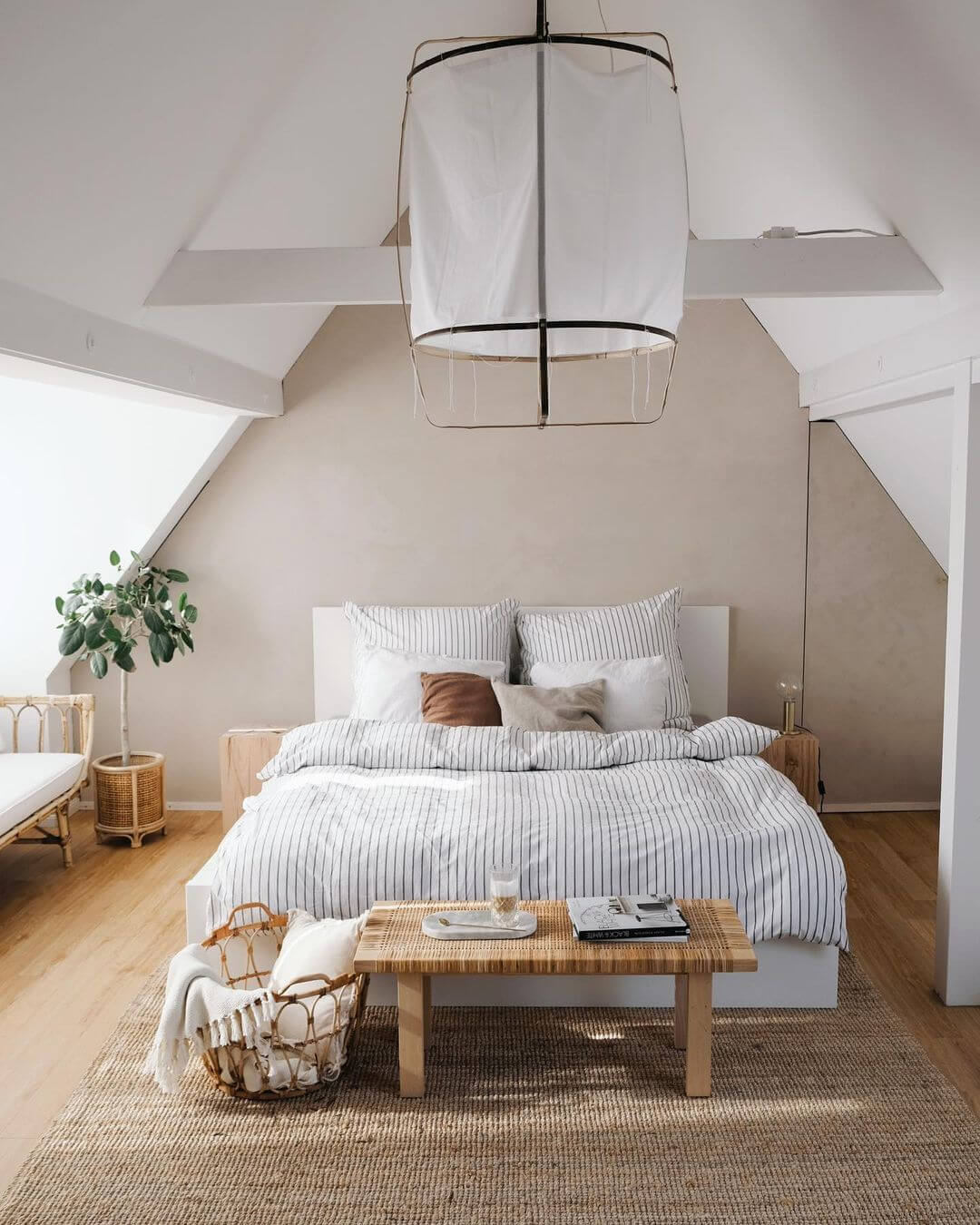 Classic Dad Bod Bedroom
The Classic Dad Bod Bedroom provides a cozy and inviting atmosphere with its carefully curated design elements. It doesn't lack style, as you can see, but it doesn't go over the top. It has a good color scheme, natural light, bedside lamps, and a photo frame.
This bedroom style is a harmonious blend of warmth and elegance, boasting a tasteful color palette, ample natural light, and well-placed lighting fixtures and photo frames. It's the perfect place for a man to retreat and unwind after a long day. To get inspired, check out Sims Hilditch for more creative ideas.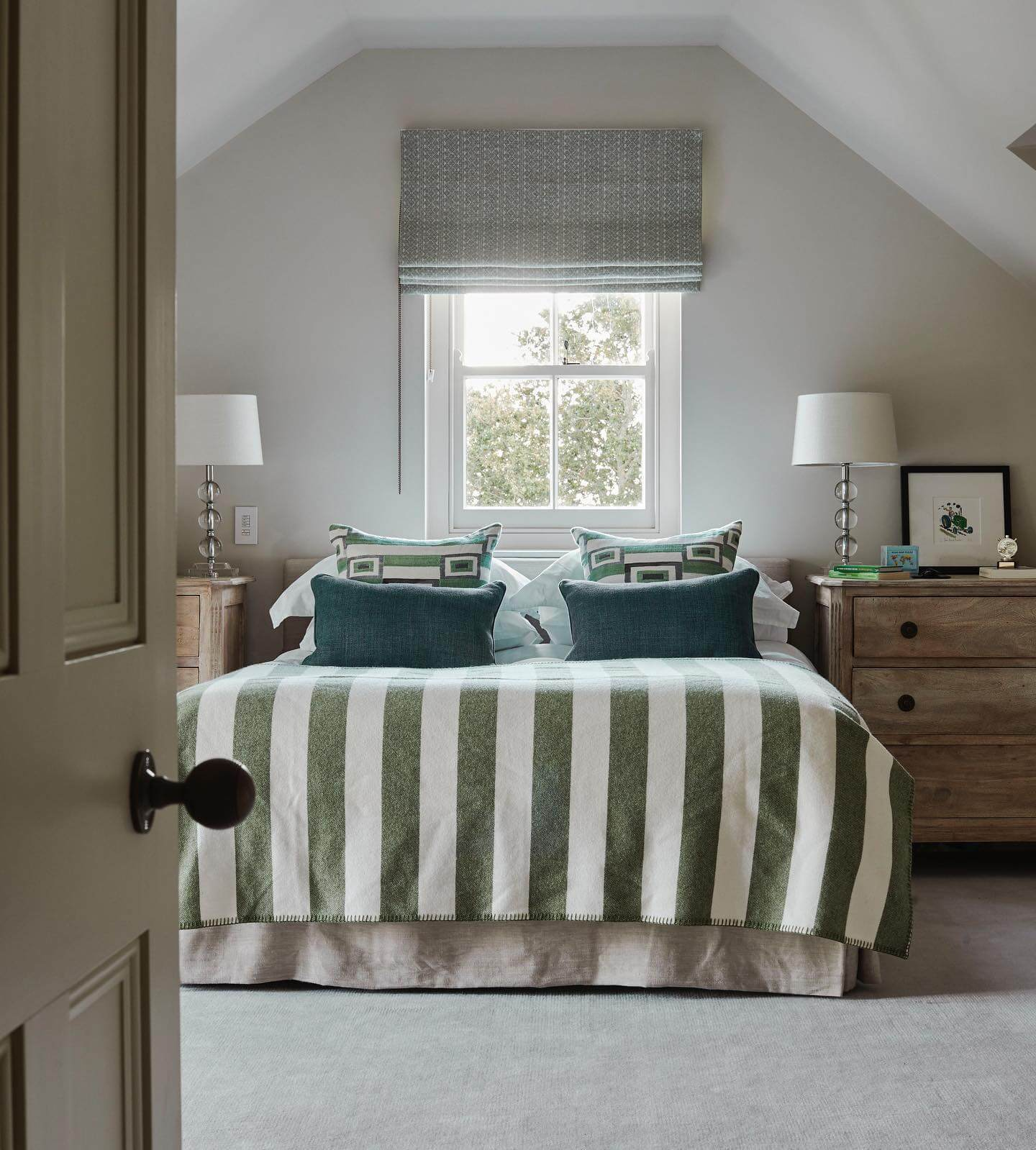 Kids Bunk Beds With Storage Space
When you have more than one kid, bunk beds are a very easy conclusion to come to. And if you want to add storage space, there's an option right under the bottom bunk.
The exposed wall is raw enough to create excitement but not so much that it'll keep them up at night. There's enough ventilation and opt for a color palette that makes the drape and the area rug at the center exciting for the kids. Check out Simply Beautiful By Angela for more.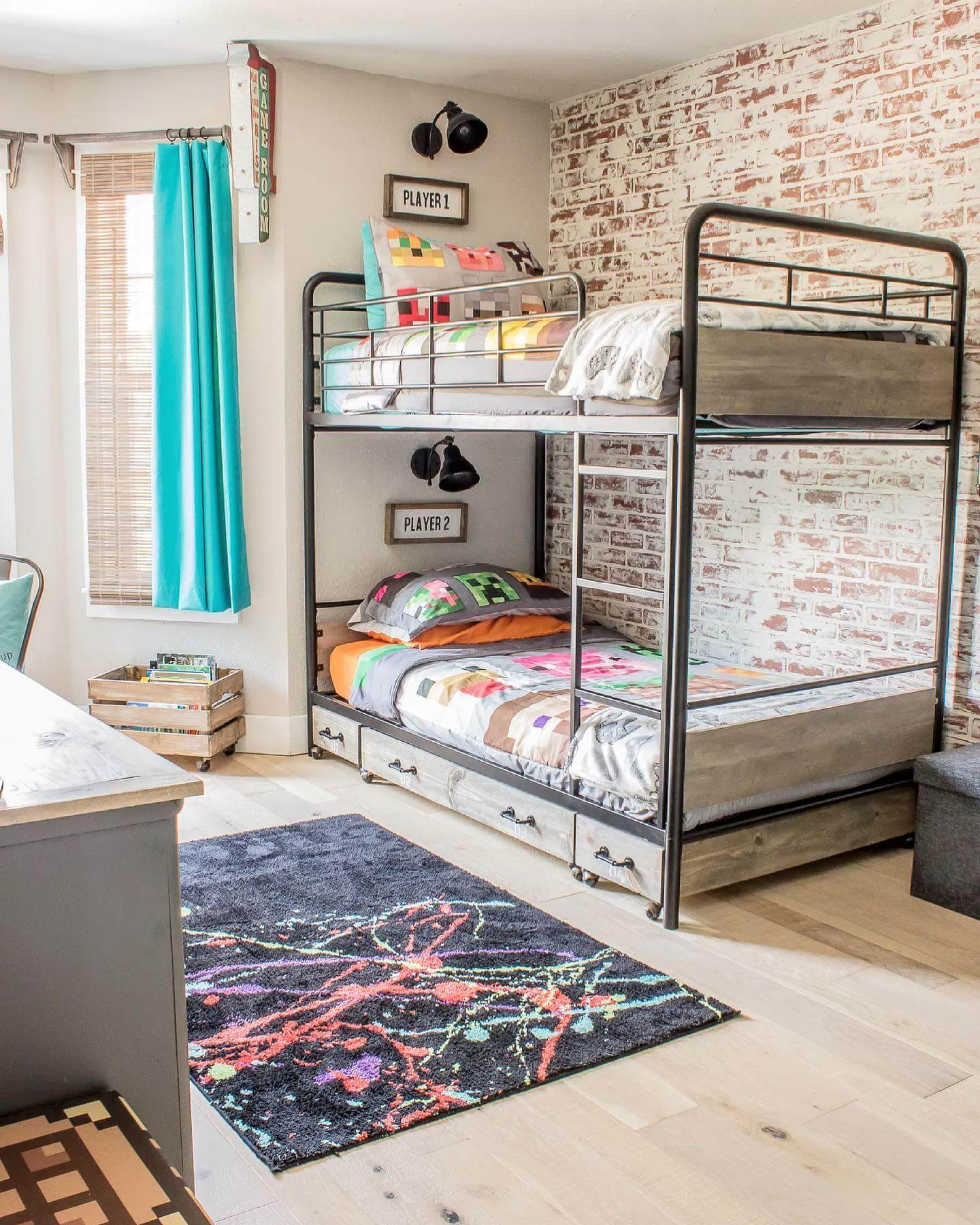 Teenage Boys Retreat
For the stylish teenage boy, this retreat is a dream come true. With ample space to lounge and play, this bedroom design is all about making a statement. From the bold wall art to the sophisticated decor, it's the perfect combination of cool and practical for the modern teen.
It can be challenging to create a look that teenagers will appreciate. But for the most part, you need to figure out what they like. This one is awesome because the room is spacious, the wall art is sophisticated, and makes a statement.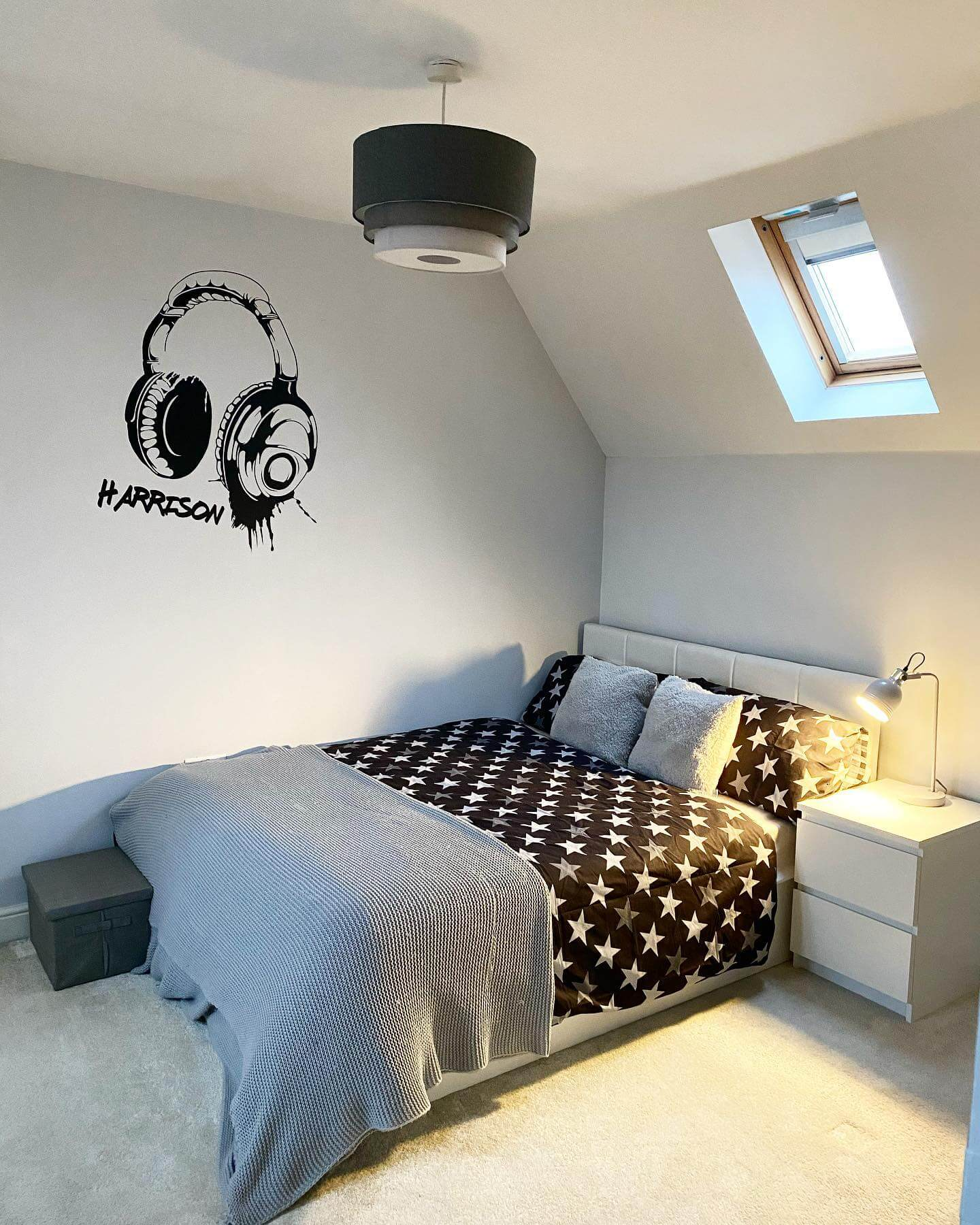 Gamer's Bedroom With RGB Lighting
For avid gamers, a dedicated home gaming room is a space to immerse themselves in their virtual worlds is a must. This bedroom design caters to their specific needs by providing ample room for their gaming equipment and setting the mood with RGB lighting.
With the ability to change the colors and effects of the lighting, this bedroom transforms into a gaming haven that elevates the gaming experience to the next level. To achieve this look, prioritize the placement of gaming equipment and incorporate RGB lighting in strategic areas to create a visually stunning ambiance.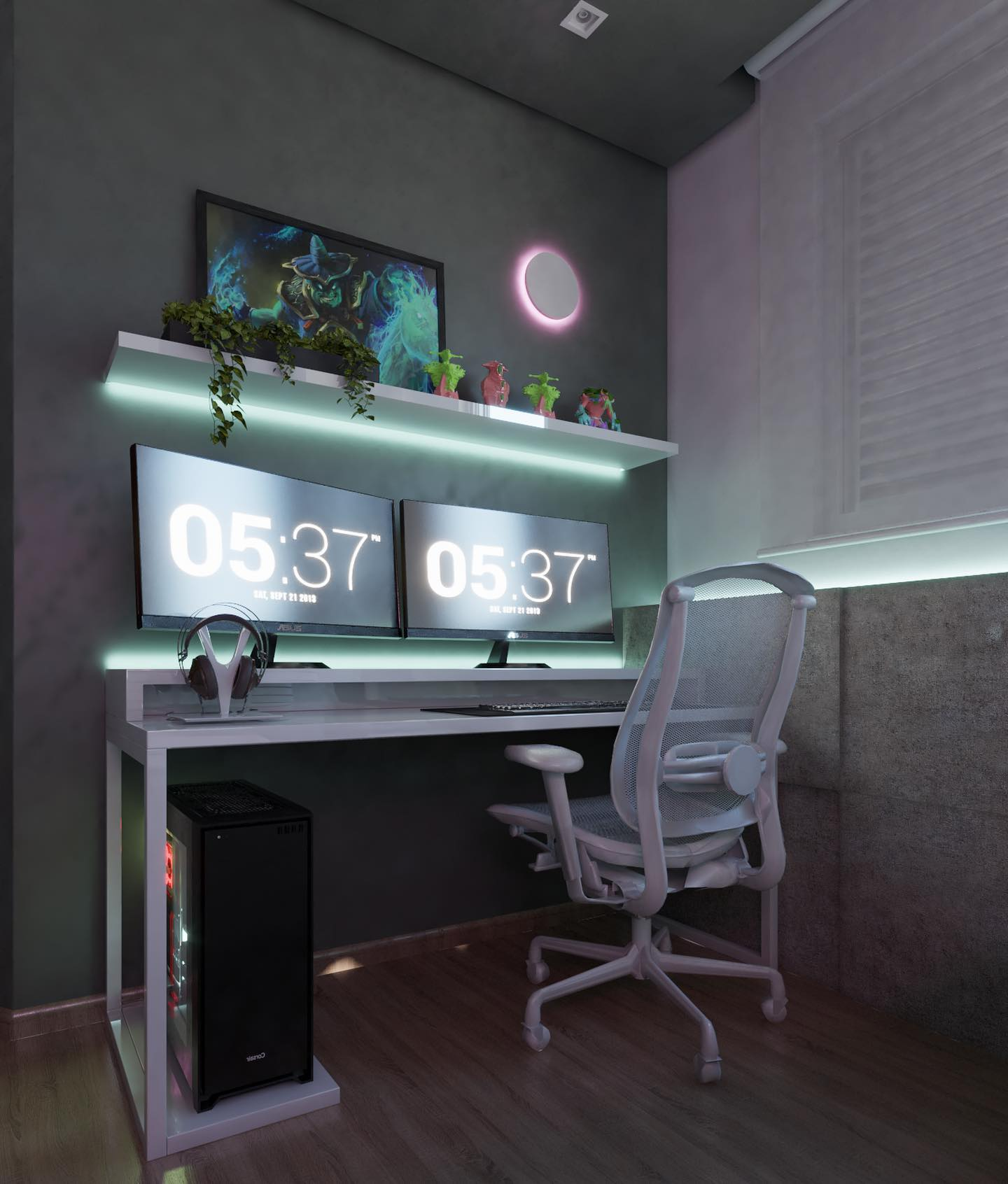 Daybed in Master Bedroom
Transform your master bedroom into a luxurious retreat with a cozy daybed. Surround it with a stunning wallpaper accent wall, adding a touch of sophistication and elegance to the space.
A plush area rug covering the majority of the room will provide a comfortable and inviting atmosphere, while a chic side table will make the daybed even more inviting. Finish the look with a simple yet chic houseplant in the corner, creating a peaceful and tranquil haven for you to unwind in.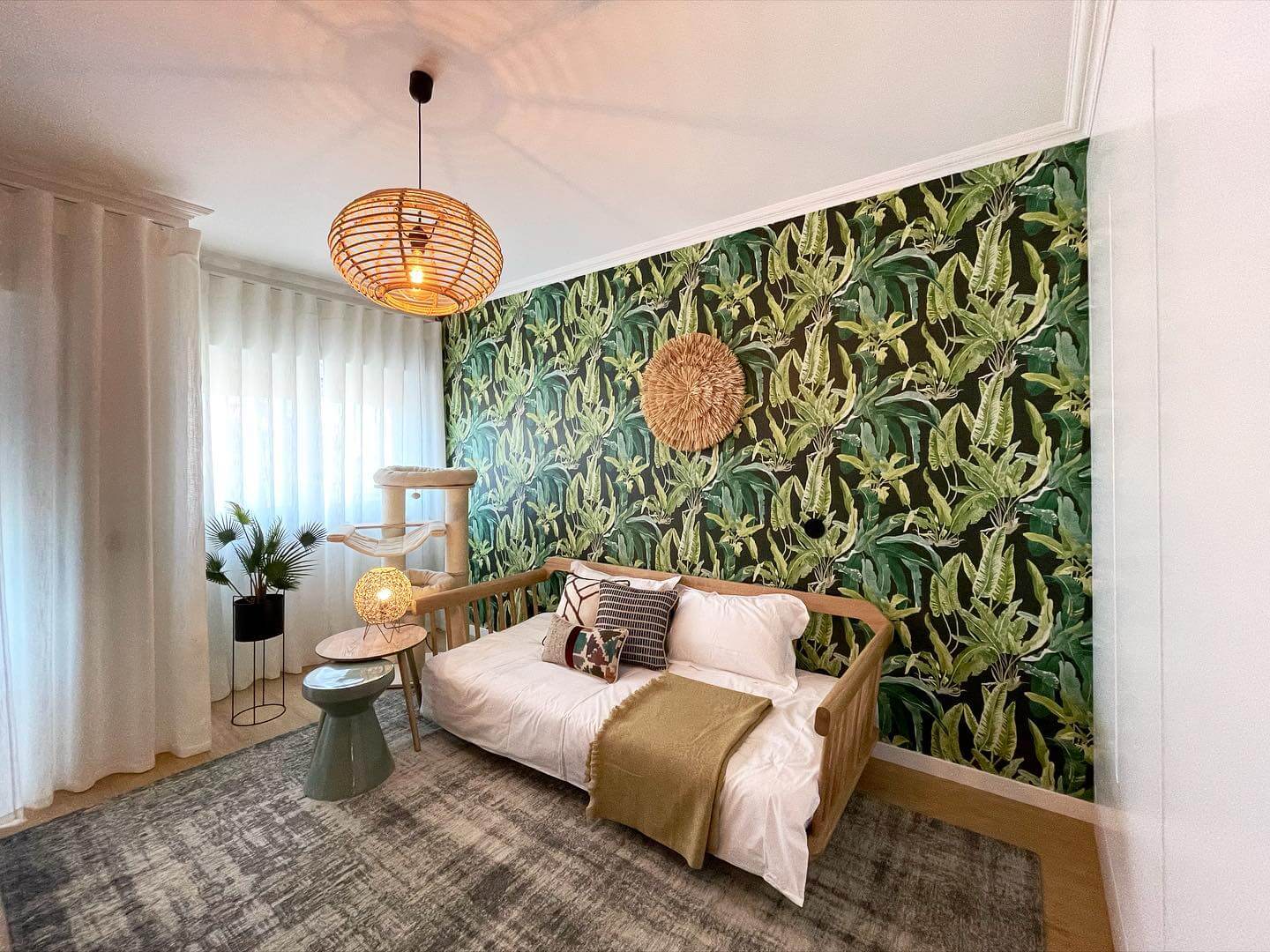 Basic Clean Lines Vibes
This style is characterized by its focus on clean, sharp lines, creating a streamlined and organized appearance. A neatly made bed is the centerpiece of this design, surrounded by sharp-lined photo frames and bedside tables that add to the minimalistic vibe.
To achieve this look, choose furniture with clean lines and a neutral color palette, allowing the focus to be on the sleek, sophisticated design elements. With its emphasis on order and simplicity, this is the ideal choice for men who value an uncluttered space and appreciate a touch of sophistication in their sleeping quarters.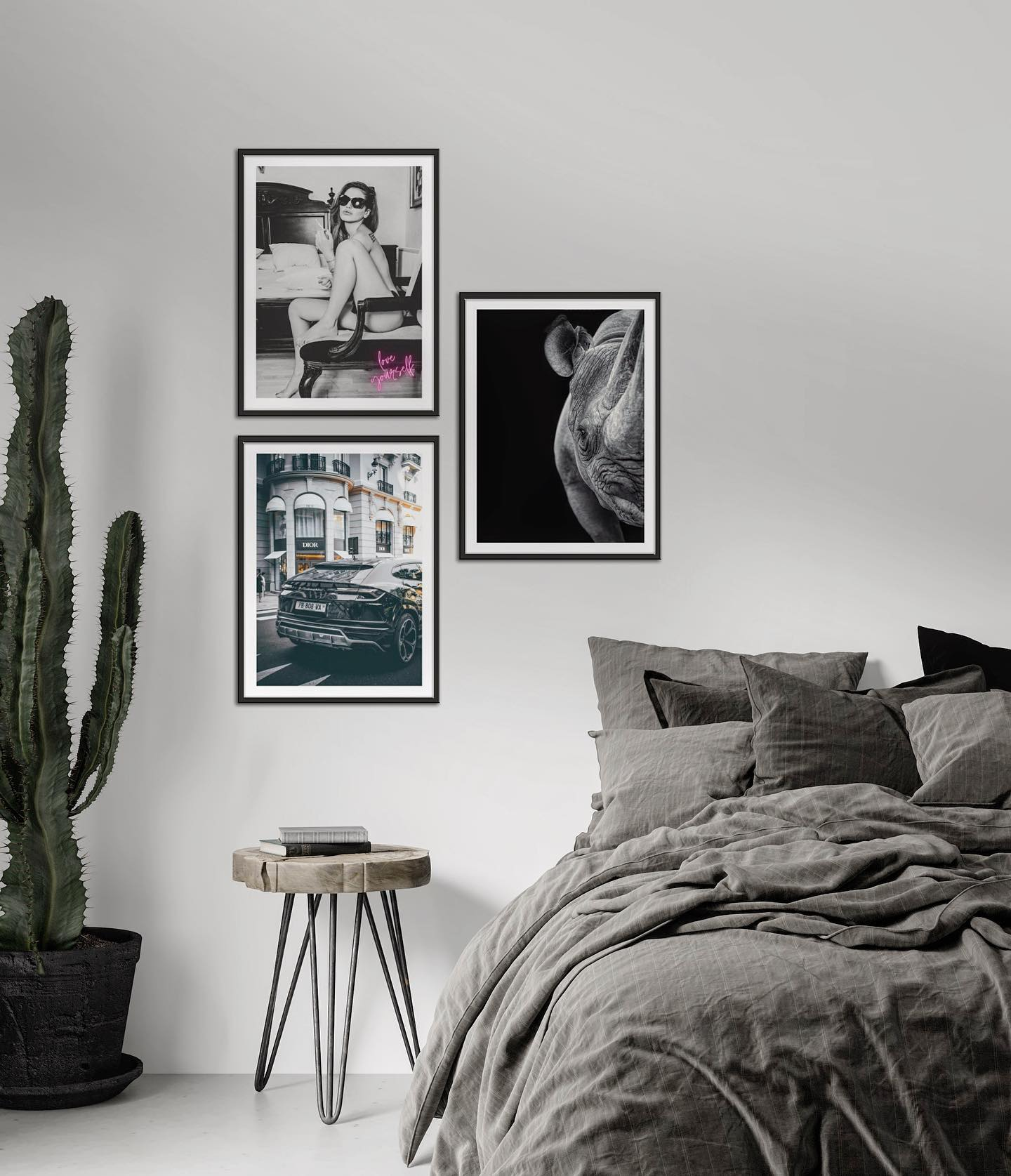 Star Wars Fan-Themed Bedroom
For the ultimate Star Wars fan, a themed bedroom is a must-have. Immerse yourself in the world of intergalactic adventures by starting with a bold and graphic headboard featuring the iconic Star Wars logo.
Add to the ambiance by incorporating a color scheme that complements the themes and motifs of the Star Wars universe. Don't be afraid to get creative with wall art, bedding, and even lighting fixtures that showcase your love for the franchise. Transform your bedroom into a sanctuary for your inner Jedi or Sith Lord.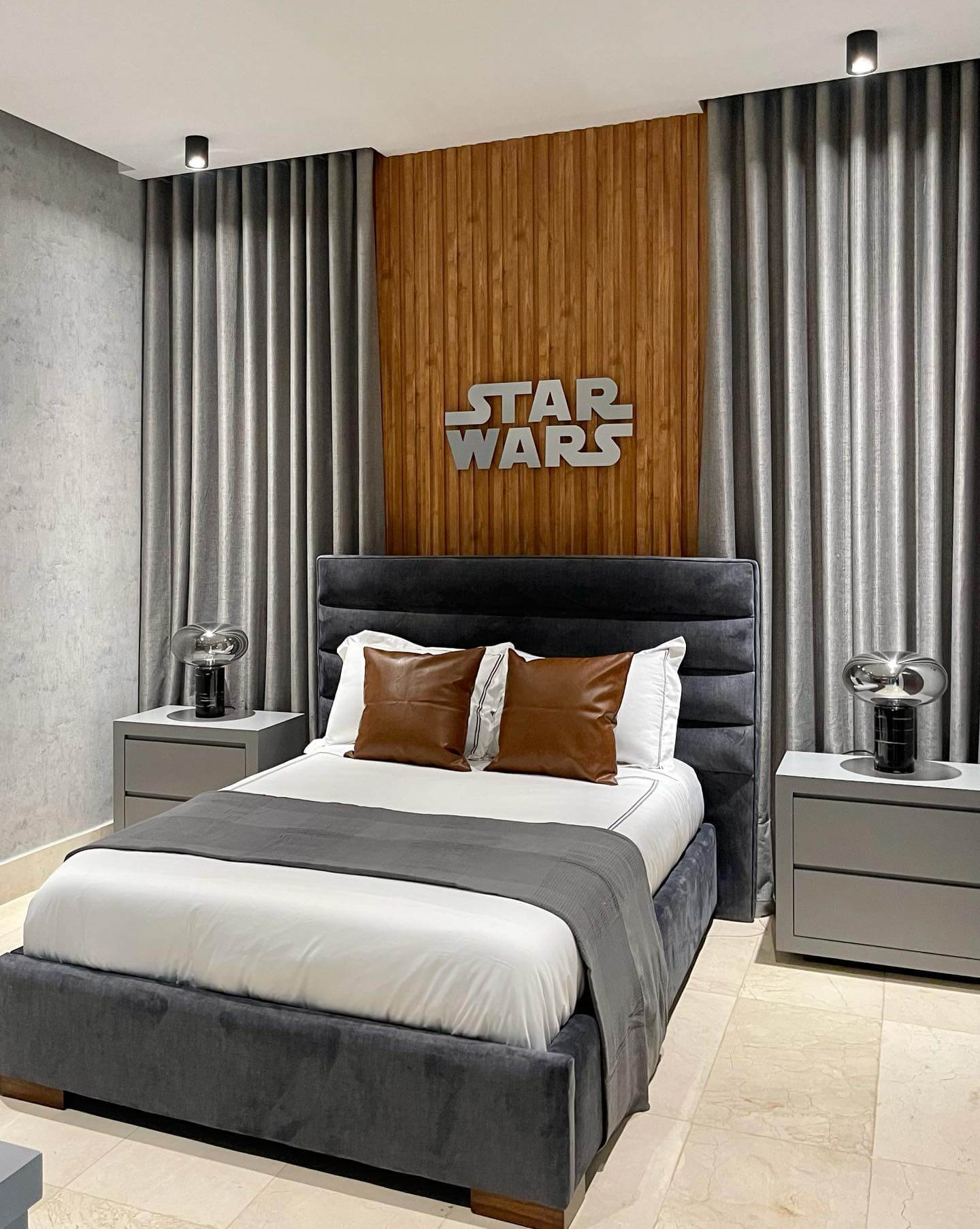 Men's Warehouse Style Bedroom
You should be able to guess by now that for this style, the head side wall will be exposed bricks. Make sure you use industrial-style materials for the decor and the color scheme for the room is rugged as well. Take a look at Jellina Detmar for some more decor inspiration.
To achieve this look on a budget, start by incorporating exposed brick walls, which serve as the centerpiece of the room. To enhance the industrial feel, choose decor pieces made from materials such as metal, concrete, and wood.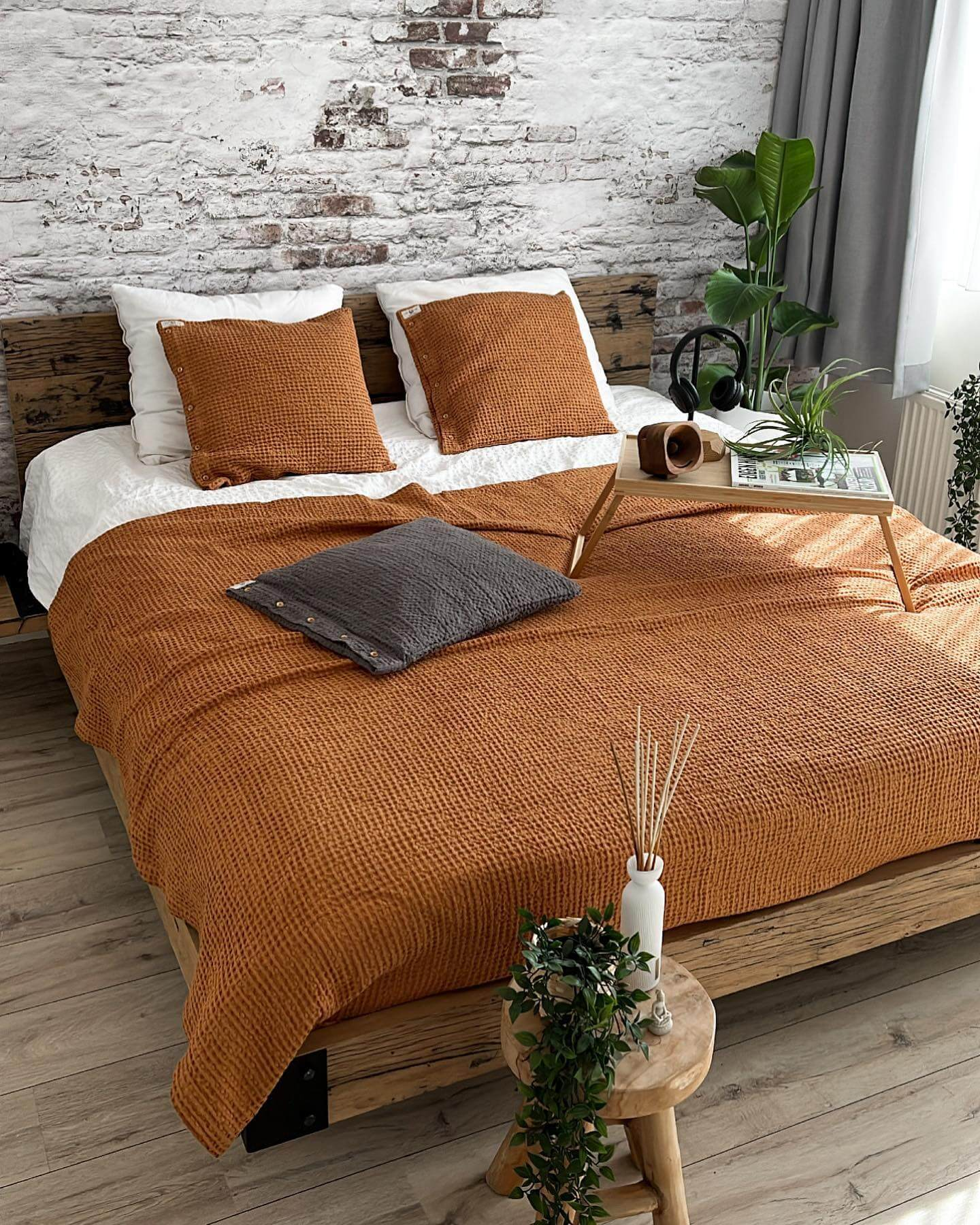 Men's Bedroom With Art Decor
For a man who values creativity and individuality, a bedroom adorned with striking art pieces is the perfect abode. This design features a mixture of interesting shapes, dynamic lighting fixtures, and bold color combinations.
A wall art piece in hues of gray and green, a statue on the bedside table, and a repurposed suitcase all add a touch of quirky charm. Elevate the space even further with a touch of eclectic lighting to create a truly one-of-a-kind retreat.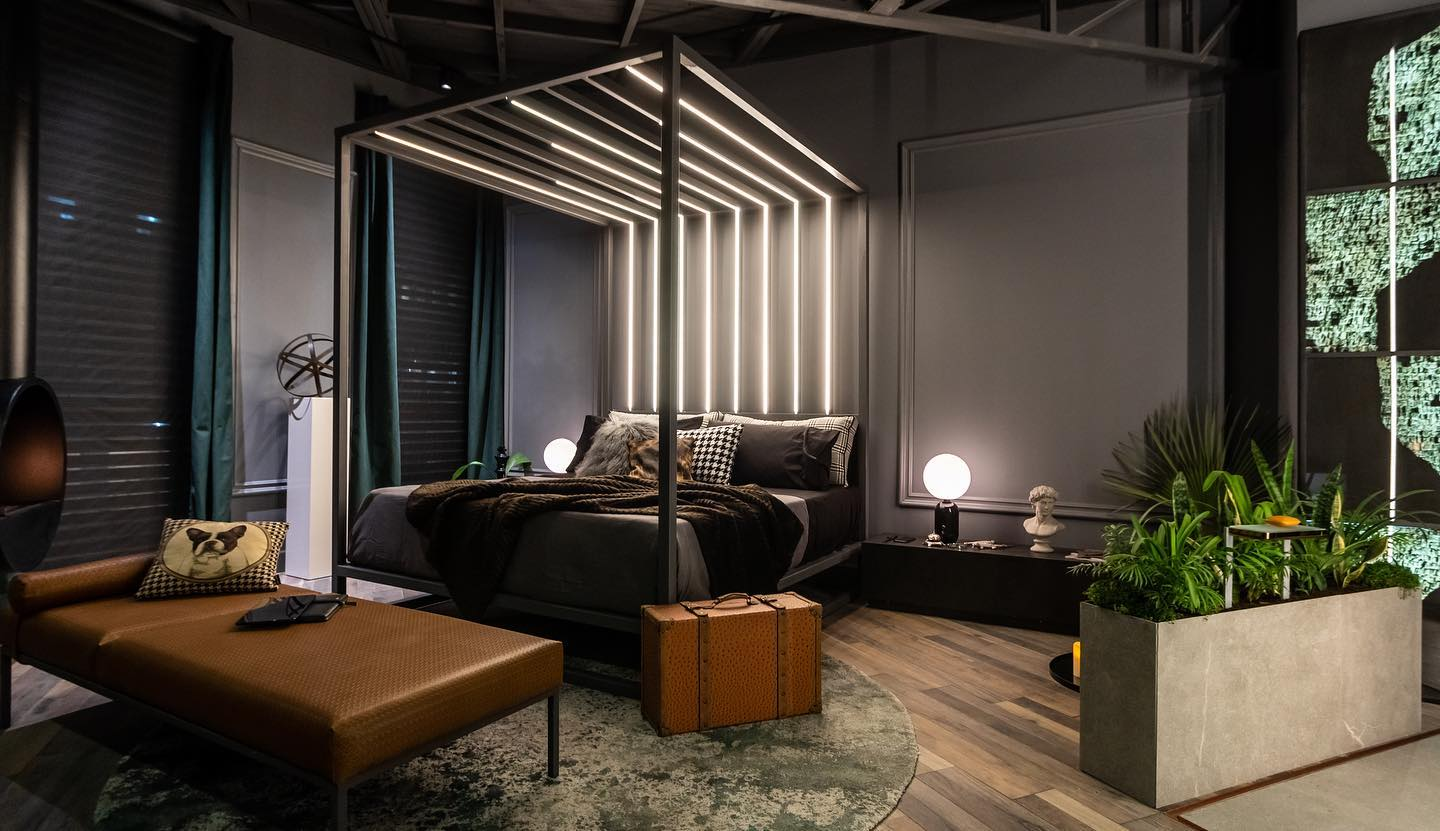 Next-Level Master Bedroom
For those seeking to elevate their master bedroom to the next level, consider incorporating abstract shapes into your design. The head-side wall is the perfect canvas to showcase intricate designs and lighting can be used to highlight the unique features.
By opting for a simple, yet powerful color palette, you'll be able to bring a sense of sophistication and modernity to the space. The ceiling light fixtures can also play a role in accentuating abstract shapes and elevating the overall design aesthetic.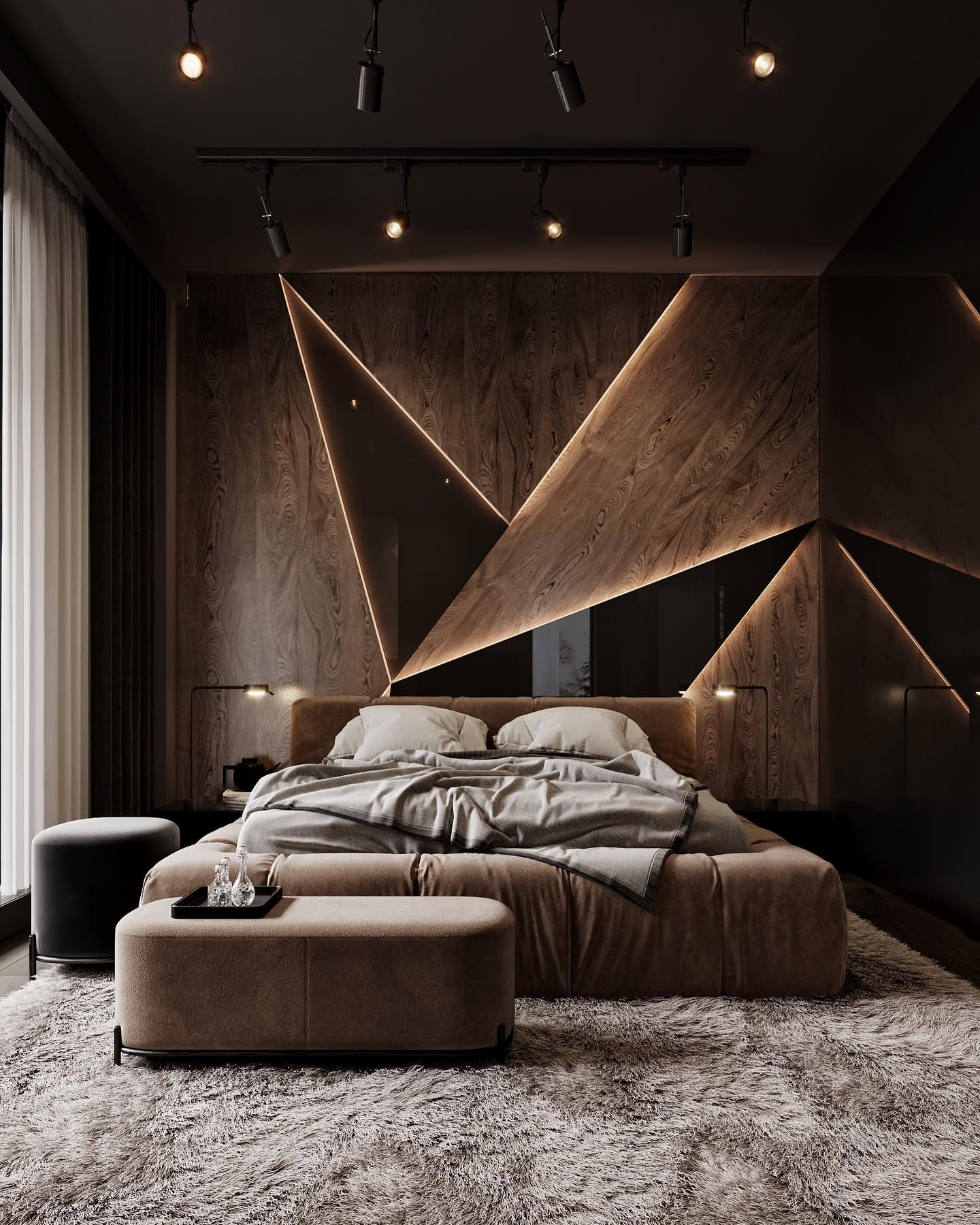 Open Plan Bedroom
With an emphasis on simplicity and flow, this style offers an uninterrupted perspective of the room while still maintaining a sense of definition and character. By incorporating an area rug as a visual boundary, you can easily distinguish between the different zones in your space.
Choose a bold and cohesive color palette to bring the room together and make it feel unified. Don't forget to add some tasteful lighting fixtures to enhance the room's texture and add depth. With a few simple touches, your open-plan bedroom will be elevated to the next level.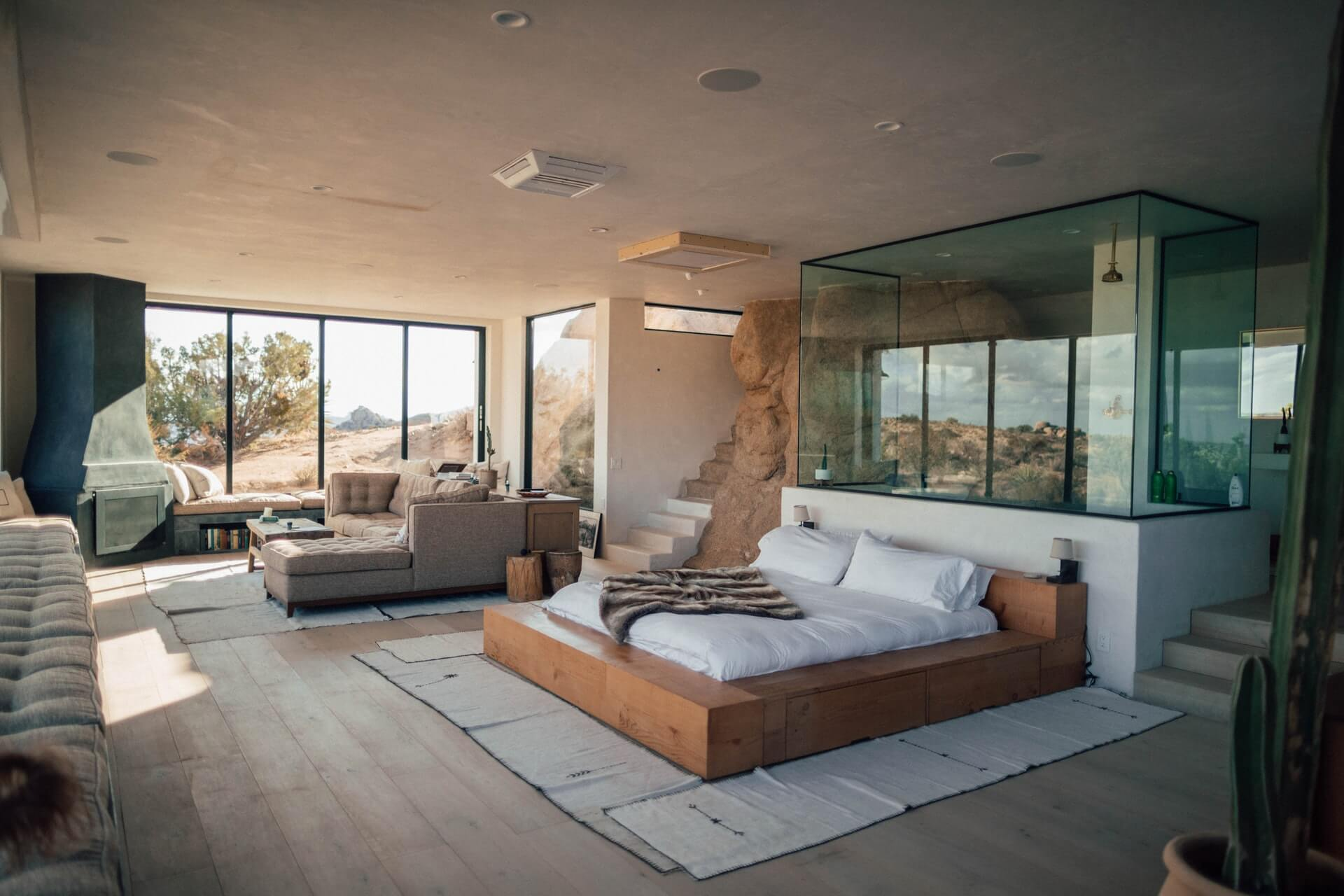 Classic Look Mens Bedroom
This bedroom has clear and neat lines and shades of blue paired with shades of yellow. It has the right amount of decor but in interesting shapes. There are patterns to break the monotony and no element clashes with the other.
For a classic design, consider a harmonious blend of blue and yellow hues. Embrace clean lines and minimal decor, but don't be afraid to add a touch of playful patterning to keep the space visually intriguing. By expertly balancing simplicity and personality, this timeless design will embody effortless sophistication and refinement.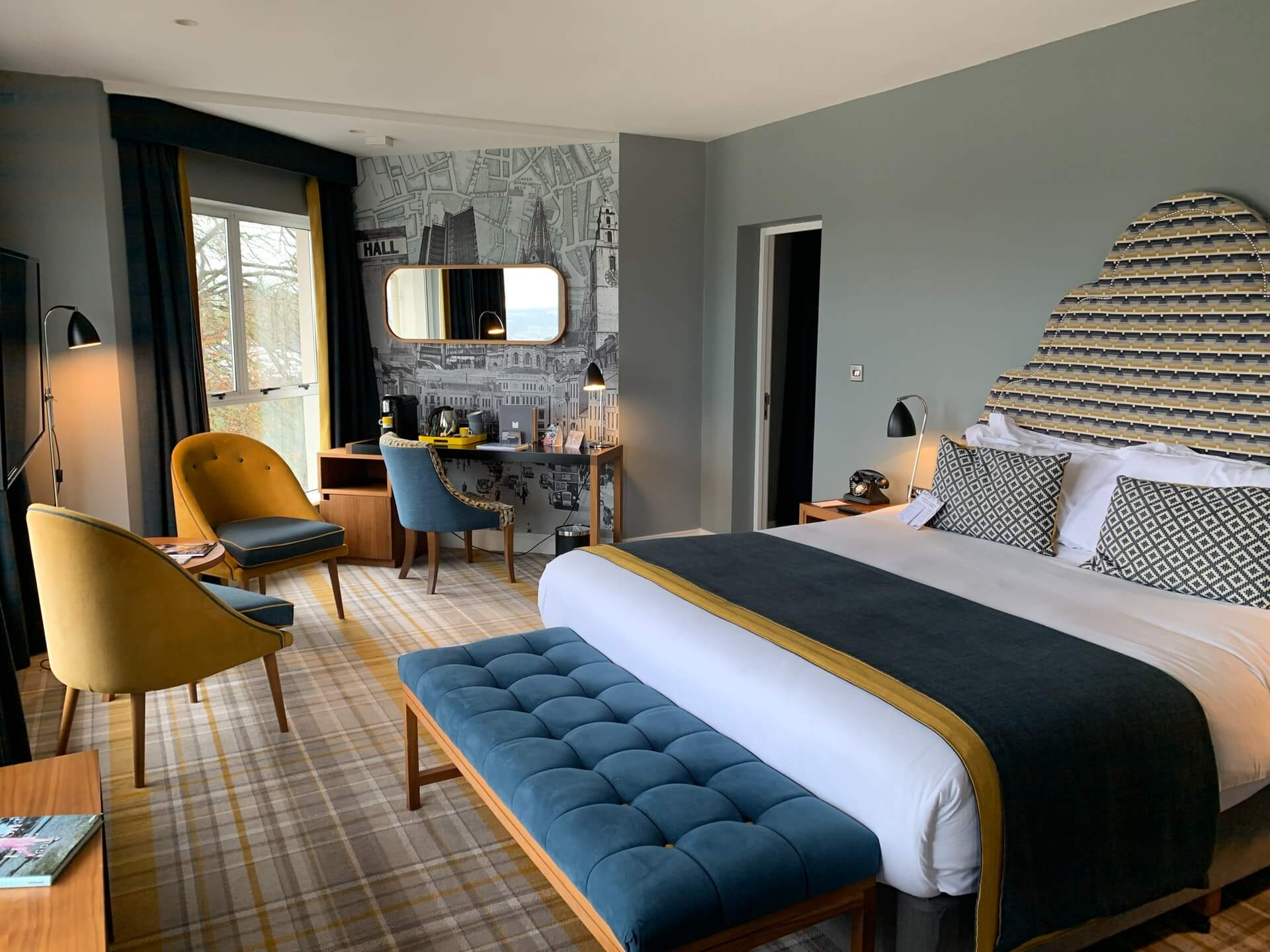 Balinese Bedroom Decor
Step into a serene escape with Balinese-inspired bedroom decor. The goal is to evoke a spa-like ambiance, reminiscent of the tropical paradise that is Bali. To achieve this, incorporate elements such as soft lighting, lush greenery, and calming artwork.
Enhance the tranquility with French doors that open to a lush garden, inviting the outdoors in. Embrace the serenity of Bali in your very own bedroom and create a peaceful escape from the hustle and bustle of everyday life.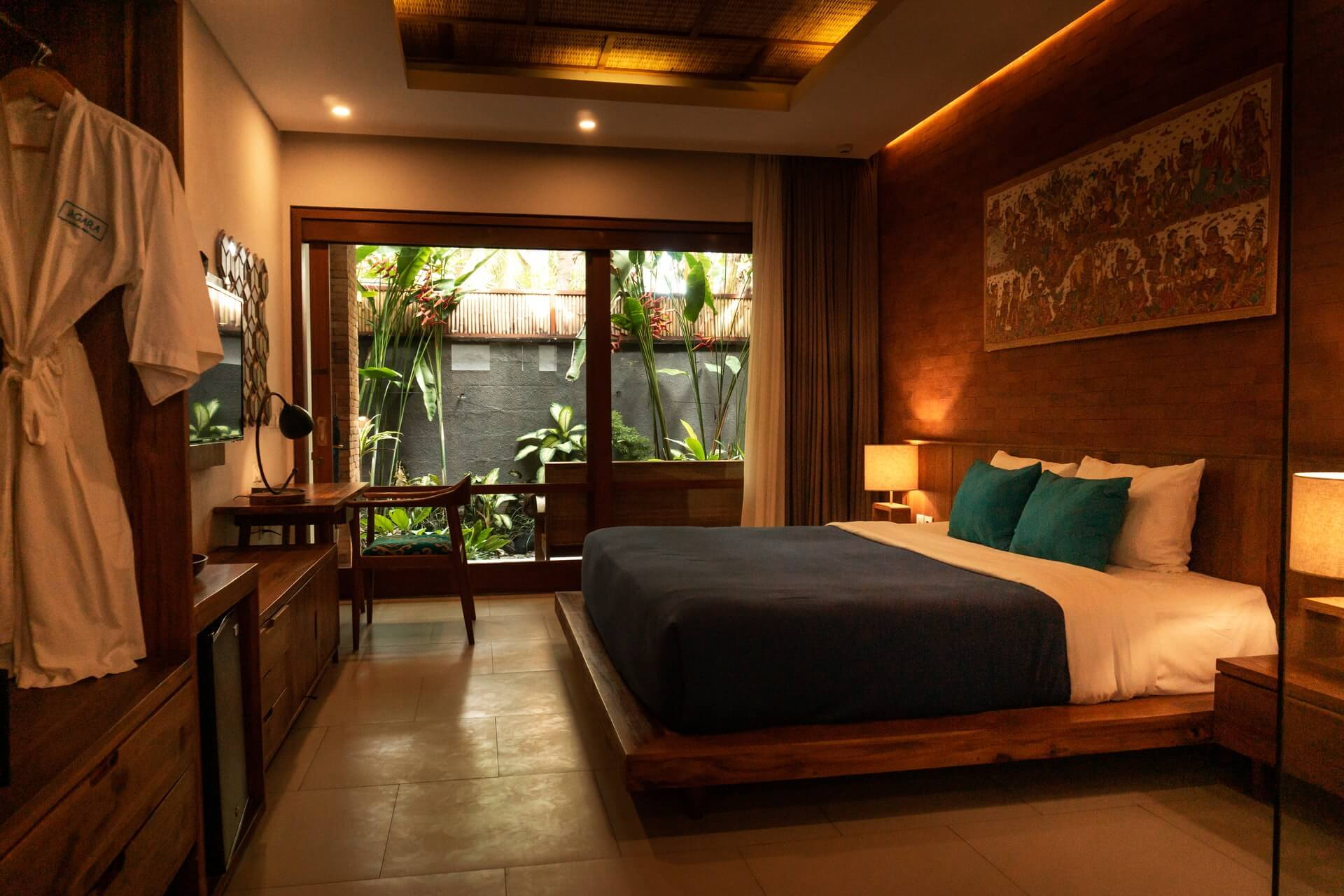 Men's Bedroom Decor Pro Tips
While not every male thinks the same way, most experts agree that neutral and moody colors are chosen by those who are conventionally "masculine". Gray, brown, black, and white are good choices with a vibrant accent color to go with them.
Essential item: Light fixtures

Add style to the room
Think of lighting for bedside, ceiling, and ambiance
Popular choice: Metallic lighting options
Consider a color palette or a unique pattern
Furniture:

Smart storage to keep items out of sight
Pick the right color
Keep the bed area simple
Add a cool bedside lamp or leather chair for attraction
Blinds or Shades:

Match the color palette of the room
Consider design to match the overall style
Pick the right material for thickness (for light during day and night)
Mattress and Bedding:

Get a good-quality mattress
Soft sheets
Comfortable pillows
Matching color pillowcases
Soft fur in the bed for comfort.
This is a personal choice but you want to pick your interior decoration style first. Then decide which walls need art and what their shape, size and color should be. Urban, minimalist, pop art, and nothing are all options.
Men's Bedroom Ideas FAQs
What Should A Man's Bedroom Look Like?
A man's bedroom should be an oasis of comfort and relaxation, where he can unwind and recharge after a long day. To achieve this, it's crucial to consider the lighting, color scheme, and overall ambiance of the space. Here are a few tips on how to create a bedroom that is both stylish and functional:
By keeping these tips in mind, you can create a bedroom that is uniquely yours, reflecting your personal style and providing a relaxing retreat from the outside world.
How Can I Make My Bedroom More Masculine?
To enhance the masculinity of your bedroom, you can delve into the realm of bold and assertive design choices.
Experiment with a color palette that exudes strength and confidence, such as shades of deep blue, forest green, or charcoal grey. Incorporate rugged textures, like raw wood, leather, or exposed brick, to add a touch of ruggedness to the space.
Consider adding statement pieces, like a bold piece of wall art or a sculptural lighting fixture, that reflect your personal style and interests. The key is to create a space that embodies your sense of self and inspires a sense of calm and comfort.
Does Dark Wood Furniture Make a Room Smaller?
It's not just the color of the furniture that determines the size of a room, but also the style and design.
Dark wood furniture can bring a sense of sophistication and richness to a space, but if not balanced properly with other elements such as lighting and wall color, it may give the illusion of a smaller room.
The key to creating a harmonious and spacious interior is to consider the overall design scheme and use elements that complement each other.
The Bottom Line
In conclusion, the design of a man's bedroom can greatly impact the atmosphere and vibe of the space. From sleek and minimalistic to bold and adventurous, the possibilities are endless.
Choosing the right colors, lighting fixtures, furniture, and decor elements can elevate the overall aesthetic and create a personal and inviting retreat. Don't be afraid to experiment and incorporate your own unique style, after all, it's your personal haven and not a discarded home basement.
Remember, the bedroom should not only look good but also provide comfort and promote restful sleep. So, let your creativity run wild and craft a one-of-a-kind boudoir that truly embodies your individuality and flair.