She Shed Ideas for Interior and Exterior Design
For she sheds, consider design options like classic sheds, cozy retreats, colonial gables, fire pits, home studios, farmhouses, entertainers' sheds, tiny house sheds, potting sheds, modern sheds, barndominiums, greenhouses, playhouses, tiki bar sheds, backyard pool sheds, beach sheds and lots more for some relaxation and fun.
She sheds are some lovely ways for women to have a space of their own. You can undertake your hobbies, entertain your friends, grab a drink or simply cozy yourself up and take some rest.
There are numerous ways in which you can design your she shed. If you are looking for some inspiration, here are some gorgeous she shed ideas that will make your day soft and pleasant.
25 Woman Cave She Shed Ideas for Your Backyard
Here is a comprehensive list of some woman caves or she shed ideas you can consider choosing from for your backyard when either building or buying a shed.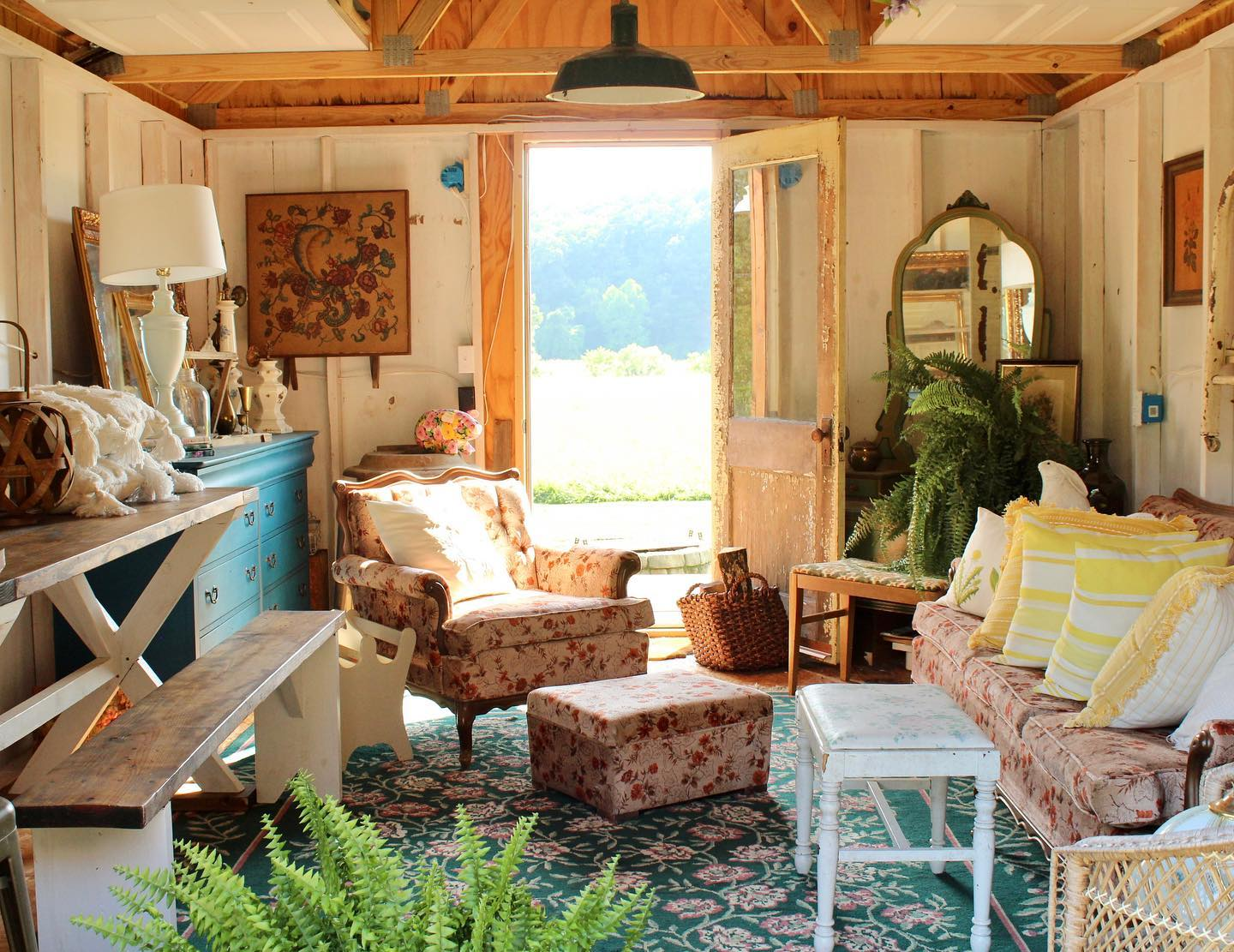 1 | Classic She Shed
There is nothing quite like a classic wooden shed built snugly in your garden or backyard. Painting the external walls with neutral or pastel colors can help provide a sophisticated and charming look.
Decorate the interiors with storage items, clothes, bags, work supplies or bookshelves, and come down here for some bliss and alone time. A great way to spruce the shed up more can be to paint the door frames white and place some small plants on the windowsills.
Consider placing some battery-operated string lights in the shed for soft lighting and surround the shed with classic and vintage furniture.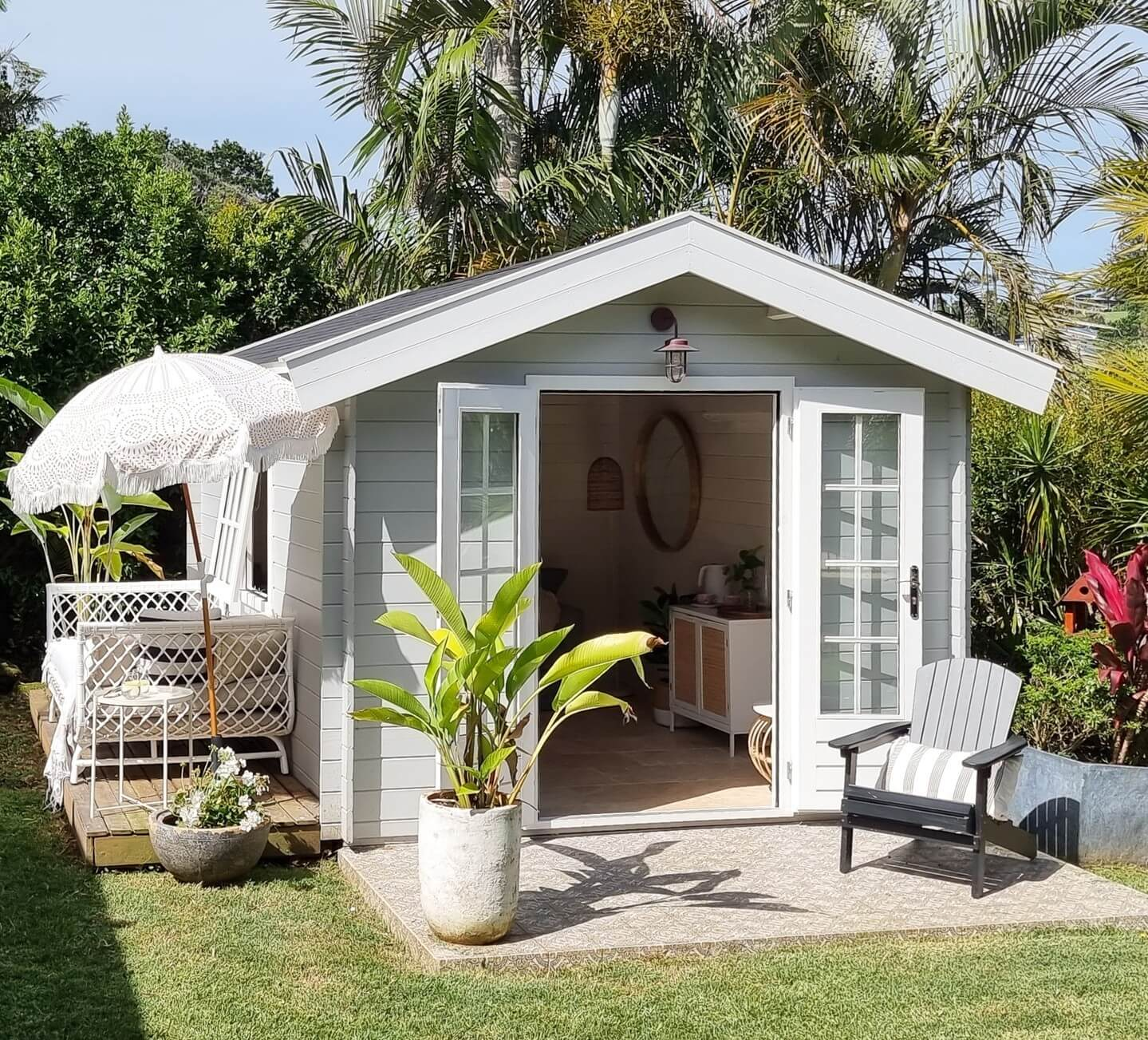 2 | Cozy Retreat Shed
A cozy retreat in the middle of your yard? Solitude and silence? Sign me up!
Bring out the coziness and rustic appeal of the shed by using wooden logs or planks for the walls. Set up a table and some seating tables while choosing some accent chairs and plush sofas where you can unwind from the day.
Opt for large glass windows to allow that natural sunlight to warm up the interiors during the day. Bring along some food and set up camp for the weekend for a quick break. This also works excellently as a reading or picnic nook.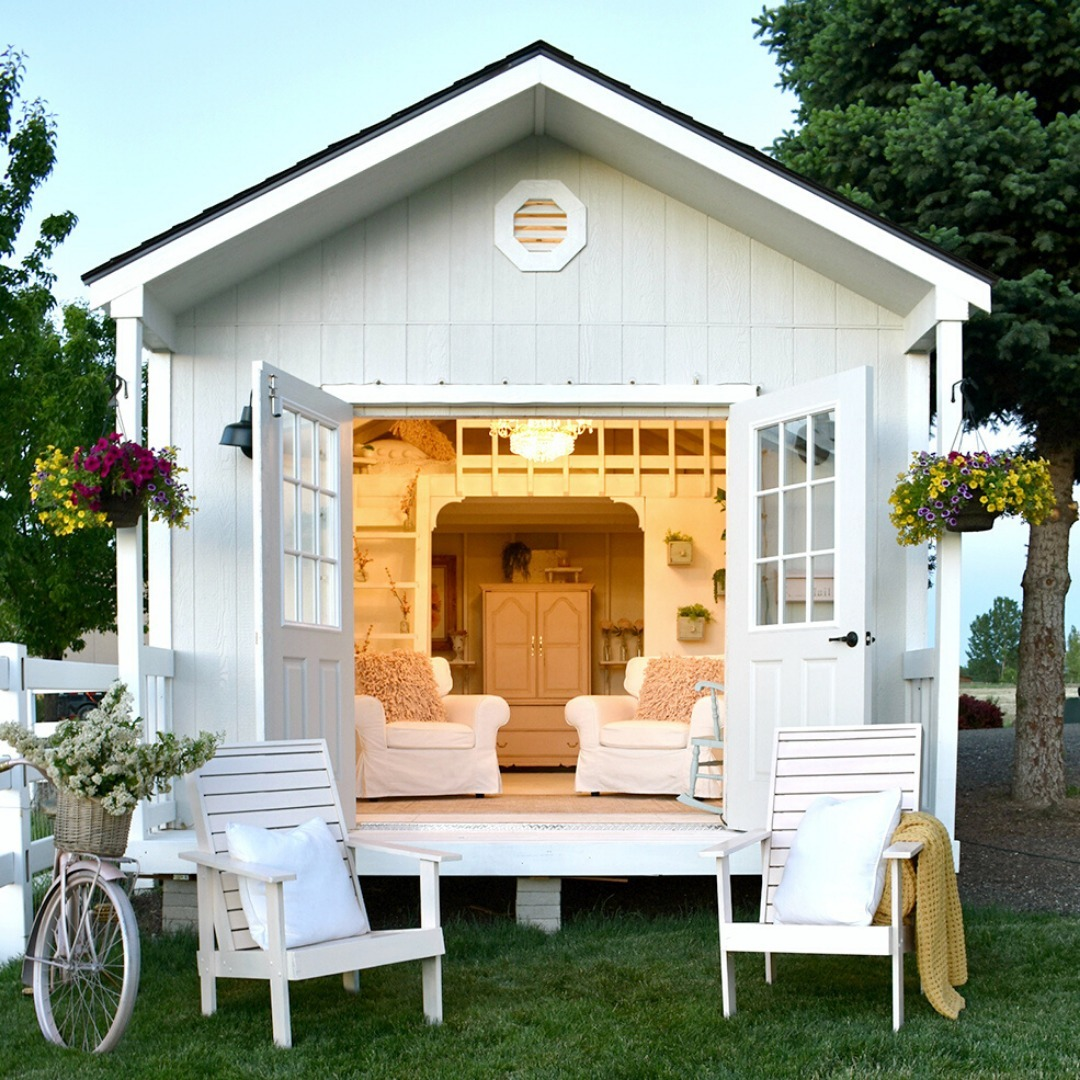 3 | Colonial Gable Shed
A gable shed design is a triangular wall portion formed due to triangular roofs. Such gables were quite prominent and struck a lavish image due to their unique architectural styles. Bring a piece of this colonial gable to your own yard by making a shed that follows a similar design.
Paint the structure white or another muted tone like gray or beige to truly drive elegance into your home. Paneled rooftops and a large glass window will help give you an open view of the outdoor greenery.
This structure can be ideal for use as a garden shed or as your very own tranquil spot.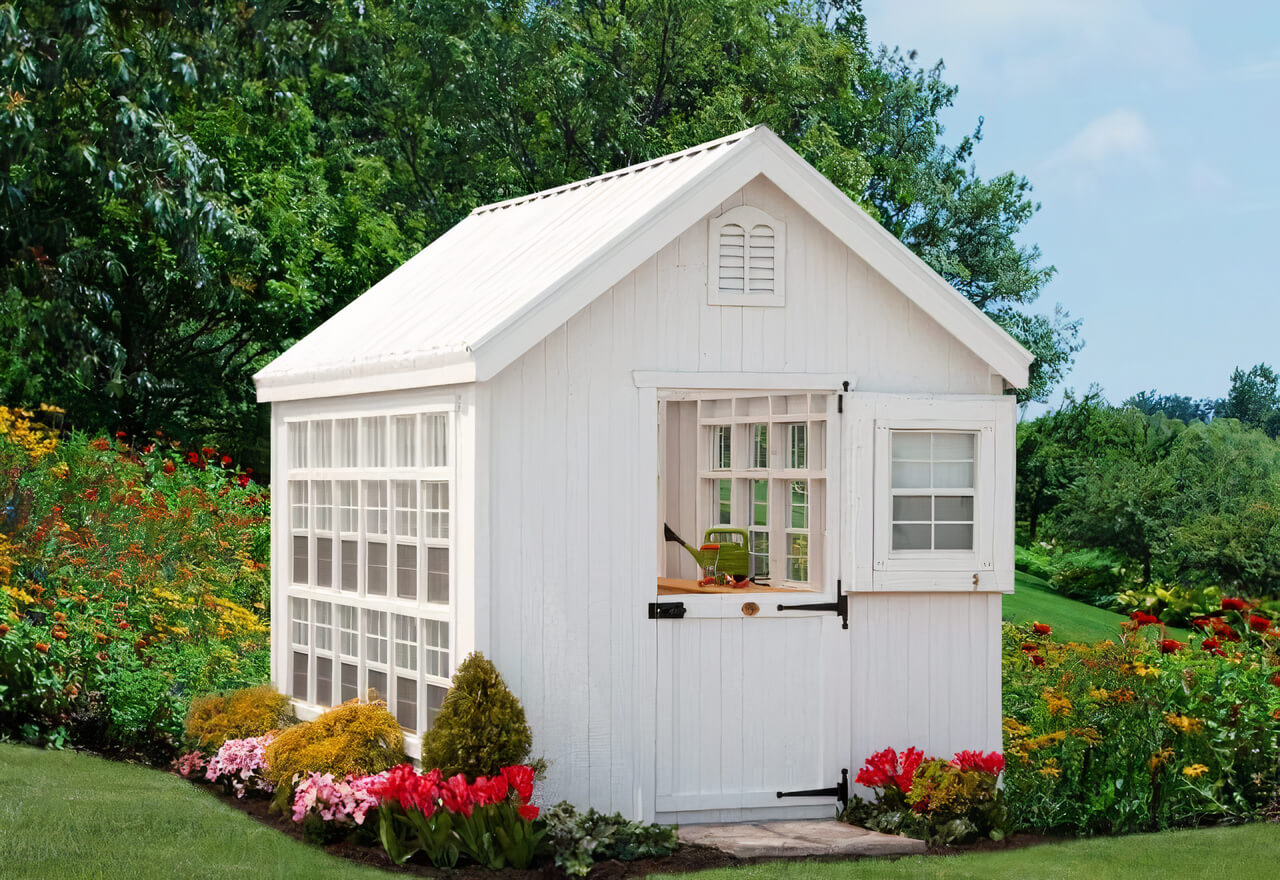 4 | Fire Pit She Shed
If you have a wooden shed in your yard, consider sprucing it up a bit to become a tiny cottage where you can warm up on a cozy weekend. Right outside it, you can build and establish a fire pit with seats placed around it to enjoy a sparkling and soothing campfire.
An excellent way to bring some novelty into your routine, this kind of setup is ideal for an escape that is quite literally next door. Winter evenings are the perfect time to sit around the fire pit and enjoy some hot beverages.
If you want to keep the shed and fire pit together, you can open the walls of the shed up and place the fire pit right in the middle of it.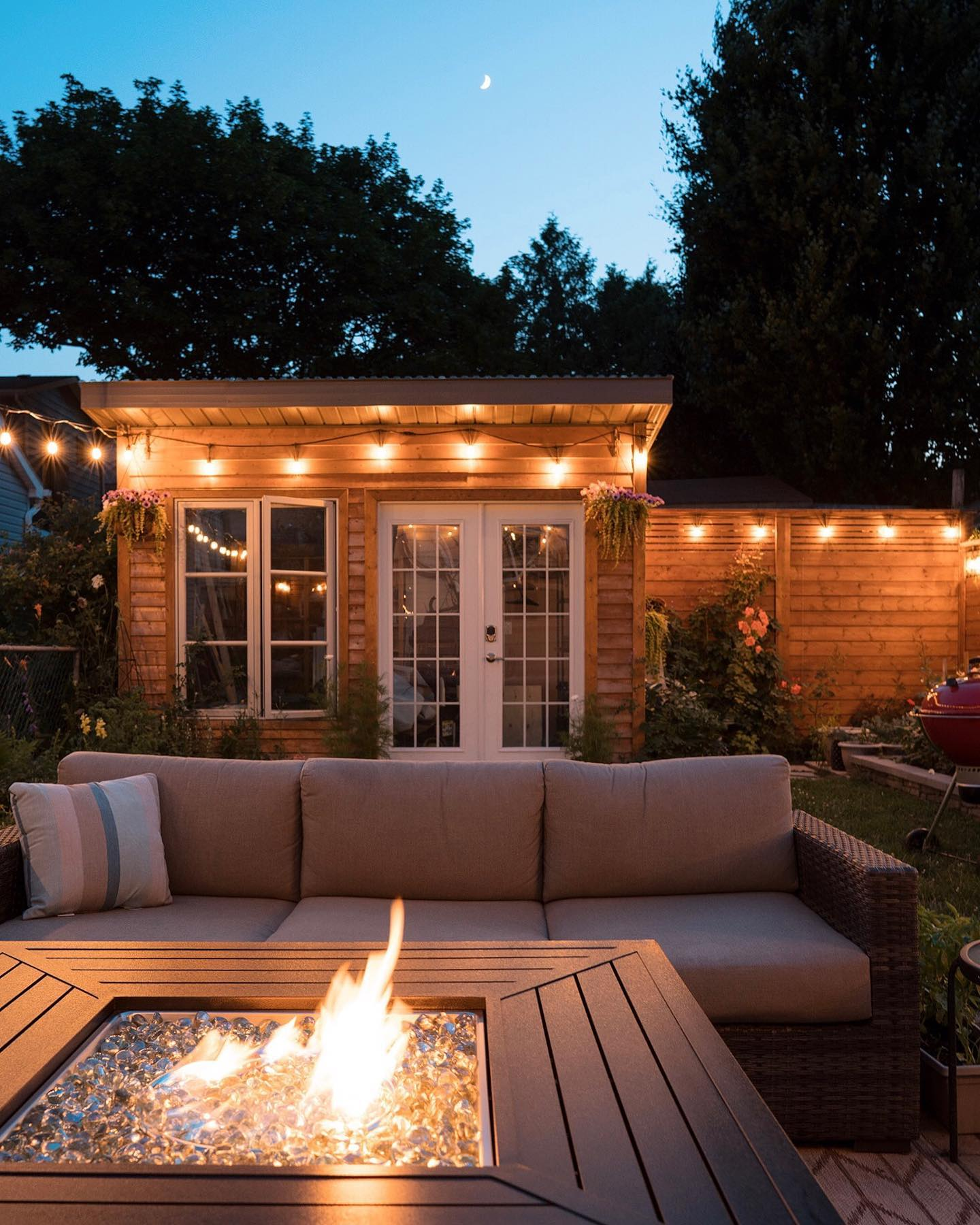 5 | She Shed Home Studio
If you are a woodworker, musician, craftsperson, artist or sculptor and always seem to need a workspace in your home, why not devote an entire shed to it? This will solve the problem of making room in your house while also giving you your personal space to keep all your supplies together.
You can also install large glass windows overlooking the garden and letting the natural sunlight in. This is bound to feel inspiring for your work, not to mention that you can work your way through the day in complete silence and serenity.
Consider opening up the studio to some guests or clients too.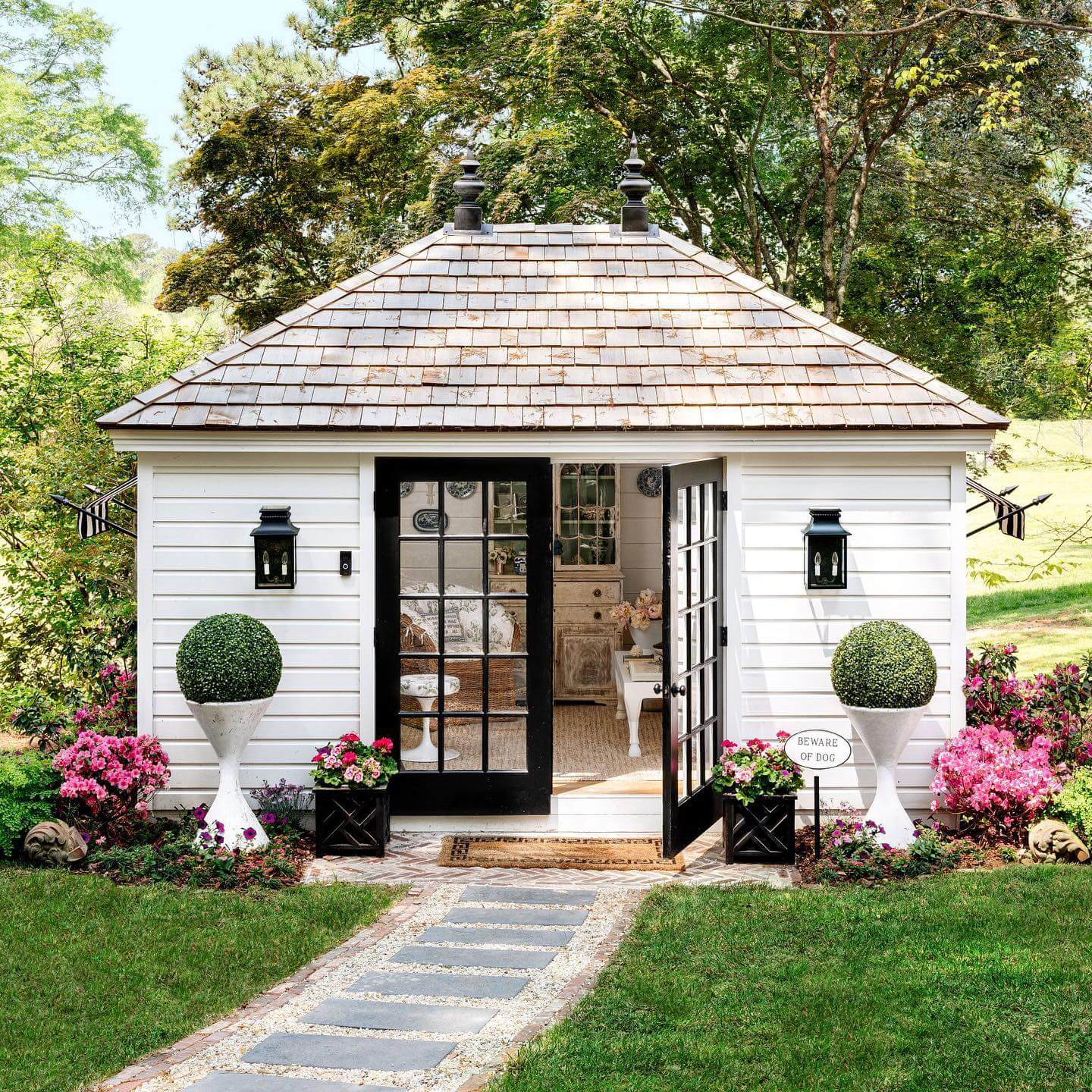 6 | Farmhouse She Shed
If you have a farm or an open field, what is better than building a small farmhouse for you to sit back and decompress?
If this farmland is located away from your house, the farmhouse she shed will provide a truly cottagecore escape where you can spend your time reading, listening to music or spending time with your friends or loved ones.
The fresh and green expanse of the fields, trees, and hills will make for an even better experience while giving you access to fresh produce if you wish to cook a delicious meal for yourself.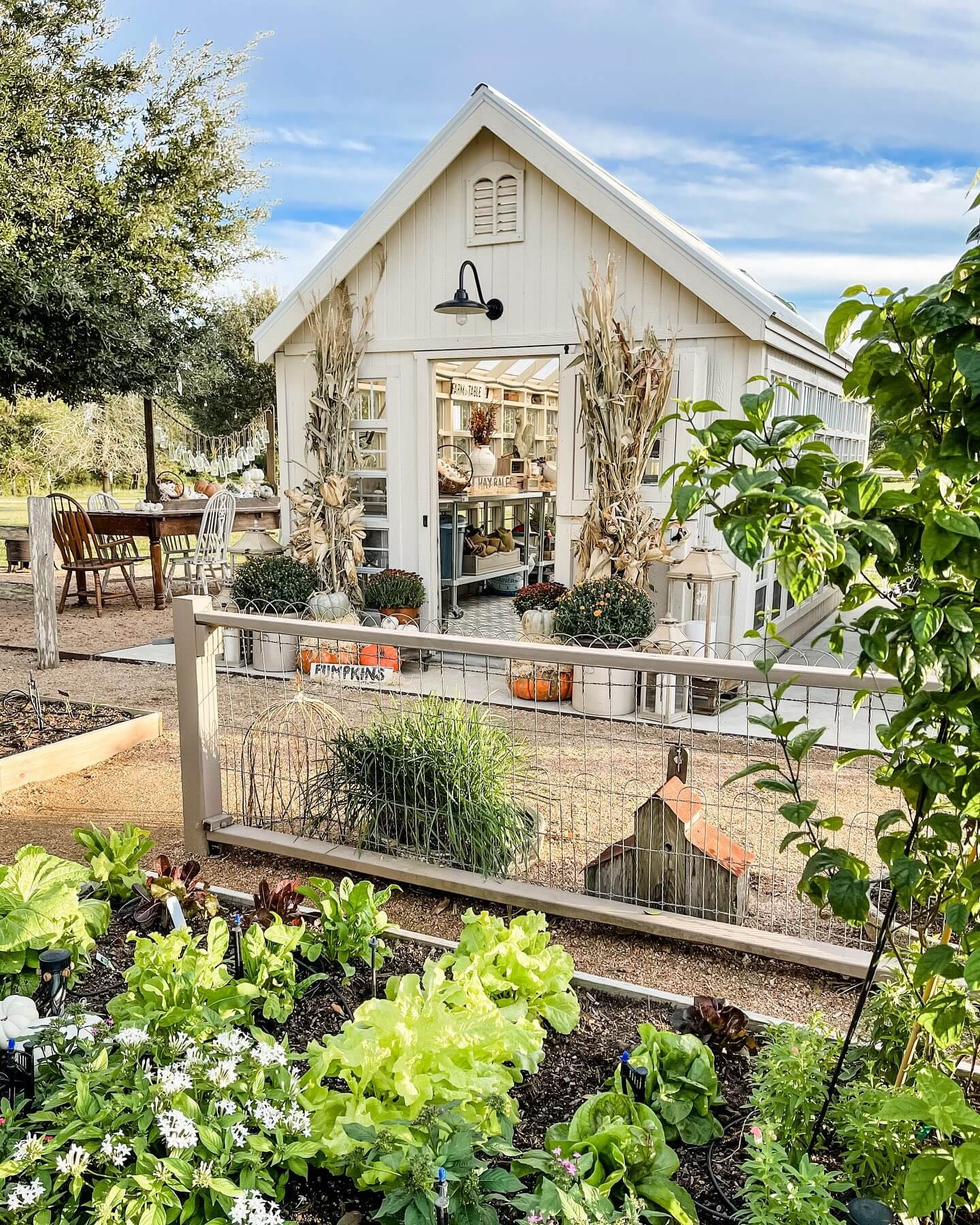 7 | Entertainers She Shed
Looking for a place to entertain and host your friends and acquaintances? Here's an idea—convert that old shed lying around in your yard into a minibar filled with your favorite drinks, mixers, and glasses.
Set up some chairs, tables or sofas either inside the shed or around it so that you can mingle with ease while enjoying the charm of the outdoors. Polish up the wood of the shed or renovate it entirely to ensure a rustic and fun vibe and atmosphere.
Note that you will also need to arrange for coolers and shelves to store all your drinks properly. Some fairy lights and cozy cushions will add to the overall energy.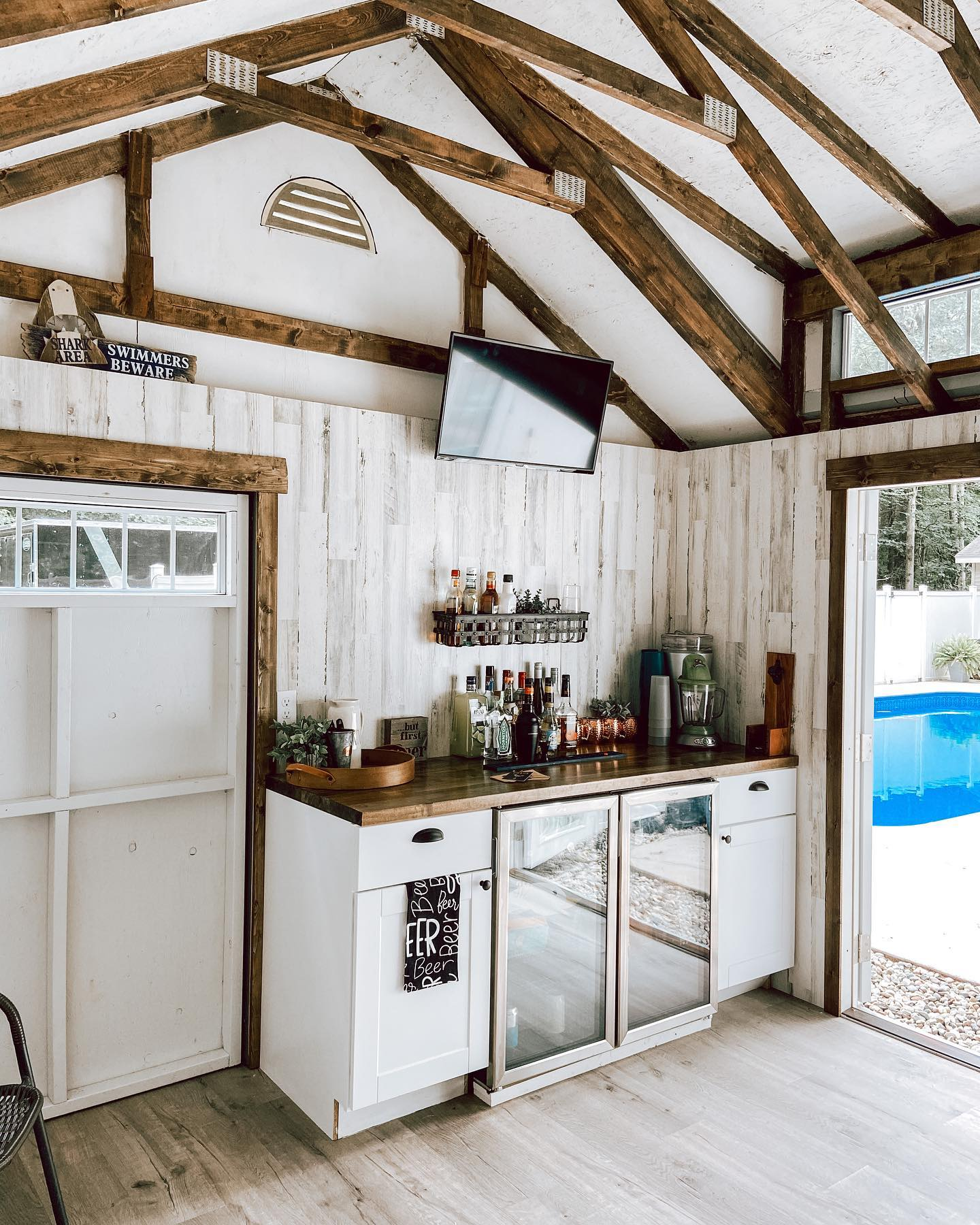 8 | Tiny House Shed
What about building a tiny house shed if you have enough space in your yard and a flexible budget? Go all out in creating your own spot by furnishing the shed with a bed and some additional chairs and tables. If it becomes too much or monotonous at home, set up base in your own tiny house shed.
A great way to decorate this shed is by going for soft and neutral shades, along with plenty of potted plants to add a splash of color. You can also go the other way if wacky and colorful are more your style.
Make sure you add some large windows to light up the place naturally and beautifully.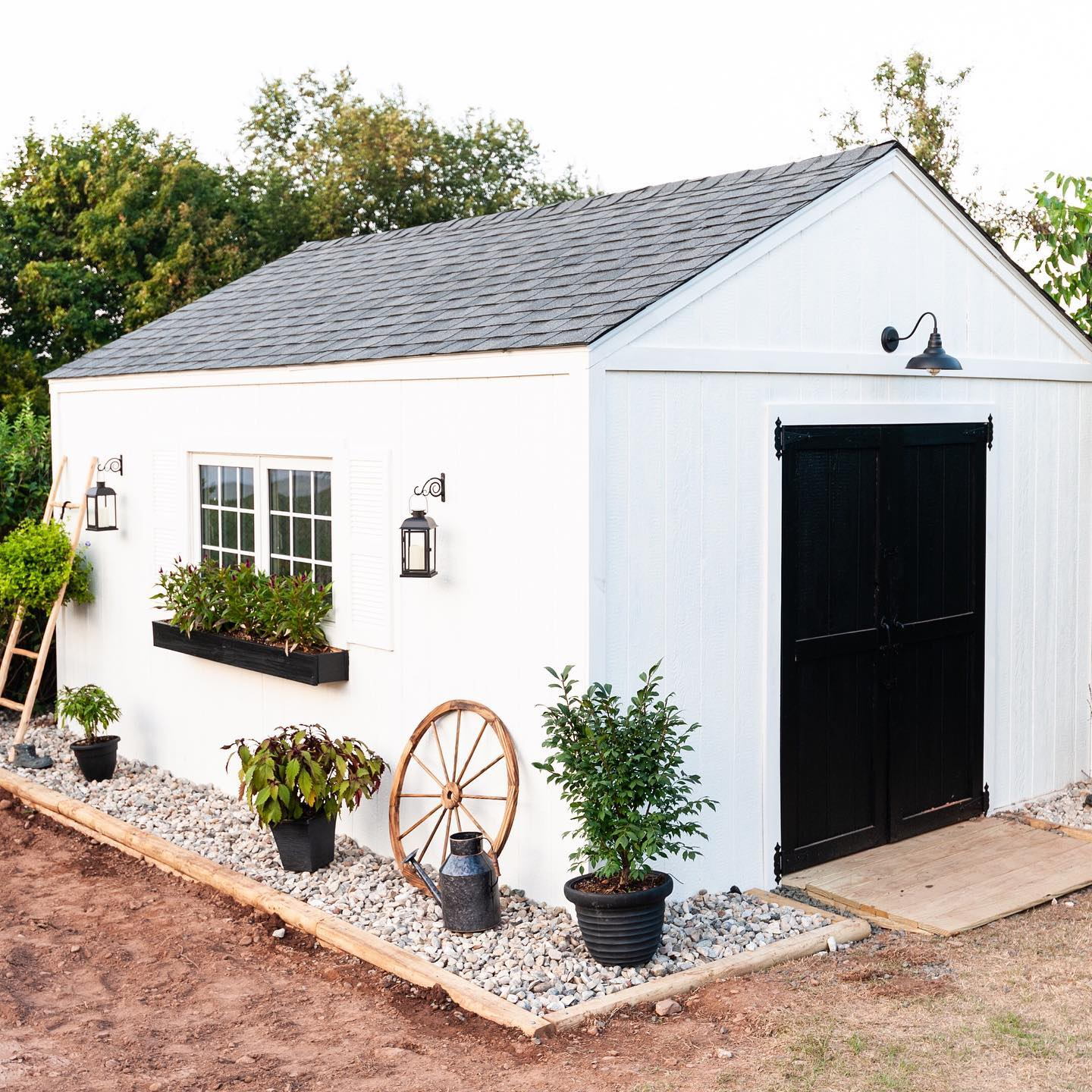 9 | Potting She Shed
One of the most popular uses of sheds is to keep them as a separate space for plants. If you have a gardening hobby and cannot seem to find any more space in your already bustling home, a potting shed will help solve this problem entirely.
This way, you will be able to have a designated spot where you can keep all your plants while also growing new ones. You can water and care for your plants at ease here, not to mention that incorporating shelves and cabinets will also allow you to store all plant-related items.
Make sure you allow a lot of sunlight to enter this shed to ascertain the plants' healthy growth. You can also place a comfortable chair here if you want to take a small nap or sit in silence.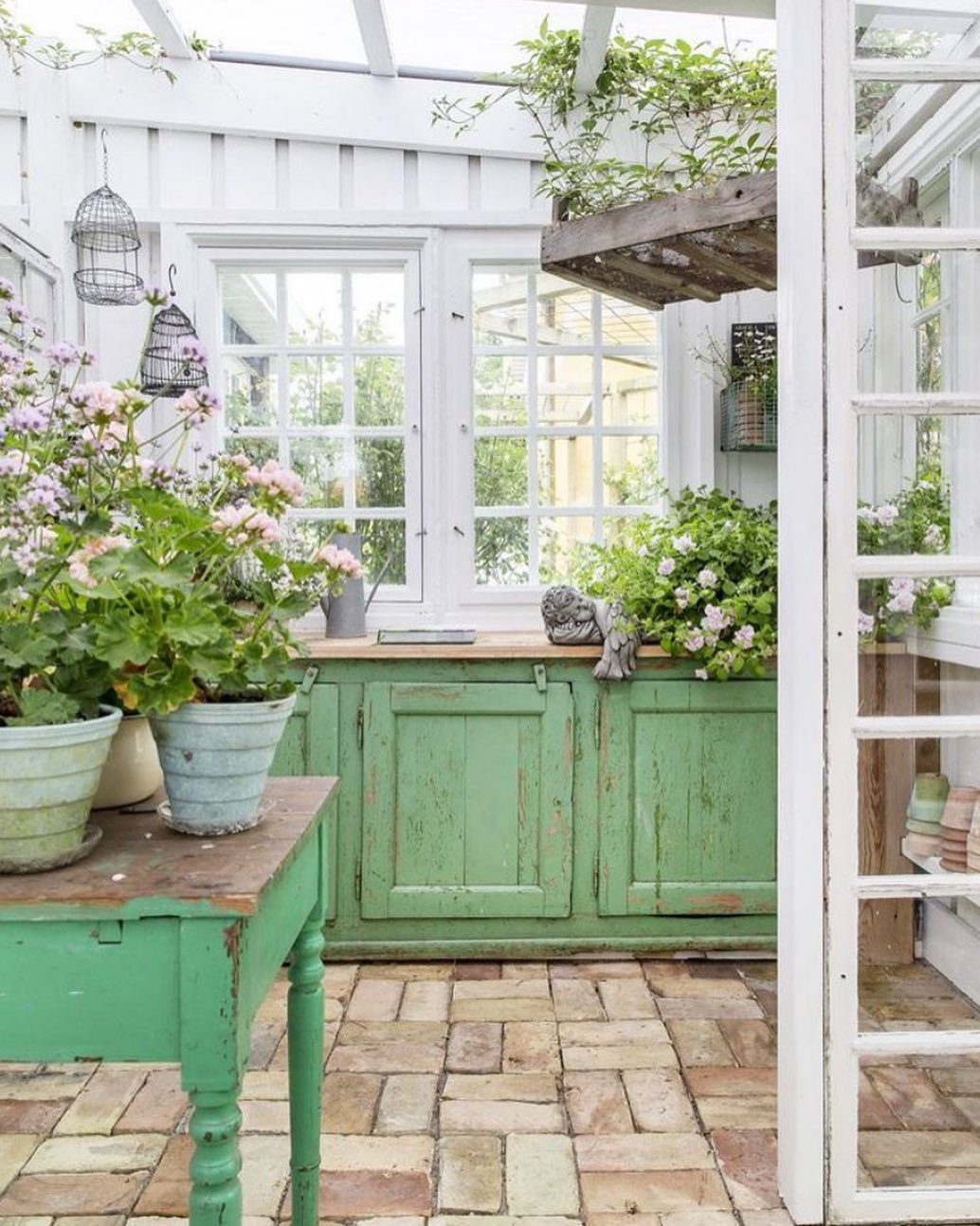 10 | Modern She Shed
One usually associates sheds with classic and rustic beauty. However, if you like more modern styles, you can turn your shed into a modern and voguish aesthetic by opting for cooler or darker shades to paint the walls.
One way to add an element of sleekness and modernity is to forgo the typical conical roof entirely and replace it with a flat rooftop.
You can also add French windows to the shed, thus replacing the need for the usual door-and-window combination.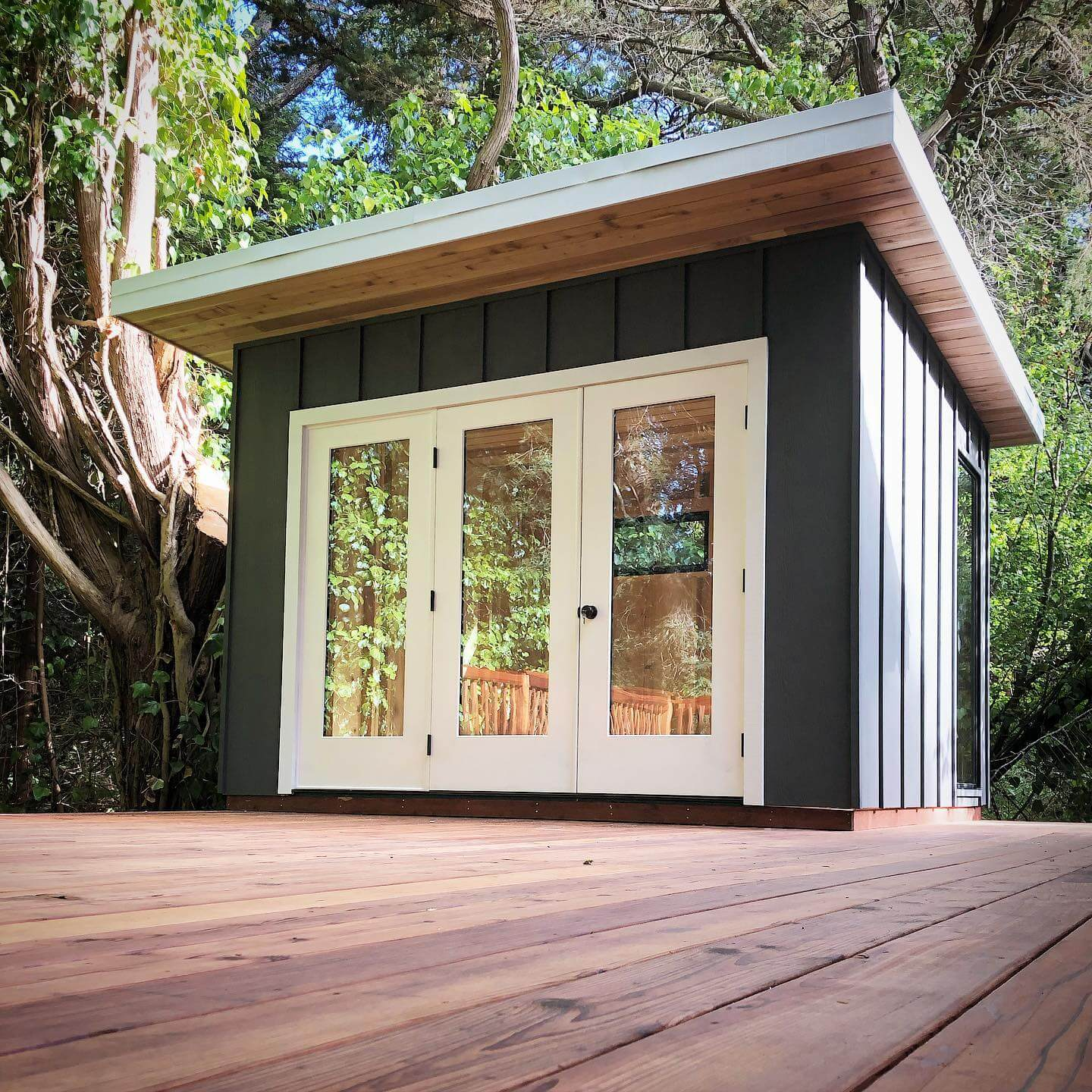 11 | His-Her Barndominium
Looking for a sanctuary where you can hide out with your partner? A barndominium is certainly the way to go for this, especially if you can manage to set up some plush chairs and a bed to cozy up together and enjoy each other's company.
Modern life and its demands can often get a bit busy, making this one of the best ways to spend a weekend or evening without needing to travel too far.
Enhance the ambiance of the space by adding mood lighting, such as string lights and candles. You can also set up a television and bring snacks and drinks to make it a more complete experience.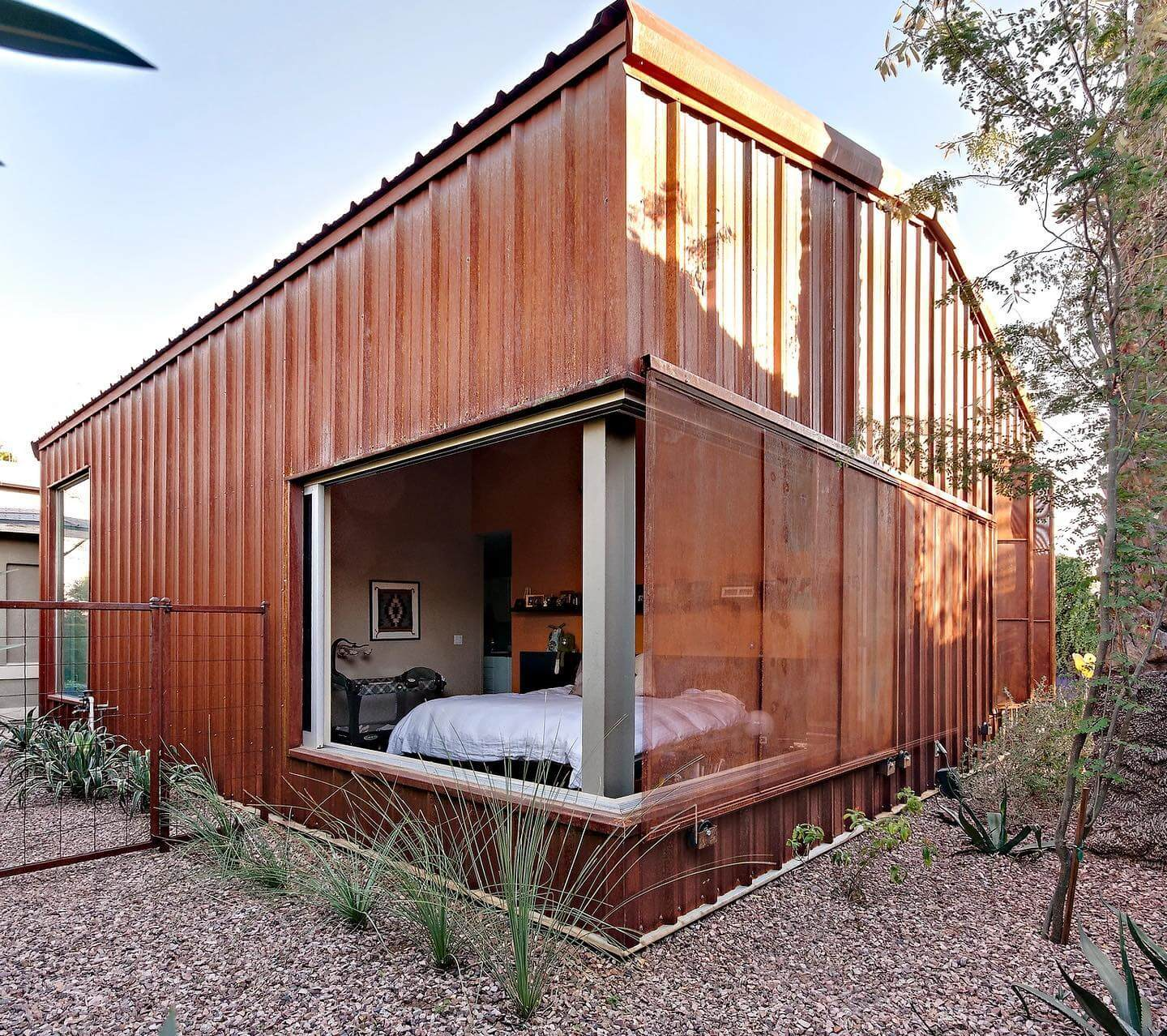 12 | Greenhouse Oasis
If you are interested in gardening, you should set up a DIY greenhouse shed in your yard where you can carry out all your planting and potting requirements. Instead of going for the usual wooden wall structure, keep all the walls glass so that there is enough natural light for the plants to thrive.
You can either make use of the existing floor to place your potted plants or build tables and shelves to store all the relevant items. Arrange for water supply as well.
Alternatively, you can also place some chairs and tables in one part of the greenhouse shed where you can sit back and sip on some tea or coffee.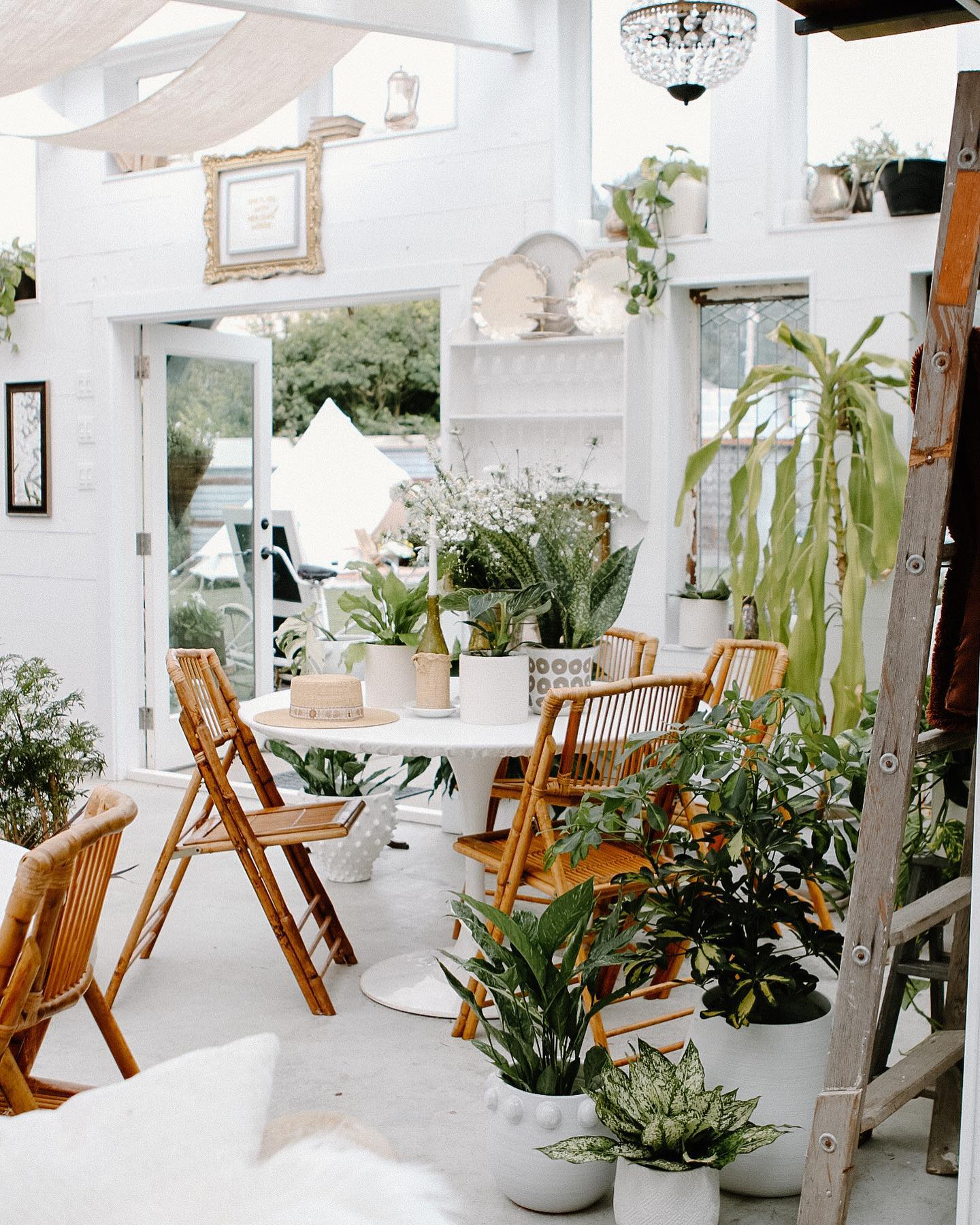 13 | Contemporary Chill Shed
Don't get too much space and time to chill at home? Build a contemporary shed in your yard and fill it with a sofa and a television so that you can lie back and catch up on your favorite show. This is also a great setup to watch a movie with your friends or partner.
You can also set up a gaming console or karaoke machine if you wish to make things more fun. Imagine having a gamepad where you can call a bunch of your friends over the weekend and unwind or belt out some of your favorite songs—whether it's John Lennon's Imagine or Backstreet Boys' I want it that way—on a karaoke machine!
Use decorative pieces that enhance the contemporaneity of the shed, such as abstract artwork, accent pieces, unique lamps, and more.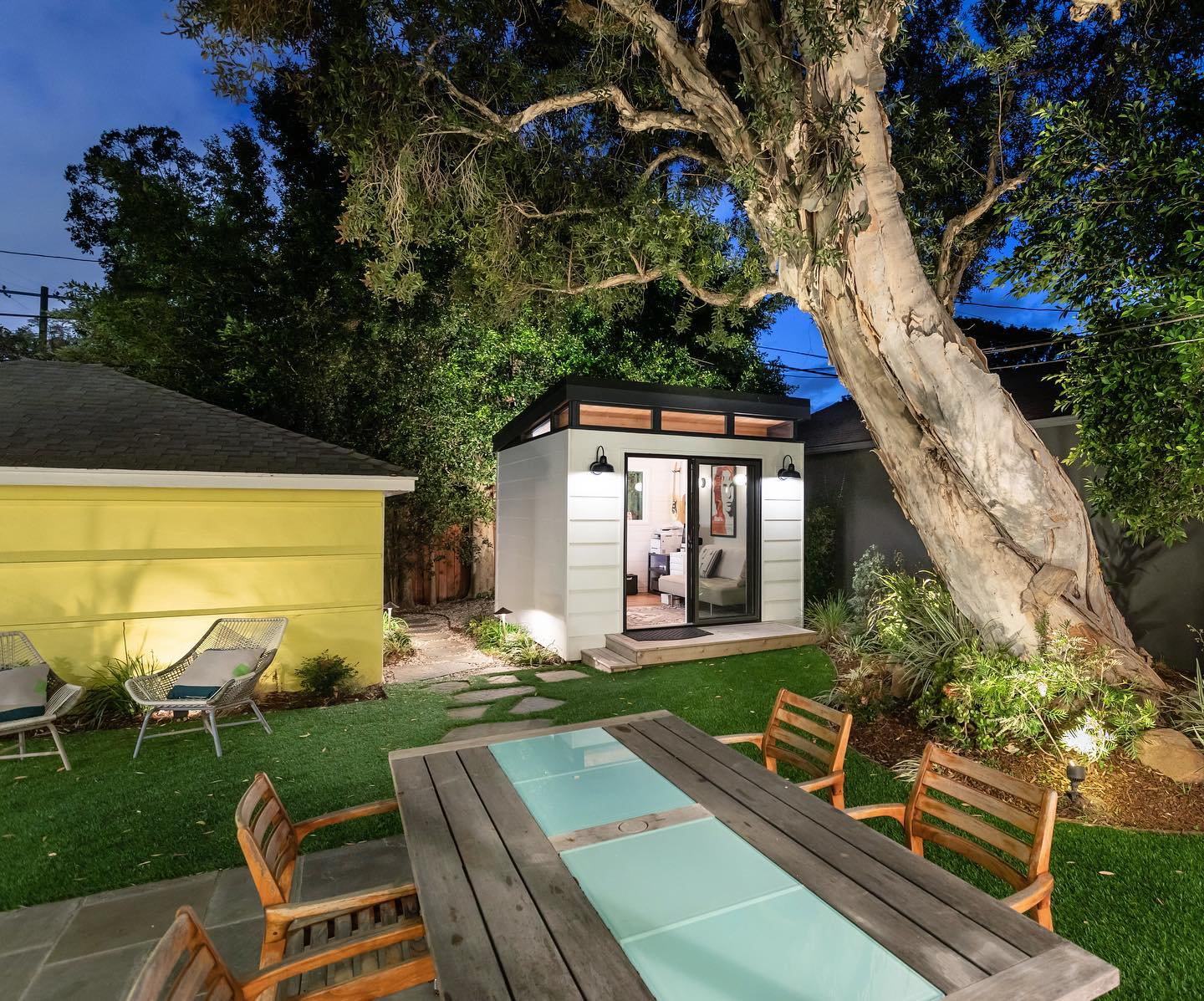 14 | Playhouse Space
If you and your girls just want to have some fun, consider turning your shed into a playhouse. Your idea of play might differ based on your personality and preferences, so make sure you add elements that you might enjoy to the fullest.
This is especially an incredible idea if you're a board game enthusiast. You can keep your collection of board games, have a traditional Chabudai table to play all your games on, and all the other accessories you want to accompany your games.
Apart from games, you can consider adding elements like a photo booth, wardrobe or bookshelf to make things interesting. This way, if you are holding a party or gathering in your yard, you can use the shed as a useful and creative prop.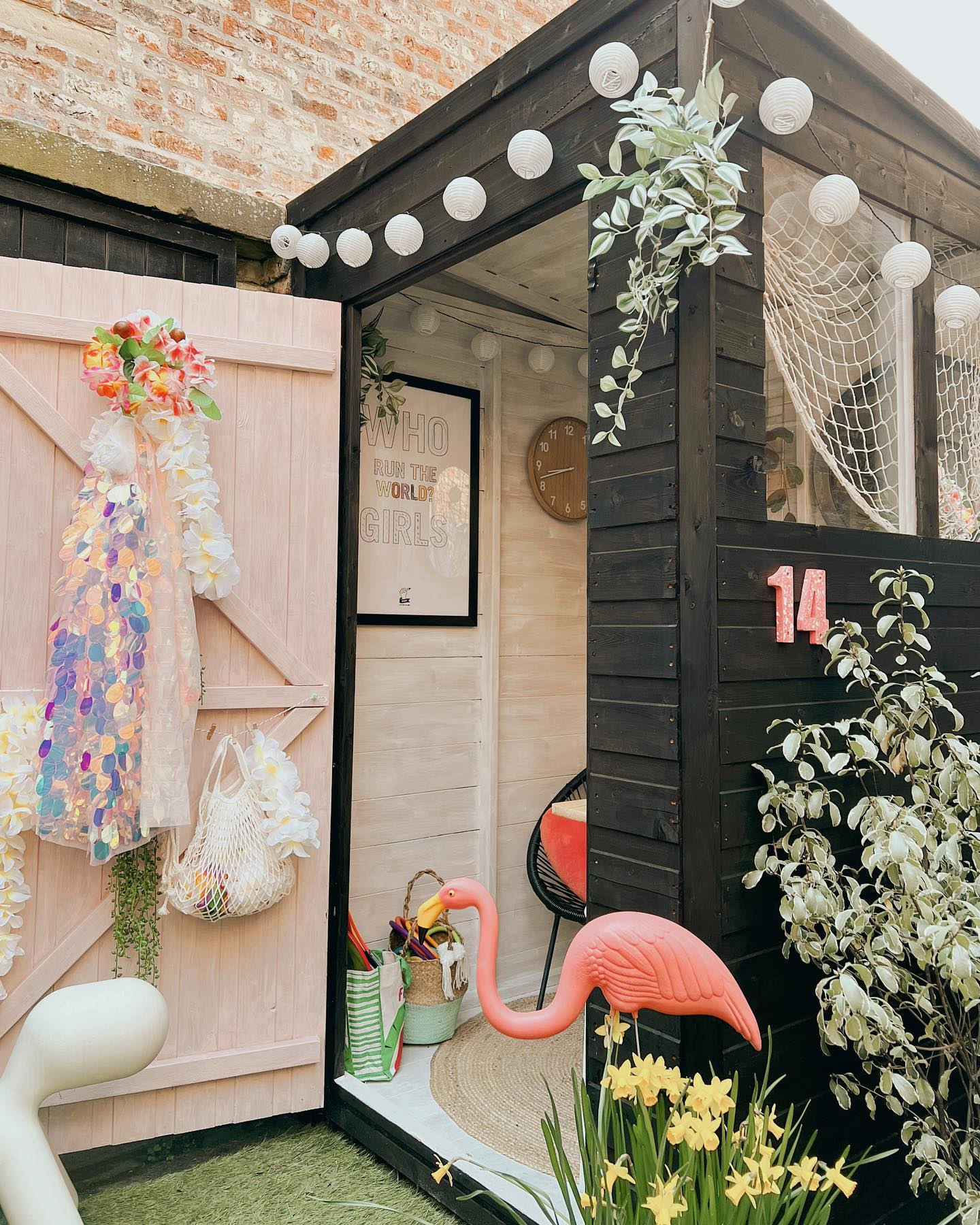 15 | Tiki Bar She Shed
A tiki bar often relies on open structures for its decor, making a backyard shed an ideal option for this. Keep one of the doors or windows of your shed open and allow your guests to drift in and out whenever they want a themed drink or mocktail.
You and your family can also enjoy the presence of this kind of tiki bar shed with a custom bar if you want to celebrate a special occasion.
Make it a point to decorate the rest of the shed using bright lights, straw chairs, tropical fruits, and vibrant colors.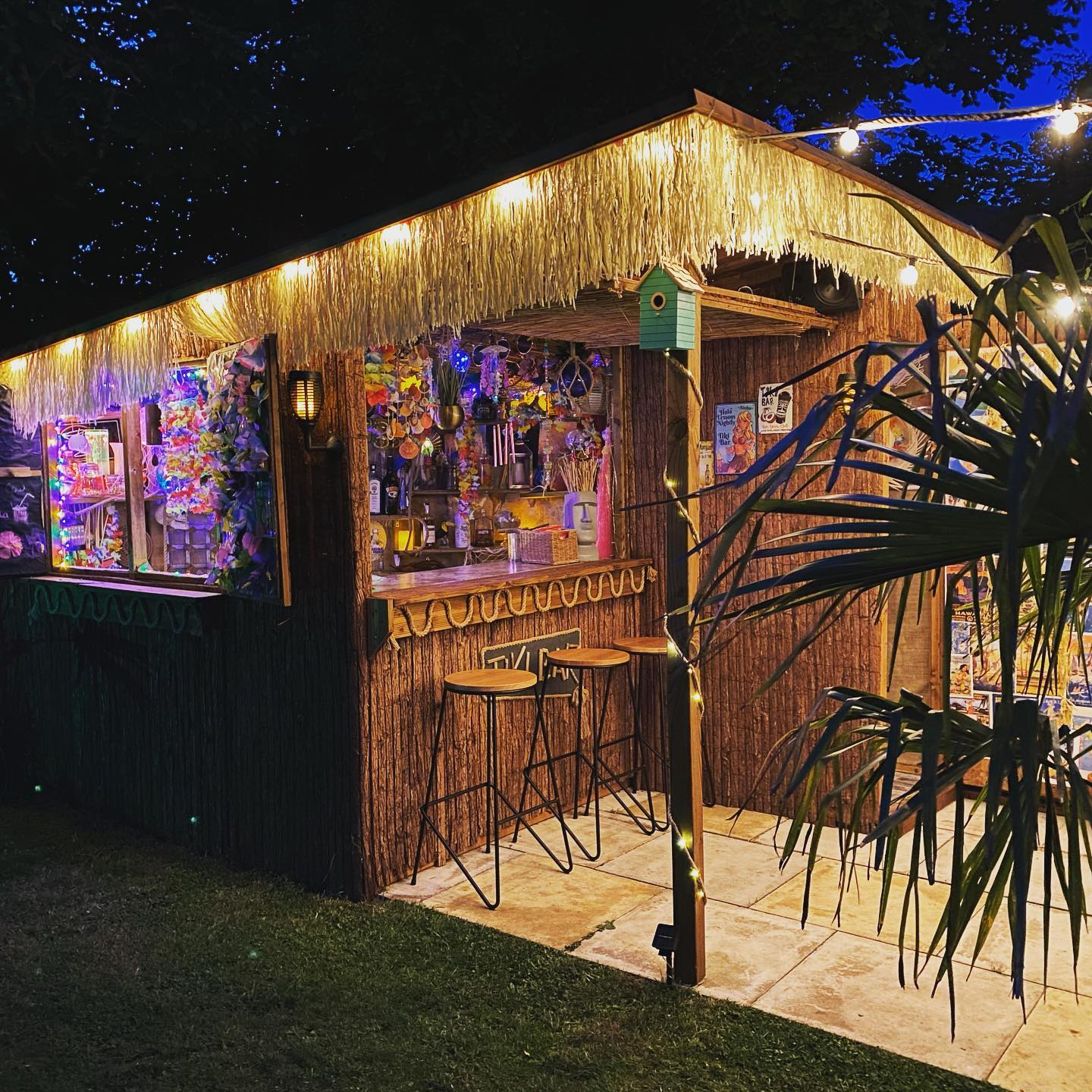 16 | Her Perfect Beach Shed
If you have a beach house, one of the best ways to make use of some extra space is to convert it into a beach shed. If you want to get closer to the sea without going up to the beach, this shed will help you rest indoors while still enjoying the open expanse.
Make sure you keep the windows large and open them up to allow the sea breeze to come in. Pastel or muted colors are ideal for such structures, although a bright accent wall or roof will enhance the look.
Use the shed for storing your beach belongings or as your personal cabana. If you do not have a beach view, bring the beach to you by painting some waves on the walls.
If you aren't close enough to the dunes, you can actually build the shed with sand all around the shed to give you that beachfront feeling. Add a sunlounger or two outside your shed on the sand, and you can spend your days relaxing on it while getting a tan and reading a book!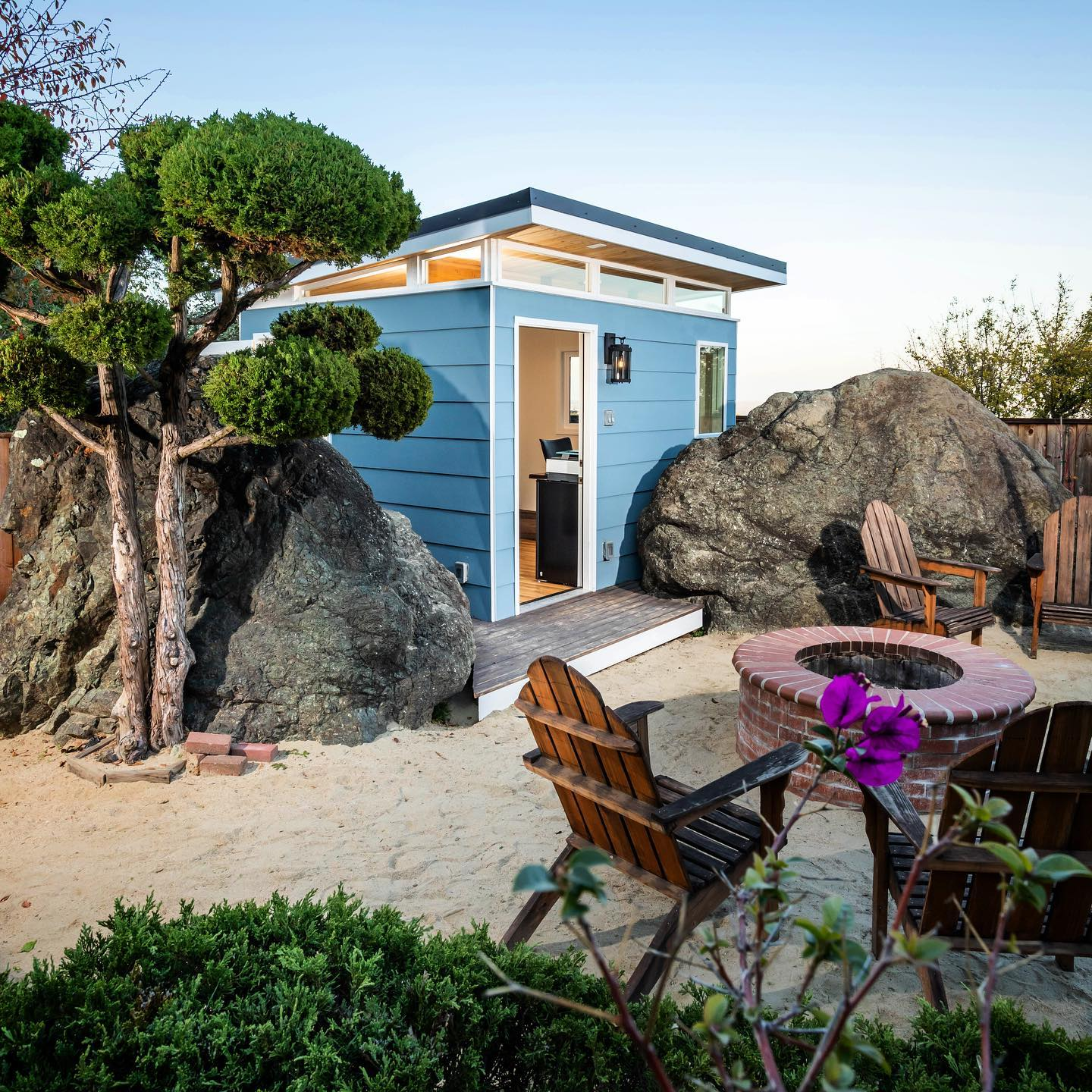 17 | Backyard Pool Pod
If you own a large or even inflatable pool in your backyard, a good way to accentuate the space is by setting up a small shed or backyard pod nearby. This way, if you want to float around in the pool alone or with friends, you will have instant access to a pod where you can shower or store your belongings.
You can also consider adding a tub, Jacuzzi, and even a steam or sauna to accentuate your pool experience to a spa-like one!
Apart from this functional purpose, you can also place a lounge chair inside the shed and turn the walls into glass walls so as to enjoy the view. It can also function as a bar!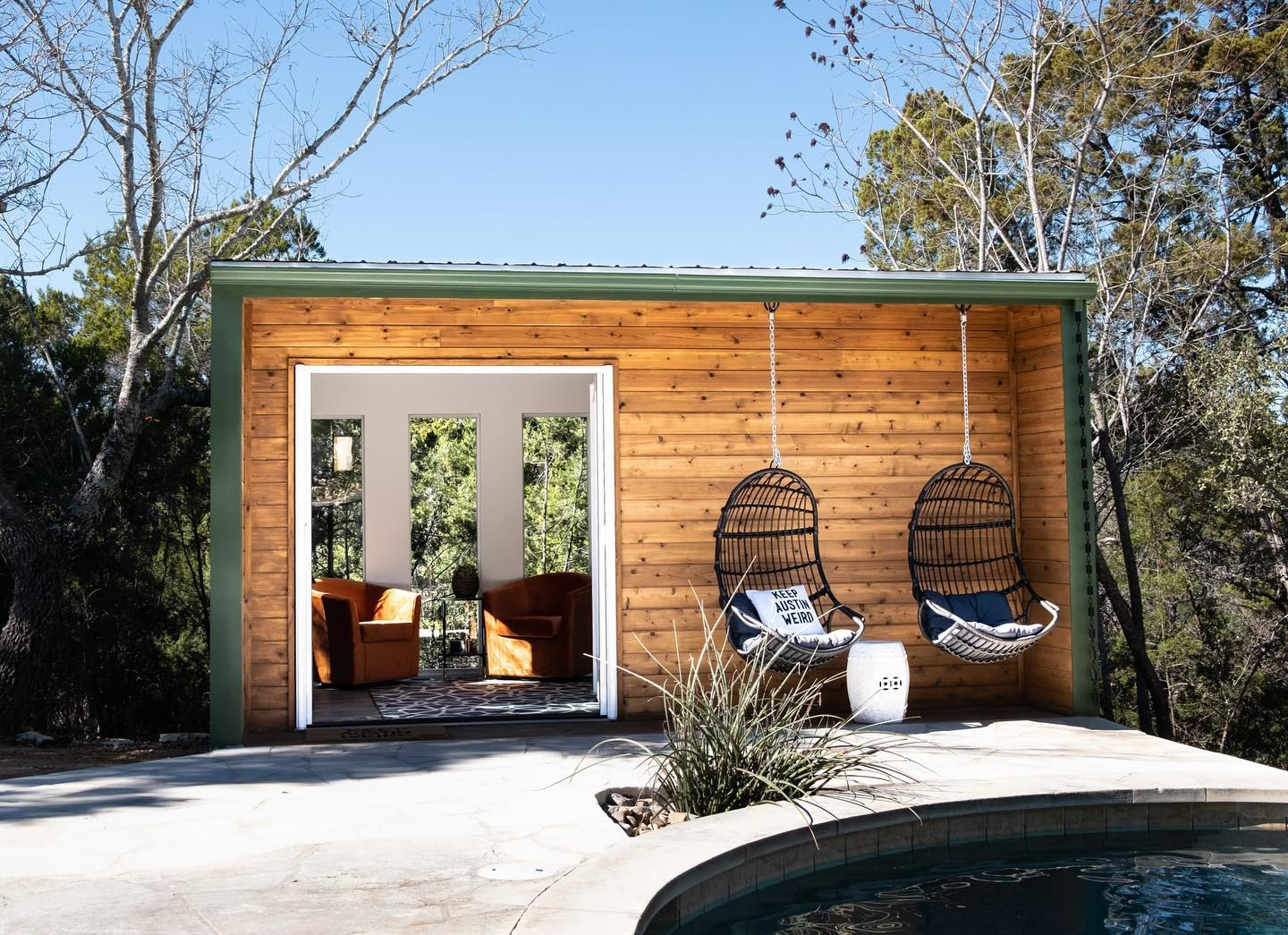 18 | Rustic She Shed
Bring that rustic lifestyle and charm into your backyard by highlighting the shed's wooden framework. Polish it up a bit and let it do all the talking. You can also complement the wooden look with some rustic chairs, tables, and sofas.
A rugged but lavish rug will also bring out the charm of the shed even more. Add a bunch of vintage artifacts, accessories, and maybe even a vinyl player to set the mood.
Turn the shed into your very own personal hideout by stocking up on some movies, books, music, and snacks.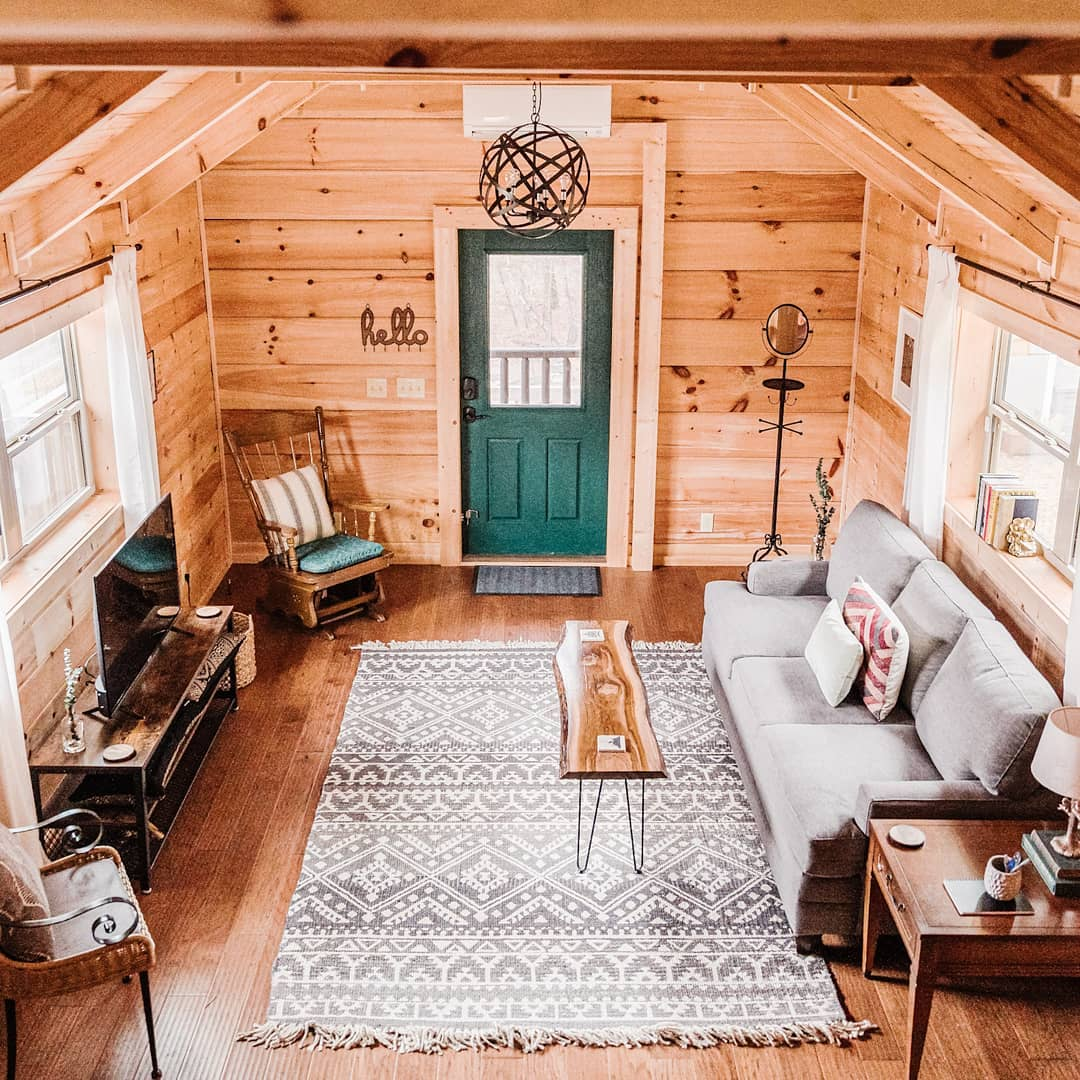 19 | Her Tuff Shed
A Tuff Shed is actually a brand of its own. It provides you with designs and materials that it then delivers to your doorstep. You can also ask someone to install the entire structure for you.
This classic structure will result in a hassle-free shed installation and give you ample storage space for all those belongings that do not fit into your house.
Apart from storage, you can also use the shed for undertaking your projects, working, or relaxing.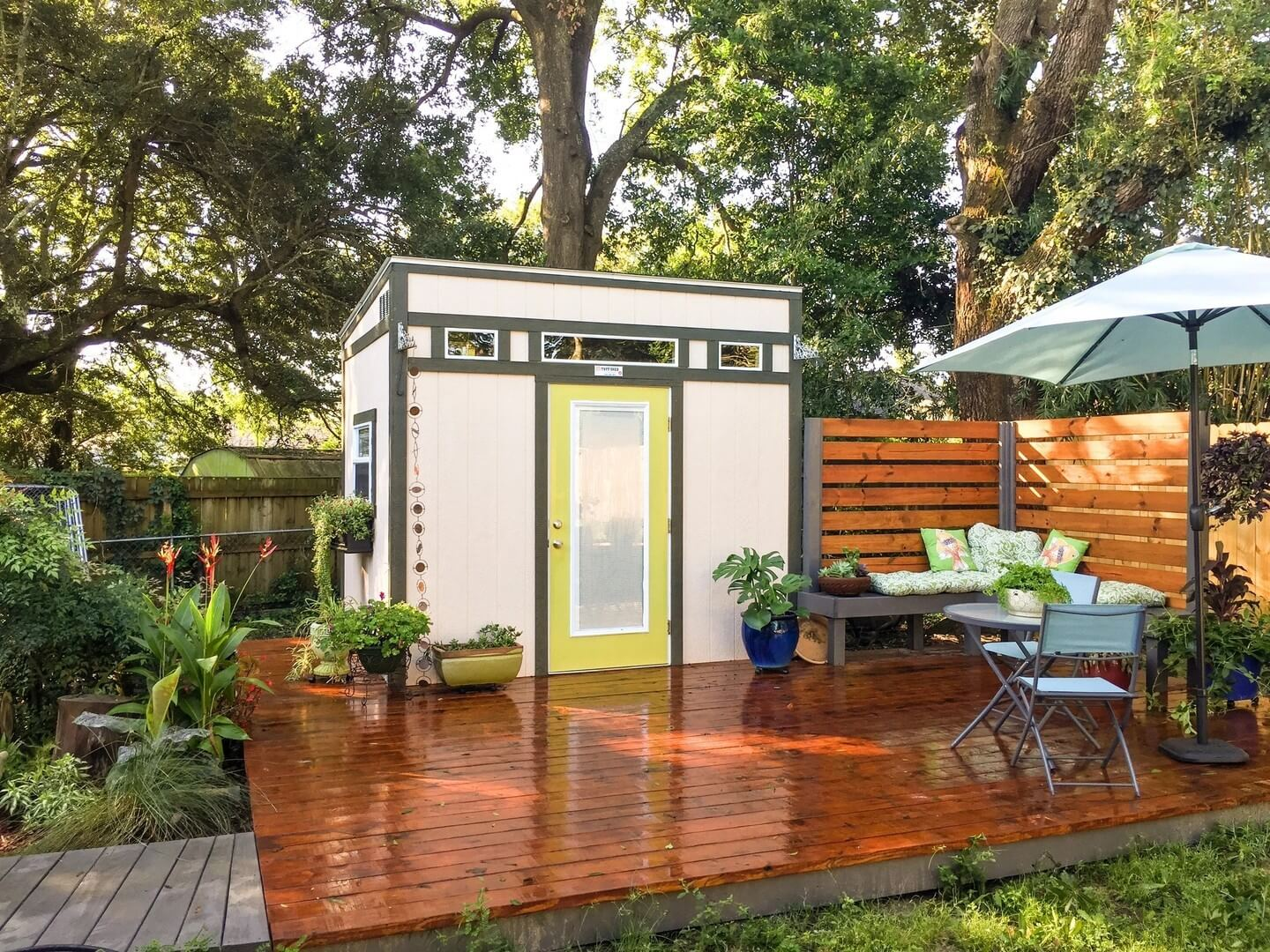 20 | Classic Garden She Shed
Another one for gardening enthusiasts, this classic garden she shed will help you carry out your gardening hobby in peace and quiet.
Place some soil pots or containers in the shed and start planting away. You can also hang some pots and containers to spruce up the appearance of the shed.
Replace large sections of the walls and roof with glass so as to create a greenhouse effect for the plants.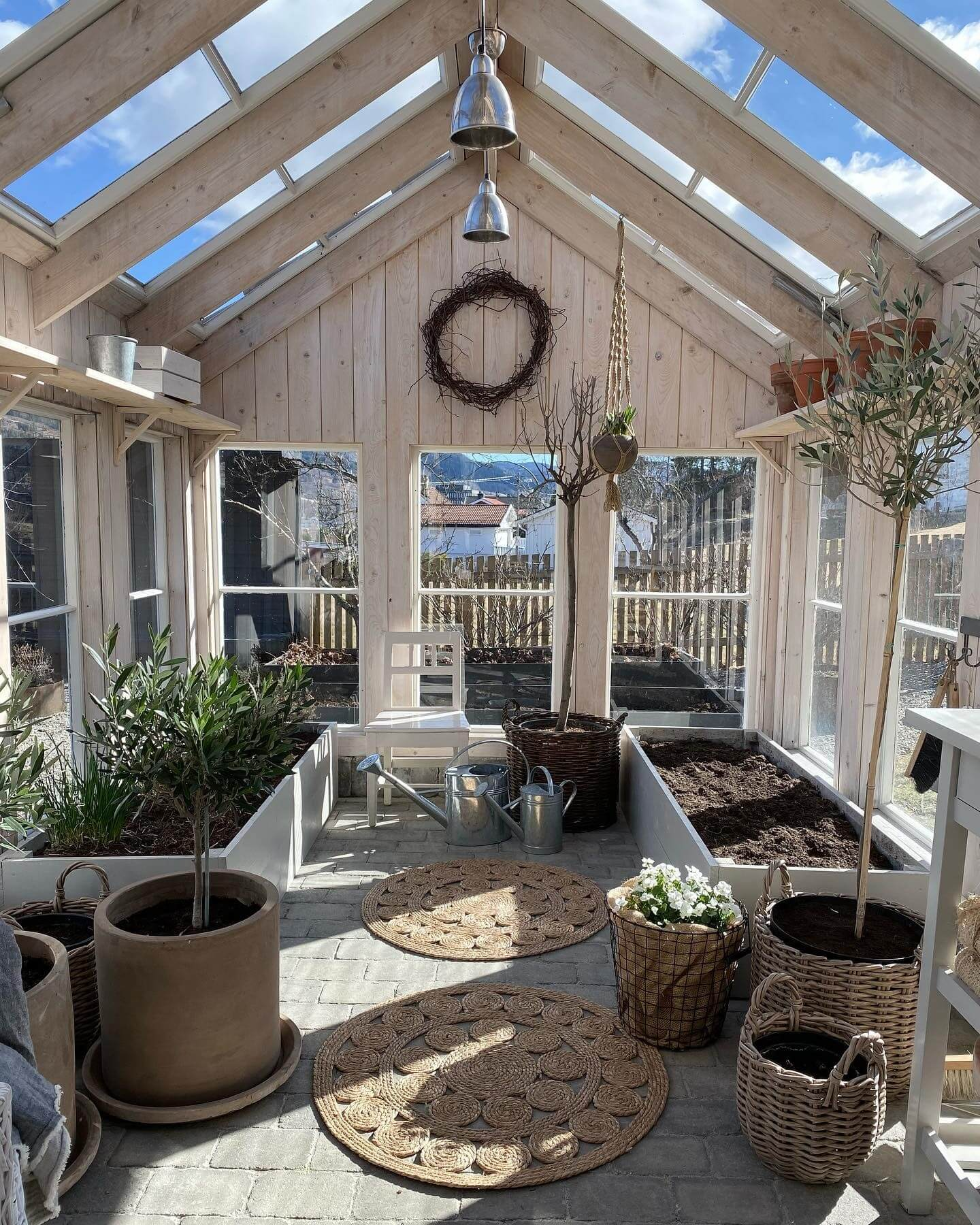 21 | Surfers Paradise Shed
Whether you live near the beach or inland, making a surfers' paradise shed will allow you to soak in the surfing atmosphere no matter where you are.
Use straw roofs and vibrant colors to emphasize the openness and vastness of the sea.
Place some surfing boards on the walls and paint some waves on the walls. If you live near the sea, this shed can also become a great storage place for your surfing boards that you can easily access.
22 | Home Office She Shed
If you usually work from home but do not have a distinct and quiet enough office space, use an existing or new shed structure to create a home office. This will give you a quiet and private area to work without disturbance.
Set it up in a clean and warm way by making use of lamps and lights. Establish your worktable near the windows so you can enjoy some natural light and air. A good way to save space is to opt for tables built into the walls.
You can also add a small pantry area in the shed where you can keep your knick-knacks, a microwave, a kettle, a fridge, and anything else you may need to whip up a quick meal or snack.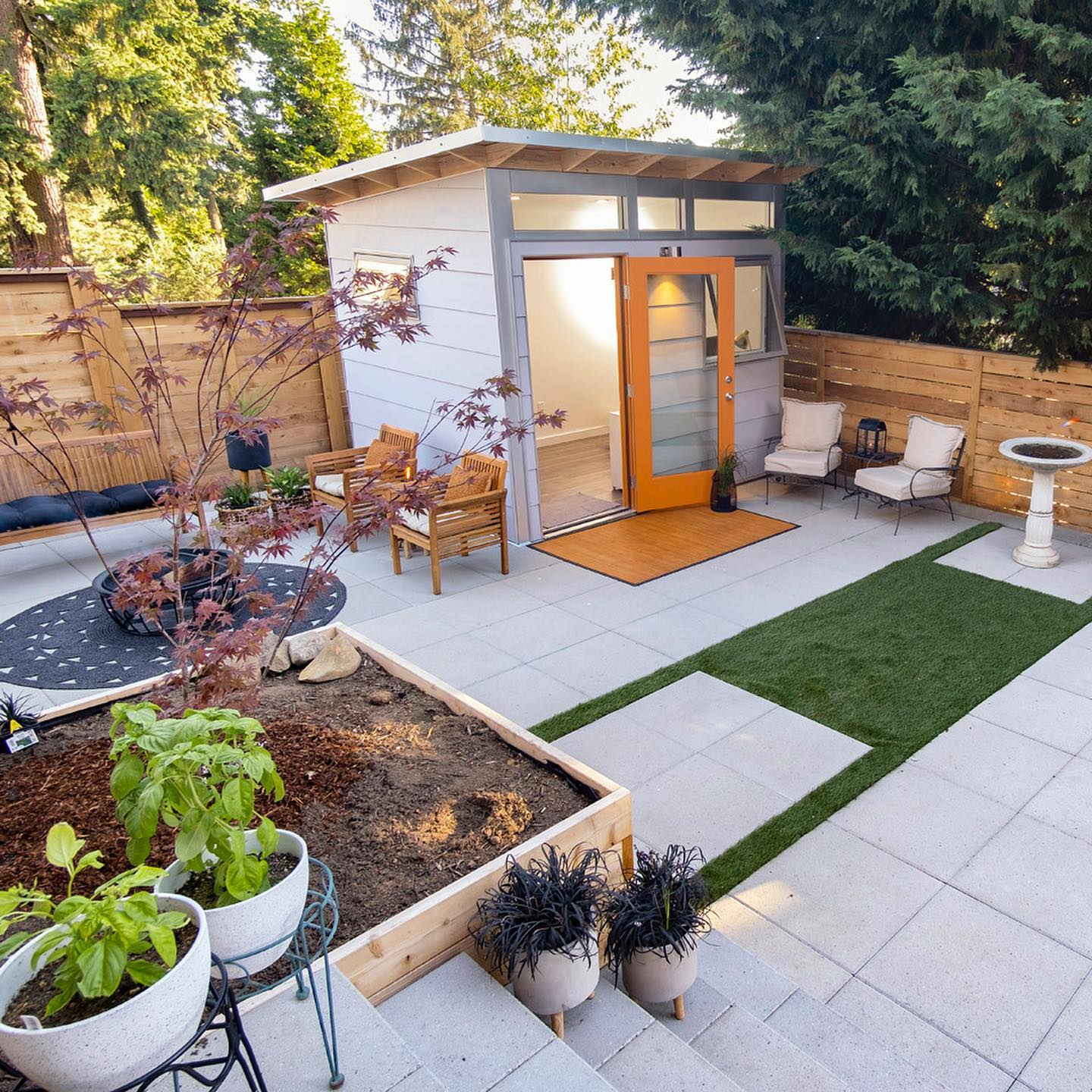 23 | Vintage Garden Shed
If you have a large garden and want to enhance its look a bit, a vintage garden shed is the way to go.
This shed can either serve as a storage space or a space to visit when you need privacy. Based on your requirements, set it up in the way you like. Using this shed for hosting small gatherings or meetings is also a wonderful and unique idea.
Whether you're a seasoned gardener or just starting out, this type of garden she shed is sure to become your favorite place to retreat and relax.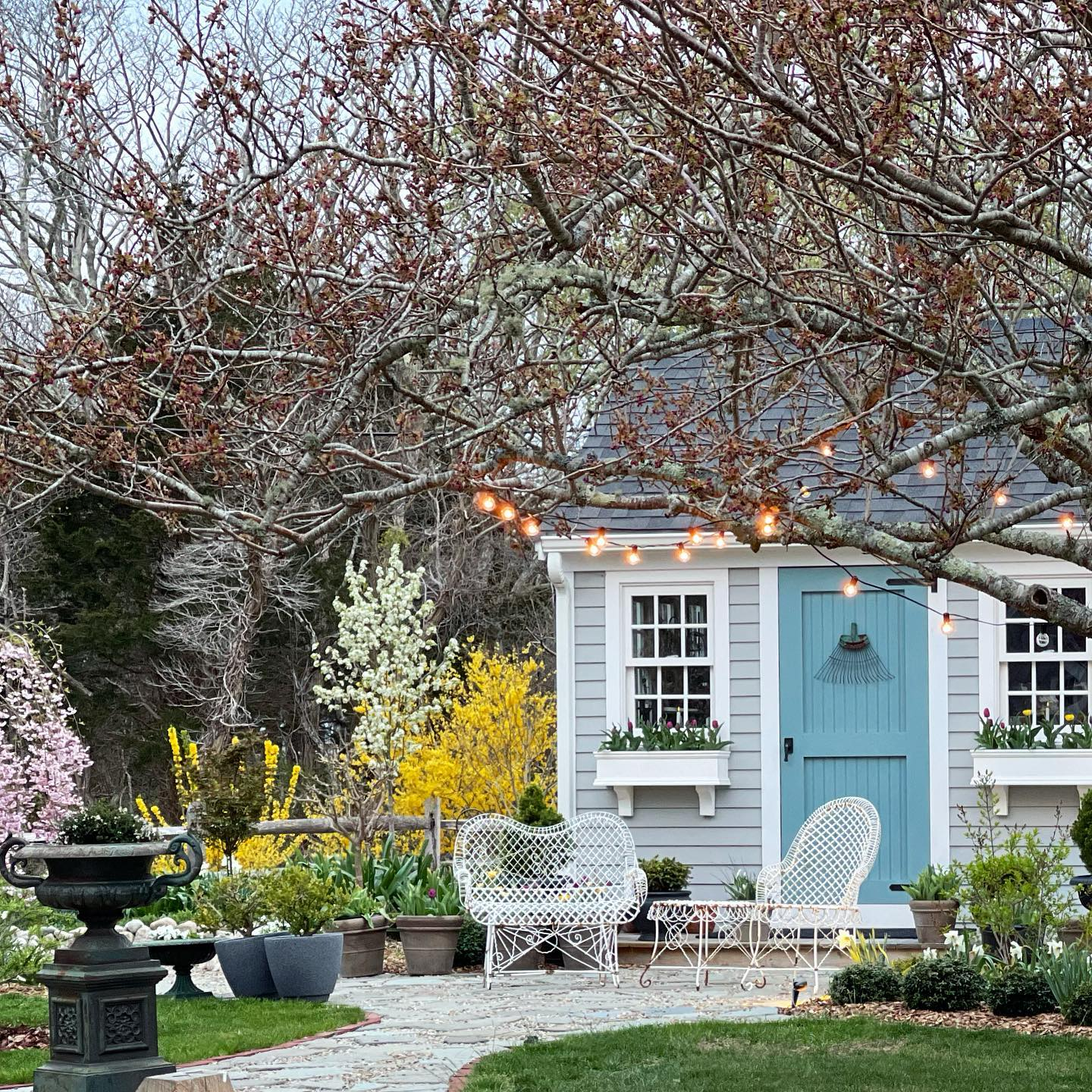 24 | Art Studio She Shed
Artists need their own little studio to work freely and without disturbance. A shed is a perfect option for this since it allows you to create your own abode while enjoying the tranquil and serene view of the surrounding greens.
You can hang some of your artwork on the walls and place murals created by you or other artists you're inspired by. This will create just the ideal work environment where you can unleash your artistic flair.
Place all your art supplies on shelves and cabinets, and make sure you set up worktables, easels, and computers in an efficient manner.
25 | Country Living She Shed
If you live in the countryside or want to bring in the country charm to your own yard, turn your shed into a small cottage where you can rest, read, sip on coffee, work or enjoy the view.
You can also set up the shed to help with your gardening needs and carpentry work, or even add a little desk or reading area.
Opt for open and big windows, red or maroon decor, and retain the charm of exposed wood.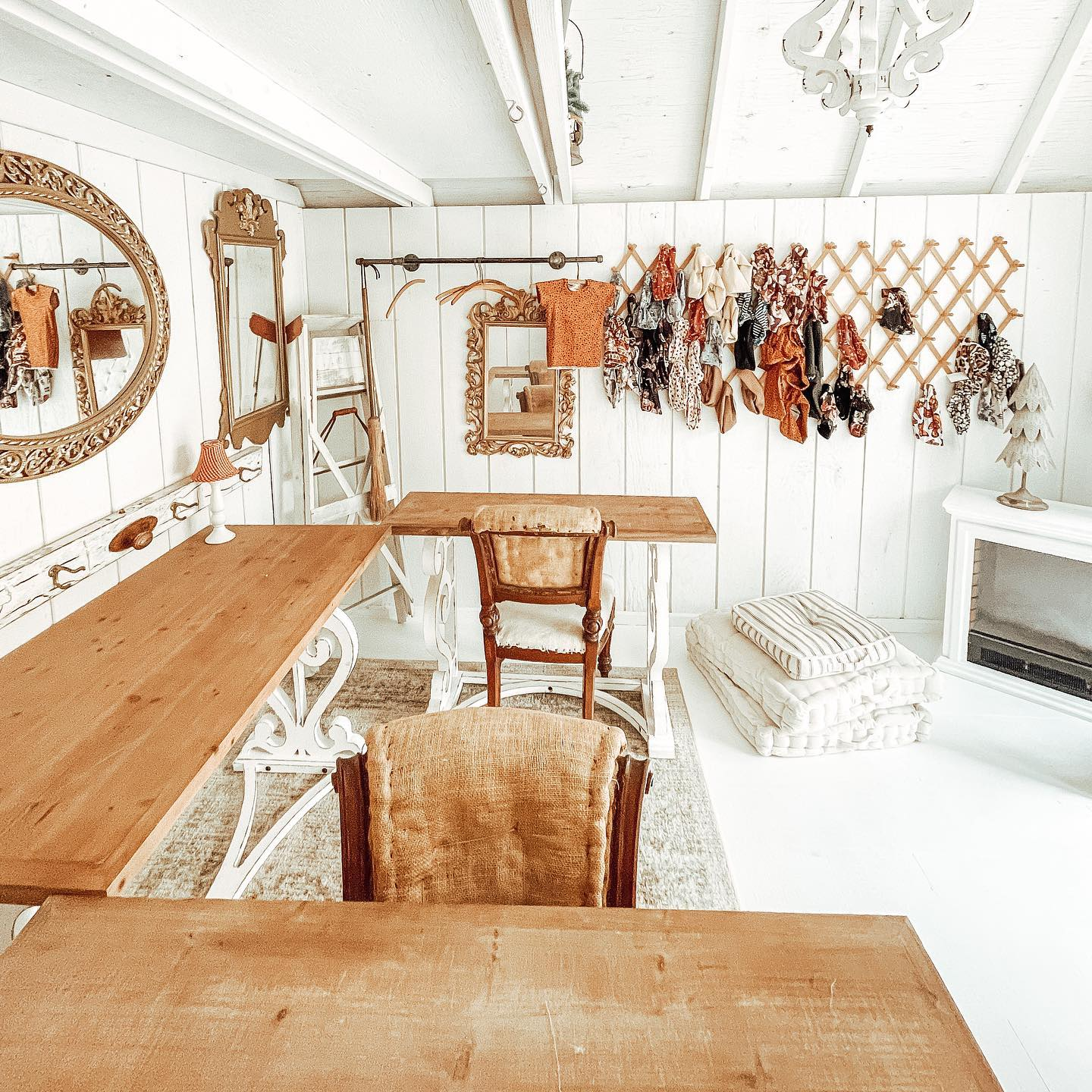 She Shed Ideas FAQ.
This FAQ covers topics such as design inspiration, organization tips, and budget-friendly options for creating the perfect space for relaxation and creativity.
Whether you're a beginner or an experienced DIYer, She Shed Ideas FAQ has something for everyone looking to transform their backyard into a personal oasis.
How Can I Decorate the Interior of My She Shed?
There are so many ways to decorate the interior of your she shed. First, consider the purpose of your shed. Is it a place to relax, work, or both?
Once you determine the purpose, you can choose a color scheme and style that reflects that. For a relaxing space, opt for calming colors like blue or green. For a workspace, consider a brighter color to boost creativity.
Add personal touches with wall art, throw pillows, and plants. Don't be afraid to mix and match different styles and textures to create a unique and cozy atmosphere.
You can leave the wooden parts (if any) exposed while painting the rest of the shed in pastel or bright colors.
Consider adding plenty of potted plants and lamps as well as a cozy nook where you can sit and relax. You can also consider choosing a theme for your shed, based on which you can select the interior decoration.
Finally, add lighting to create the perfect ambiance for your she shed.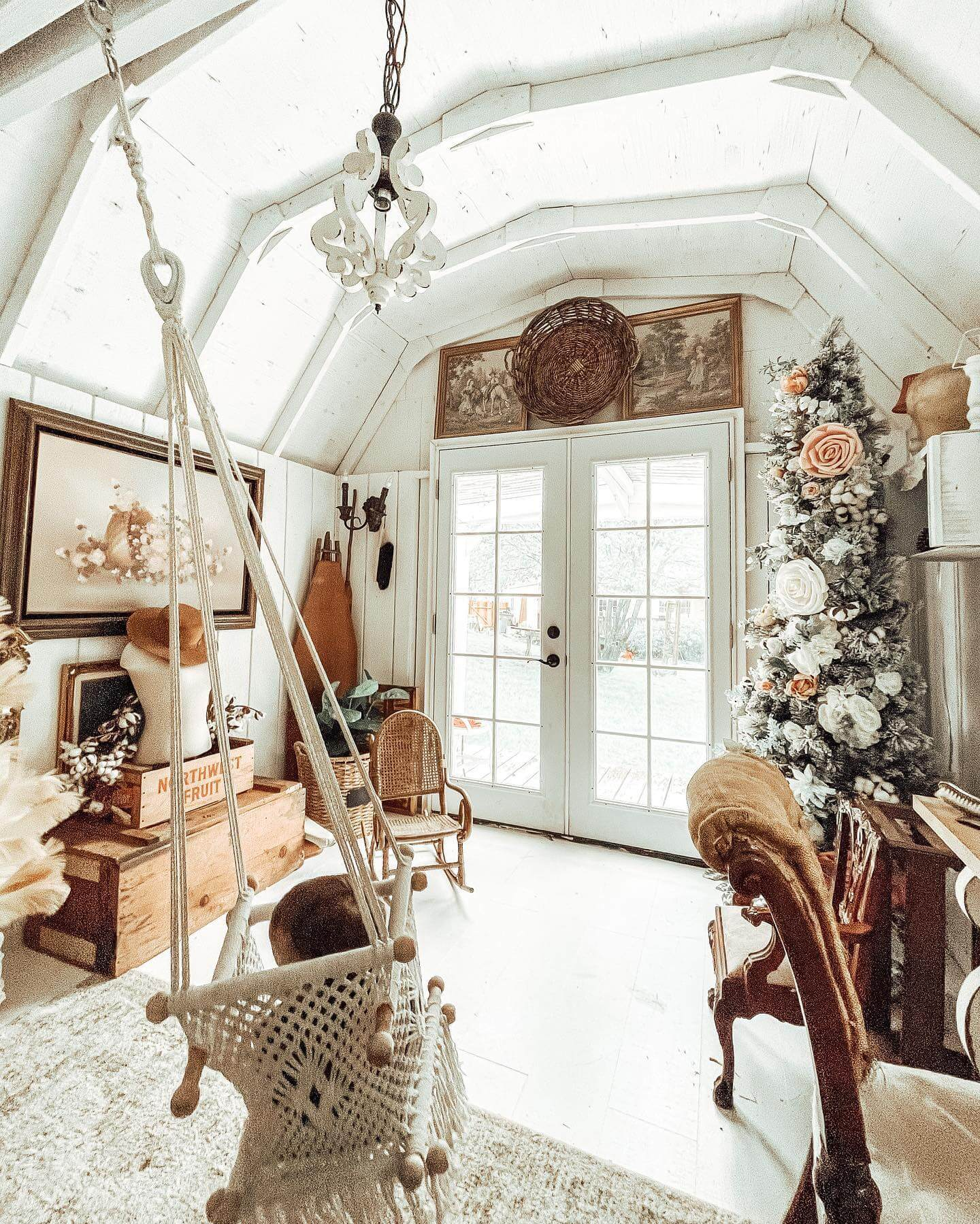 What Do You Put in a Girl Cave She Shed?
A girl cave, also known as a she shed, is a place for a woman to relax and escape daily life's chaos.
It can be decorated and furnished to reflect her personal style and interests. Some ideas for what to put in a girl cave include comfortable seating, such as a cozy couch or armchair, a reading nook with bookshelves and a reading lamp, a small bar area stocked with wine and cocktails, a craft or DIY area with supplies and tools, and a little bit of greenery in the form of plants or flowers.
Some other popular options include plush DIY craft furniture, carpets, plants, wardrobe cabinets, string lights, and worktables.
Ultimately, a girl cave is a place for a woman to feel comfortable and pampered, so it's important to include items that make her feel happy and relaxed.
Do You Need a Permit to Build a She Shed?
Generally, you do not need a permit to build a she shed if it is small in size and is meant for casual usage or storage. However, if you intend to build a large shed with electricity that you intend to use for work or living, you will most likely need a permit.
It depends on where you live and the specific regulations in your area. In some cases, a permit may not be required for a she shed as it is considered a small accessory structure.
However, a permit may be required for any new construction or addition to a property in other areas. It is important to check with your local building codes and zoning laws to determine if a permit is necessary for your she shed project.
It is always best to err on the side of caution and obtain the proper permits to ensure that your she shed is built safely and meets all local regulations.
What's the Biggest Shed You Can Build Without Permit?
The biggest shed you can build without a permit typically depends on your location and the specific regulations in your area. Generally, sheds that are less than 120 square feet do not require a permit.
However, there may be other factors to consider, such as height restrictions and proximity to property lines.
It's always best to check with your local building department to determine what the requirements are for constructing a shed on your property.
It's better to be safe than sorry, and obtaining the proper permits can help ensure that your shed is built to code and meets all necessary safety standards.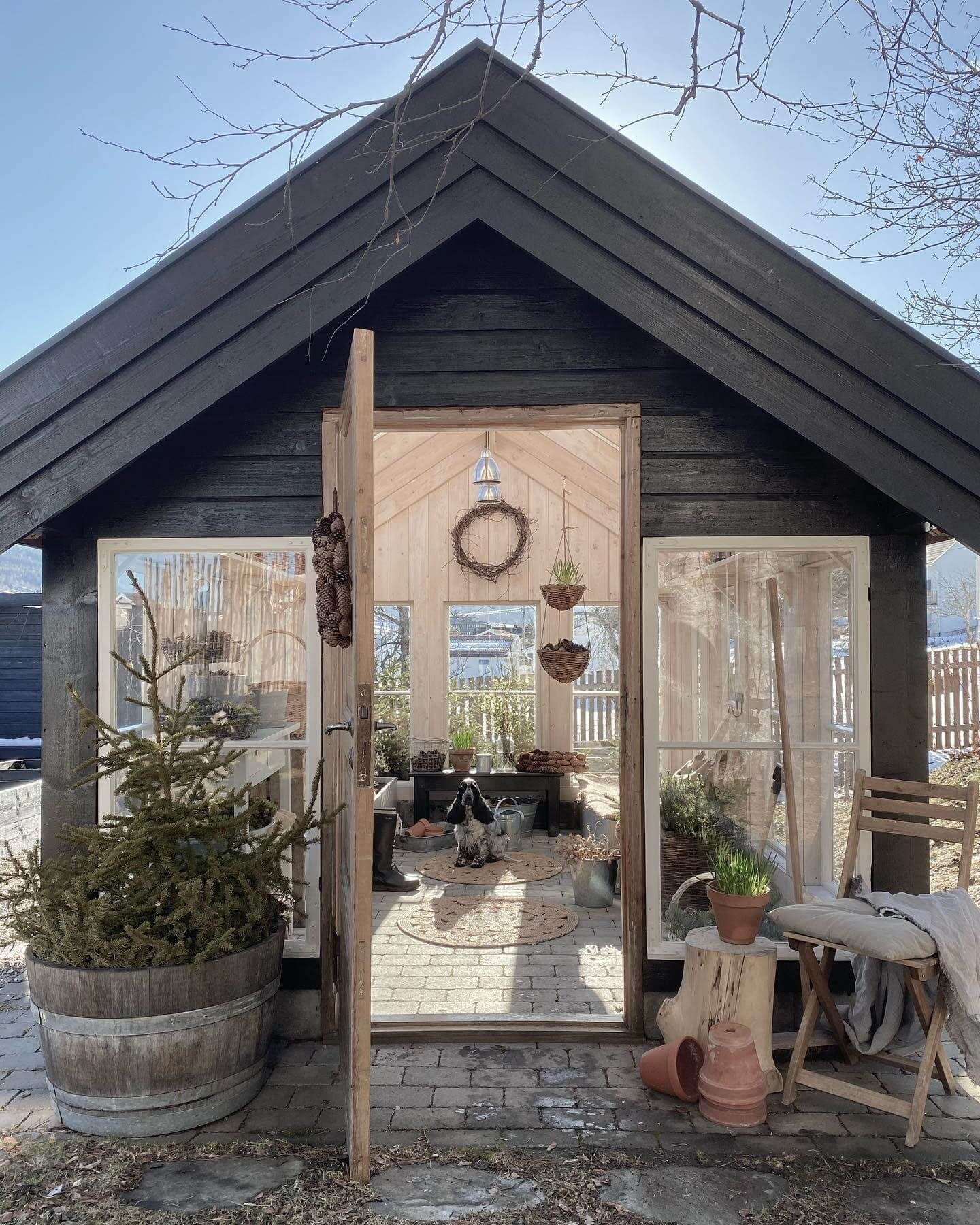 How Much Does It Cost to Build a She Shed?
If you want to build a fancy-looking she shed, it is likely to cost you anywhere between $1,500 and $25,000. The exact price range will depend on the kind of shed and how you intend to build it.
This is based on a variety of factors, including the materials you use to build the shed, the size of the shed, the extent of plumbing and carpentry work required, the number of fittings you're looking to put into the shed, and a whole lot more.
Also, the cost to build a shed will depend on whether you are hiring a contractor or doing the work yourself, as well as any additional features or amenities you want to include, such as electricity, plumbing, or insulation.
Modern She Shed Kits
These sheds are typically smaller and more stylish than traditional sheds, and often feature amenities such as electricity, insulation, and windows.
You can order a modern she shed kit with customizable layouts. Each element will come wrapped up, after which you can either set the shed up yourself or ask for assistance.
This kind of option is expensive, costing around $20,000-$25,000.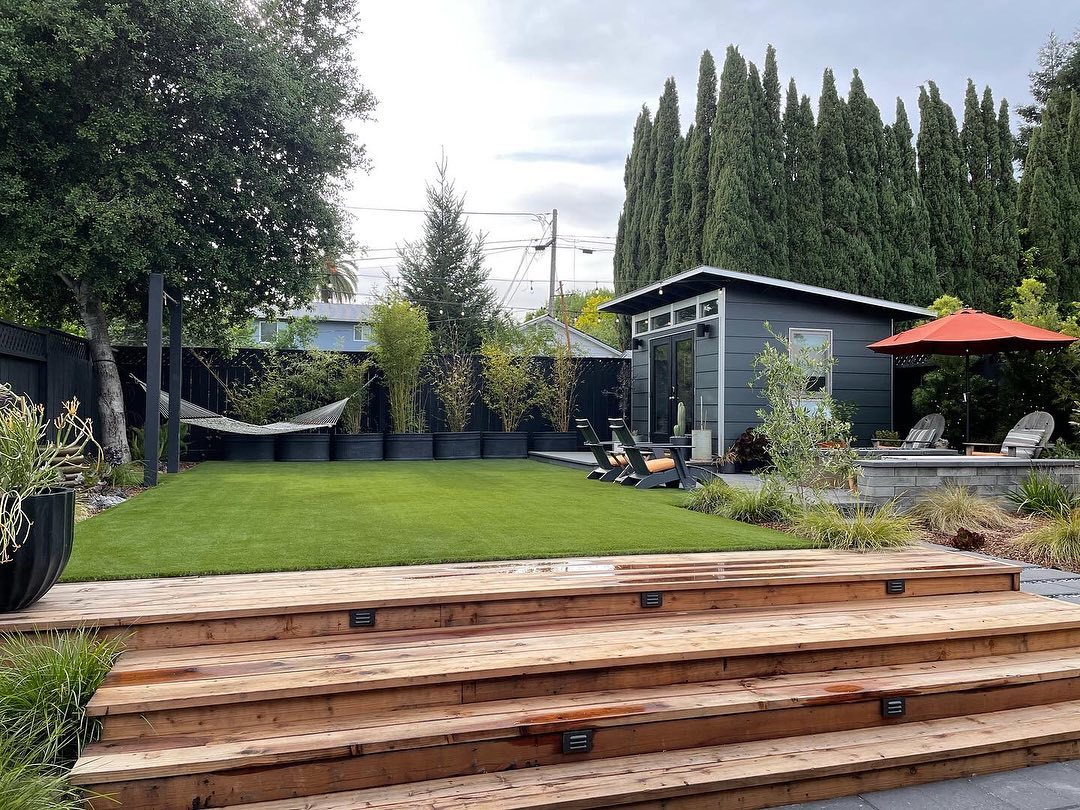 Custom Built She Sheds
You can commission or hire design studios to design the she shed for you, based on which you can carry out the building and decoration process.
If you decide to go all Pimp My Ride on your shed, it could cost you a pretty penny. But then again, with how decked out it'll probably be, it could be well on its way to being featured on MTVCribs (if it was still around)!
This is also bound to cost you around $15,000 due to the labor factor.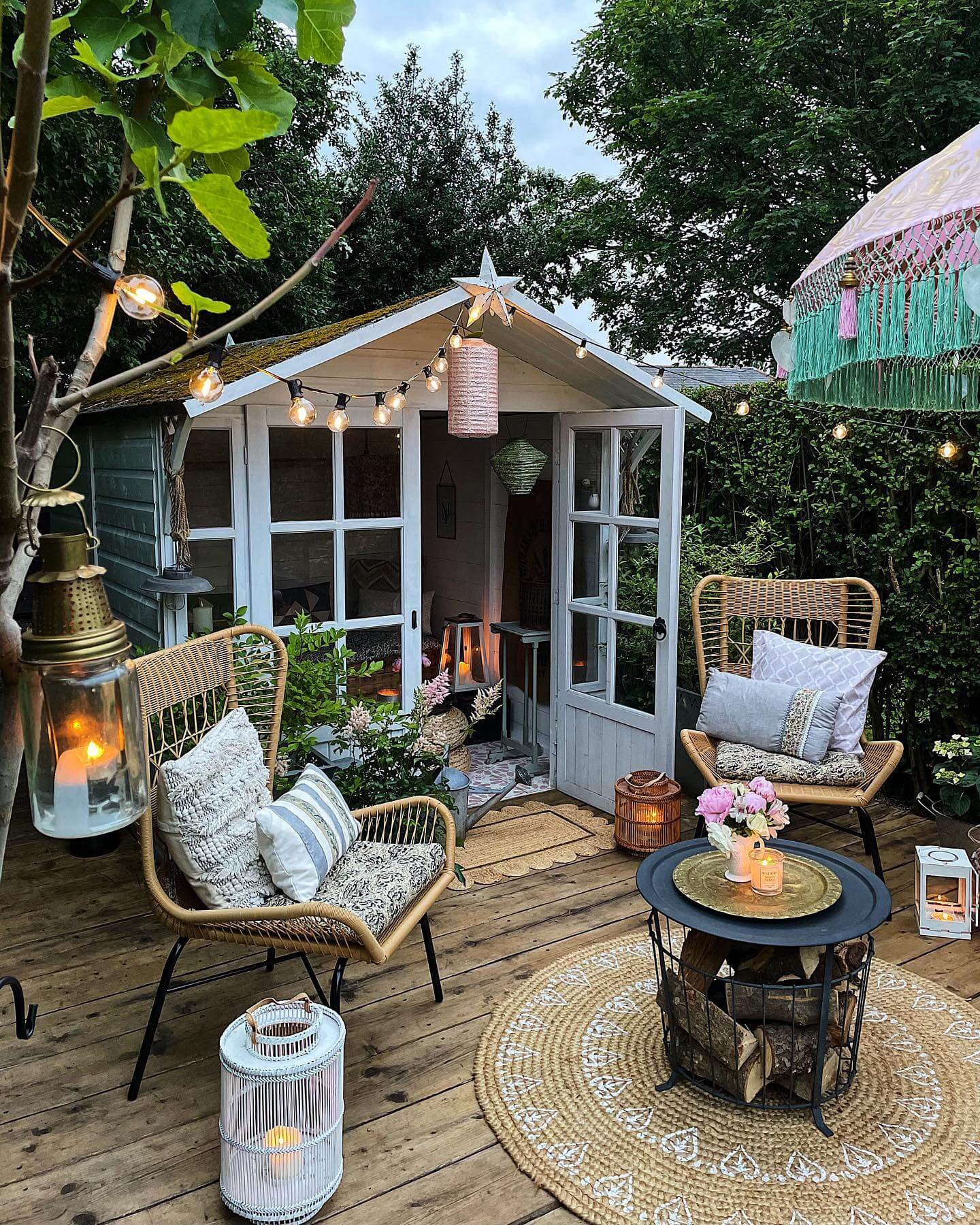 Converted She Sheds
Converted she sheds can vary greatly in cost, depending on the size and features you want.
A basic converted she shed can start around $5,000, while more luxurious versions with features like electricity, plumbing, and insulation can cost upwards of $10,000 or more. It's important to consider your budget, and what you want out of your converted she shed before making a final decision.
Keep in mind that the cost of a converted she shed can also depend on the materials used and the location of your property. Overall, it's important to shop around and compare prices to find the best deal for your needs.
But expect to spend around $10,000 for a converted shed option.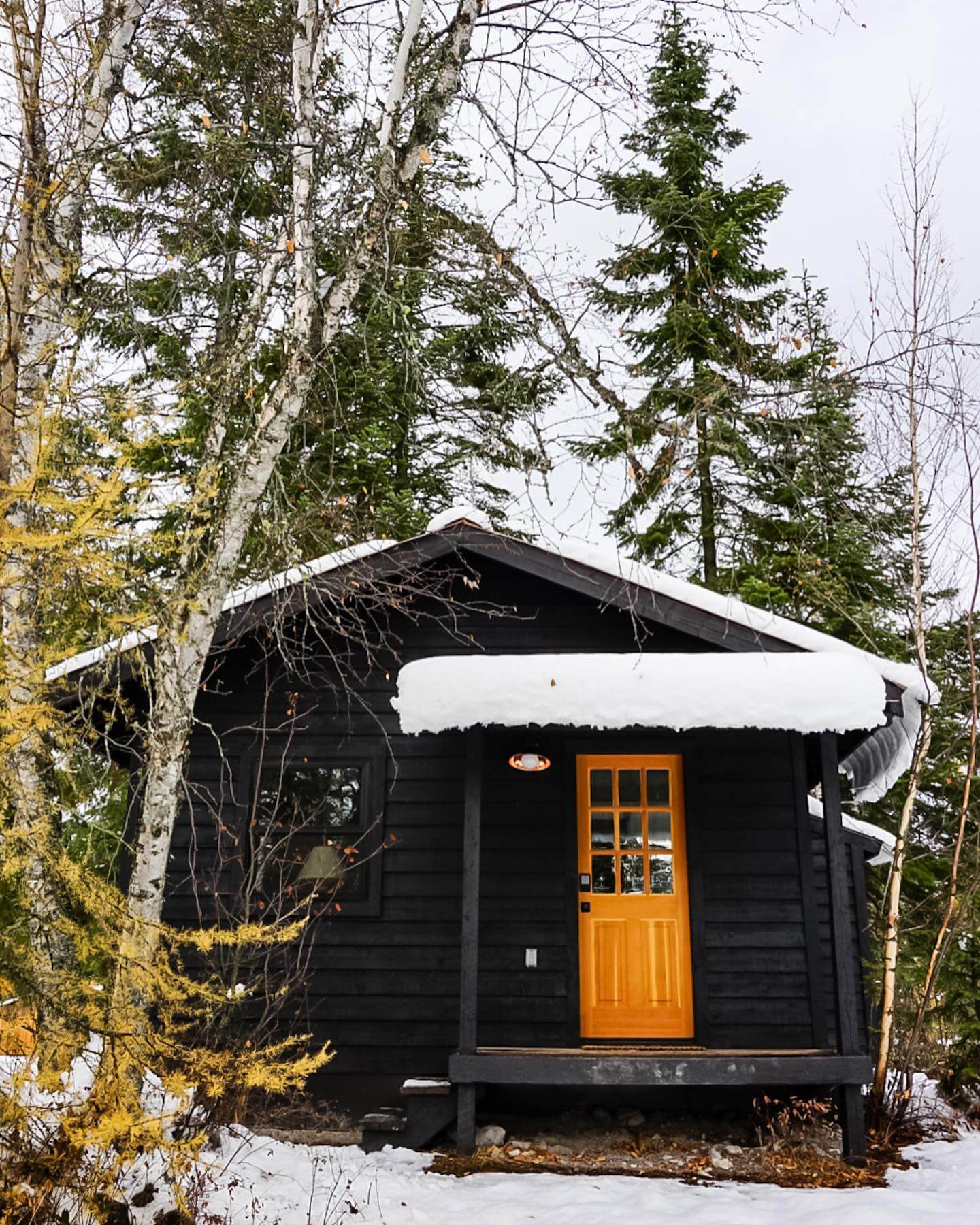 The Bottom Line
She sheds are beautiful and comfortable structures that are easy to establish in your backyard. These garden sheds can be simple little retreats or livable backyard sheds that could be used as a guest house.
Whether you are a woman looking for your own space for relaxation or someone looking to gift a woman with something thoughtful, a she shed can be a great idea to invest in.
We hope the aforementioned ideas were inspiring enough to get your creativity flowing. Enjoy your time in your brand-new she shed!