17 Must-See Tool Shed Ideas for Handy Homeowners
Handy homeowners looking for innovative tool shed ideas have many choices. You can choose from horizontal, vertical, or diamond-shaped layouts. They're available in different styles, like modern or rustic, and use materials such as wood, metal, plastic, and more. You can also assemble a pre-made kit or build it from scratch.
Building a tool shed or getting a contractor to do it is not a tough undertaking at all if you know how to go about it. And even if you don't, it's not the biggest hurdle. That information is readily available, and we're here to give it to you.
17 Backyard Workshop Tool Shed Ideas
Constructing a tool shed in your backyard is both practical and rewarding. With thoughtful planning, this space can serve as functional storage while also enhancing your outdoor aesthetics. DIY enthusiasts will particularly relish this project, given the plethora of design options available.
Whether you're constrained by space, or budget, or seeking a custom-built design, there's an idea tailored for you. For those on a budget, consider the Cabana Garden Shed, a cost-effective option ready for doorstep delivery.
Best Budget Tool Shed Kit
Cabana Shed Kit – Outdoor Living Today
Highly multi-functional: The 9 ft. x 6 ft. Cabana shed is perfect for various uses, such as a tool shed, playhouse, poolside retreat, DIY workshop, or storage facility.
Simple construction: The Cabana shed is easy to assemble with a panelized wall and roof design, eliminating dangerous and time-consuming cutting.
Excellent support: The kit includes a homeowner's assembly manual and access to a complete series of assembly videos with a dedicated customer support line.
Superb build quality: The 31-inch wide Dutch Door, two functional aluminum windows, and 354 Cu.Ft. of storage capacity make this shed charming and practical.
1 | Wood Storage Shed
This is perhaps the first idea everyone has, and rightfully so. Wooden storage sheds have been around forever, so you can call them a classic choice. A lot of them also preferred these sheds to have a rustic look, but today we have many more choices.
As the name gives it away, these sheds are made of wood which is typically framing lumber, or recycled lumber, which is called Polywood. These sheds are popular because they can be customized easily, look good, and, most importantly, are durable and robust.
Wooden sheds also look great in any size and design, which makes them versatile in terms of aesthetics and functionality. You can't say that about every material. You also don't need to anchor these storage sheds to the ground, which is another asset.
Some DIY-ers also opt for sheds made of resin to get this look while avoiding the disadvantages of this material. And that's our next pick.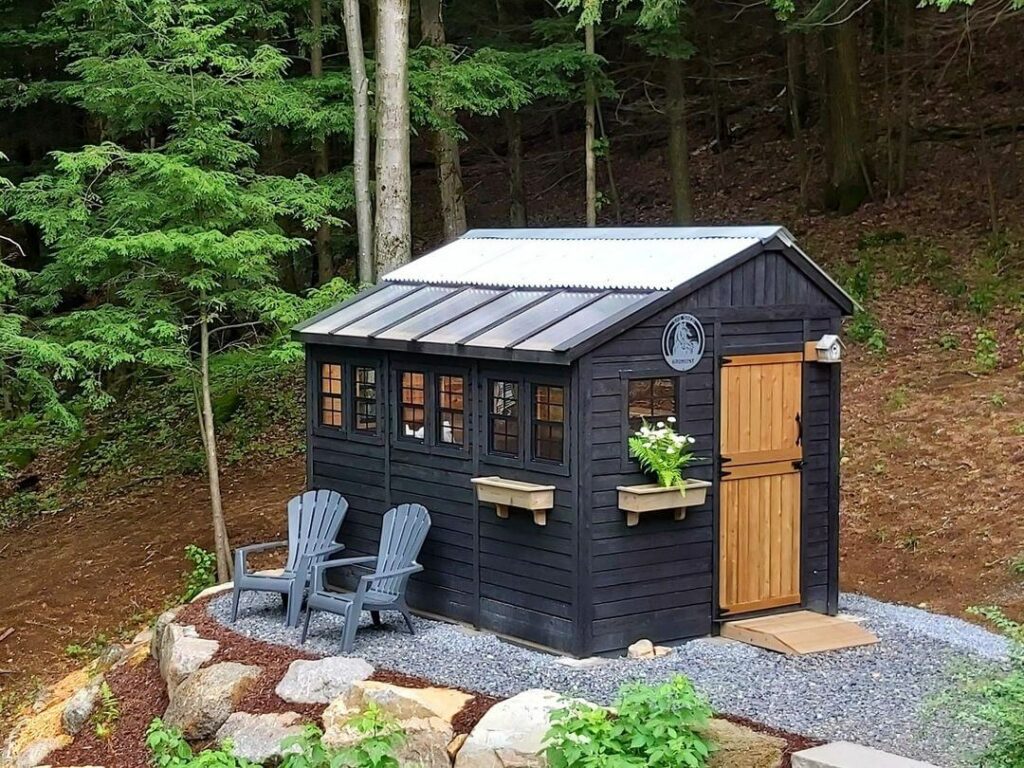 2 | Resin Storage Shed
As you probably already know, resin is made of synthetic or plant compounds and is used in construction to build durable structures. These are relatively recent (compared to wood), and some are made of vinyl, which is why vinyl and resin are sometimes used interchangeably.
But there are a few differences. Storage sheds made of resin look a lot like vinyl sheds, but the former type is more popular even though they are not well known.
For starters, resin sheds are good when it comes to their resistance to rust, rot and insects, which is a huge advantage when you are building a storage shed. They also come in different sizes and shapes, which is helpful if you're DIY-ing the shed or want to try new ideas.
It's also important to remember that they might not be as good as wooden sheds, but they are the next best thing.
3 | Vinyl Storage Shed
Speaking of vinyl, these are often considered to be plastic sheds but not all vinyl sheds are made of pure plastic. Some of them are made of polyethylene, also a type of plastic, but it's not entirely the same.
These sheds are excellent when it comes to being fire retardant. They are also durable and can fight off cracks easily. Plus, if you are building an outdoor tool shed, you will be glad to know that vinyl sheds are weather resistant compared to materials like resin and sometimes wood and metal.
Compared to plastic sheds, the ones made of vinyl are very good with extreme temperatures. So, those who live in humid and hot climates will appreciate this.
4 | Hempcrete Tool Shed
Hempcrete is a mix of hemp, lime, and some other natural materials. The air lime, which is what we're referring to as lime, is why the setting process is quick with this material. And since it is made with hemp stalks, you can count on its ability to promote soil regeneration.
The mix of hemp and lime is how you create an extremely lightweight natural concrete, making hempcrete sheds ideal for cyclone zones or hurricane zones.. So, you can count on its ability to meet thermal regulations, which is why it is often used in high-performance buildings.
When you are building a tool shed, this comes in handy because it works beautifully for insulation and walling. The structural frame that goes with this material is usually steel for a big project and timber for a small one. This is also a sustainable material which makes it a futuristic choice.
5 | Galvanized Metal Shed
Typically, galvanized metal sheds are made of galvanized steel. The best thing about this material is perhaps the fact that they are weather resistant.
This eliminates the need for sealants, a considerable benefit you don't get with wooden structures. It is also resistant to corrosion and rust, which makes it a coveted pick.
All of this is possible because it has a zinc coating that stops the outside oxygen from interacting with the layer of steel. And even if you lose the zinc layer, it still has enough exterior protection to keep the rust away. Tool sheds made of this material can handle weather elements like wind, snow, and rain much better than others.
6 | Vertical Cedar Shed
Cedar sheds can be a bit more expensive than sheds made of other woods, but you will find that these sheds are relatively easier to make. You don't need a whole lot of woodworking supplies.
Cedar is preferred despite being expensive because the sheds are typically made of extremely durable boards. They can also be used to make doors and other openings, reducing the amount of shopping you must do before you start construction.
Those with space limitations but not so much with the budget should look at this option for cedar garden sheds. That's also why we recommend it being vertical or even an A-frame shed rather than horizontal.
7 | Horizontal Plastic Shed
Speaking of horizontal, this is a storage idea that works well for those who have a small garden space, balcony, or just a yard. You can build an outdoor unit with plastic for some extra storage space. And you don't have to worry about versatility because they've got it.
And plastic is one of those materials that can be described as ubiquitous. And there is a good reason for that. The first thing to remember is that it won't necessarily be fire retardant if it's not made of vinyl.
But apart from that, a plastic shed is preferred because it is easy to clean. All you need is some water and soap. It's also low profile, appealing to many when they want something utilitarian.
Now, more often than not, this is not the design or material used for large sheds. So, don't expect to have your morning coffee in this shed. But it is very efficient and helpful if you want to build a DIY outdoor storage space that is weather resistant and somewhat like a large box for tools.
8 | Modern Shed Kit
A modern-style shed is a terrific idea, especially for the outdoors. But what makes it even better is you don't even have to build it from scratch. You might have noticed that this subheading is helpfully titled modern shed "kit".
These kits are pre-made and typically made of wood. They are spacious and open along with high ceilings, which is why many people even use them as art studios in the backyard. But if you have your heart set on a storage shed, here's what you are dealing with.
These sheds come in different sizes, meaning you have many choices just the way you would if you were building it yourself. If your budget is tight or you're constrained in terms of space, the shed can be used for items like bicycles, power tools, and garden tools.
If you're feeling limitless in terms of budget and space, well then, you can get one that will accommodate big-ticket items like construction materials, furniture, and more.
9 | Redwood Garden Shed
Redwood is an excellent material for outdoor structures like sheds because it is naturally resistant to rot, decay, and insect damage. It is also a durable and long-lasting material that can withstand harsh weather conditions.
Additionally, redwood has a beautiful natural color and grain that can enhance the aesthetic of your backyard. It is also a sustainable and eco-friendly option, as redwood is a renewable resource.
A redwood shed in your backyard can provide additional storage space, serve as a workspace, and increase your property's overall value. Redwood trees are better at resisting rot, but younger trees are pretty great too. In fact, they are as good as sequoia, cypress, and cedar.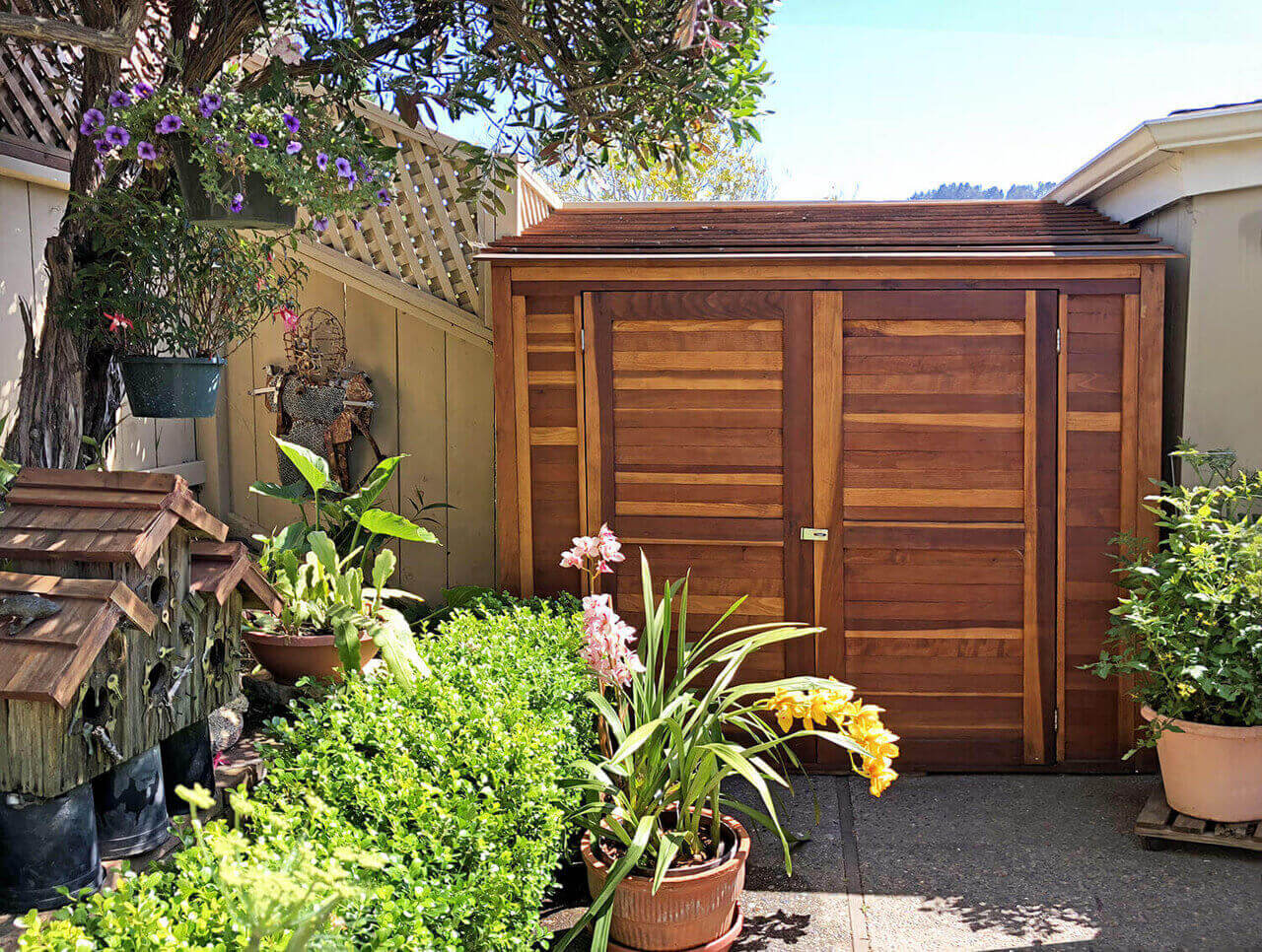 10 | Rustic Utility Shed
Utility sheds are typically made to store accessories, and the structures are generally about 10 square meters. With a rustic appearance, the right utility will look brilliant in your backyard.
They are suitable for tools and shelter. You can also use them to store spare appliances like air conditioners, condensers, pumps, and so on.
The rustic style is more of an aesthetic choice. It doesn't need a whole lot of work and is often preferred because of the vibe of the shed and its contents. It's a choice, but it's a good one since it fits the mood of the structure.
11 | Classic Barn Shed
A classic barn shed is popular among homeowners for its unique and functional design. The defining feature of a classic barn shed is its gambrel roof, which is characterized by two symmetrically built slopes that give the structure the appearance of a traditional barn.
One of the main benefits of using a classic barn shed is its added vertical space. This extra space can be used to construct beams, which can help to expand the storage space inside the shed. This can be particularly useful for those who need additional storage for tools, equipment, or even vehicles.
Another benefit of using a classic barn shed is its versatility. The gambrel roof design can be customized according to your needs and preferences, and you can use it for a variety of purposes, such as a workshop, storage space, or even a recreational area.
12 | Solid Brick Garage
The name is self-explanatory, but we will also go into this one briefly. These are garages made of solid bricks along with mortar. More often than not, these are made from scratch, not just because you can build them in any style but also because they are sturdy.
Those who like stone and brick garages should be mindful of the shed's surroundings. It looks good when you disrupt its natural environment as little as possible and merge the brickwork into the existing structure.
This is also a good material for relatively more minor spaces like carports, and you can always add a room or two next to it or on top to expand the structure in the future.
13 | Plywood Tool Shed
Plywood is a versatile and affordable material that can be used in many different ways when designing a garden shed's interior. One of the main benefits of using plywood for the interior design of a garden shed is its durability and resistance to moisture and wet tools.
This is because construction-grade plywood is pressure-treated and ¾ inch thick, making it suitable for use as flooring and walls. Another benefit of using plywood for the interior design of a garden shed is its smooth surface. This makes it easy to clean and paint, which can help to enhance the aesthetic of your shed.
Additionally, using plywood for the interior design of a garden shed can also save you time and hassle, as there are pre-built sheds utilizing plywood and customizable options available that you can purchase.
14 | One & two-Bay Garage
A home garage is a great option to consider if you are looking for a functional and cost-effective tool shed. One-bay garages, typically the size of a car garage, can fit one average-sized vehicle, and have little storage space, are easy to build, especially if you are starting from scratch.
Two-bay garages, which are bigger in size and can fit two average-sized vehicles, also offer a range of benefits. With twice the space of a one-bay garage, you have more flexibility in terms of design and can experiment more. The extra space can also be used as a shelter when needed.
Using a home garage as a tool shed can be a cost-effective and practical solution. One-bay garages are easy to build and are budget-friendly in terms of materials. Two-bay garages offer more space and design flexibility. With a garage, you can have a space to store your tools and vehicles, and it can be used as a shelter when needed.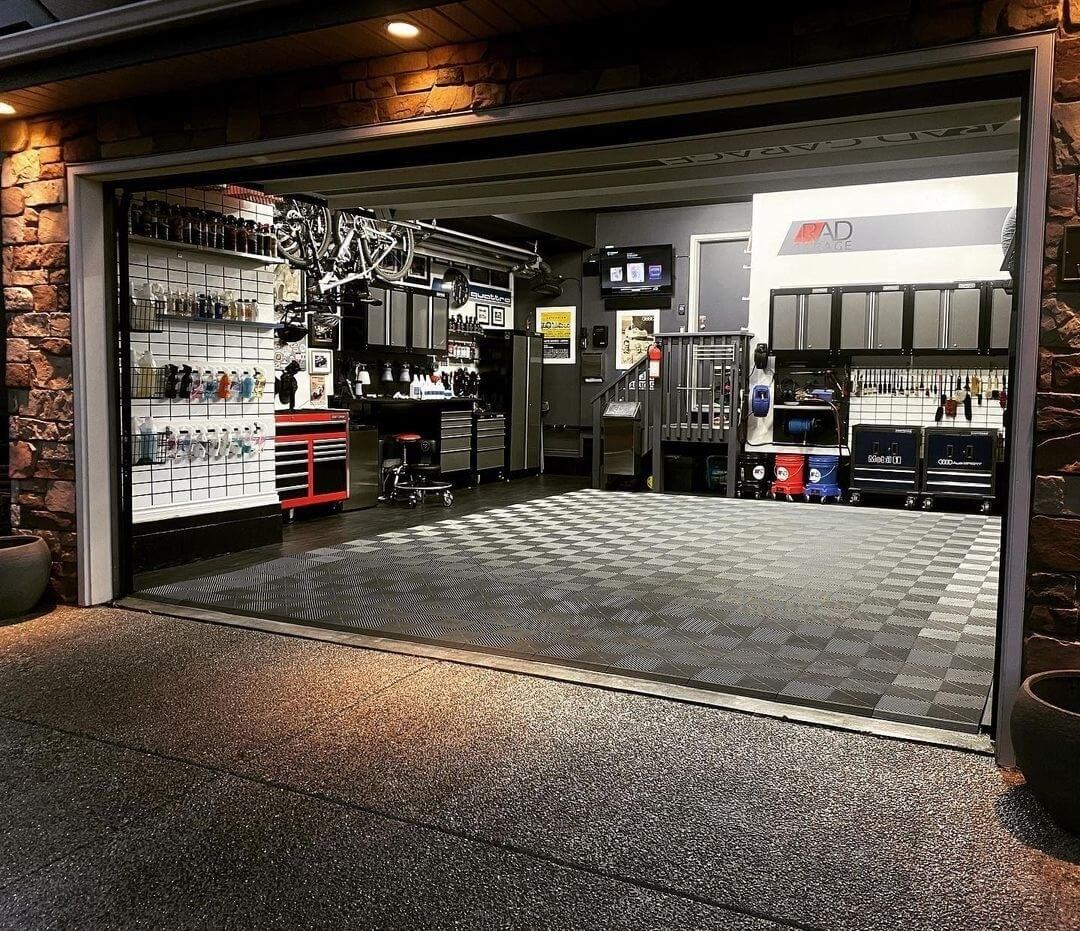 15 | Porch Enclosure Kit
As you can see, the subheading is once again titled porch enclosure "kit," which should tip you off on a couple of properties of this particular tool shed idea. It's a readymade enclosure kit that protects you from the outside weather as well as insects that might sneak in when the going gets tough outdoors.
These kits are pretty popular among DIY enthusiasts for good reason. Many of them also come with extra items like deck enclosures and screens, which is how you keep those insects out.
The idea behind these kits is to help you create an enclosure that will act as an extra space that is an extension of your home but on the outside. These are permanent installations, but they are easy to put together for DIY beginners and experts.
16 | Pegboard Wall Kit
The benefits of using a pegboard wall kit to store tools include the ability to organize your tool shed easily. These kits come pre-made, making the installation process simple.
With the option to customize the attachments and hooks to fit your specific needs, a pegboard wall allows for versatile storage options for any tools or equipment you need to keep on hand.
By using a pegboard wall kit, you'll be able to make the most of the space in your tool shed and keep your tools easily accessible. Do it right, and you can use that particular wall for an array of hand tools and grab your impact driver within seconds.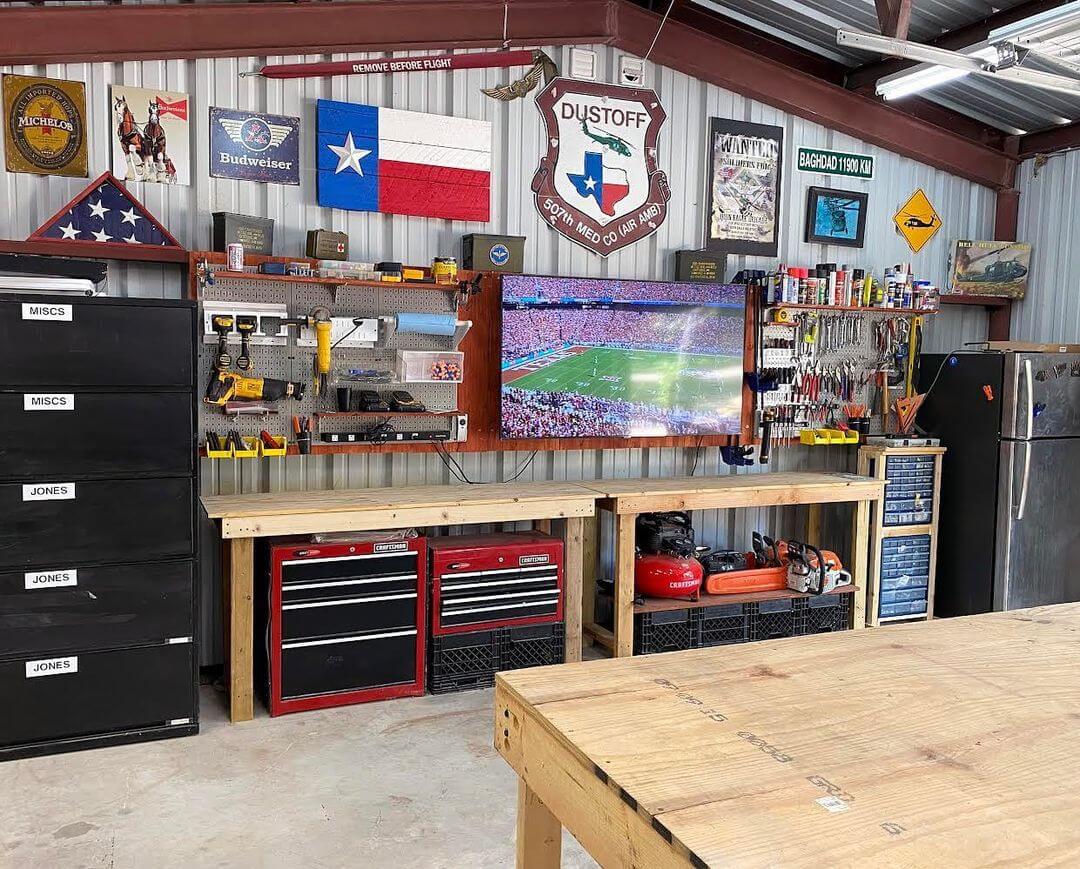 17 | Custom-Built Bunker
Having a bunker in the house could be a survivalist instinct or simply because of its cool factor. Either way, building it is more exciting as well as a utilitarian when it is a custom job.
You can use a variety of materials when you keep the basics in mind. For instance, a lot of people use metal sheets for their underground bunkers because they are weather resistant and sturdy. These sheets can be expensive since they don't come with insulation.
If you're trying to keep costs down, you might want to go with bricks since they are affordable, sturdy, weatherproof, and insulating. A brick bunker also gives you room to add color and style to it.
Reinforced concrete is a good choice if you are concerned about the load but don't want to blow out your budget. It has a long lifespan and doesn't demand too much maintenance.
Whichever way you go, try to avoid wood because rotting, infestations, and weather are all challenges with this material when building a bunker.
Tool Shed Ideas With Plans FAQs.
How Do I Maximize Storage Space in a Small Shed?
You just need a little creativity. Try using magnetic bars or pegboards for your tools. Also, open shelves and hanging jars or rakes are popular choices for organizing storage items.
Here are a few more tips to maximize storage space in a small shed:
It's also a good idea to take a moment to measure the area you have and then evaluate the items you need to store. This will help you understand what space-saving solutions will work best for your particular needs.
What Wood Should I Use for Shed Shelves?
When selecting wood for shed shelves, it's essential to choose a type that's both durable and resistant to moisture. While hardwoods like oak and maple are robust and long-lasting, softwoods like pine and cedar are more affordable and still offer good durability, especially when treated.
| Wood Type | Durability | Moisture Resistance | Cost | Best Used For |
| --- | --- | --- | --- | --- |
| Pine | Moderate | Moderate (when treated) | $ | General shelving, light storage |
| Cedar | High | High | $$ | Outdoor shelving, areas with moisture |
| Oak | Very High | Moderate | $$$ | Heavy-duty shelving, workbenches |
| Maple | Very High | Low | $$$ | Indoor shelving, decorative pieces |
| Plywood | Moderate | Low | $ | Multi-layer shelving, backings |
Note: The cost is represented in a general sense with $ being the least expensive and $$$ being the most expensive. Actual prices can vary based on region and availability.
Is It Cheaper to Buy a Shed Kit or Build from Scratch?
Purchasing a shed kit often appears more cost-effective upfront, especially when you factor in the convenience of having all materials and instructions readily available. These kits are designed for efficiency and ease, reducing the time and potential errors associated with sourcing individual components. Moreover, for those without extensive DIY experience or the necessary tools, a kit can simplify the process immensely.
However, building a shed from scratch can offer cost savings in the long run, especially if you have access to discounted or reclaimed materials. Constructing from scratch also allows for greater customization in design, size, and material choice. While it might demand more time and expertise, building a shed yourself can result in a more personalized and potentially sturdier structure, tailored precisely to your needs and preferences.
What Is the Cheapest Style of Shed to Build or Buy?
The lean-to shed, often characterized by its single sloping roof and three walls, is typically the cheapest style of shed to build due to its simple design and minimal material requirements. When buying, plastic or resin sheds tend to be more affordable than their wood or metal counterparts.
| Build/Material Type | Average Cost to Build | Average Cost to Buy | Durability | Maintenance |
| --- | --- | --- | --- | --- |
| Lean-to/Wood | $300 – $900 | $500 – $1,200 | Moderate | Regular sealing/painting |
| Resin/Plastic | $200 – $600 | $300 – $1,000 | Moderate | Low; occasional cleaning |
| Metal | $500 – $1,500 | $600 – $2,500 | High | Minimal; rust prevention |
| Vinyl | $600 – $1,800 | $800 – $2,800 | High | Low; occasional cleaning |
| Wooden Gable Roof | $900 – $2,500 | $1,200 – $3,500 | High | Regular sealing/painting |
Note: The costs provided are approximate and can vary based on region, size, and specific design choices. Always consult local suppliers or retailers for precise figures.
Where Can I Buy a Shed Kit and Have It Installed?
When it comes to purchasing a shed kit and ensuring it's installed correctly, numerous options are available. A top recommendation is Studio Shed, known for its quality and comprehensive service. They offer a range of designs tailored to individual preferences and budgets.
Studio Shed: Offers a seamless process from purchase to installation, with a variety of modern designs and customizable options.
Lowe's: Provides a range of shed kits and often partners with local contractors for installation services.
Home Depot: Another big-box retailer offering shed kits and installation services through their pro referral program.
Tuff Shed: Specializes in storage buildings and garages, providing both the product and installation.
Shed Liquidators: While they primarily sell sheds at discounted prices, they also offer professional installation.
Remember, when choosing a shed kit and installation service, it's essential to read reviews, ask for references, and ensure the installer is licensed and insured. This ensures a smooth process from purchase to the final setup.
The Bottom Line
In conclusion, backyard sheds come in various styles and designs, and there are many options to choose from regarding materials and aesthetics.
Now that you better understand what's available when it comes to garden sheds, it's time to start planning your dream backyard shed for both tool storage and regular man stuff.
If you're looking for the best backyard office sheds, be sure to check out our selection for the highest-quality options available. Don't wait any longer, and start building your backyard office today!