What is PVA Glue Used for in Woodwork?
Here's a fact about woodworking: All glues are not the same. The glue you use for one project won't be the same stuff that you find in your arts and craft cabinet at home.
It's essential to have a type of wood glue that can handle any job easily and effectively. That's why you need PVA glue.
But what is PVA glue?
We are here to uncover all the mysteries behind this all-in-one product. Once you finish reading this article, you'll know how to choose from among different types of wood glues and how to use each of them.
What is PVA Glue Used for and How It Works?
Let's start with the basics. PVA stands for polyvinyl acetate, a synthetic polymer with a rubbery complexion. Some other names for PVA glue include wood glue, school glue, carpenter's glue, and white glue.
Whatever you call it, all PVA functions the same way. This colorless and odorless adhesive binds pieces of wood together.
PVA glue works best at room temperature, which allows it to dry quickly. It does not work as well in humid environments because the wood adhesive is not 100% water-resistant.
PVA glues are safe for all woodworking projects. The non-toxic substance poses no environmental or health threats, so you don't need to worry if some of it touches your skin.
That said, it does have a vague scent of vinyl alcohol, and users should not consume PVA glues under any circumstance. I'd recommend beer, or even white wine if you're that desperate.
What Are the Different Types of PVA Glue?
White PVA Glue
Generic white PVA glue is the most common type of glue for woodworking. The fast-drying adhesive stands out for its bond strength and flexibility.
Handy people everywhere know for a fact that this bonding agent is a go-to choice for bookbinding, repairing screw holes, decorative projects, and emergency first aid.
PVA glue does have negative characteristics since it doesn't hold up under extreme conditions.
After it dries, the glue forms a rubbery substance that softens under heat or friction. White glue also lacks water-resistance, making it a poor choice for humid outdoor environments.
There's no shortage of different PVA glue types on the market. The most famous one is Elmer's Glue, a white glue design for kids' and adults' crafts. Most other PVA glues share the same properties as Elmer's glue, with minor variations to the formula.
Aliphatic PVA Glue
Aliphatic PVA glue should be your first choice if you have a woodworking project on the go. It excels as a high-performance sealer that binds two wooden pieces together.
While aliphatic PVA glue might not provide the same unbreakable bond as using the right type of hammer with the ideal type of nail, it might just be the next best thing for clean looking finish.
The glue also contains the same polymer as white glue: polyvinyl acetate.
You can distinguish aliphatic PVA glue from its counterparts, thanks to its yellowish hue. Outside of the color difference, it shares a lot of similarities with white glues.
These include fast-drying, rigorously tensile, and easy to clean from surfaces. Aliphatic PVA glue works well in humidity and can handle significant stress.
The material has moderate water resistance, allowing it to withstand challenging environments. However, it has a relatively brief shelf life and may become too dense to use after a year.
Cross-Linking PVA Glue
You might have noticed that water tends to be a common enemy of PVA glue products. Some manufacturers are trying to change that with cross-linking PVA glue.
This poly-compatible one-component PVA product can handle any aqueous solution short of submerged gluing.
Woodworkers and handypeople can only find cross-linking PVA glue in the United States. It works best for outdoor materials such as furniture and doors. Some popular brands include Titebond II and Gorilla Cross-Linking PVA Glue.
How Do You Use Wood Glue for Woodworking?
Consider the purpose and materials before you use PVA glue wood glue for your next project. If you need a straightforward paper adhesive, white PVA glue should do just fine.
However, if you need water-resistant adhesive, reach for a bottle of cross-linking PVA glue.
The best PVA glues work across various materials, though most people use them on wood. You can also use this type of glue to attach wood to a concrete slab, paper, vinyl, plastic, or metal.
Here Are the Six Steps to Ensure That Your Glue Works as Needed:
Step 1
Take the PVA glue from the larger container and pour it into a Glu-Bot so you can easily apply the glue to wooden surfaces you want to join without the need for tilting.
Step 2
Apply your preferred type of PVA wood glue in a thin layer on the surface in a timely fashion but be sure to set each piece of wood correctly before you wipe away any excess residue.
Step 3
Even out the glue between the two surfaces using a silicone basting brush before attaching the two pieces as increased coverage will make for better bondage.
Step 4
Make sure to move both wood surfaces back and forth slightly, allowing air circulation to remove air bubbles before you apply a wood clamp to lock the surfaces in place.
Step 5
If you're attempting to glue together larger sections of lumber, you can utilize an old credit card to smooth out the glue, and as for the edges, just use the Glu-Bot and your finger.
Step 7
Once you've maneuvered your would-be pieces of wood into the desired position, you're going to want to clamp them into position for at least 1 hour to create a solid bond.
Step 6
Lastly, let the PVA adhesive cure fully and sand the excess glue from the wood after it dries for a nice-looking finish using a hand sander.
Why Can't I Use Elmer's Glue for Woodworking?
You can use Elmer's glue for some small projects, but it likely won't deliver the long-term durability you want. It's a capable product if you need a quick fix for bookbinding or temporarily holding two things together.
You should consider heavy-duty adhesives if you want the bond to last for decades.
Cross-linking PVA glue doesn't break down. The robust characteristics make PVA glue a more trustworthy option, especially on any porous materials like pottery, wood, and ceramics.
What Are the Benefits of PVA Glue?
You can use PVA glue for any task imaginable. The affordable, water-based solution provides a versatile and reliable adhesive for projects big and small.
PVA Glue Advantages and Disadvantages
Here are some of the main benefits of using cross-linking PVA adhesives:
Tips for Using PVA Glue
Getting the most out of your PVA glue for wood requires understanding its strengths and weaknesses.
The last thing you want is to use the adhesive on paper only to have it fall apart days later. Always evaluate your glue's characteristics before applying it to things, and consider possible alternatives.
Water ranks as the biggest enemy of PVA glue. It can soften and degrade the glue, breaking apart the attachment over time. If you use Elmer's glue, you may want to use a special resin that hardens and resists moisture.
The same applies to glue in direct heat. If PVA glue gets too hot, it will return to a liquid form. That way, it becomes impossible for the glue to maintain a secure attachment between the wood and the other surface.
If you want to remove your PVA glue, make sure to have sandpaper handy. You'll need to sand down the surface to remove it from the wood until it's level. If you get any on your clothes, you can clean them with soap and warm water.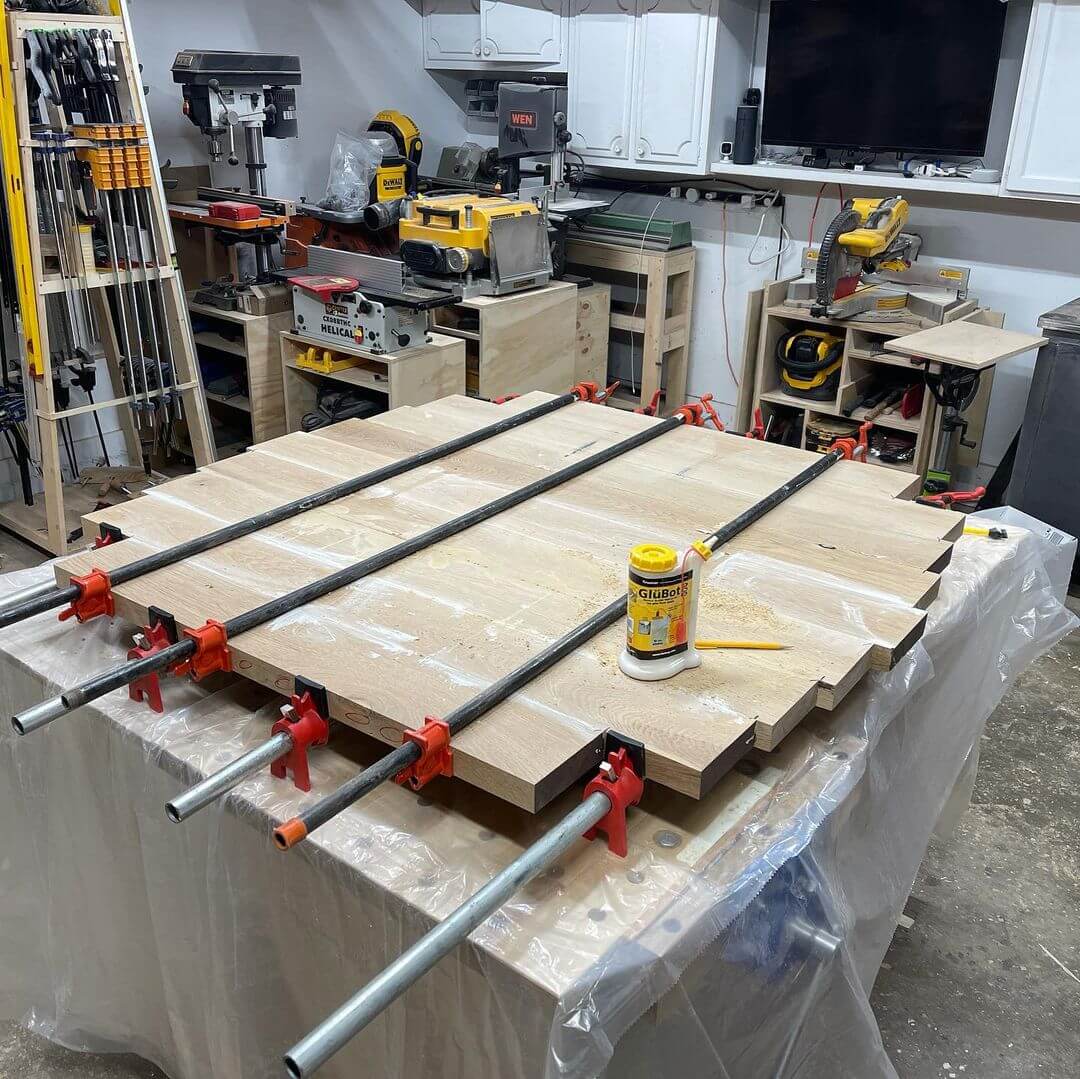 The Bottom Line
PVA glue serves as an ideal solution for woodworking projects for beginners and professional craftsmen. The all-purpose substance can handle a range of challenging environments and dries clear so that it's almost invisible on the final product.
The versatility and durability make it a leading choice over other types of glue, like polyurethane glue and epoxy glue.
Now that you understand the different types of PVA glue and their purposes, you can make an informed decision on how to use them. You can find PVA glue at your local home improvement or craft stores, too.
You'll have everything you need to construct your next complex yet highly rewarding woodworking project idea a reality.