16 DIY Firewood Racks for Log Storage outdoors
Firewood storage racks are a must-have if you value order in your own home. If you want to make sure that your dried wood stays that way, keep it in the right place and the correct environment.
A firewood rack makes it easy to keep your yard, garage or outdoor kitchen neat and organized. It also protects the floor of your wood shed by keeping otherwise unruly stacks of firewood off the ground.
And when you need a few logs for cooking purposes, everything is in one place where you can grab them quickly!
16 DIY Firewood Rack Ideas to Store Wood
So here's our roundup of the 16 best DIY firewood racks for your home. You'll save money and will have a rack that is perfect for the amount of wood you want to store.
Without further ado, let's get to it so you can knock-up your very own firewood rack yourself on a lazy Sunday afternoon.
1 | Rolling Firewood Rack
This is a favorite because it's so easy and versatile! The design makes it quick and easy to move, even when it's filled up with wood logs. It also comes apart easily for the wintertime.
Storing your firewood on a raised platform on wheels is not only an easy way to keep it off the ground but also makes it easier to move around if needed.
If you'd like, add some supports underneath your wood storage rack for further protection from dirt and insects. You can use treated lumber or cedar with this simple outdoor project too!
2 | DIY Firewood Shed
If you have a large yard with plenty of space for a small shed, consider building your own firewood storage shed.
This DIY Firewood rack is made from cedar with a robust tin roof to help prevent bugs and retain the wood's moisture.
Plus, it looks great! It's a stylish way to store wood near or far from your house without taking up much-needed space indoors.
3 | Metal Drum Firewood Rack
Here's another unique DIY firewood rack. This metal firewood rack is ideal if you are looking for something that will work outside. Not only that, but if you're looking at ways to dry wood fast, a metal drum is a great option.
I love the different look of this DIY firewood rack! Metal drums are easy to find at industrial yards, as well as inexpensive. To make this DIY firewood rack, cut the top from a metal drum using a tool for cutting metal (like an angle grinder) and attach casters to the bottom for mobility!
Then fill it up with wood. You can stack your firewood inside this one too, making it a two-in-one project!
4 | Indoor Firewood Centerpiece
This is another indoor firewood rack that doubles as a decoration or centerpiece for your home. Its simple yet elegant design helps keep the look of your living/family room cohesive while still providing easy access to wood within.
An indoor firewood centerpiece like the one pictured would be perfect for the entryway of your home. It's simple to create with a few 4×4 boards, although it would involve some helping hands.
Storing wood indoors prevents bugs, but it can also prolong seasoning time. If you want to keep the heat in during colder months, this is an excellent DIY firewood rack idea!
5 | Rustic Outdoor Firewood Rack
This rustic outdoor firewood rack is a great addition to your wood-burning stove. It's easy to make and can be stored outside with no problem!
The height of such a rack makes it the perfect storage solution for storing a larger number of logs!
You can build one of these rustic outdoor racks for a much cheaper price than buying a pre-constructed model. Plus, it will no doubt fit perfectly in your yard or garden.
6 | Stacked Firewood Rack
A stacked firewood rack is a great project for anyone looking to store wood outside. You can get pretty creative with stacked firewood racks, and they might be the way to go if you're hoarding a lot of wood.
You can construct such a rack made out of both 2x4s and 4x4s so it can hold a considerable amount of wood – the perfect size for logs, branches, and scrap wood.
Although the bigger you go, the more considerations will have to be made regarding space. So if you don't have much space in your yard or on your property, maybe pass on this one.
7 | Modern Indoor Firewood Rack
Instead of building a separate firewood rack for inside, why not add it to an existing piece of furniture?
If your entertainment center doesn't have shelves or space in between the TV and fireplace, add some! If your budget is on the higher end of the spectrum, you can really create a masterpiece like pictured below.
This indoor firewood rack will give you extra storage and display options. You can also make it to fit perfectly in your garage or basement – no matter the dimensions of the room.
8 | Woven Firewood Rack
This is one of my favorite DIY firewood rack ideas because it's attractive and unique. Plus, you can weave different kinds of wood together (like maple and oak), which would look gorgeous in any home.
Handmade Charlotte showcases a host of different baskets to weave, including how to make this super cute woven firewood rack! Who knew something so simple could look so lovely?
If you don't want the hassle of removing splinters from your hands, try using bamboo skewers instead! You can also use a variation of this DIY firewood rack idea for storing long-handled gardening tools.
9 | DIY Pallet Firewood Rack
This DIY firewood rack is a great way to store wood, and add a lovely homely touch in your own creative way! All you need are some pallets and a few boards.
You can build one of these DIY pallet firewood racks to store wood right in the garden! They look gorgeous and they're great for storing kindling as well.
This would be a good choice for someone who doesn't have the time or money to buy wood and is trying to get their firewood up off the ground (to prevent rot).
10 | Wall Mounted Firewood Rack
Love the look of wood stacked up like this? If you're short on space, this metal wall-mounted firewood holder is perfect for small areas!
It looks beautiful hung right against the wall. You can't go wrong with this DIY firewood rack that doesn't take up real estate!
If hanging isn't your thing, try building a freestanding version for extra storage space all around the house! Positioning it right outside your door is an excellent option too.
11 | Covered Firewood Rack
If you live in a colder or even humid climate, you know how important it is to keep your wood covered, especially during the winter months or rainy season!
This aluminum-covered firewood rack is great because you can store your precious logs out of sight, and more importantly, out of mother natures mind.
For outdoor firewood rack options, this is the perfect wood storage solution for your backyard! You could create something similar with some sheet metal and even add some wood shelving.
12 | A-Frame Wood Rack
If you've got a good supply of firewood and live in an area that has harsh winters, then this A-Frame DIY Firewood Rack is the perfect way to store your wood.
This a-frame firewood rack will make stacking and storing your firewood a breeze! Not only will it look great in your backyard, but they're also the most practical of the bunch.
If you stack smaller pieces of wood like this, it makes it easier to store larger logs on top. All you need is an old pallet and some plywood for this easy project.
13 | DIY 4×4 Post Firewood Rack
This DIY post firewood rack couldn't be easier! You only need a few 4×4 posts and some steel support beams if you want to get fancy.
This is an ideal outdoor wood storage solution for storing firewood near your patio, and for bigger pieces of wood that just don't fit in the traditional firewood rack.
You can build this DIY firewood rack with pressure-treated lumber to prevent rot and eliminate any harmful chemicals from leaching into the air or surrounding soil.
14 | Indoor Firewood Storage Rack
If you don't have a garage or basement, or if your woodpile is right outside the back door, this indoor firewood storage rack shelve is an awesome way to keep wood close to where you need it.
Just build prefab shelves and add brackets to hold your wood in place! Designing and building something similar to what Bill Moss has as pictured will certainly add some character to your home.
You can also paint your rack according to the style of your home to really make them pop. This is an ideal option for those with a limited about of wood to burn and or space inside or out.
15 | Portable Firewood Rack
Don't let a lack of storage space stop you from building a DIY firewood rack! There's nothing worse than having to move a woodpile just because it's in the way.
This portable firewood rack is the perfect solution for both remote camping and or home nesting needs. Plus, it only takes a handful of basic materials to craft, like a 2×4 board and half a yardstick!
You can build this DIY firewood rack to store wood anywhere around your home or yard without any hassle. In terms of wood storage, this is the least volume-friendly compared to the others mentioned.
16 | Minimalist Firewood Rack
The best part about this design is that it's beautiful. If you have a good sense of design and an eye for style, then this rack will be perfect for you!
If you're looking for a minimalistic firewood rack that will look great in your more modern home, this metal wood holder is the perfect fit!
This DIY project isn't difficult and it's very affordable. You can customize your outdoor firewood storage rack by attempting different finishes, like matte black or even copper paint.
Indoor and Outdoor Firewood Storage Rack Tips
You may want to consider safety features. Indoor racks should be easy for people of all ages to use and free from pinch points or other safety hazards. For outdoor storage, look for models that keep your wood elevated above the ground so it doesn't get damp or wet. Also, bear in mind how easily you can move the unit if necessary, as well as its overall appearance.
The amount of wood you have to store is another factor. If you've got a small space and just need to keep a little bit of firewood covered, simple hooks or stacking spacers may be all that you need. On the other hand, for those with a larger amount of wood, a simple metal ring or stacking rack might not provide enough stability for the entire load. In that case, look for a model with other support beams and other components.
In general, you'll want to consider your climate before buying your firewood storage rack. Indoor units should be designed to protect against moisture and outdoor units should be able to protect against the elements. Indoor racks with anti-mildew properties are ideal in most cases, while outdoor units that can be easily covered in wet weather or in storage will keep your wood in pristine condition for longer.
DIY Firewood Racks FAQ.
Wintertime means firewood time! DIY Firewood racks make it easy to stack and store your firewood for usage throughout the winter.
But if you're planning and thinking ahead, what do you need to consider when it comes to storing firewood?
How Do You Make a Simple Firewood Rack?
A low-cost DIY firewood rack is very easy to make. The most basic firewood rack is the classic "pyramid stack" style rack, which are often made out of wood pallets. A few bolts and screws are all you need to build a basic pallet rack.
Make sure that the wood slats themselves have been treated with some type of outdoor, weatherproof sealant. Also, because the ground can still erode under one side of a pyramid-style stack, you should put a support board under the low side as well.
As an alternative, you could also build a rack using some standard 2″x4″ wood boards and nails. This type of basic firewood rack is quick and easy to assemble, but it probably won't hold up as long as the pallet racks. However, your time building it will be minimal!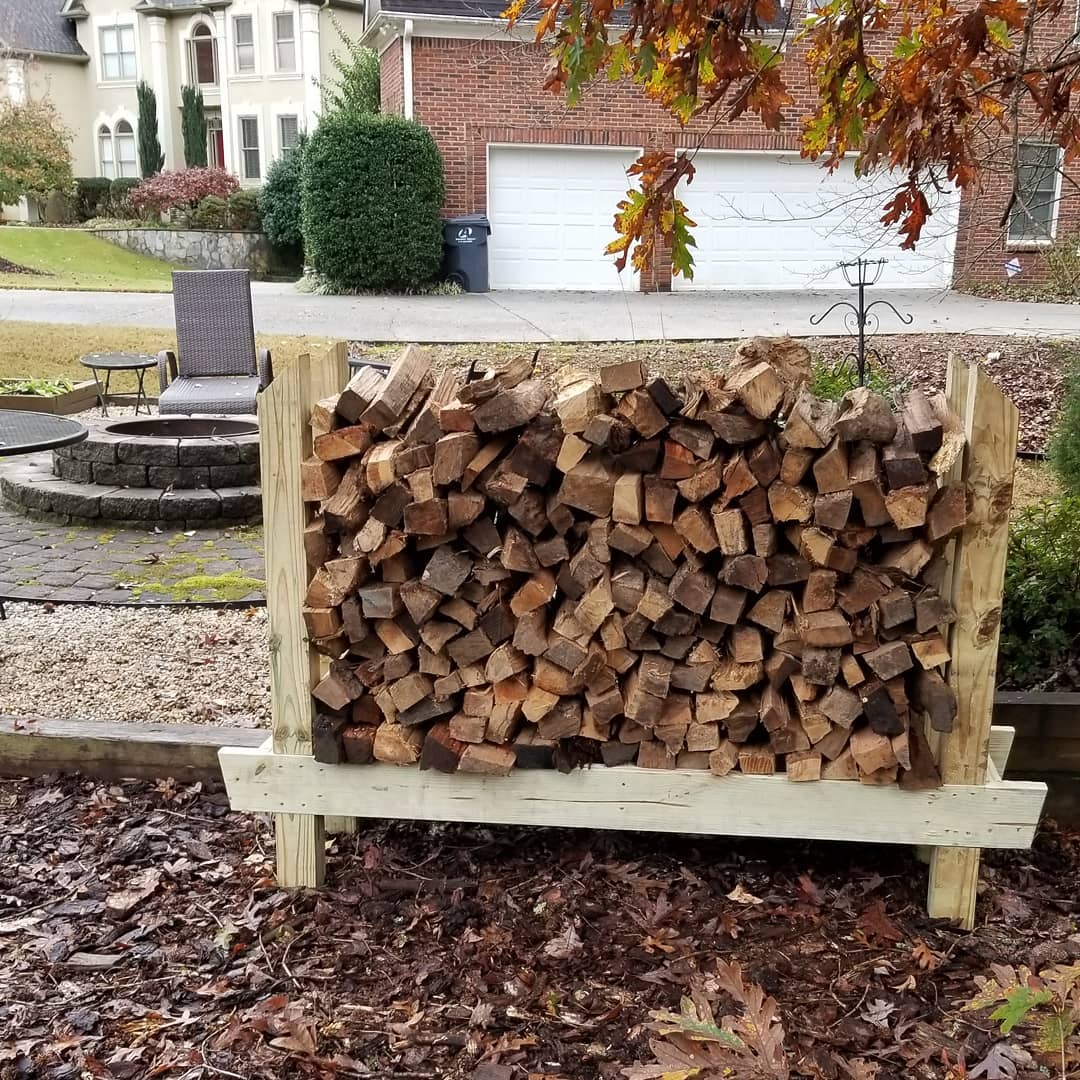 How Do You Make a Large Firewood Rack?
If you are planning on storing more firewood for yourself or your family, then you will need to purchase 4-6 pre-cut 6-foot-long 2″x4″ beams.
Either screw, nail or drill the beams together in an "L" shape (2 beams x 2 ends, with one open end).
Since most firewood is cut to fit standard-size fireplaces, it generally costs less to purchase a half-cord or cord of wood at your local home improvement store. This is the best cost/value option for those who will need multiple cords over time!
How Deep Should a Firewood Rack Be?
When thinking about this question, you need to consider the size of your firewood.
If you plan on buying a half cord or more at a time, you will want to build a deep rack that can hold this amount of wood.
Also, if you live in an area with heavy snowfall, it is best to make sure that your firewood is situated high enough off the ground to allow the snow to slide off.
How Do You Make a Metal Firewood Rack?
Metal is the perfect option if you are looking for a firewood rack that will last many years, especially in an area with heavy snowfall. Metal racks are usually more expensive, but they are also built to last.
There are several types of metal racks – either freestanding or attached to your home or building. For those who want the ease of free-standing, you should check out the metal box-like racks.
They generally come with their own legs to support them, making them easy to move around. You can find these at your local home improvement store or online retailer like Amazon.
The Bottom Line
A firewood rack is probably one of the most important purchases you will make if you are a wood burner. If you plan on storing more than just a couple of logs at once, then it makes sense to purchase your own DIY firewood rack so you don't have to rely on friends and family.
After all, they may not be able to help you out when it is time for you to chop up and store your firewood!
What's more, this could be the perfect DIY gift for someone who loves to camp or sit around a fire pit with friends and family! We hope you enjoyed our 16 DIY Firewood Rack Ideas, thanks for reading!