Best Chainsaw For Milling Lumber in 2024
Navigating the vast sea of options for the best chainsaw for milling lumber can feel overwhelming, given the myriad of choices flooding the market.
Fear not, for we've sifted through the noise to bring clarity to your quest! In this detailed guide, we spotlight the crème de la crème of chainsaw selections for milling in 2024. We'll break down their strengths, potential drawbacks, and key specifications to arm you with the knowledge you need.
Beyond just product recommendations, we'll also illuminate essential facets of chainsaw specifications, compatibility, maintenance, and safety features. Our aim? To empower you with the insights required to make a confident, well-informed choice.
Overview of Top 5 Chainsaw Picks for Milling
Choosing the right chainsaw for milling is pivotal for achieving optimal results. The chainsaw's bar size, motor capacity, and other specifications play a significant role in its milling capabilities.
To guide you in your selection, we've researched and compiled a list of top chainsaw picks, each known for its distinct advantages. Here's a detailed table that provides a side-by-side comparison of these chainsaws:
| Chainsaw Model | Bar Length (inches) | Engine Displacement (cc) | Power Output (kW) | Weight (lbs) |
| --- | --- | --- | --- | --- |
| Stihl MS 881 | 17-59 | 121.6 | 6.4 | 22.3 |
| Husqvarna 3120 XP | 24-42 | 118.8 | 8.4 | 22.9 |
| Echo CS-7310SX | 24-36 | 73.5 | 4.1 | 14.8 |
| Makita EA6100PRGG | 20 | 61 | 4.6 | 13.2 |
| Farmmac F070W | 36 | 105 | 4.8 | 15.2 |
In the hands of a craftsman, the right chainsaw is more than a tool—it's the key to transforming ordinary wood into extraordinary creations. Choose wisely, and let every milling project be the first step to crafting your legacy.
1 | Stihl MS 881 36-Inch Chainsaw: Best for Professional Milling
Best for Professional Milling
Stihl MS 881 36 Inch Chainsaw
The Stihl MS 881 is a powerhouse when it comes to professional milling tasks. With its impressive features, this chainsaw is perfect for tackling large logs and demanding milling jobs. Here are some key features of the Stihl MS 881:
Engine: The MS 881 is equipped with a powerful 121.6cc engine, providing ample power for any milling task.
Bar Length: The chainsaw has a bar length of 30-36 inches, allowing you to cut through large logs with ease.
Robust Chain Bar: The MS 881 features a robust chain bar that can withstand tough conditions and heavy use.
Air Filtering System: The chainsaw is equipped with an efficient air filtering system, ensuring optimal performance and longevity.
Automatic Oiling System: The MS 881 has an automatic oiling system, which keeps the chain lubricated for smooth operation.
While the Stihl MS 881 may be more expensive than some of its competitors, its performance and durability make it worth the investment. However, it is important to note that this chainsaw is not suitable for beginners due to its power and size. It is recommended for professionals who are seeking a reliable and efficient chainsaw for milling tasks.
Pros:
Powerful engine for professional milling tasks

Robust chain bar and air filtering system

Automatic oiling system for add efficiency
Cons:
Expensive compared to other chainsaws

Power saw that is not suitable for beginners
2 | Husqvarna 3120 xp 36-Inch Chainsaw: Best for Heavy-Duty Milling
Best for Heavy-Duty Milling
Husqvarna 3120 XP® Chainsaw 
Milling lumber demands power, precision, and reliability. The Husqvarna 3120 XP is not just any chainsaw; it's a testament to Husqvarna's commitment to delivering top-tier performance for the most demanding tasks. Designed for extreme logging, portable saw mills, and stump work, this chainsaw is a force to be reckoned with.
Engine (118cc): A robust engine that ensures consistent power for heavy-duty milling of larger logs.
Bar Length (36 inches): Provides the reach and depth needed for large logs, ensuring versatility in milling.
Durable Construction: Built to withstand the rigors of continuous milling, ensuring longevity and reliability.
Quick-Release Air Filter: Simplifies maintenance and ensures optimal airflow for peak performance.
Magnesium Crankcase: Designed specifically for professional use, enhancing the chainsaw's durability.
The Husqvarna 3120 XP is more than just a chainsaw; it's a milling partner you can trust. Whether you're milling large logs or seeking precision in your cuts, this chainsaw delivers. Its blend of power, durability, and advanced features makes it an ideal choice for those serious about their milling projects. With the 3120 XP in your arsenal, every piece of lumber you mill is a step closer to becoming a masterpiece.
Pros:
Powerful engine for heavy-duty milling tasks

Excellent accurate cutting performance

Robust and durable construction for pros
Cons:
This latest model chainsaw is harder to locate

May have a rev limiter restricting higher RPM
3 | Echo CS-7310SX 24-Inch Chainsaw: Best for Beginner Mill Jobs
Best for Beginner Mill Jobs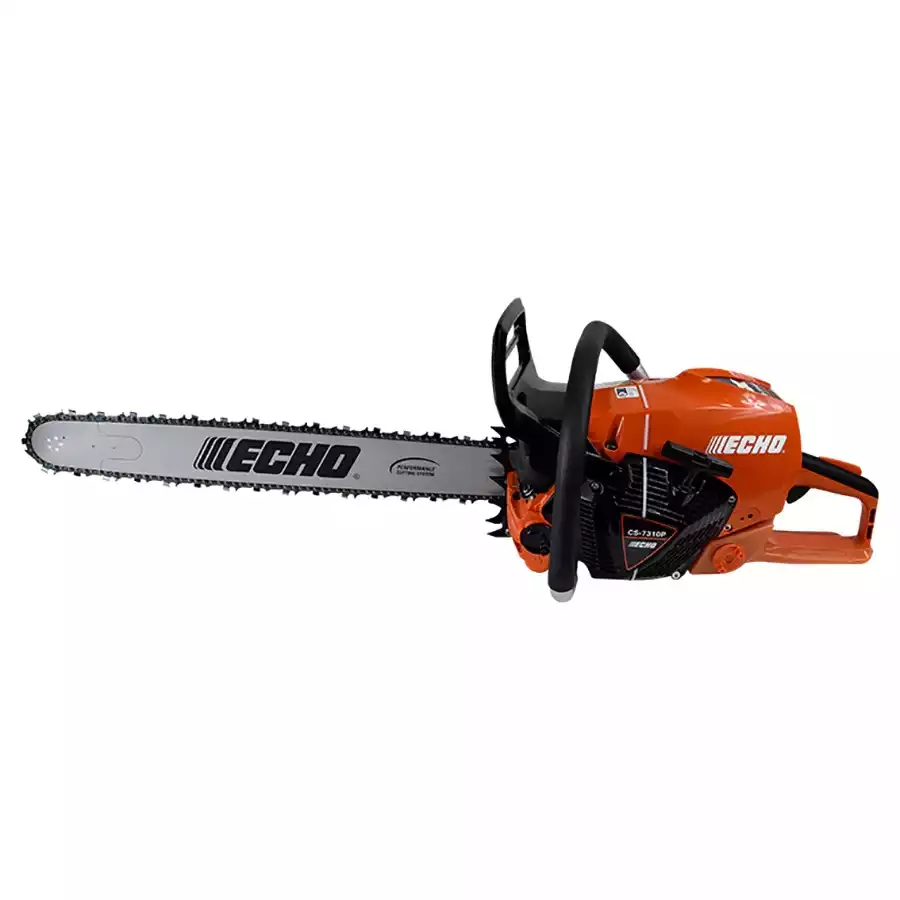 Echo CS-7310SX Heavy Duty Chainsaw
Stepping into the world of chainsaw milling can be intimidating, especially when faced with a myriad of choices. But for those just starting out, the Echo CS-7310SX emerges as a beacon of hope. This chainsaw, with its blend of power and user-friendly features, promises to turn any novice into a confident lumberjack in no time.
Engine (73.5cc): A potent engine that ensures consistent power, ideal for heavy-duty milling tasks.
Bar Length (20-24 inches): Versatile enough to handle a variety of log sizes, ensuring flexibility in milling.
Durable Construction: Built to last, this chainsaw promises longevity even with regular use.
Quick-Release Air Filter: Simplifies maintenance, ensuring your chainsaw always operates at its peak.
Magnesium Crankcase: Enhances the chainsaw's durability, ensuring it stands up to professional use.
The Echo CS-7310SX is more than just a chainsaw; it's the perfect milling companion for those new to the craft. While it might not be cut out for the most heavy-duty tasks, it shines in its niche, offering a balance of power and ease of use. For those taking their first steps in chainsaw milling, the CS-7310SX is a trustworthy ally, ensuring every cut is a step closer to perfection.
Pros:
Robust 2-stroke engine with a heap of torque

Solid construction and minimal vibrations

An ergonomic design weighing just 6.7 kg
Cons:
Heavier for forestry; decent PTW for tree surgery

Fuel caps with flip-out lever, but hard to unscrew
4 | Makita EA6100PRGG 20-Inch Chainsaw: Best High-Class Chainsaw
Best High-Class Chainsaw
Makita EA6100PRGG 20" 61 cc Chain Saw
When it comes to chainsaws, the Makita EA6100PRGG stands out as a powerhouse of performance and durability. If you're in the market for a chainsaw that combines efficiency with a touch of class, this might just be the one for you. Let's delve into what makes this chainsaw a cut above the rest:
High Power-to-Weight Ratio: With a 61cc engine delivering a whopping 4.6 HP, this chainsaw boasts a high power-to-weight ratio. This ensures smooth operation and a well-balanced design, making your milling tasks a breeze.
Easy Start System: The Easy Start spring-assisted starter ensures that you can get going with minimal effort. No more tugging endlessly at the start cord; a quick pull and you're ready to roll.
Advanced Vibration Dampening: Say goodbye to those jarring vibrations. The advanced vibration dampening system is engineered to reduce vibration, offering a more comfortable user experience. Less vibration means less fatigue, allowing you to work longer and more efficiently.
Durable and Lightweight: The magnesium housing not only offers improved durability but also reduces the weight to a mere 13.2 lbs. A lighter chainsaw is easier to handle, especially during extended use, and the durable construction ensures longevity.
Touch & Stop Control: The Touch & Stop single-lever operation is designed for immediate shut-off, adding an extra layer of safety and convenience. In the world of chainsaws, safety is paramount, and this feature ensures you can stop the machine instantly when needed.
While this brute of a saw might come with a heftier price tag compared to some other chainsaws, its features and benefits make it a worthwhile investment. Whether you're a professional or someone who demands the best tools for their projects, this chainsaw promises performance, durability, and safety in one sleek package. So, if you're looking for a high-class chainsaw for milling, this Makita chainsaw is undoubtedly a top contender.
Pros:
Smooth operation and well-balanced design

Saw has the power to tackle tough tasks

Durable chainsaw even with all-day use
Cons:
Tends to stall out when returning to idle

Requires choke adjustment for restarts
5 | Farmmac F070w 36-Inch Gas Chainsaw: Best Value for Money Saw
Best Value for Money Saw
Farmmac F070W 36 Inch Gas Chainsaw
For those who are passionate about woodworking and require a reliable tool, the Farmmac F070w Gas Chainsaw emerges as a beacon of efficiency and value. If you're scouting for a chainsaw that seamlessly marries affordability with top-tier performance, this might be your perfect match. Let's dive deeper into the attributes that make this chainsaw a standout:
Powerful Engine: The Farmmac F070w is equipped with a robust engine that ensures consistent and efficient cutting. This means you can tackle even the most challenging milling tasks with ease and precision.
Optimal Bar Length: The chainsaw boasts a bar length that's ideal for a variety of tasks, from trimming branches to cutting down larger logs. It's versatile and designed for both beginners and seasoned users.
Ergonomic Design: Designed with the user's comfort in mind, the ergonomic handle and well-balanced weight distribution ensure that you can work for extended periods without feeling fatigued.
Safety Features: Safety is paramount when working with powerful tools, and the Farmmac F070w doesn't skimp on this. It incorporates features that ensure the user's safety during operation, giving you peace of mind.
Value for Money: One of the standout attributes of this chainsaw is its affordability. Without compromising on quality or performance, it offers great value, making it an excellent choice for those on a budget.
The F070w is not just another chainsaw in the market; it's a testament to quality craftsmanship at an affordable price point. Whether you're a hobbyist or a professional, this chainsaw promises to deliver on all fronts. If you're on the hunt for a chainsaw that offers great value for money without compromising on performance, the F070w should be at the top of your list.
Pros:
Cloned features from premium Stihl 070 model

One pull start after the break-in cycle is over

Exhaust blows away from the face and mill
Cons:
Hard-to-access carburetor adjustment screws

Suspect fuel leaks and potential fire hazard
Recommended Chainsaw Mill:
While choosing the ideal chainsaw for milling is crucial, it's equally important to pair it with a compatible chainsaw mill to maximize efficiency and precision.
From our comprehensive research, we've pinpointed some standout chainsaw mills tailored to cater to varied milling needs:
Granberg Alaskan MKIV G778-36: A powerhouse for large logs, ensuring robust lumbering capabilities.
Granberg Alaskan Chainsaw Mill G777: Precision-engineered for smaller logs, guaranteeing meticulous cuts.
Carmyra Portable Chainsaw Mill: The epitome of portability combined with stellar performance for those always on the move.
To give you a clearer picture of what each of these mills brings to the table, let's delve deeper into detailed reviews of each product. Read on to discover the perfect fit for your milling requirements.
Granberg Alaskan MKIV G778-36 Chainsaw Mill: Best for Large Logs
Granberg Alaskan Chainsaw Mill G777: Best for Small Logs
Best for Smaller Log Jobs
Granberg Alaskan Chainsaw Mill G777
If you've ever dreamt of milling your own lumber directly in the woods, the Granberg G777 Alaskan Small Log Mill might just be the tool to turn that dream into reality. Designed for the DIY woodworker looking to mill logs where they lay, this mill is both compact and powerful. Let's delve into its standout features:
Versatile Cutting Capabilities: The G777 is adept at making cuts up to 18" wide and 1/2" to 13" deep. Whether you're crafting slabs, planks, or beams, this tool has got you covered.
High-Quality Construction: Crafted from U.S. made aircraft aluminum and zinc-plated steel, this mill is built to withstand the test of time. It's not just about durability; it's about delivering consistent performance every time.
User-Friendly Design: No drilling required! The mill clamps onto your chainsaw bar, making the setup a breeze. Plus, its lightweight nature ensures portability, allowing you to mill lumber right where the tree falls.
Safety and Precision: With features like the polycarbonate safety guard and precision design, you can be assured of both safety and accuracy during operation.
Eco-Conscious Commitment: For every Alaskan Mill sold, Granberg supports AmericanForests.org, contributing to reforestation projects and protecting threatened forest ecosystems. It's not just about woodworking; it's about caring for our planet.
The Granberg G777 is more than just a chainsaw mill; it's a commitment to quality, precision, and environmental responsibility. Whether you're a seasoned woodworker or just starting out, this mill promises to elevate your woodworking game. If you're in the market for a reliable, efficient, and eco-friendly milling solution, the Granberg G777 should undoubtedly be on your radar.
Pros:
Improved speed setting depth over time

A quality product that effectively mills logs

Effective cross-cut width: 13.5" with 20" bar
Cons:
Can be difficult to keep sections aligned straight

Rails sometimes flex under weight; not sturdy
Carmyra Portable Chainsaw Mill: Best Mill for Portability
Best Chainsaw Mill for Portability
Carmyra Portable 36 Inch Chainsaw Mill
When it comes to on-site lumber milling, the Carmyra Portable Chainsaw Mill has been making waves in the woodworking community. Designed to be both efficient and user-friendly, this chainsaw mill is perfect for those who want to turn logs into lumber without the need for a full-scale sawmill. Let's delve deeper into what sets this chainsaw mill apart:
Sturdy Build: Made from high-grade aluminum and stainless steel, the Carmyra Chainsaw Mill is built to last. This ensures that you get a durable tool that can withstand the rigors of regular use, giving you value for your money.
Versatile Cutting: With the ability to handle logs up to 12 inches thick and 36 inches wide, this chainsaw mill offers a wide range of cutting options. This means you can tackle various projects, from crafting furniture to building structures.
User-Centric Design: The mill is designed to be easy to assemble, with clear instructions provided. This ensures that you spend less time setting up and more time milling, making your woodworking projects a breeze.
Broad Compatibility: The Carmyra Chainsaw Mill is compatible with most chainsaws on the market. This means you don't have to invest in a specific brand or model, giving you flexibility and convenience.
The Carmyra Portable Chainsaw Mill stands out as a top choice for on-site lumber milling. Its combination of durability, versatility, and user-friendly design makes it a must-have for both hobbyists and professionals. If you're looking to elevate your woodworking game and want a reliable tool that delivers consistent results, the Carmyra Chainsaw Mill is worth considering.
Pros:
Cost-effective compared to traditional sawmills

Improved speed in setting cutting depth over time

Successfully milled 18" Poplar logs with a 24" bar
Cons:
Difficult to keep sections aligned straight

Bar slides in clamps, risking chain damage
Understanding Chainsaw Specifications for Milling
Understanding chainsaw specifications is a vital part of making an informed decision when choosing a chainsaw for milling.
Next, we will evaluate various mills, chainsaw sizes, and compatibility factors to assist you in making a sound decision.
Granberg Chainsaw Mill Vs Homemade Chainsaw Mill
When comparing Granberg Chainsaw Mill with a homemade chainsaw mill, the Granberg mill offers better quality and precision. While a homemade chainsaw mill may be less expensive, it may not provide the level of accuracy and consistency required for optimal results.
Opting for a commercial option such as the Granberg Chainsaw Mill ensures improved outcomes and a more efficient milling process.
Stihl Chainsaw Mill vs Logosol Chainsaw Mill
Both Stihl Chainsaw Mill and Logosol Chainsaw Mill offer efficient milling solutions, but Stihl is more popular among users. While the Logosol system is renowned for its efficiency and accuracy, it comes at a slightly higher cost.
On the other hand, the Stihl Chainsaw Mill is designed to be compatible with the Stihl MS391 and MS661 chainsaws, providing a viable option for sawing at a lower price point.
Chainsaw Size for Milling
Chainsaw size for milling depends on the log size and type you intend to mill. For larger logs, bigger engines are preferable, as they provide more power and efficiency. Smaller logs can be cut with lower-powered saws.
This requires more attention as the saw may overheat.. Choosing a chainsaw size that aligns with your intended milling tasks is critical.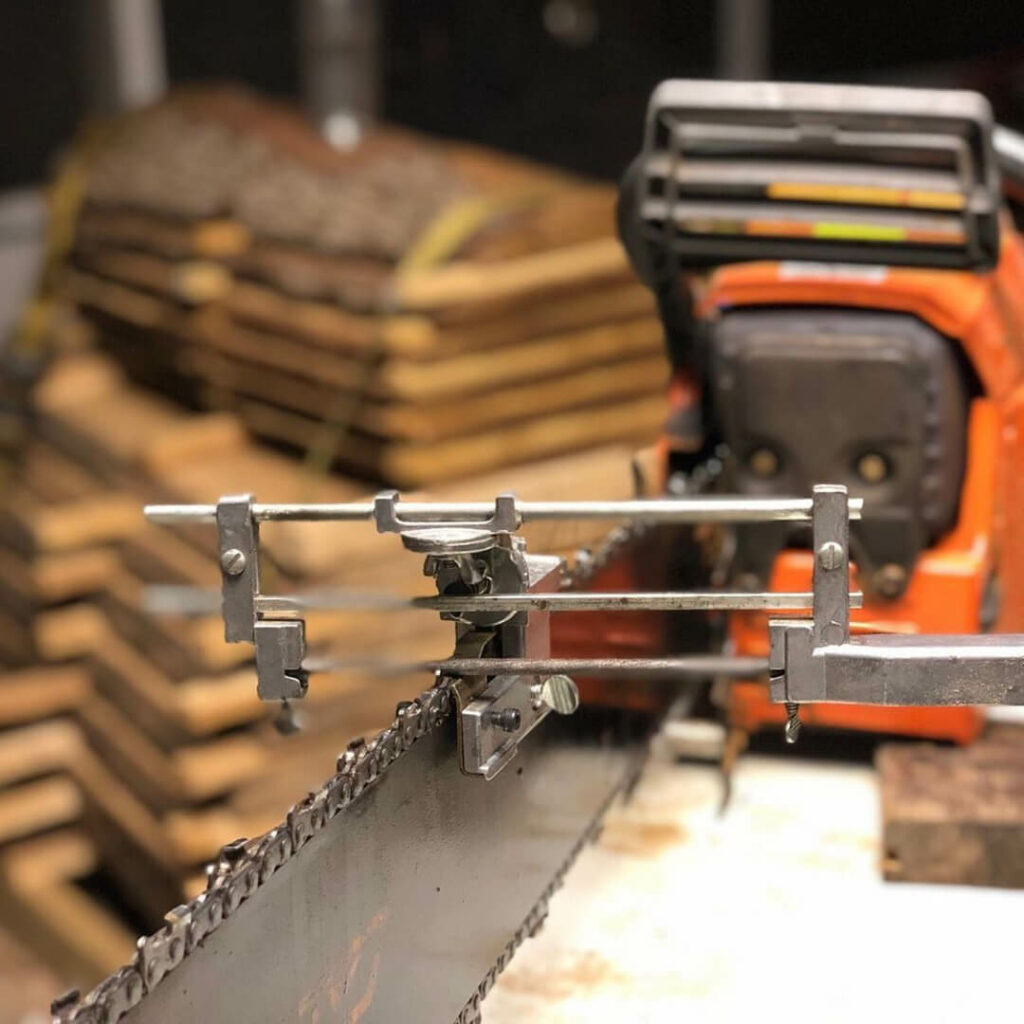 Chainsaw Compatibility with Mills
Ensuring the compatibility of your chainsaw with your mill is vital for efficient milling. In the next sections, we will discuss various aspects of chainsaw compatibility, including attachments, swing blade sawmill blades, and guide rails, to ensure you choose the right chainsaw and mill combination for your needs.
Chainsaw Attachments for Milling
There are several chainsaw attachments available for chainsaw milling logs and milling lumber, such as the Alaskan Small Log Milling Attachment, the Micro-Mill chainsaw attachment, and the Boardmaster Chainsaw Attachment, all designed to make chainsaw mill work efficient and precise.
These attachments are designed to work with various chainsaw sizes and models, providing a versatile solution for milling tasks.
Swing Blade Sawmill Blades
Swing blade sawmill blades are an alternative to chainsaw mills and bandsaw mill, offering faster cutting and less waste. These circular blades are used in swing blade sawmills, such as the Lucas Sawmill and Peterson portable sawmills, and are typically equipped with carbide tips for enhanced durability and efficient cutting.
In comparison, a chainsaw blade might not offer the same level of efficiency and precision as these specialized sawmill blades. These blades are designed to be used in a variety of applications, from cutting logs to mill
Chainsaw Mill Guide Rails
Chainsaw mill guide rails help maintain a straight cut and improve the accuracy of the milling process. These rails are available in various sizes and materials, including heavy duty steel and aluminum.
Choosing the right guide rails for your chainsaw mill is essential to ensure a precise and efficient milling outcome.
Chainsaw Maintenance Tips
Whether you're using a chainsaw mill or bandsaw mill, the heart of your milling operation remains the chainsaw. Ensuring its optimal performance and longevity is paramount. Regular cleaning, proper storage, and timely replacement of parts are essential to keep your chainsaw in peak condition. A properly sharpened chain, especially a ripping chain, is vital not only for efficient cutting but also for your safety.
Moreover, if you're frequently transitioning between a chainsaw mill or bandsaw mill setup, understanding the nuances of your chainsaw's maintenance becomes even more critical. Automated mechanisms such as automatic oiling systems and automatic chain tensioners can offer a convenient and efficient maintenance solution, ensuring your chainsaw is always ready for the task at hand.
Safety Features in Chainsaws
Incorporating safety features in chainsaws is of paramount importance to provide user safety during milling tasks. Modern chainsaws are designed with safety features in mind. These features include:
These safety features help protect the user from potential injuries while operating the chainsaw and ensure a safe milling experience.
In conclusion
Choosing the right chainsaw for milling lumber is about understanding specifications, compatibility, and maintenance. For heavy-duty milling, options like the Stihl MS 881, Husqvarna 3120 xp, and Echo CS-7310SX are top contenders.
On the other hand, the smallest gas chainsaws have their unique niche. These compact tools, compared to their larger counterparts, excel in more intricate tasks, blending agility with efficiency.
When it comes to chainsaw mills, the choices can be overwhelming. But here's a quick guide to simplify things:
With the right saw and mill in hand, your milling journey transforms from a daunting trek to a masterful dance with wood.