Gaming Room Ideas for Both Casuals and Pros
Since the creation of the first video game, fun-loving gamers have turned to arcade machines, hand-held gaming devices, and new-generation consoles for entertainment, relaxation, and an escape from the demands of modern life.
Since then, playing video games has become a generation-defining pastime. Gamers of all ages love to retreat to their living rooms, basements, home office spaces, and bedrooms for an evening of snacks and world domination.
However, most gamers would love to upgrade their gaming spaces to create a dedicated video-game room.
To help you bring your dream gaming experience to life, we've created this in-depth guide to video-game-room decor. Maybe you don't have any video-game-room ideas at all, or you need to refine your decorating ideas before you start shopping.
Either way, you'll find more than 25 unique gaming room ideas, that are affordable, and customizable in ways to capture your vision and gaming spirit.
Gaming Setup Ideas
Video-game-room setup depends on four major factors:
For example, you likely won't need multiple screens or different-sized speakers if you prefer board games or retro games, like Pac-Man, Street Fighter, or Space Invaders.
At the same time, you may not have the budget to invest in an immersive surround-sound system, ambient background lighting, or expensive furniture.
Fortunately, you can turn even a tiny video-game room into an enviable gaming world with strip lights, a comfy couch, and a TV screen. Read on for some of our top gamer-room decor ideas, then get started transforming your space into a trendy, comfortable, and one-of-a-kind room perfect for long gaming sessions.
Big-Budget PC-Game-Room Setup
If you're working with a big budget, the sky's the limit for your PC-game-room setup. We recommend creating a jaw-dropping focal point, such as a contrasting black and red combo with multiple PCs, wall sconces with colored lightbulbs, and an epic gaming setup.
Focus on a color scheme or theme to carry throughout the room. For example, if you opt for a black and red palette, stick with it.
Find a black and red gaming chair, a modern black desk, and TV stand, and display black and red action figures or posters throughout your room. If you're a fan of the Star Wars franchise, you could even embrace the Dark Side with red lightsabers.
Living-Room Gaming Setup
Some homes don't have an entire room to dedicate to a gaming space, but don't worry. You can still create an eye-catching gaming area in your living room.
Most living rooms already feature a large television as the centerpiece of the room. Turn the family tube into a gaming TV by hanging colored strip lights around the screen and stashing your consoles in the entertainment center. Display your computer screens nearby on a sleek desk that you can push against the wall, and invest in a comfortable chair that fits underneath.
Try to integrate the design elements of the room, as well. For example, if your living room features blue, purple, or green accents, choose lighting or furniture that suits the palette while capturing your taste.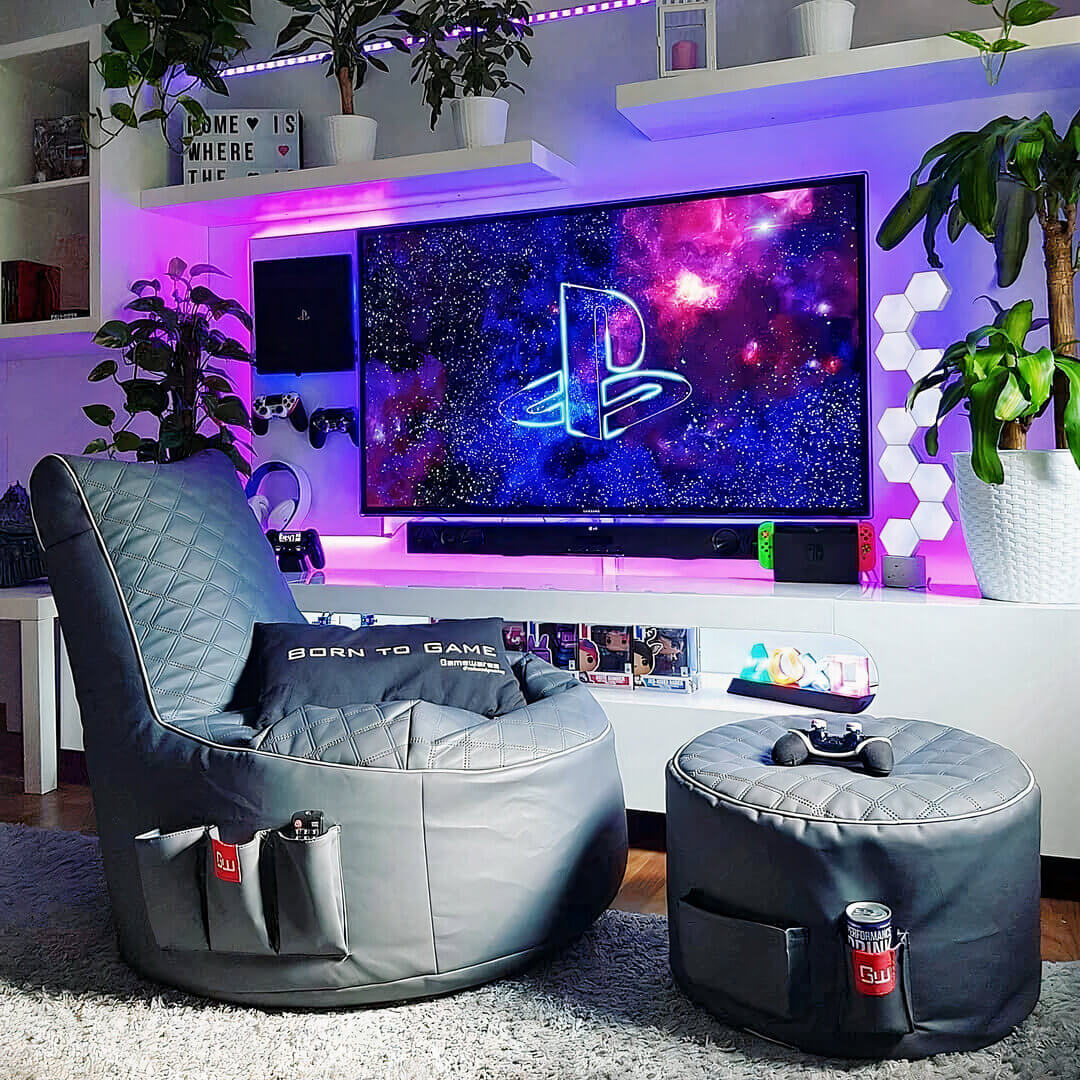 Small-Space Game-Room Setup
Small space? No problem. You may need to get more creative with your video-game room ideas, but you can easily transform a small room into a video game haven with a bit of planning.
Consider your video-game room essentials first. Do you play with a single monitor, or do you use multiple computer screens and a TV? Arrange the entire room around your screens, using two to three desks arranged in a "U" or "V" shape to take advantage of a small space.
Mount your television above your computer monitors and invest in a small but comfortable gaming chair and strip lighting. Finally, choose an accent color, and give the wall behind your television a fresh coat of paint.
Budget-Friendly Gaming Room
Many video-game enthusiasts have to work within a tight budget when designing their video-game room. If you're lamenting your ability to achieve sleek, otherworldly game-room design, you're not alone.
You don't need thousands of dollars of expensive furniture, a wall of screens, and the most expensive sound system that the entertainment industry has to offer, though. Instead, prioritize creating a clean, uncluttered space.
Use your game consoles, monitors, and gaming accessories to decorate the space. You could even source secondhand furniture and gaming-room decor from local yard sales or online marketplaces. If you'd rather avoid secondhand products, trust retailers like IKEA for budget-friendly game-room furniture.
Minimalist Gaming Room
When designing the ultimate gaming room, you want your consoles, monitors, board games, or arcade machines to take center stage.
With that in mind, curating a minimalist gaming room can expedite the design process and potentially reduce your expenses.
Prioritize sleek design and cohesive elements when searching for game-room decor. Choose a simple color scheme, such as black and white, and streamlined furniture, one or two matching chairs, and a small coffee table or side table to hold drinks and snacks.
Luxury Gaming Room
Few gaming enthusiasts would consider playing video games luxurious. If you have a taste for the more elevated things in life, though, luxury game-room decor can combine your passion for elegance with your love for video gaming.
Finalize your video gaming setup first, then source high-quality ambient lighting, wall art, and hanging lights to create a stunning flow. Lastly, invest in two thin tower speakers or a surround sound system to immerse you and your friends in the world of your choosing.
Depending on your interests, you may also choose to incorporate arcade games, pinball machines, and a pool table for an all-in-one gaming experience.
Fully Immersive Gaming Setup
People have countless reasons for playing games. Some use video gaming to blow off steam after a long day at work or school. Others use it as a way to escape from the real world. Still, others have turned their passion for video gaming into a career, sharing their play with fellow enthusiasts worldwide.
No matter why you play, your gaming-room design should place you in the middle of all the action. To create a fully immersive game room, start with one colossal TV screen or an array of smaller monitors. Install minimalist wooden shelving to organize your massive library games and add one or two contemporary couches so that you and your friends can relax while you play games.
Most importantly, invest in a sound system. A high-quality system with twin towers, bass amps, and carefully placed speakers will enhance your gaming experience and transport you far away from the real world.
Gaming-Room Design With Bed
Don't worry if you don't have the space to devote a whole room to your gaming area. You can rearrange your bedroom to take advantage of every last inch of space.
Use a screen divider to separate your gaming area from your bed. Find a sizable table or desk, place it against an open wall, and then hang shelving above it to hold your video games and gaming accessories.
Invest in a new gaming chair that you can slide under the desk to save room before decorating your space with collectible figures, wall art, and ambient light fixtures.
Home-Office Gaming Setup
Work hard and play harder in a home-office-gamer room combination. Many people prefer to separate work and pleasure, but you can also take advantage of your home office and use the private space for your own personal game room.
It's critical to keep the space functional, though, that is if you want to be somewhat productive in your off-time from gaming.
You can use a screen divider to split the area between work and play, divide your workspace and your gaming area with rugs or furniture, or store your consoles neatly below your desk for an effortless transition between work and play.
Attic Gaming Room
Attics have a bad rap, but we think these angular, low-ceiling spaces are perfect for game rooms.
Even so, we recommend that you keep your gaming-room ideas simple when it comes to transforming your attic.
Combine a few streamlined, low-profile pieces to situate around your TV screen or monitor setup. Add two tower speakers for an immersive gaming experience, and finish off the space with small hooks for your gaming accessories and an ottoman for added comfort.
VR Gaming Room Setup
Virtual reality (VR) games have quickly become some of the most popular games on the market. Still, many of the games require a substantial amount of space.
Luckily, you can still set up your VR gaming system in a small room. Install strip lights around your television monitor to save space while preventing the room from being completely dark. Add:
Gamer Girl Setup
Gamer girls have been around since the 1980s, but have recently gained an insane about of popularity in the gaming world.
The perfect room for a gamer girl could be decorated in bright colors with pink and purple being popular hues. If you're a girl getting into gaming, your setup could include posters of anime characters or posters promoting feminism on their walls.
Gamer girls are also known to utilize lighting that is bright pink or purple. Gamer girl rooms are decorated with plushies, beanbag chairs, and other furniture that encourage comfort during long hours of playing video games.
Console Gaming Setup
Your gaming consoles may be small, but they're the heart of your game room. Put them at the center of your home decor with a console-focused design.
Mount your monitors or television screen in the center of an empty wall. Then, place a large shelving unit with four to six cube-shaped shelves below the screen. Use strip lights to illuminate the cubbies and drill small holes into the back of the shelving unit to run your cables.
After feeding the power cords through, arrange your consoles within the cubbies, stash your gaming equipment in bins or baskets nearby, and kick back on the couch for a long night of gaming.
Competitive Gaming Room
Take your gaming to the next level with a competitive game room. You can design the interactive space to fit as many gamers as you want using wide television screens, an array of monitors, and a multiplayer setup for the ultimate e-sport setup.
Feel free to create a space for your own use when the stakes aren't as high, too. That way you'll still have a sleek place to chill when you're off the clock.
Choose a comfortable couch or a pair of armchairs, a sleek entertainment center, and two or more television screens and computer monitors for a high-quality, competitive gaming experience.
Retro Gaming Room
Channel your passion for the past into a jaw-dropping retro game room! Retro gaming rooms capture the whimsy, innovation, and excitement of early-generation video games and old-school arcades.
Build your design and brainstorm decorating ideas based on the types of games you love. For example, if you're a fan of early video games like SEGA or N64, you may want to install an array of sturdy shelves in varying sizes. There, you can organize your games and display your consoles.
Alternatively, you may prefer to showcase your love for board games or arcade games with glass-fronted shelves and low, wide tables for group play. Finally, enhance the retro vibe with neon signs, vintage posters, and some thrifted game consoles for an extra punch of style.
Gaming Room With Neon Lighting
You don't need dozens of complicated, expensive decorating ideas to create a unique gamer room you'll love. Sometimes you only need a desk, monitors, a comfortable chair, and a few neon lights.
Decide on a color scheme before purchasing neon lights. For example, you may want to capture a minimalistic feel with a black, white, and blue color scheme. You can also channel your inner Star Wars fan with a Dark Side-inspired black and red palette.
Once you've decided on a color, purchase your neon lights and install them behind your desk to create a futuristic, ambient glow.
Man-Cave Gaming Setup
Man-cave gaming-room ideas have evolved dramatically in recent years. Instead of decorating with a torn sofa, neon signs, and a mini-fridge in the corner, design your masculine space with modern furniture, metal light fixtures, cool gray and black tones, and all the Star Wars wall art that you could ever want.
Most importantly, make your television screen the focal point of the room. Place a large screen on a wide wall and frame it with posters.
Arrange your sofa and armchairs so that they face the screen, then install an entertainment center below the TV to store your consoles, video games, and controllers.
Space-Themed Game Room
You can create your very own space-themed game room in a spare bedroom, attic, bonus space, or basement.
Start with a color palette suited to a spaceship, with varying shades of gray and black. Depending on your budget, you may even hang fake windows displaying space scenes, and even spaceship-style architecture.
Plus, adding recessed lighting to capture the look and feel of an intergalactic adventure can be game-changing (pun intended). Lastly, include must-have Star Wars design elements, such as lightsabers or figurines.
Shooter's Paradise Setup
Some game-room ideas revolve around a theme, like retro games or outer space. Others exist to improve your gaming experience, like a shooter's paradise setup.
The clean, open design should provide an expansive view of a big-screen TV, while the minimal furniture allows you to strategize and react without worrying about a cluttered, messy space.
Whether you're putting foes into digital dirt on a console or PC setup, I'd advise focusing a good portion of your budget on hardware and accessories. Speed kills in the world of fast-paced shooters, so to compete, you want the best hi-tech setup.
Rustic Gaming Room
Many gamers prefer a contemporary or futuristic game-room design. Still, you can embrace the warmth, nostalgia, and comfort of rustic living while playing your favorite games.
Use warm, neutral colors like tan, green, and brown to design your room. Install neutral carpet, light wood floors, or textured rugs for added warmth, and opt for vintage lighting instead of bright white bulbs.
Add leather armchairs and a comfortable couch for plenty of seating, then set up your monitors and consoles in an antique entertainment center.
Home Theater Gaming Room
Thanks to the wide screens, stadium seating, and recessed lighting, home theaters can double as the ultimate gamer room. If your home already features a home theater, you likely won't need to search for more gaming-room ideas.
Instead, purchase a coordinating entertainment center or long, low TV stand to display your consoles and store your games below the big screen.
Use hooks to organize your controllers and headphones, and consider adding a small bar for easy access to snacks and drinks while playing.
Basement Gaming Room
Basement gaming room ideas vary widely based on the size of the space, the amount of natural light, and the decor you use throughout your home.
You may decide to carry a theme throughout your entire home, such as a modern or farmhouse-rustic vibe. Whether you're attempting to fit out an unfinished or finished basement, you've got plenty of options.
You could take advantage of the separation and design the game room of your dreams. There, you can combine wall art, color schemes, or decorating styles that reflect your taste, such as an old-time arcade or a man cave perfectly suited for all types of sporting events.
Futuristic Gaming-Room Setup
Embrace the look and feel of your favorite video games with futuristic gaming room ideas. Opt for cool colors like silver and gray, minimalistic furniture, and a high-quality sound system to immerse yourself in another world.
Strip lights in colors like blue, purple, and green enhance the futuristic feel. The good thing is futuristic doesn't necessarily mean expensive when it comes to an RGB setup. Even the Philips Hue Lightstrip Plus which is widely considered the best RGB smart strip is still super affordable.
At the same time, thin TV monitors and a wide entertainment center will keep your video games, accessories, and consoles well organized.
Arcade-Theme Gaming Setup
Arcades combine all-day fun with a strong sense of nostalgia, making them the perfect place to escape from the real world. Now, you can bring that feeling home with arcade-themed game room ideas.
Capture the unbeatable ambiance of an arcade with dark walls, glow-in-the-dark paint, and black lights. Incorporate bright colors such as red, yellow, and green, and decorate with neon signs.
Lastly, add at least one arcade game alongside popular consoles, such as a vintage Mrs. Pac-Man or a Street Fighter machine.
Artistic Gaming-Room Setup
Marry your passion for art and gaming with an artistic gaming-room setup. Every artist has their own personal style, which means that creative game-room ideas vary widely.
With that in mind, you can mix elements of your go-to styles, such as graffiti art or modern murals.
Frame your monitors with wall art from your favorite artists, or design a custom lighting system that echoes the art and design you love.
Shed Gaming-Room Setup
Shed gaming rooms make it easy to get away from the daily grind, and can be an ideal escape for introverts looking for their own space away from the rest of the herd.
While many people imagine a run-down, plywood shack, you can finish your shed with flooring, paint, and ambient lighting for an elevated gaming experience.
Then, you can hang posters, organize your video game collection, and put collectible action figures, vintage consoles, and other prized possessions on display.
Video-Game-Room Ideas FAQ
How Do I Set Up a Gaming Room?
There's nothing more exciting than setting up your new gaming room. Before you begin implementing all of your game-room ideas, though, consider a few critical factors that will determine the final result, including:
Room Size
You don't need an entire basement area or home theater to design an epic gaming space, but you should buy couches, entertainment centers, and other pieces of furniture well-suited to the size of your room.
Gaming Desk
A gaming desk is an essential element of the best video-game-room setup. The size of your desk will vary based on the number of monitors you use, but make sure that it suits the space and your home decor style to ensure a cohesive, usable gaming area.
Gaming Monitor
When it comes to gaming monitors, bigger is almost always better. Capture an expansive look by creating an array of small or medium-sized monitors on your desk. Arrange your gaming monitors in a semi-circle for an immersive experience or create a wall-mounted gallery for a professional-quality gaming space.
Big Screen vs. Projector
The big screen vs. projector debate has become heated as of late. In reality, though, both options work well for gaming. A big screen simply requires careful mounting, while a projector allows you to game on any available wall.
TV Cabinet
TV cabinets work twice as hard in a game room. Use the piece to display your television and monitors, organize your games, and store your controllers, headpieces, and other accessories.
Audio Setup
Most gamers prioritize screens over speakers, but your audio setup can make or break your gaming space. You may choose to invest in high-quality headphones for silent gaming. That said, advanced audio systems help bring your favorite game to life and place you in the middle of the action.
Soundproofing
Do you live with roommates, in a dorm, or in an apartment with shared walls? If so, you may want to include soundproofing fixtures like curtains, rugs, and foam cubes in your game-room ideas.
Gaming Chair
You'll likely spend hours gaming each week, so make sure you're comfortable while doing so with a high-quality chair. Gaming chairs vary widely in price and design, but you don't need the most expensive chair to complete your space. Instead, focus on comfort and style for a cohesive space.
Lounge Setup
Create a hangout hub on a budget with secondhand couches, thrifted lounge chairs, and a coffee table that doubles as a place for pizza parties, board games, and poker nights with friends.
RGB Lighting Setup
Elevate your gaming room with RGB lighting for an extra punch of color. RGB lighting provides unparalleled variety in color, design, and format. You can even connect your lights to your PC or gaming system, changing the color to suit your mood and enhance the action.
Ambient Lighting Control
Ambient lights can transform your space and ease eye strain while gaming. When installing your lighting, make sure that you can adjust the brightness or color using a mobile app or controller.
Electrical and Cable Setup
Nothing can throw off your game room ideas like tangled cables and cords. Keep your wires organized with easily adjustable velcro cable ties. Run cords through carefully drilled holes in your walls, and minimize clutter with hidden power strips.
Network and Wi-Fi Router
Finally, ensure that your live streams and online playing run smoothly by installing a wi-fi router in your game room. Conceal the equipment in an entertainment center or shelving unit to ensure a cohesive, tidy final result.
How Can I Decorate My Room for Gaming?
After you've purchased your game-room furniture, painted the walls, and arranged your game room, it's time to decorate. Start with a few basics, then add vintage pieces, collectibles, and other accents for a unique look.
At this stage, you can let your imagination run wild, highlight your passions, and transform a space from blasé to mind-blowing.
Things to Use to Decorate Your Gaming Room
Incorporate popular game room decor into your new space, such as:
How Can I Soundproof a Room for Gaming?
Soundproofing your game room may seem like a technical challenge, but it doesn't have to be. You can use a combination of thick curtains, heavy blankets, and inexpensive soundproofing foam to cover the windows and walls, then layer the floor with soft rugs to further dampen the sound.
What is Soundproof Gaming Foam?
Better known as acoustic foam, music studios use soundproof gaming foam to dampen noise. The acoustic tiles come in various shapes and sizes that you can attach to the walls, making it easy to minimize noise without impacting your gaming experience.
How Much Does a Gaming Room Cost?
The average cost to implement popular game-room ideas is about $3,000, but don't let that number dissuade you. If you've already got your consoles and accessories, you could find budget-friendly decor and game room essentials to outfit your space without going broke.
Gaming-Room Essentials
Must-have additions for your game room include:
The Bottom Line
Are you feeling overwhelmed with video-game-room ideas? You're not alone. Your gaming room is more than a space for playing games. It's your sanctuary, your vision brought to life, and the area where you'll form friendships that will last for a lifetime.
No matter which style of gaming room you prefer, a gaming chair, strip lighting, and a few screens will make it easy to dive into virtual worlds. However, if you want to stretch your budget, you could design a themed room or a sleek, modern retreat with a premium entertainment center, thin tower speakers, and a high-quality ambient background light.
With so many gaming-room ideas to choose from, it can feel hard to pick just one. You'll be spending hours there each day, though, so focus on designing the best video-game room for your needs and preferences. In doing so, you'll create a space you'll love for years to come.