Build vs Buy a Shed For Your Backyard
Sheds provide numerous advantages to your home and can add extra living or workspace to your property without a huge capital outlay.
These structures offer additional places to store tools and other outdoor items, look aesthetically pleasing in your backyard, and can even serve as outdoor hangout spaces.
As a result, more and more people are deciding to maximize their backyard space by building a brand-new shed or revamping an existing structure to suit their needs.
Why Add a Shed to Your Backyard?
If you're considering adding a shed to your backyard, you have several options for turning your vision into a reality. You can purchase a pre-built shed and deliver it to your backyard space, use a kit to ensure that you have the right building materials, or build a shed from the ground up.
Determining whether to build vs buy a shed can be challenging, and while either-or options have their advantages and disadvantages, the deciding factor for most homeowners will likely be price.
To help you make the right decision for your home, we've broken down the pros and cons of each of these methods with some pricing guides. Read on to learn more to help decide whether you should build a shed from scratch or buy a pre-built one.
Prefab Shed Kits
If you're looking to build your own shed but need some guidance throughout the process, you may benefit the most from buying a prefabricated shed kit. While these kits vary from company to company, most include a combination of the following pieces:
Some companies pre-build certain aspects of the kit, such as the trusses, to reduce your workload. While most kits do not include all the tools necessary to assemble the storage structure, many require only a few power tools, such as a nail gun and a hand saw.
Shed-building kits also include detailed instructions that tell you precisely what you need to do to assemble the shed from start to finish.
These instructions take any guesswork out of building a shed from scratch, giving you an extra cushion if you do not have much building or designing experience.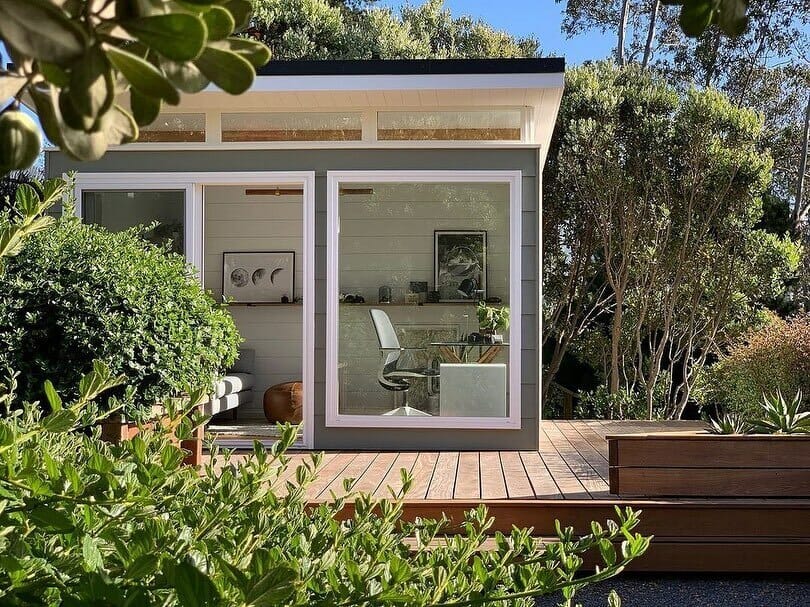 Pros
No labor costs: One benefit to assembling the structure yourself is that you do not need to pay any labor cost to hire shed builders to build it for you. Prefab kits still require you to construct the structure yourself, reducing some of your expenses.
More convenience: Buying a kit is a more convenient way to build a shed in your yard. Instead of needing to spend time and energy collecting the materials and drawing up a plan, you can simply follow the instructions in the kit, removing much of the work from your project.
More beginner-friendly: If you do not have much building experience, you may feel unqualified to build your own shed. However, utilizing a kit is an effective way to put your building skills to work without needing to be a carpentry expert.
Cons
Less creative freedom: Many people like to build sheds that match the exterior siding on their houses or create a unique vibe in their backyards. However, if you choose to purchase a kit rather than build your shed from scratch, you will have less creative freedom throughout the building process.
Less material freedom: Shed kits vary in the types of materials they provide for your storage shed project. Some use vinyl, others use engineered wood, and some use plastic. While you can do your research and choose the kit with the right materials for your needs, you will ultimately have less control over the structure and quality of the shed by using a kit.
Higher cost: Purchasing a kit is typically more expensive than building a shed from scratch. With a kit, you essentially pay the company to acquire the necessary building materials for you. You also pay for the detailed instructions that come with your kit. Finally, you pay for the convenience of not needing to put as much thought into your construction process. These factors add up to increase your final cost.
Do Prefab Sheds Need a Permit?
In most cases, you would need to acquire a permit from your city before adding a new structure to your yard. However, each state has its own requirements about what buildings need permits.
For example, you may only need a permit if your shed exceeds a certain height.
If you order a pre-assembled shed, the shed company will be responsible for the permit. However, if you construct the shed yourself from a kit, you'll need to get the permit yourself.
Is Prefab Cheaper Than Building?
Purchasing a prefab kit is typically more expensive than buying all of your materials individually. This is because you must pay the manufacturing company to select these materials and supply them to you.
Additionally, if you are ordering the kit online, you will need to pay delivery costs. Shed kits tend to be large, meaning that they are often expensive to ship.
How Much Does a Prefab Shed Cost?
Prefabricated shed kits can cost anywhere from $1,500 to $5,000 apiece. Several factors affect the price you will pay for your kit, including:
Where to Buy Prefab Sheds?
You can buy prefabricated shed kits from major hardware stores across the country, such as Lowe's and Home Depot. Garden stores often sell these kits as well if you're wanting to buy a shed locally.
That said, if you're looking for a garden shed with a lot more swag and want something more than a glorified garage shed manufactured out of cheap wood, I'd recommend checking out Modern-Shed, which specializes in prefab sheds. 
Are Prefab Sheds Worth It?
Prefabricated shed kits are an excellent choice for those who do not want to spend too much time and effort constructing a structure from scratch but still want some control over the building process.
If you're not an expert carpenter, you may want to opt for a kit rather than attempting a shed build from the ground up.
However, if you'd like some more creative control over your shed, you may decide to skip the kit and choose your own materials instead.
Prebuilt Sheds
Pre-built sheds are pre-assembled structures that companies deliver to your home and install in your yard, removing all of the labor tasks on your part. If you've ever seen a trailer hauling a small shed down the highway, you've seen a pre-built shed.
Some pre-assembled sheds require you to prepare the base and lay the roof tiles yourself. Other shed companies complete all of the work for you—for a cost, of course. With so many pre-built shed options available on the market, you are sure to find one that meets your needs.
Pre-assembled sheds offer their own advantages and disadvantages compared to other backyard shed options.
Pros
Easier process: Buying a pre-built shed is a much easier process than assembling your own shed. Depending on the model you buy, you may not have to do any work to have a fully functioning, high-quality shed in your backyard.
Greater expertise: If you do not have any construction knowledge, you may not be prepared to build a shed from scratch. Buying a pre-built shed ensures that your structure's assembly will be high quality and that workers with actual building expertise put your shed together, helping you feel confident in its assembly.
Less time: Buying a pre-assembled shed is the fastest way to add an outdoor storage building to your yard. If you need a shed by a specific date for an outdoor gathering, a pre-assembled option can help you complete the project in much less time.
Cons
Higher cost: Pre-assembled sheds are the most expensive option on our list. If you're trying to save money on your construction project, we recommend constructing the structure yourself rather than buying a shed that is already in one piece.
Less flexibility: Pre-assembled sheds do not leave much room for creativity and flexibility on your part. While you can search through all your options and choose the shed that best suits your needs, you will not be able to customize your structure as fully as you can with a ground-up shed project.
Do Prebuilt Sheds Need a Building Permit?
If a company is installing your shed for you, it should acquire the permit. However, if the company is simply delivering the structure for you to install yourself, you may be responsible for the permit.
Be sure to check with your company for more information about the necessary steps to take before installing the structure.
Is a Prebuilt Shed Cheaper Than a Prefab Shed?
Pre-assembled sheds typically cost more money than prefabricated kits. However, you may be able to save money by looking for plastic sheds or vinyl sheds rather than metal ones.
How Much Does a Prebuilt Shed Cost?
You can buy a shed that is already pre-assembled for anywhere from $1,500 to $10,000. Ideally, the cost will be based on your needs, as there are heaps of options and variations when it comes to sheds. 
Where to Buy Prebuilt Sheds?
Most big-box hardware stores carry pre-assembled sheds in their stores and offer delivery options. You can also find companies online that specialize in these structures, like Jamaica Cottage Shop, which has a very credible reputation when it comes to sheds and tiny homes.  
However, remember that if you choose an option that requires delivery, your cost will likely increase. Keep in mind, though, that if the cost of the shed is substantial, most companies will offer free delivery, or you should at least try to negotiate the delivery fee. 
Are Prebuilt Sheds Worth It?
Pre-assembled sheds are an excellent solution if you do not want to put time and effort into building your own shed or following the instructions in a kit.
While these structures offer less flexibility and creativity, they provide a practical, easy way to add storage to your yard.
Build Your Own Shed
The last way to add a shed to your yard is to build it from scratch. Many people choose to construct a shed from the ground up over buying a shed because it allows them to customize the project according to their wants and needs.
Building your own shed from scratch gives you total control over every process within the project.
You can choose whether to use wood, metal, or plastic on the structure's interior and exterior, add functional elements to prevent weather damage and insect damage, and customize the design to suit your style. Many homeowners prefer this complete flexibility over a pre-assembled solution.
The process of constructing a shed can range from simple to complex depending on the tools required, the assembly method, and the complexity of the structure. If you're looking for an easier build, you can follow simple tutorials online.
However, if you want your structure to showcase your skill and expertise, you will need to pour more time and effort into the project.
Pros
Complete control: If you want to get creative with your shed project, the best way to do so is to construct the entire outbuilding from scratch. Instead of being limited to the supplies and designs of a kit, you can have total freedom with every step of the design and construction process.
Lower cost: It is much cheaper to build a shed than buy an already pre-assembled shed. Because you are completing all of the work yourself for free, you can significantly cut down your overhead costs, producing a more affordable final product.
More space: Designing and constructing this outdoor storage unit from scratch allows you to customize your design to maximize the space in your yard. If your only available space is between the house and a fence, for example, you can design a blueprint that fits perfectly in this area.
Cons
More labor: Building your own shed from scratch requires quite a bit of work on your part. You will need to gather your tools and equipment, cut the materials to size, lay the foundation, nail the pieces together, paint the exterior, lay the roof tiles, and complete several other tasks.
More time: Like most construction projects, building a shed requires careful planning and consideration. Before you can begin constructing the shed, you will need to spend a great deal of time determining the dimensions and planning out your building process. The labor will also be time-consuming. As a result, if you need your outdoor storage structure to be complete within a few weeks, you may want to opt for a pre-built one instead.
Increased risk: Unless you are a professional shed builder, you may not have the expertise necessary to craft a high-quality, durable, reliable structure on your own. There is always some risk involved in DIY projects compared to professional ones.
Do I Need a Permit to Build a Shed?
Depending on the state, county, or city you live in, you may need to acquire a permit before you can begin constructing a shed in your yard.
Most places require you to obtain permission before adding a garage or shed to ensure that it meets city codes and does not exceed a predetermined height.
How Much Does It Cost to Build a Shed?
The exact cost to build a shed is hard to determine, considering your specific needs. That said, you can expect a bare-bones budget shed project to cost anywhere from $1,500 to $2,500 if you perform all of the work yourself.
Of course, your price will be higher if you use metal or wood rather than plastic, so be sure to factor your material costs into your budget. For example, a square foot of plywood will cost you anywhere from $2.50 to $6.50, while a square foot of metal can cost closer to $15.
Is It Cheaper to Buy or Build a Shed?
When it comes to saving money on your project, building the shed from scratch is much cheaper than buying a pre-assembled option. Buying a shed is typically more expensive because you are paying for the work and expertise involved in constructing the outbuilding.
However, when you construct the shed from scratch, you can provide free work rather than paying a company to assemble the outbuilding for you. You can also easily add and take away any elements you want, allowing you to determine precisely how much you want to pay.
As a result, most people find it cheaper to build a shed than buy one.
Is It Worth Building a Shed?
Constructing the shed yourself could be your best option if you have the proper knowledge, skills, and tools.
Many people find the process of assembling this structure from scratch to be enjoyable and rewarding. And if you have a creative side, you'll enjoy having total control over all of the design elements within your structure.
However, if you do not feel confident completing the project yourself or would rather not exert the time and effort, hiring a professional shed builder is also a worthy option to consider.
Buying a Shed vs. Building Your Own Shed FAQ
What Is the Easiest Shed to Assemble?
The easiest sheds to assemble are the ones that come in only a few different pieces and do not require any expensive power tools to put together.
The KETER Newton Outdoor Storage Shed Kit, for example, boasts a straightforward assembly process with detailed, easy-to-follow instructions.
If you're concerned about assembling the structure yourself, we recommend searching for a video tutorial online for each shed you are considering.
Watching these assembly tutorials in advance can help you decide whether you are capable of assembling the shed before buying it.
Do You Need a Foundation for a Shed?
Most sheds need to have a firm location on which to sit to extend their life and ensure that they do not begin sinking when the ground becomes damp.
While you may be able to get by without laying a foundation for a smaller shed, such as one that is four by six feet, anything bigger will require a designated understructure.
Can You Build a Shed on an Easement?
Some cities allow you to build a shed on an easement, while others prohibit any new structures on city easements.
The best way to know for sure if you can have your shed built on an easement is to review your city's policies. You can typically find this information on the government site for your city.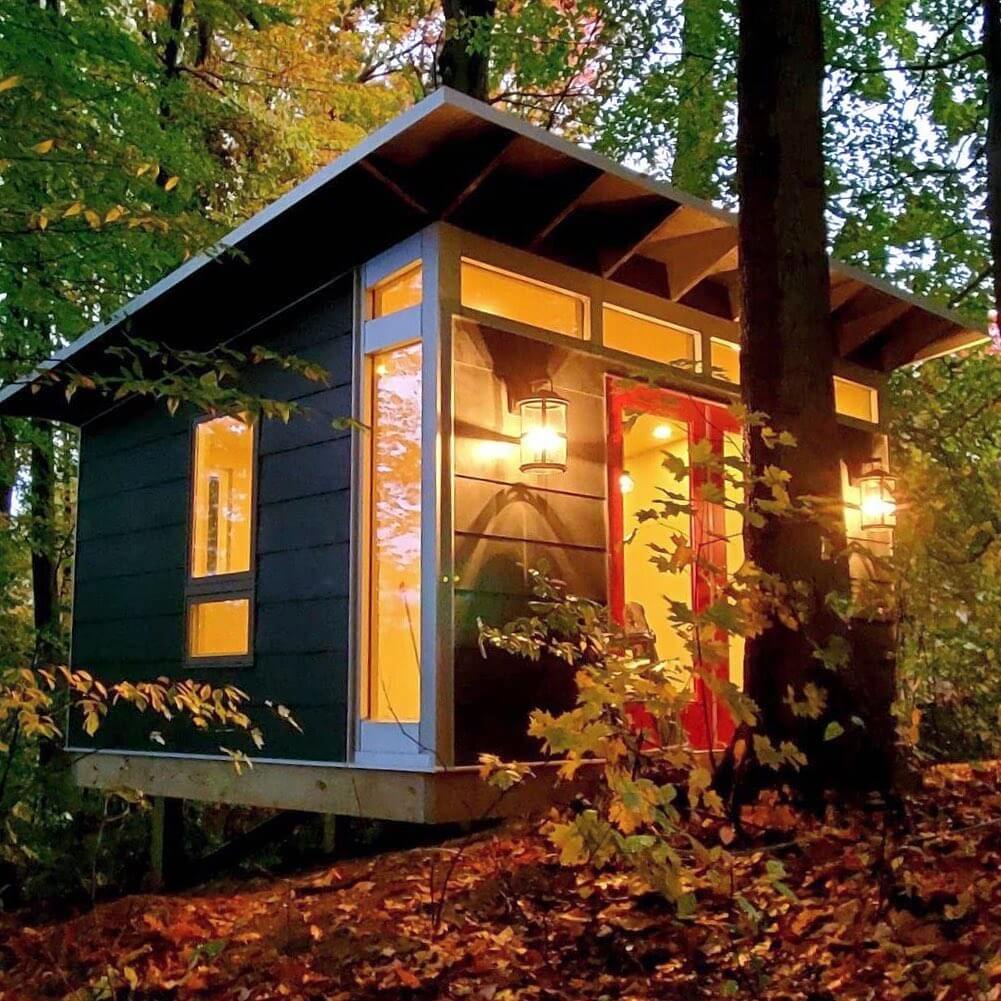 Can I Build a Shed Under Power Lines?
In most cases, it is perfectly fine to build a shed under power lines as long as there is sufficient clearance between the lines and the structure.
The power line wires should never touch the roof of the system, as doing so could create a safety hazard. Leaving at least several yards of space should prevent these two structures from ever touching.
Even so, it's important to check your city's policies and your electric company before beginning construction under power lines. If you neglect to double-check these policies, you could end up needing to move your shed after you build it, requiring a lot of time and hassle.
Can I Build a Shed on My Property Line?
Again, the exact regulations you must follow when constructing your shed depends on your city's ordinances and policies.
However, in many cities, a bungalow must be located in the rear yard of the house and must be at least three feet away from your property lines. If you want to build closer to these lines, you'll need to get permission from your neighbors.
Bottom Line
Adding a shed to your backyard is an excellent choice for many reasons. Whether you are looking to use your shed to store additional tools and supplies or would like to convert it into a backyard bar, your new structure is sure to serve a functional purpose.
As we have discussed, there are several ways to acquire a shed for your yard. Choosing between buying a shed, following a kit, or constructing it from scratch can be challenging.
Although, the best way to determine the right choice for you is to consider your specific needs and wants. Ask yourself questions such as:
All in all, the most important part is that your final product serves its purpose and achieves your vision.