Best Circular Saw for Beginners
Owning a high-quality circular saw can literally 10X your productivity overnight.
But does that mean any circular saw will suffice when it comes to ripping boards or chopping 2x4s like a seasoned pro? Absolutely not!
But shucks, if only there was a trusted online source with an in-depth shenanigans-free review that conducted such an analysis to find the outright best circular saw for beginners?
Well, thankfully, you've found just that. In this review, we weigh up all of the pros and cons with a list of 5 circular saws to help you determine which is the ideal saw for you based on build quality, performance, and budget.
Comparison Chart
Best Circular Saw Reviews
1. DEWALT DCS577X1 FLEXVOLT 60V MAX 7-1/4" Circular Saw
If this was a competition based on looks alone, the DeWalt DCS577X1 would boldly storm the podium and pop the fanciest bottle of champagne while fist-pumping nothing but air. But how does it actually perform?
Product Highlights
The most impressive attribute of the DeWalt DCS577X1 is the sheer power this compact brute produces and the ease with which it effectively rips longboards of timber.
The brushless motor that is powered by DeWalt's FLEXVOLT technology provides a 60-volt power supply offering far greater runtime and efficient heat transfer, all while generating 2400 watts. That's the kind of power you'd typically expect from corded worm drive saws. Enough said.
With everything from DeWalt's Tool Connect Tag-Ready™ system, electric blade brake, integrated dust blower, large multi-position rafter hook, onboard blade wrench, and of course, the FLEXVOLT 60V 9.0Ah battery that feeds this beast.
The DeWalt DCS577X1 is designed to operate with a 7-1/4″ blade, and you'll need to remove the diamond knockout. The DCS577X1 will be able to cut through 2-7/16″ at 90° in a single pass, which is no small feat and not surprising given that it punches out 5,800 RPM.
The DeWalt DCS577X1 may not technically be a worm drive circular saw, but it certainly performs like one. With a premium 7-1/4″ Diablo Framing blade attached to this untamed barbarian of a saw, you wouldn't dare presume it weighs just 10.8 lbs, that is, until you pick this unassuming compact circular saw up.
Lastly, is the ergonomics and general build quality. The DCS577X1 may not look like it's constructed entirely out of all magnesium, but it most definitely is. DeWalt has coated the magnesium of the shoe plate, blade guard, and other components with a cool matte black finish.
The ergonomic easy-grip handle has an over-mold that makes the DCS577X1 easy to hold with one hand and effectively preserves your cut line. Although the support handle doesn't possess the same over-mold, it is extremely wide and has a nice curve shape.
The DeWalt DCS577X1 is the kind of power tool we could chatter on about for hours on end. It's a serious tool that, although commands a higher-than-average price tag, really does provide unmatched performance and fantastic value for money.
PROS
CONS
2. Milwaukee 2830-20 7-1/4" Cordless Circular Saw
The Milwaukee M18 2830-20 is an energy-efficient 7-1/4" cordless circular saw and delivers impeccable accuracy. It has been designed mainly as a wood-cutting saw, but given its surprisingly high torque for a cordless circular saw, it should fare well against sheet metal and plastics, too — provided you're using the appropriate blade.
Product Highlights
With the M18 2830-20, you can snap any M18 battery into the tool and get to it. Whether you want to use a 4.0Ah or 5.0Ah M18 battery, the Milwaukee M18 2830-20 will eagerly take either and devour whatever lumber you decide to feed it.
Milwaukee engineered the M18 2830-20 with weight reduction in mind and fitted a brushless motor that spins at roughly 3,500 RPM, which resulted in a saw that is super easy to control and exceedingly accurate.
Milwaukee M18 2830-20 is the fastest saw in its class, generating up to 30% more cutting speed, twice the runtime, and exceptionally longer tool life than other competitive saws.
Operating the M18 should be easy enough and only requires a very limited learning curve. The M18 2830-20 features a soft-grip handle and rubber support handle that allows the saw to be maneuvered effectively. Adjacent to the support handle, you find the highly desirable rafter hook that is an enormous benefit when working at heights or even operating off of a ladder.
The bevel adjustment is very smooth and glides up and down the 0° – 50° scale. You can also adjust the cut depth of the blade for up to 1.5", which is a decent amount for a smaller cordless type circular saw.
Changing out blades with the Milwaukee M18 2830-20 is done quickly and painlessly by activating the spindle lock and making use of the on-tool wrench. The durability is also impressive and courtesy of the magnesium guards.
It's also worth pointing out that the saw works on a single 18V Li-Ion battery, which is compatible with other Milwaukee M-series cordless tools.
Milwaukee's REDLINK PLUS Intelligence technology boosts performance and protects the brushless motor from overload and or heat damage. The saw also features an integrated LED light that could become useful if you're operating in the early morning hours or burning the midnight oil on a love project.
PROS
CONS
3. Makita GSR01M1 40V Max XGT 7-1/4" Circular Saw
Makita has taken compact power tools to another level with its 40V MAX XGT series of cordless tools. Tools like Makita GSR01M1 are few and far between as you would not expect such a lightweight and compact saw to be so robust.
Product Highlights
At just over 17-1/2″ long and tipping the scales at a slender 11.4 lbs with a 4.0 Ah battery connected, this is without a doubt the most condensed 40V cordless circular saw you'll come across. And while it is considered a lightweight in the world of circular saws, it assuredly does not misfire when it comes to performance.
The GSR01M1 boasts a cutting capacity of 2-1/4″ with its relentless brushless motor spinning the 6-1/2″ blade at a cracking 6,400 RPM. Even though Makita managed to drastically reduce the weight and size of the GSR01M1, they are still able to get 275 cuts on a single 4.0 Ah battery.
While you'd imagine there would have to be a compromise in regards to the power-to-weight ratio with the GSR01M1, Makita's engineering department seemed to have pulled off some sort of wizardry to nullify such rhetoric.
One feature worth highlighting with the Makita GSR01M1 is the rubberized grip handle which will augment maneuverability and reduce fatigue. The saw is fitted with a magnesium blade cover and an aluminum shoe plate that has been nicely detailed with the appropriate indents.
The torque provided by the brushless motor ensures that you can use both rip and crosscut blades with the GSR01M1 and get clean cuts on a wide range of projects and materials. The saw runs super smooth as it comes fitted with a premium 24-tooth ultra-thin kerf carbide-tipped saw blade.
Adjusting and making bevel cuts with the GSR01M1 is uncomplicated, and with a bevel capacity of 0°- 53° you can surely tackle a variety of angled cuts accurately.
The Makita GSR01M1 utilizes Extreme Protection Technology™ to help protect the saw from potential wear and tear by being engineered to operate in harsh conditions. You can expect the GSR01M1 to effectively repel dust and eliminate possible water damage.
Makita has employed an abundance of high-tech and essential features like; Automatic Speed Change™, which magically adjusts both speed and torque, dual led lights for extra illumination, a responsive electric brake system for added safety, and a built-in dust blower to help enhance your cut line.
PROS
CONS
4. SKILSAW SPT77W-01 15-Amp 7-1/4″ Worm Drive Circular Saw

The SKILSAW SPT77W-01 is one of the most recognizable circular saws on the market. It's equipped with a powerful motor and worm drive gearbox, plus various safety and guidance features.
Product Highlights
This SKILSAW SPT77W-01 is a full-sized circular saw that comes with a 7-1/4" carbide-tipped blade that is supremely forged for precision cutting.
Many manufacturers fit somewhat average saw blades to their newly assembled saws that generally require upgrading, but not SKILSAW. The 7-1/4" carbide-tipped blade that comes equipped with the SPT77W-01 is about as good as it gets. It's a heavy-duty blade that has excellent sharpness retention.
The SPT77W-01 is equipped with a 15 amp Dual-Field Motor™ that generates an amazing amount of torque and around 5,300 RPM at no load.
This robust 15 amp motor was engineered with Dual-Field Motor™ technology to keep the internal windings of the motor cool while under load. This advancement provides greater heat transfer and primarily increases the lifespan of the motor.
Now to the bevel of capacity and cutting depth. The SKILSAW SPT77W-01 can be effectively adjusted to a maximum cutting capacity depth of 2-3/8″ at 90°. The SPT77W-01 has a max bevel capacity of 53° utilizing positive stops at 0° and 45°.
The SKILSAW SPT77W-01 also includes additional indents for 0° and 45° bevels on the magnesium footplate at the front and back for added accuracy. This should enable you to perform a wide range of precise cuts very efficiently.
In terms of weight, the SPT77W-01 weighs 14.2 lbs. While this isn't the lightest saw we've reviewed, it does boast outstanding ergonomics. The saw feels brilliantly balanced and a joy to use, even if you're an absolute beginner. The power cord is 8 ft. long, which will give you a decent range of motion.
The SPT77W-01 is fitted with an anti-snag blade guard design which will enable you to make narrow cut-offs. Removing the 7-1/4" carbide-tipped blade is simply done by activating the spindle lock and utilizing the built-in wrench that inserts nicely into the lightweight magnesium shoe.
This corded circular saw's performance is honestly unmatched and while it's not packed with high-tech features, it's built to last and rip through just about anything.
PROS
CONS
5. CRAFTSMAN CMCS500M1 V20 6-1/2″ Cordless Circular Saw
The Craftsman CMCS500M1 makes an appearance on our list for a number of underlying reasons. Most saws typically shine specifically in one area and have a defining characteristic that sets them apart from their competition.
Product Highlights
One of the most surprising things about the CMCS500M1 is its overall durability. When you first snap the 20V MAX 4.0AH Lithium-Ion battery in and begin to wield this compact saw around, you'll be literally shocked at how lightweight and yet well-made the saw feels.
Sure, 7.3 lbs isn't like playfully swinging a feathered pillow at your unsuspecting wife's face for shits and giggles, but nonetheless, it's still pretty damn light for a 20V 6-1/2″ cordless circular saw.
Fitted with a High-performance motor that pumps out 4,200 RPM to assist with aggressively butchering large sections of lumber, you sense little resistance when depressing the receptive trigger on the CMCS500M1.
By simply using the right blade attachment, you can expect to chop through relatively dense hardwood, tile, plastic, PVC pipework, and light metalwork with an additional blade.
Along with this capable motor attached to the CMCS500M1, you will also get a 24-tooth carbide-tipped blade which is ideal for cutting regular wood and framing works.
The Craftsman CMCS500M1 has a bevel adjustment of 0° – 50° and a cutting depth of 2.1″ at 90° but with no positive stops. Blade changes are basic and the CMCS500M1 has an on-board wrench and spindle lock that can be effectively utilized to swap out blades quickly.
As for the construction and design qualities, the CMCS500M1 has a comfortable over-molded handle that possesses decent ergonomics to maximize support and help reduce fatigue.
The Craftsman CMCS500M1's build quality is very good for a low-cost circular saw, but has been fabricated incorporating both some plastic and metal materials. You'll be able to successfully attempt bevel cuts and maintain an effective cut line with what is the best overall budget saw on the market.
If you're conducting fine woodworking or are planning on utilizing this saw for cuts that require more finesse like; cutting baseboard molding or picture frames, you will need to purchase additional alternate blades.
PROS
CONS
Best Circular Saw Buyer's Guide
Types of Circular Saws
There are three main types of circular saws. From the three, a few variations have emerged that may carry slightly different designations. The way these designations are assigned for the three types of circular saws has a lot to do with the motor placement.
Sidewinder Circular Saws
Sidewinders are probably the most recognizable circular saws. The drive system is based on a belt and pulley. For the average consumer, a sidewinder could very well be the best circular saw in terms of value.
Another characteristic is the sealed motor system, although it isn't present in all models. This is great when it comes to maintenance because there's no need to add oil.
A cool thing about sidewinder circular saws is that they tend to be lighter, which makes them easy to use, and they tend to operate at high speeds.
Worm Drive Circular Saws
The drive system for this type of circular saw is based on two sets of gears: a worm gear and part of the shaft. The build is generally narrower than that of other saws, and the motor is in the back of the saw.
The gear-driven mechanism means regular maintenance will be required. If you decide on this type of saw, it's worth paying extra for an oil gauge.
When it comes to speed, a worm drive circular saw won't have the high RPM ratings of sidewinders. However, it will have higher torque, which is why purists may consider it the best circular saw.
Hypnoid Circular Saws
Hypnoid circular saws provide high torque and are low maintenance. This design aims to take the best features of sidewinders and worm drive circular saws. As such, the motor is in the back in a sealed system.
Furthermore, the gears on hypnoid circular saws are beveled. This promotes a more energy-efficient transfer with less noise.
Amps
The current is less indicative of performance in circular saws than you might think. Sure, you can calculate the power from the current. Since P = IV, a 12A motor plugged into a 120V outlet will consume 1,440W of power.
But the design also comes into play.
For example, a 10A hypnoid circular saw may feel more powerful than a 12A sidewinder because of the more efficient energy transfer.
Horsepower
Of course, horsepower (HP) is just another unit for power (like the Watt, which an SI unit).
Not all manufacturers list HP, which you can calculate from the current or Watt rating. You can use the above-demonstrated calculation (P = IV) and an online converter to convert to horsepower.
As a guideline, most circular saws have between 1 and 1.5HP. It's considered enough to have 1HP if the blade is smaller.
Arbor Size
The arbor of a circular saw is the shaft on which you mount the blade. It is the component that transfers and converts the electrical power from the motor into mechanical power for work. Although arbors come in various sizes, the most common size is 5/8", which is used in most 7.25" to 10" circular saws.
Knowing the arbor size will let you know what type of blades you can use. Combine that with the cut depth and bevel capacity to figure out what type of materials you'll be able to work on.
Other arbor sizes include 0.25" for 3" blades and 0.5" for 6" blades. It's also important to know this if you're looking at replacement blades made in countries that use the metric system.
Blade Diameter
The blade diameter is one of the most important aspects of a circular saw. Depending on how big the blade is, you can tackle materials of various thicknesses and densities.
Typically, you will find that the most popular corded sidewinders come with 7.25" blades.
Although cordless circular saws tend to have smaller blades, many manufacturers have started to make larger cordless circular saws too. That's not to say that the limited torque and runtime shouldn't be considered too when comparing cordless vs. corded circular saws.
Additional Features to Look For
How do you compare two circular saws of the same design and power? Pricing and brand reliability quickly come to mind. But oftentimes, it's the little things that make one model more appealing than the other.
Dust Port
A dust port can add great value to a circular saw, or any cutting power tool for that matter. The dust port is often a small tube coming off the back or side of the circular saw. It can be attached to a vacuum hose, and you'd turn on your shop vacuum to remove the debris and dust safely and keep the work surface clean.
Alternatively, a built-in dust blower feature might also work. It will make a mess in the workshop, but the work surface will be clear of debris, and you should be able to maintain a clear line of sight.
Lighting
Having LED lights on a circular saw mounted somewhere in the front is sometimes necessary. The light will illuminate the cutting path and can really come in handy in workshops or worksites with poor lighting conditions.
Laser Guide
Laser guides have the purpose of helping you maintain a straight cutting line, especially when working on longer cuts. Some circular saws come with calibrated laser sights, but not all. But it's sometimes worth it to get a laser-guided saw instead of trying to mix and match aftermarket accessories.
Bevel Capacity
You're going to want to make angled cuts at some point. Therefore, it may be extra important on some projects to have a bevel capacity that goes into the mid-50 degrees range. Do note that at higher bevel angles, the cutting depth will be significantly reduced.
Cut Depth and Adjustment
Most professionals use circular saws to cut through 2x or thinner materials. With that in mind, the cut depth is very important. To get clean cuts, you should make sure that the lowest tooth would pass through the material by a minimum of 1/8". A 1/4″ clearance is preferred.
This is less important for 7.25" circular saws, but it can be very important with smaller circular saws. It's even more important if you're talking about beveled cuts. Many pros will pay a premium for circular saws with easy cut depth and bevel adjustments.
Best Circular Saw FAQ.
How do you use a circular saw?
A circular saw can be used for a variety of cuts, but there are a few things to keep in mind in regard to getting consistent, clean cuts. First of all, always light the work surface and use a dust blower or a vacuum attachment.
When you're cutting with a circular saw, you want to follow the blade and not the guides. This means that a clear line of sight is essential. If you're cutting angles or doing beveled cuts, you should make sure that the workpiece is firmly clamped down. That's because you have to keep both hands on the saw and work the blade guard too.
Another important thing to remember is how to properly position the material. Always put it on the work surface with the good side or presentation side facing down. This ensures that the teeth of the blade push against the core without ripping it.
How do you sharpen a circular saw blade?
Circular saw blades can be sharpened at home or at a service center. Regardless of which option you prefer, this is something you have to do to ensure the quality of your work remains the same.
You can use either a hand file or an automatic sharpener to sharpen most circular saw blades in your workshop. Sharpen one tooth at a time. Be extra careful with automatic sharpeners as they are likely to overheat and give lesser results in the long run.
One thing to consider is using a professional service when it comes to carbide-tipped blades. These require diamond wheel sharpeners which aren't cheap or easy to use if you don't have the necessary experience.
How do you change a circular saw blade?
It's always best to consult the instruction manual before attempting to change the blade on your circular saw. There might be slight design differences between models that require specific steps to follow.
That being said, always power off or remove the battery from your saw before attempting to remove the installed blade. After that, either use the easy-release blade system or lock the blade in place and then remove the bolt holding it down.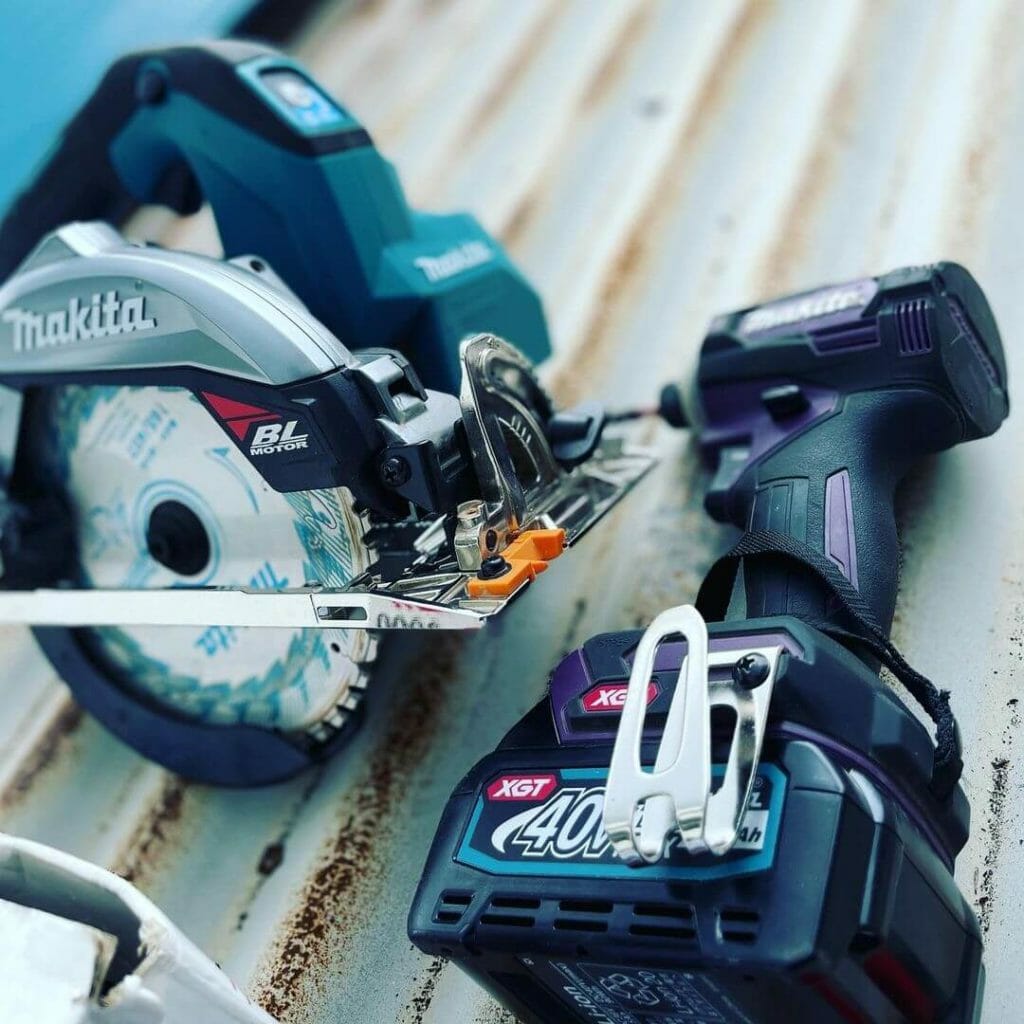 How do you cut a straight line with a circular saw?
The easiest way to cut a straight line with a circular saw is to first draw a guideline using a ruler or a square and a pencil. After that, you can either use a guide or the laser attachment to follow the line.
Placing your index finger firmly against the shoe should help you keep the saw steady. This will make it easier to follow the line. Always guide the saw along the board or sheet with your fingers to keep it moving straight.
How do you cut 2x4s with a circular saw?
There are two important aspects to cutting 2x4s with a circular saw. First and foremost, you have to set the cut depth properly. You don't want a cut that's too deep because it could result in kickback. Adjust the blade depth to be .25" under the 2×4.
The next important step is to support the wood properly. Avoid supporting both ends of the wood as this can cause the saw to stray off course at the end of the cut. This happens because 2x4s can bend downwards.
Only support the wood on one end and not the end that you want to cut off. The cutoff should be able to fall freely.
FINAL VERDICT
It's hard to look at the DeWalt DCS577X1 and not be blown away by its impressive design qualities and stellar performance.
This incredibly powerful cordless circular saw has defied all logic in terms of what was previously possible with battery-powered saws and simply leaves most corded circular saws for dead.
The overall design and feel of this compact circular saw is something to marvel at alone. The fact that DeWalt has included everything from an integrated dust blower, a responsive electronic brake system, and a high-quality alloy magnesium shoe.
This really makes this a no-brainer for the DeWalt DCS577X1 to take pole position for the best circular saws titleholder of 2022.
In Conclusion
All of the reviewed corded and cordless circular saws in this article are impressive engineered pieces of machinery.
While this might be considered a conundrum for those simply seeking the single best saw on the market, both application and brand loyalty will probably contribute significantly when selecting the right tool.
That's why the final decision-making process when choosing a circular saw ultimately comes down to your preferences and what you personally value the most in a circular saw.
Hopefully, we helped you try and decided which way to go with choosing one of the best circular saws available today for your future endeavors tomorrow. We wish you the best of luck and much success to you will all your succeeding DIY projects and professional ventures.